« Houndoween Cafe
|
Main
|
Daily Tech News 21 October 2022 »
October 20, 2022
Agadoo, Do, Do, Push Pineapple, ONT!
Thursday night. Probably going to be a bit slow, because the TxMoMe is getting started. Why not start with an historical oddity?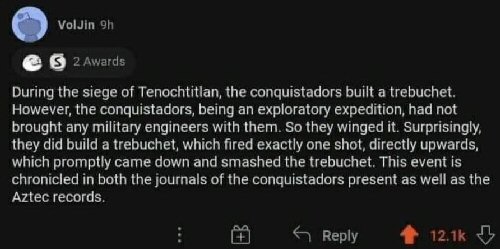 Joke's On You
Tonight's subject is practical jokes. Absolute Legends: The Wildest Pranks Ever Pulled
I like this one:
One summer in college, I worked in the registrar's office, registering all the incoming freshman. A professor who was a mentor to me was teaching freshman seminar and asked me to hand pick a class for her. Straight A students, high SATs, whatever. So, I did. 15 students, all named Sarah.
Now it's your turn. What are some of the best practical jokes you've ever played or witnessed? I'll start. One time, when I was merely a wee little Slightly Odd Dave, I wired my mom's toilet seat so then when she sat down a siren went off. A very loud siren. Mounted right behind the toilet. She went upstairs after dinner, and WEEOOOWEEOOO!.. ARRRRGH! * thump * (She had jumped off the pot in panic). My dad thought it was hilarious, so the next day I covered the bowl of his john with Saran Wrap, tightly stretched so that it was invisible. He went to pee and....splash! My mom thought that was hilarious.
What y'all got?
I Write The Songs That Make The Whole World Cringe
Turn It Down Please: Here Are The Most Annoying Pop Songs Ever Made
If practical jokes aren't your thing, well, have I got a deal for you! All I'm asking for is your opinion! Most of y'all are stuffed chock full of opinions, well, we'd like to hear them! What are your nominations for the worst pop songs ever? The above list is pretty long, and includes not only well-known acts, but also some that are a bit obscure, like Black Lace. Black Lace is one of the few bands I know of that would be equally comfortable performing at a kid's party (this song made the list – and the ONT title!) or a drunken college frat party (NSFW lyrics). If you like that last song, here's a clip of a 66 year old woman singing it for The X Factor. Bawdy old broad, ain't she?
I'm Requesting Asylum
There was discussion last week about the Texas Embassy in London. Well, it's a restaurant that was named after the actual embassy of the Republic of Texas, which represented the interests of the RoT from 1842-1845. Texas also had embassies in Paris and Washington DC. Here's a little bit more about it.
The Republic of Texas' somewhat-hidden embassy in London, England

Sovereignty? What's That?

China is opening police stations in Canada and apparently Canada is just letting them do it
The People's Republic of China has opened at least three police stations on Canadian soil as part of an alleged attempt by the country's security state to keep an eye on the Chinese-Canadian diaspora.

Three addresses in Toronto are known to be registered as "service stations" operated by the Fuzhou Public Security Bureau, a police force active in the Chinese metropolis of Fuzhou. …

Safeguard Defenders holds that the stations function mainly as outposts for the Chinese policy of "Involuntary Return" – a program of compelling Chinese nationals to return home whenever the country's security service deems that they've violated Chinese law. "These operations eschew official bilateral police and judicial cooperation," they wrote.

If I may channel Chris Farley for a sec, "Hey, do you remember when the West would tell totalitarian states to fuck off? Yeah. That was great."
Chicken!*
Chicken chicken chicken chicken chicken chicken chicken. Chicken chicken chicken. Chicken. Chicken? Chicken chicken chicken chicken chicken chicken chicken chicken chicken chicken, chicken chicken, chicken chicken chicken.

Chicken.
Deep Thoughts
Understanding pandemic-emergent personality & behavioral psychopathology
Deep dive. Discuss it in the comments if you'd like.
Diplomacy
Joe Biden's disastrous Ukraine strategy doesn't hold a candle to the diplomatic masterclass JFK put on during the Cuban Missile Crisis
New York Times columnist James Reston noted as early as October 29 of 1962 that the Soviets avoided a military conflict over Cuba because the area was of a strategic disadvantage to them.
They would not necessarily retreat where the battlefield was to their benefit.
At the same time, no rational Russian leader would have sacrificed Moscow for the country's minimal interests in Cuba.
In fact, no interests in Cuba for either the United States or the USSR were worth the price of a nuclear war.
Khrushchev, recognising the odds, accepted the settlement as a victory for reason.
Fundamentally, the Cuban missile crisis demonstrated the importance of strategic advantage and superior geographic and historical interests in any confrontation, as well as the critical role of creative diplomacy in navigating a resolution.
Biden would do well to learn from the missiles of October.

I don't see that situations as analogous, certainly not at this late date. Putin is in a box. If he can't conclude the Ukrainian War on a note that he can at least claim is a victory, he won't be president any longer. The basement of the Lubyanka beckons. OTOH his best conventional option, the traditional Soviet tactic of drowning their enemies in Russian blood threatens him with another 1917 type revolution at home. Desperate men do desperate things, and this desperate man has nukes.
The US should have been trying to broker a peace between the two parties all along, but this administration launders their graft through Ukraine and the entire left has been obsessed with Russian boogeymen for the last 6 years. (Mitt Romney must be turning over in his grave). The Cuban Missile Crisis was resolved because both sides had an off ramp that allowed them to save face at home. I don't see that now, God help us all.

On Conservatism
Explaining Conservativism II: Why the Left Hates It
Conservativism attempts to conserve the best of the past — the best art, literature and music, the best standards, values and wisdom. Conservativism then passes the best of everything to every succeeding generation.

The Left — meaning progressives, not necessarily liberals — loathes the fact that conservativism preserves the past. That is why "change" is one of the most cherished words in the Left's vocabulary. There is nothing more threatening or, perhaps more important, boring, to a leftist than preserving the past. "New" and "change" provide leftists meaning and excitement.

It's true enough, but it really doesn't solve the problem. This guy has a solution
We Need To Stop Calling Ourselves Conservatives
Put bluntly, if conservatives want to save the country they are going to have to rebuild and in a sense re-found it, and that means getting used to the idea of wielding power, not despising it. Why? Because accommodation or compromise with the left is impossible. One need only consider the speed with which the discourse shifted on gay marriage, from assuring conservatives ahead of the 2015 Obergefell decision that gay Americans were only asking for toleration, to the never-ending persecution of Jack Phillips. The left will only stop when conservatives stop them, which means conservatives will have to discard outdated and irrelevant notions about "small government." The government will have to become, in the hands of conservatives, an instrument of renewal in American life — and in some cases, a blunt instrument indeed.
I guess we have to destroy the village in order to save it. I'm not buying it. I'm not sure how to avoid it however, he's absolutely right, the Left won't stop until they are stopped. The part I'm not so sanguine about is that the cudgel of big government can be used to smash the left and then be relinquished. History tells me that that won't happen.

Tonight's ONT has been brought to you by the Bass Pro Shop Party Anthem:

posted by WeirdDave at
09:52 PM
|
Access Comments