« Boston University Uses Gain-of-Function Genetic Manipulation to Create Deadly Variant of Covid with 80% Lethality Rate
|
Main
|
Regime-Approved Racist Charles Blow: Now That Hispanics Are Anti-Black Too, We're Seeing White Supremacy Becoming Lite Supremacy »
October 18, 2022
With Recession Increasingly Obvious, and Midterms About to Be Lost, Biden Prepares to Blame the Economy on... The Republican Congress
John Hasson @SonofHas

Prediction:

* GOP wins the midterms

* After ~2 months, economists finally declare a recession

* White House blames recession on GOP
Pretty simple from here, as idiot and former employable person Sally Kohn once said.
Credit rating agency Fitch predicts that the recession which is already here will begin in the spring.
The cause? Biden's inflation.
Stubborn inflation and the Federal Reserve's jumbo-sized interest rate hikes will drive the American economy into a 1990-style mild recession starting in the spring, Fitch Ratings warned on Tuesday.

In a report obtained first by CNN, Fitch slashed its US growth forecasts for this year and next because of one of the most aggressive inflation-fighting campaigns by the Fed in history. US GDP is now expected to grow by just 0.5% next year, down from 1.5% in the firm's June forecast.

High inflation will "prove too much of a drain" on household income next year, Fitch said, shrinking consumer spending to the point that it causes a downturn during the second quarter of 2023.
"Unexpectedly," the recession that is already here will come sooner than analysts predict and will be deeper and more painful than forecast as well.
So analysts won't admit the recession is already here, but they do admit it is already baked into the cake due to Biden's inflation, and the efforts required to contain that inflation.

But Joe Biden and the Regime A-Team will retroactively blame inflation and the recession on the incoming Republican Congress anyway, says the Daily Wire.
President Joe Biden thinks you are an idiot.

Based on the president's comments last week, it is abundantly clear that his team is readying to blame Republicans for any economic ruin after the midterm elections -- despite the fact that his economic policies over the past 20 months are behind current skyrocketing costs.

"If Republicans win, inflation's going to get worse. It's that simple," Biden recently said in Los Angeles.

Biden's declaration came the same day that the Bureau of Labor Statistics consumer price index reported that inflation was hotter than expected in September and rose by 8.2% year-over-year. That is now the twelfth straight month with inflation year-over-year above six percent.

Somehow, Biden wants you to believe that Democrats have a handle on inflation, and the GOP will only add to the worries.

...

White House economic adviser Cecilia Rouse, however, says that the economy is going to slow down -- presumably code for 'we are about to enter a recession as predicted by many economic experts.'

"We are starting to see signs that our red-hot economy is starting to cool," Rouse said on Sunday.

It is not hard to see that Biden will fault the GOP for that "cooling" if and when Republicans take back at least the House during this year's midterm election.

Worse, he thinks you are an idiot and will fall for his blame game.
About a month ago, this meme was created. I linked it in a Quick Hits: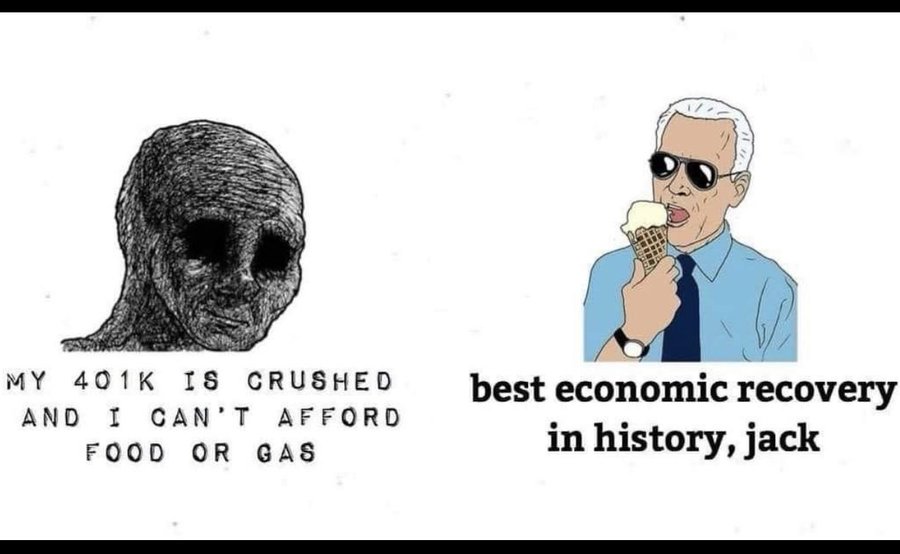 It was so perfect: A battered citizen complaining of his life's savings being wiped out, and Joe Biden licking an ice cream cone, telling him, with his bullshit tough-guy bluster, "Best recovery in history, Jack!"
Well -- Biden just Did the Meme.
Biden did the meme! He did the meme!!!
This moment was Prophesized.
Biden fulfilled the prophecy.

Tweet Status: Sweet like ice cream.

posted by Ace at
01:19 PM
|
Access Comments