« EMT 10/23/22
|
Main
|
First Hand Experiences With Awful Workplace Management / Motivation Gimmicks »
October 23, 2022
Sunday Morning Book Thread - 10-23-2022 ["Perfessor" Squirrel]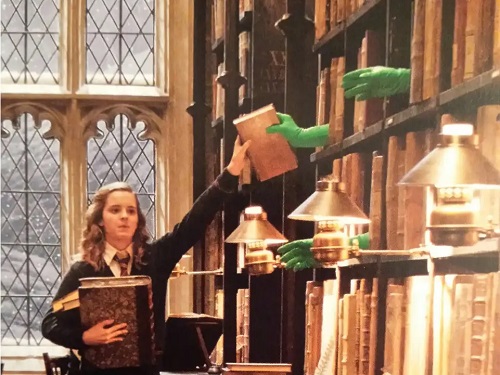 Welcome to the prestigious, internationally acclaimed, stately, and illustrious Sunday Morning Book Thread! The place where all readers are welcome, regardless of whatever guilty pleasure we feel like reading (ht: CBD's ONT). Here is where we can discuss, argue, bicker, quibble, consider, debate, confabulate, converse, and jaw about our latest fancy in reading material, even if it's nothing more than "The Masque of the Red Death." As always, pants are required, especially if you are wearing these pants...
So relax, find yourself a warm kitty (or warm puppy--I won't judge) to curl up in your lap, reheat some leftover bacon from the TXMOME (spoiler: There isn't any!), and crack open a new book. What are YOU reading this fine morning?
PIC NOTE
This image is a behind-the-scenes pic from one of the Harry Potter movies, depicting Hermione doing something in the Hogwarts Library. The green hands, of course, are edited out in post-production to make it look like the books are levitating or moving on their own or via telekinesis.
GUEST CONTENT FROM "SNAPROLL"
A Moron who occasionally comments under the nic "Snaproll" sent me the following, based on the "humor" thread suggested by creeper a couple of weeks ago. Since I'll be traveling today, on the road from what I assume to be a fabulous TXMOME, I prepared this ahead of time. Enjoy!
"He was killed last year by some bad clams" "Bad clams?" "Yeah. They had axes."

First off, Girl Genius. Written and illustrated by Phil and Kaja Foglio, this is the grandaddy of all webcomics. Set in an alternate history version of Europe with mad scientists, airships, railway operating monks, and supernatural oddities, the story follows the misadventures of Agatha, a young woman thrust headfirst into intrigue and politics. Containing borscht belt humor, witty dialogue, and alternating between making fun of common tropes and running with them, there's a lot to look at with this one.

The comic has been regularly released (and is still going!) monday-wednesday-friday, but with over 20 years of content (plus bonus comics, asides, and fan arcs) there's plenty to get lost in.

Additionally, if graphic novels aren't your thing, the first 12 volumes have been released as 4 novels, which add to the story with hilarious footnotes and further background to the universe the story occupies. The comics themselves are free to read, the novels, naturally, cost money.

The comics and books are middle-school appropriate, with comic violence and people occasionally running around in Victorian Underwear, often steam powered.

Comment: I've read the Agatha H series of books based on the webcomics and found them hilarious and fun to read. I even wrote a paper in graduate school about teaching YA to students and used this series as a prime example of how I would teach that genre. These books are just enjoyable in all the right ways. Highly recommended!
Next up, for the graphic novel entries, Dreamkeepers.

Running almost as long as Girl Genius, Dreamkeepers is set in a parallel world where Nightmares strive to enter our reality by killing our counterparts. It's a little convoluted, but the world is vibrant, charming, and has excellent characters.

The real humor, however, comes with the Prelude webcomic. Set 5 years before the events of the graphic novel saga, it shows the main characters (young adults in the series) in their misadventures at middle school age. Charming and full of satire, this is a definite must read. The first Four Volumes of the Main saga and Prelude are free to read, with Volume 5 due out later next year. All have PDF versions available for a nominal fee.

The creators, Dave and Liz Lillie, have an interesting backstory to them as well. They met attending college studying traditional animation, wanted to pitch their own tv series, was told "You'll lose all creative control", and they decided to make their own publishing company. Dreamkeepers is the result, and along the way Vivid Publishing has a small host of other titles as well.

Dreamkeepers Graphic Novel is appropriate for kids about 8th grade and adults, while the Prelude is tame enough to read with small kids.

Comment: I've not read this comic, so I have no idea what it's about, though it looks like involves anthropomorphic cats. As a Certified Crazy Cat Person(TM), I approve of this comic already.
Finally, for the Moron readers who insist on reading books without little pictures in them, I must insist that you drop whatever it is you're doing and read The Dresden Files by Jim Butcher, unless you already have (In which case, I need hardly tell you, Polka will Never Die).

These aren't exactly humorous books, inasmuch as the main character is a hardboiled, unlucky in love private investigator who also happens to be Chicago's only Wizard, but they're chock full of humor, mostly of the self deprecating variety, plus lots of pop culture references thrown in. They're quick reads, and will grab you by the scruff of your neck, alternating between laughing, worrying what's going to happen next, and cheering Dresden on as he fights vampires, werewolves, gangsters, evil sorcerers, fairy queens, dragons, ogres, fallen angels...well, you get the picture.

Dresden's more appropriate for high school age readers and up, but definitely worth the read. There are currently 15 novels out [actually 17 + 2 anthologies of short stories - PS], plus at least another four or five planned in the series.

Comment: I'm a big fan of these urban fantasy novels. Yes, they can be a bit formulaic at times, as most long-running series are, but they are fun reads, nonetheless. The first two books, Storm Front and Fool Moon are a bit rough around the edges, as Butcher was still trying to figure out the whole novel writing thing. Things get much better in the later books, leading up to a pivotal transition moment in Changes. Highly recommended if you enjoy a wisecracking wizard who gets his ass kicked on a regular basis, but can throw down with the best of them when the stakes are high enough.
++++++++++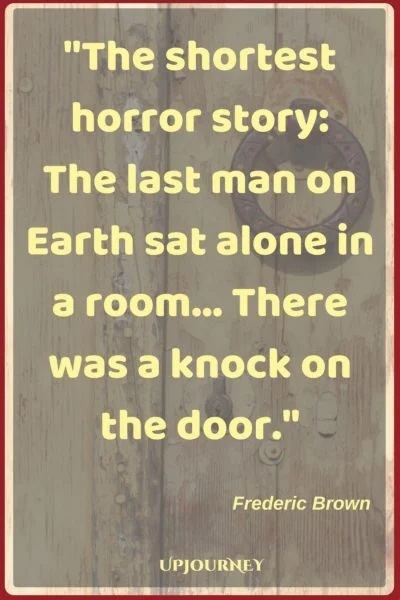 (An entire episode of Doctor Who is based around this story.)
++++++++++
BOOKS BY MORONS
Snaproll even has his own book out!
Finally, if you'd be so kind, I have an entry in your "Books By Morons" category: My first novel, The Astral Raiders: Book One of The Wildest Dreams.

Jakob took a deep breath and nodded to himself. "What do you know about what happens when humans dream?"

The question was so far out of left field, Jessica took a couple of seconds to process it. "What? What does that have to do with-"

Jessica Calhoun always thought that whatever didn't kill you always made you stronger. Until she had the accident, which left her paralyzed, alone, and afraid of a vast, uncertain future. And afterward, when she finds herself catapulted into a freak world filled with fox pirates and pegasus herbalists, of demons and angels, where memories are worth their weight in gold, she might discover how right she ultimately might have been.

Set in a steampunk world featuring fairy tale creatures, genocidal sky pirates, and the setting for, hopefully, future adventures and other nonsense, The Astral Raiders is something of a culmination of ideas for me that I've done my best to put together in a coherent fashion.

It's my first novel, and everyone who's read it has either left a couple stars of reviews, or sniffed at it and wagged their tails, so it's probably not terrible.

++++++++++
MORON RECOMMENDATIONS
Favorite tragedy... Frankenstein.

Victor screws everything up for his ambition of beating death. So many mistakes, made more tragic by the fact that he could have used his talents for more productive pursuits. And the fruit of his mistakes literally haunts him. Say, it's the right time of year to read it again...

Posted by: She Hobbit at October 16, 2022 09:51 AM (ftFVW)

Comment: Frankenstein's monster shows up in literature quite a bit. There are some profound moral questions implied in his story. Does he have a soul? Could he ever join society as a productive citizen? Would he ever be able to reproduce naturally? Should mankind be dabbling in the creation of life? And so on...I have a number of books that involve Frankenstein's monster in some way, including Larry Correia's Monster Hunter Nemesis where we find out that Agent Franks (who is, in fact, Frankenstein's monster) is inhabited by a spirit that rebelled against God. He's on a never-ending quest for atonement for his sin.
+++++
John J. Robinson's book Born In Blood\ attempts to link the destruction of the Knights Templar with the Peasants' Revolt and subsequent status of the Masons as a secret society. He focuses on the genesis of the Masons being that period that passed between the Philip IV's seizure of the Templar leadership, Pope Clement's dissolution of the order and demands that their assets be seized, and the compliance by the English and Irish, by which time the Templar fleet, treasure and arms were gone. He also points out that the Peasant's rebellion was well organized with three groups, and that Wat's arm was wearing white tabards with red crosses, and that in London the rebels focused on attacking the establishments of the Knights Hospitallers who had taken over the Templar's banking and assets.

It is a fun book, and an interesting stab at trying to resolve a hidden history of a secret society that claims to go back to the Templars and Solomon's Temple.

Posted by: Kindltot at October 16, 2022 09:46 AM (xhaym)

Comment: There's always been a bit of mystique to the Freemasons...Are they really running the world? Is the United States of America founded on occult Masonic practices? And who can forget this classic Monty Python sketch?
+++++
A hard science "time travel" book that actually works is Thrice Upon a Time by James Hogan. The main characters do not travel back through time, but they can send messages. The act of sending a message to a particular part of the time line makes that section unavailable to future parts of the time line. It's an intriguing book that is a fun read.

Posted by: MichiCanuck at October 16, 2022 10:08 AM (KBHKt)

Comment: This idea of sending messages to the past crops up in science fiction from time to time. Of course, this also leads to interesting paradoxes because if you have knowledge of the future, do you change your path and therefore alter the possibility that you might receive a message from the future? Or is a stable time loop created, "locking" the events in place so that no matter what you do, you will inevitably end up in the same point in time?
More Moron-recommended reading material can be found HERE! (466 Moron-recommended books so far!)
+-----+-----+-----+-----+
WHAT I'VE BEEN READING THIS PAST WEEK:
God Stalk by P.C. Hodgell -- A young woman emerges from the Haunted Lands, her ultimate fate to assume the identity of the avatar of Regonereth, That-Which-Destroys, one aspect of her Three-Faced God.
Dark of the Moon by P.C. Hodgell -- We are introduced to Jame's twin brother Tori, who is at least a decade older than her, and who is struggling to assume his role as Highlord of the Kencyrath.
That's about all I have for this week. Thank you for all of your kind words regarding my Sunday Morning Book Thread. This is a very special place. You are very special people (in all the best ways!). The kindness, generosity, and wisdom of the Moron Horde knows no bounds. Let's keep reading!
If you have any suggestions for improvement, reading recommendations, or writing projects that you'd like to see on the Sunday Morning Book Thread, you can send them to perfessor dot squirrel at-sign gmail dot com. Your feedback is always appreciated! You can also take a virtual tour of OUR library at libib.com/u/perfessorsquirrel. Since I added sections for AoSHQ, I now consider it OUR library, rather than my own personal fiefdom...
PREVIOUS SUNDAY MORNING BOOK THREAD - 10-16-22 (hat tip: vmom stabby stabby stabamillion) (NOTE: Do NOT comment on old threads!)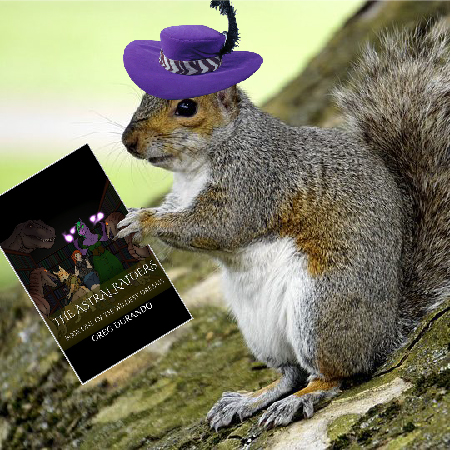 posted by Open Blogger at
09:00 AM
|
Access Comments