« Daily Tech News 13 October 2022
|
Main
|
Mid-Morning Art Thread »
October 13, 2022
The Morning Report — 10/13/22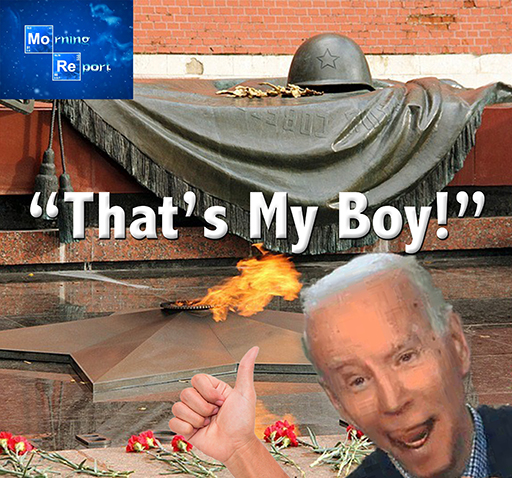 Good morning kids. Thursday and, before diving in, I highly recommend giving a listen to the podcast. Dave in FL's insights into polling, voter psychology and political strategy on top of his predictions I think make him one of the best in the business.
Now, to our top story which really is not news to anyone who has eyes to see, ears to listen and a brain with one more functioning neuron than the gibbering, perverted, criminal fabulist that the occupants of the Kalorama Komintern Kompound selected to be their puppet in the Oval Office. Yes, gentle reader, Joe Biden — a.k.a. "Joe Bin" as he is referred to by the teleprompter-assisted lichen in the Carhartt hoodie John "Lumpy" Fetterman — once again trotted out the decomposed corpse of his late son Beau as a convenient prop, but this time, even old Mrs. Bates in the fruit cellar shook her head in disgust, without the assistance of Norman:
Biden pivoted from a story about how soldiers who trained at Camp Hale had learned to ski and to scale rock formations — skills they would ultimately use defeating the Nazis in Europe — to a mention of his late son Beau.

"American soldiers of the 10th Mountain Division scaled that 1800-foot cliff at night, caught the Germans by surprise, captured key positions, and broke through the German defense line at a pivotal point in the war," Biden said. "Just imagine, and I say this as a father of a man who won the Bronze Star, the conspicuous service medal, and lost his life in Iraq. Imagine the courage, the daring, and the genuine sacrifice — the genuine sacrifice they all made."

[So-called quote-unquote "president"] Biden's son Beau joined the Delaware National Guard in 2003, and served in the Judge Advocate General's (JAG) Corps, deploying to Iraq for a year in 2008. He passed away in 2015 after a battle with glioblastoma — the same kind of brain tumor that the late Senator John McCain (R-AZ) was battling when he passed away in August of 2018.
As McCain's funeral has yet to conclude, I'll keep him out of my remarks out of respect for his family. But dementia or no dementia, Joe Biden is scum. The invocation of the dead son as a means to gain sympathy to shield him, Sponge-Brain Shits-Pants, from criticism, and then proclaim some sort of absolute moral authority on some unrelated political matter, is bad enough. But he has done this time and time and time again. That he does have presence of mind to do this means that there is some part of his brain that still functions. Obviously (and I'm no neurosurgeon), the part that houses one's conscience and sense of morality is about as dark as the event horizon of a black hole. And dementia had no part in destroying it; it was gone when he dropped out of his mother's poisoned loins nearly 80 years ago. You can now add "stolen valor pimp" to his 50-plus year rap sheet of corruption and criminality.
If you point this out and manage to weather the storm of hate and invective hurled at you for even daring to use his dear departed beloved Beau as a weapon to attack "the President," you'd be dismissed with a tongue-cluck, a wave of the hand and the parting shot of "c'mon man, that's just Joe being Joe!" Well, they attacked Falla too and FDR got four terms. Meh, this is Obama's third and his dog was named Bo. Hmm. But I digress.
Brain-melt or instinct, the world is watching and has been watching either horrified or with glee, depending if you are friend or foe. Concomitant to his mental acuity is the broader picture of Biden or his handlers, i.e., incompetence-driven ideology or ideologically-driven incompetence, the world is watching. As for our greatest geopolitical enemies, China, Russia and Iran are on the move. Regarding Russia, as Biden and his party are facing what might be an electoral wipeout at the polls that could sideline them perhaps for a generation, they are wagging the dog with the ICBM-armed former Soviet Union as a means of distraction. So, who's more mentally unstable; Biden or his handlers? To even have the calculus that perhaps a tactical nuke or two that takes out Kiev or Lviv is a Buck Turgidson-level acceptable "hair mussing," and that we won't get our own hair mussed or that it's a risk worth taking, is unthinkable madness to begin with. Yet, they indeed have thunk it.
It is still within the realm of possibility that these freaks gave the go-ahead to sabotage the Nordstream pipeline. I'm not saying it's aliens, but cui bono? Remember, there was a cease-fire/peace deal on the table and ready to go six months ago and it was Biden and the warhawks who nixed it. They have the blood of thousands of Russians and Ukrainians on their hands because of that as it is. But, if G-d forbid this thing gets out of hand in Ukraine . . .
Oh well. Lie back, think of "Rear" Admiral Rachel Levine and remember that Trump said "pussy."
CIVIL WAR 2.0: J-6 FBI FALSE FLAG "RIOT" & AFTERMATH, LEFTIST PERSECUTIONS, DEMOCRAT PUTSCH, AMERICAN DISSOLUTION
NOTE: The opinions expressed in the links may or may not reflect my own. I include them because of their relevance to the discussion of a particular issue.
ALSO: The Morning Report is cross-posted at CutJibNewsletter.com if you want to continue the conversation all day.
Follow us on Twitter: @CutJibNews
Follow us on Instagram: @Cutjibnewsletter

posted by J.J. Sefton at
07:35 AM
|
Access Comments