« EMT 10/16/22
|
Main
|
Embassies In Jerusalem? That Will Be A Catastrophe!
President Trump: "Wrong!" »
October 16, 2022
Sunday Morning Book Thread - 10-16-2022 ["Perfessor" Squirrel]

++++++++++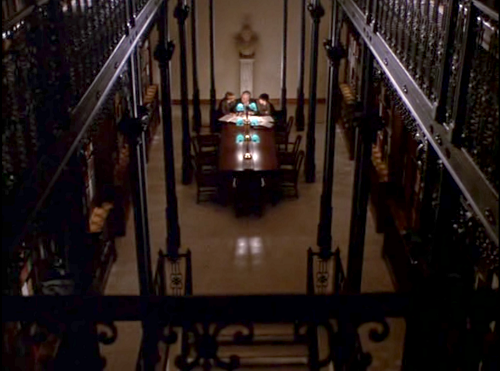 Welcome to the prestigious, internationally acclaimed, stately, and illustrious Sunday Morning Book Thread! The place where all readers are welcome, regardless of whatever guilty pleasure we feel like reading. Here is where we can discuss, argue, bicker, quibble, consider, debate, confabulate, converse, and jaw about our latest fancy in reading material, even if it's nothing more than "The Lottery." As always, pants are required, especially if you are wearing these pants...
So relax, find yourself a warm kitty (or warm puppy--I won't judge) to curl up in your lap, try some of the fava beans (with a nice chianti!), and crack open a new book. What are YOU reading this fine morning?
PIC NOTE
This is a still image from the classic Disney horror flick, Something Wicked This Way Comes. The title, of course, is an allusion to Shakespeare's Macbeth (Act 4, Scene 1). The movie is an adaptation of Ray Bradbury's book of the same name. You'll never look at a carnival the same way again...
TRAGEDY - THE OTHER FACE OF DRAMA
Last week we looked at a number of comedic authors and stories. Comedy is loosely defined as anything we find amusing or funny. We human beings love to laugh. We see laughter as an antidote to the darker side of life, even laughing in the face of deadly danger. Or we just laugh because it makes us feel better. Comedy is often seen as one of the two faces of the dramatic arts.
I thought it only made sense if we now turned our attention to tragedy, the other face of drama. As a genre, tragedy is usually defined much more narrowly than comedy. Specifically, a "tragedy" in the literary sense exhibits most of the traits listed below:
A character that has some semblance of prosperity who must go through a terrible fall in circumstances, often, but not always, leading to that character's death.
The fall is a result of choices made by the character in the pursuit of some goal (power, wealth, true love, etc.). The character will be presented with options for choosing a different path, but will take the path that leads to the downfall, either because that path is easier or leads to short term gains towards the goal.
The audience must feel closure at the end of the story, understanding that the character's choices led inevitably to the ultimate fate. We know that the character will come to a bad end, but we are not sure exactly what that end is (there are fates worse than death, after all).
This is the classical definition of a tragedy, though there are variations on this theme. We see these all the time in movies and television, as well as the classic Greek and Shakespearean plays. I'm not sure how common tragedies are in literature in general. Tragedies by their very nature do not instill a sense of hope in the reader because we know that the ending will be somewhat of a downer. That leads to an emotional response that can be difficult for us to process. Though sometimes we can be in the mood for a good tragic story, if it's told well.
Tragic characters do not have to be the main protagonist in the story, either. They can be part of a story if only to serve as a warning to other characters. For instance, Ambassador Londo Mollari in Babylon 5 is a textbook case of a tragic character, though his story is only a small part of the Babylon 5 main storyline. He makes bad choices continually throughout the series until he is crowed Emperor of the Centauri Republic, only to discover that he has enslaved his people to a vicious alien race. (Interestingly, Mollari's death subverts the usual tragic fate of this character, because only through his own death at the hands of his former enemy can he free his people and thus find redemption.)
What are some of YOUR favorite tragedies in literature? What is the cause of the downfall in those stories? Pride? Wrath? Avarice? Another deadly sin?
++++++++++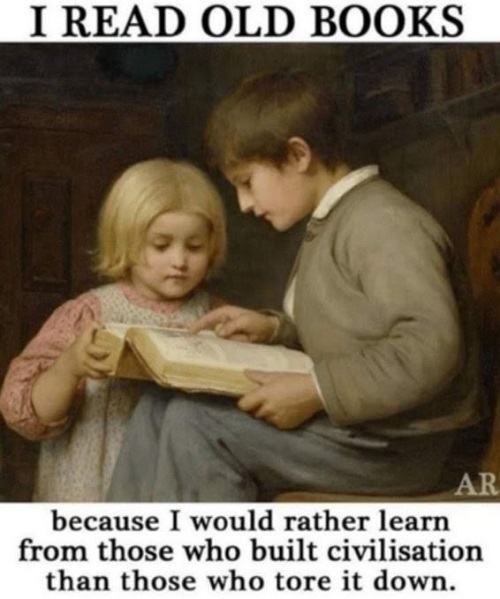 (ht: Sharon(willow's apprentice))
++++++++++
FEATURED MORON REVIEW
Moron creeper promised to send me a review of a book written by his neighbor and here it is!
Beyond This Valley by Ray D. Morgan

The horse Pat Kelly stole from the British in 1812 after realizing he had joined the wrong side was the beginning of a family legacy. Hard work and savvy trading increased his herd and when the shopkeeper Boudreaux's daughter fell in love with him his life in Pennsylvania was complete.

Nineteen years later, after his first love chose someone else, Pat's son Jacob told his father, "I think I will go riding, maybe to Texas." It was a long and eventful trip, at the end of which Jacob fetched up south of the Nueces River to begin his own life as a horseman.

This book chronicles Jacob's life and the lives of his friends through the Mexican-American war, the Indian wars, the Civil War and Reconstruction. It was a time of little law and that sometimes administered with a bullwhip. "He needed killin'" wasn't just something they said. Life was about one thing only...survival.

Jacob and his family not only survived, they prospered, along with good friends they made along the way. They fenced their land with wild roses but left gated openings so people could pass through. They built everything they needed...from plows to wagons to a grist mill...because they couldn't buy it. They gathered together when someone needed help building a corral or moving a house. They celebrated weddings and babies and bountiful planting seasons and successful cattle drives.

You'll meet Walking Bear, one of the last survivors of his tribe, who would become Walker Kelly in time yet return to his people. Maria's story will leave you marveling at the courage of a young woman sold twice into slavery. Sam Kane, the Texas ranger who became Jacob's best friend, settled nearby when he got tired of chasing bad guys and his wife put her foot down. And as time goes by you'll see Josh Kelly and Sam Houston Kane follow in their fathers' footsteps.

Ray Morgan's book doesn't have a plot and there's really no end. It's a collection of family tales oft-told over the years and finally written down. The prose flows like water. If you're inclined to gobble a book up whole, as I did the first time, this one will hold your interest. At the same time, if you only have a few minutes to spare (or you're writing a book report) there are plenty of comfortable stopping places.

Happily, the story isn't over. Ray's still writing...with pencil in a spiral notebook, the same way he wrote this one.

This book is a maiden effort. There are a handful of uncorrected errors in it but the stories are so strong they don't matter.

For Morons who have been to Corsicana, as I was reading Beyond This Valley I kept thinking of the horse sculpture garden on the way to Rancher Bob and Jen's spread. The Kellys would have approved. And so would Ray Morgan.

++++++++++
MORON RECOMMENDATIONS
For a good story with a nice mix of suspense and goofiness, Laurence Shames delivers the goods. His Key West series begins with Florida Straits, the story of the ill-fitting illegitimate son of a Queens mob boss looking for his rightful place in the underworld. He persuades his girlfriend to accompany him to Key West, where he tries to build his own criminal empire...of course, things do not go as expected. Lots of fun, a sweetly positive vibe, and good solid validation for one such as myself, who recently fled New York for the free state of Florida.

Posted by: werewife, princess of Delray Beach at October 09, 2022 09:16 AM (SPNTN)

Comment: It looks like there are currently about 16 books in the Key West Capers series, so if you like the first one, you should have plenty more to keep you entertained for a while! Sometimes it's fun to just read a light-hearted series of stories where the only objective is to enjoy it. And if there is an interesting mystery thrown in, that's just a bonus. The Discworld series of books are kind of like this...Goofy, fun characters thrown into weird situations that require them to solve a puzzle or mystery to save the day.
+++++
Currently reading The Fate of the Apostles by Sean McDowell. A bit of a slog but still immensely interesting. If you like a multitude of footnotes, this book is for you. Unfortunately for my wallet, the footnotes are leading me to many other interesting books. After twenty years as a cop it doesn't faze me how utterly cruel people can be, but during the time of the Apostles it was routine. The fear of the newly forming Christian faith scared those in power who believed it had to crushed in its infancy.

Posted by: RetsgtRN at October 09, 2022 09:41 AM (ApZWy)

Comment: We are living in a very civilized society compared to previous civilizations, even though we can see civilization reverting to a more brutal, vicious state every day. The Twelve Apostles all faced terrible persecution for their beliefs.
+++++
A funny book that doesn't poach a famous one or rewrite it, but instead visits the same world and floats alongside, is To Say Nothing of the Dog. It is very much a companion to the book it references, Three Men in a Boat and some of the jokes in TSNotD are made much funnier if you know TMiaB.

To Say Nothing of the Dog is one of the VERY few time-travel SF stories I enjoy. It features witty banter, the true nature of cats, foggy Oxford professors, and boats And True Love!

Posted by: Sabrina Chase at October 09, 2022 10:06 AM (BbSpR)

Comment: This book is by Connie Willis, a Grand Master of Science Fiction (in case that matters.) Sounds like it could be a fun romp. Time travel stories are very difficult to do well, though they are a staple of science fiction. FYI - Three Men in a Boat was written in 1889 by Jerome K. Jerome and is available for free download at Project Gutenberg!
+++++
Finally, I found a small, 90 page book titled Guiding Principles for Leadership and Professional Success by Danny Arnold and Ahmad Tootoonchi.

Usually, my first take on any leadership principles written by academics is to toss the book right away. But these guys have some incredibly insightful passages. I'm halfway through this, but I find it dead on for sound leadership principles. I happened upon this in my local library. If you are a leader, will be one, or want to understand the basic principles of leadership, read this book.

Posted by: Secret Squirrel, author of the military SCI FI series Outward Frontier on AMAZON at October 09, 2022 10:41 AM (UMRCq)

Comment: I'll never be a leader in the conventional sense...I'm more of the "Evil Chancellor," lurking in the shadows, controlling things from the sidelines. Still, there's a lot of benefit in understanding how *real* leadership works. The so-called "leaders" in government can't be trusted to lead a Girl Scout parade (for A LOT of reasons!). I tried finding this on Amazon, but they don't seem to have it. And you can certainly find tons of lists about "# Principles for Leadership," which is probably just regurgitating what's in this book in some fashion...
More Moron-recommended reading material can be found HERE! (457 Moron-recommended books so far!)
+-----+-----+-----+-----+
WHAT I'VE BEEN READING THIS PAST WEEK:
Monster Hunter Legion by Larry Correia -- Las Vegas gets sucked into an alternate nightmare dimension.
Monster Hunter Nemesis by Larry Correia -- Agent "Frankenstein's Monster" Franks goes on a John Wick-style rampage against the United States government which betrayed him
That's about all I have for this week. Thank you for all of your kind words regarding my Sunday Morning Book Thread. This is a very special place. You are very special people (in all the best ways!). The kindness, generosity, and wisdom of the Moron Horde knows no bounds. Let's keep reading!
If you have any suggestions for improvement, reading recommendations, or writing projects that you'd like to see on the Sunday Morning Book Thread, you can send them to perfessor dot squirrel at-sign gmail dot com. Your feedback is always appreciated! You can also take a virtual tour of OUR library at libib.com/u/perfessorsquirrel. Since I added sections for AoSHQ, I now consider it OUR library, rather than my own personal fiefdom...
PREVIOUS SUNDAY MORNING BOOK THREAD - 10-09-22 (hat tip: vmom stabby stabby stabamillion) (NOTE: Do NOT comment on old threads!)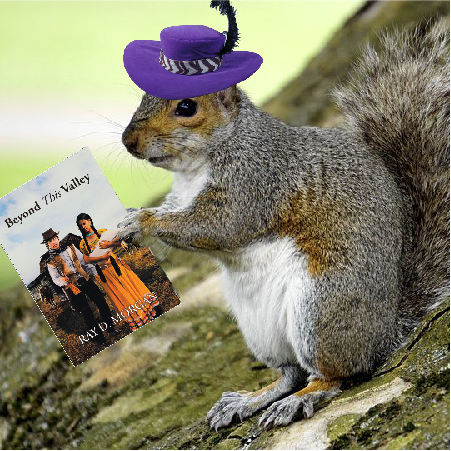 posted by Open Blogger at
09:00 AM
|
Access Comments