« Night of Columbus Cafe
|
Main
|
Daily Tech News 11 October 2022 »
October 10, 2022
Monday Overnight Open Thread (10/10/22) Federal Holiday For Columbus Day & Indigenous People Day & Everyone In Between Edition
(H/T Mis. Hum.)
***
The Quotes of The Day
Quote I

"I just found it really cute and funny." Food blogger and traveler Julie Christensen
Quote II

"We are aware of the incidents of TwitchCon visitors who sustained injuries in the gladiator game soft foam pit at the Lenovo booth,"
Lenovo communications officer Lisa Marie Ferrell
Some PI attorney is shopping for a BMW
Quote III

"Bringing our talented corporate team members and businesses together under one roof unlocks greater opportunities to share perspectives and ideas, while also enabling us to act quickly to solve problems and provide the innovative products solutions that our customers deserve and value," Tyson CEO Donnie King
***

Perhaps it is entirely innocent. Or just downright pervy.

RNS) — The student pastor at a South Carolina church has been placed on administrative leave after reportedly giving out stickers to students that read "i (heart) hot youth pastors."

The stickers caught attention online after they appeared in a social media post from someone who claimed their 14-year-old sister had received the sticker from her 35-year-old youth pastor, who had given them out to students.
***

"Very unfortunate mistake and lapse in protocol." Fancy way to say "We fvcked up."

A man with down syndrome who worked for a Wendy's restaurant for 20 years was fired from the job he dreamed of retiring from.

Dennis Peek was terminated from the fast food chain's location in Stanley, North Carolina, because he was 'unable to perform the duties of a normal persons job', his sister Cona Young Turner shared on Facebook.

'My brother Dennis has worked at Wendy's in Stanley for over 20 years and I am heart broken to say they have fired him!!!!!!!!' she wrote on October 5.

'His dream was to retire from there some day and he was looking forward to a huge retirement party, we may just give him that party and tell him he has retired because he does not understand being fired!!!!!!!'
***

You thought cutting your dick off would get you out of the selective service registration? Think again says MushHead.

Under President Joe Biden's administration, transgender women who are born male must register for the Selective Service, which provides the Defense Department with troops in the event of a military draft. Transgender men who are born female do not have to register for the Selective Service. While the policy was established before Biden took office, the Biden administration has not changed the standard.

According to the Selective Service System website, nearly "all male US citizens and male immigrants, who are 18 through 25, are required to register with Selective Service." The website states that all biological males must register for the draft, including "U.S. citizens or immigrants who are born male and have changed their gender to female.
No solo foxholes for you.
***

Let me translate for you. I'm sorry I was caught.

The president of the Los Angeles City Council resigned after an audio recording of her making racist comments about another council member's son leaked.

City Councilmember Nury Martinez stepped down from her post as president on Monday after the audio recording was published by the Los Angeles Times the night before. It was not clear whether Martinez would also resign from her seat on the council.

The recording was from an October 2021 meeting between Martinez, City Councilmember Kevin de Leon, City Councilmember Gil Cedillo and Los Angeles County Federation of Labor President Ron Herrera.

In the recording, Martinez said City Councilmember Mike Bonin a 'little b***h' and said the legislator 'think's he's f**king black.

If she were truly sorry she would resign her seat and immerse herself in sensitivity training. ***SNORT*** I crack myself up at times.
***

Poor Ben. Nobody likes him but Mitch McConnell and even that's in doubt.

Students and faculty at the University of Florida are opposing the nomination of Sen. Ben Sasse, R-Neb., to be the school's next president, saying his previous stances on LGBTQ issues do not align with those of the university.

Approximately 200 students showed up Monday outside a question-and-answer session at the campus, chanting "Hey hey, ho ho. Ben Sasse has got to go," the Tampa Bay Times reported.

The chants could be heard inside the ballroom where Sasse was speaking and forced a later meeting with faculty to be moved online.
***

***

Never mind the illegal homeless encampments, illegal drug sales and use, shoplifting and multiple other crimes in CA. The CHP will not be deterred to stop moving violations.
Weighing in at 44,320 pounds and 72 feet long, the Big Idaho Potato Truck trundles down the road with its 8,000-pound giant potato loaded on the back, and any Idahoan who witnesses it most likely will smile at the level of ridiculousness.

Unfortunately for the Big Idaho Potato Truck tour team, the California Highway Patrol isn't as endeared by the 13-foot high tuber.

On a recent trip to the Firestone Grand Prix of Monterey in California, the truck was pulled over by CHP, and its driver, Indy Lights motorsport driver Sting Ray Robb, was given a citation.
***
Well that was certainly a swift and decisive action. Not.


Entire Uvalde School District Police Force All Get Some Bad News
"We are deeply distressed by the information that was disclosed yesterday evening..."

UVALDE, TX – The Uvalde, Texas school district on Friday announced the suspension of the entire district police force following a botched response to the Robb Elementary school shooting in progress on May 24, which saw 19 children and two adults murdered.
***

This certainly doesn't build confidence in the buying public.

Rivian Recalls Nearly Every Vehicle Over Single Loose Nut

The electric automaker will recall more than 12,000 vehicles.

Rivian is issuing a recall for nearly every vehicle it has produced so far. The Rivian R1T pickup, R1S SUV, and even its Amazon electric delivery vans (EDVs) will be impacted.

The problem rests with a potentially loose fastener in the steering system.
***

But will it tow my boat from Point A to Point B?

New World Record for EV 0-62 mph Is 1.416 Seconds

There's a new EV acceleration king and no, it isn't a Tesla. Though, it's not exactly a production car, either. This bite-sized electric race car hails from Germany and it just broke the Guinness world record for the fastest electric vehicle from 0-100 km/h (62 mph), nailing that speed in a gut-churning 1.416 seconds. And it was built by students.

The 20 student GreenTeam from the University of Stuttgart built an all-electric, single-seat race car and tested it at the Bosch Research Campus in Renningen, Germany. After technical issues forced the students to cancel their first test run in early September, they tried again on October 6 and the Guinness Book of World Records confirmed their 0-62 mph time
***
The ONT Musical Interlude & Potpourri Emporium
Born on this day: 10 Oct 1955
American rock vocalist, songwriter David Lee Roth who with Van Halen had the 1984 US No.1 & UK No.7 single 'Jump' and the solo, 1988 hit single 'Just Like Paradise'. Van Halen's 1978 debut album has sold more than twelve million copies. via thisdayinmusic.com
&&&
Born on this day: 10 Oct 1946
American singer, songwriter John Prine, known for the 1971 Vietnam War song 'Sam Stone' from the album John Prine. He released his debut album in 1971, and put out 19 studio albums in all. He died on 7 April 2020 aged 73 due to complications from Covid-19. via thisdayinmusic.com
***
Bright lights Big City Genius Award Winner.

Man's laser pointing allegedly causes own collision in San Bernardino County

A man allegedly caused a collision after shining a laser into another driver's eyes in San Bernardino County on Saturday.

The suspect, 46-year-old Scott Socea of Lancaster, has been issued a citation for brandishing a weapon.

According to the San Bernardino County Sheriff's Department, the crash happened along Highway 138 in Phelan a little after midnight.

The victim told deputies that Socea was driving behind her when he allegedly felt she was driving too slow.
***
Has he learned his lesson? Only time will tell for this Genius Award Winner.

ODESSA, Texas (KMID/KPEJ)- A local pharmacy took to Facebook this week in a tongue-in-cheek response after a teen reportedly swiped a Lil' Nitro, The World's Hottest Gummy Bear from its shelves. Sunflower Rx in downtown Odessa said it didn't press charges on the teen and instead hoped he learned his lesson.

According to the Facebook post, the pharmacy said the teen and his friend visited the store and quickly left. The teen, later identified as a 16-year-old, then reportedly ran back into the store in a sweat. Sunflower Rx said the boy grabbed a cold tea from a refrigerator in the "Snack Cave" and threw himself to the floor.

Employees asked the teen if he was okay and asked if they should call for an ambulance. He then reportedly rolled over, lifted his shirt and pointed to his stomach and replied, "Please don't. I'm ok, I just ate something really spicy."
***
Prayers + Miracle= Tonight's Feel Good Story of The Day.
A young Florida man given just eight months to live has beaten a rare and aggressive blood cancer, after nearly dying multiple times during treatments. Now he is inspiring others who are going through health hardships.

Michael Cramer went to see a doctor after suffering fatigue, night sweats, and weight loss—symptoms he thought were caused by the stress of COVID-19 lockdowns—but the blood test showed something was wrong and he was told to see a blood specialist immediately.

The 21-year-old was then diagnosed with Hepatosplenic T-cell Lymphoma (HSTCL) in July 2020. He and his his mother Ashlee Cramer then heard the terrifying news that most people do not survive it, and Michael may have just eight months to live.
***

Tonight's ONT has been brought to you by Accidents Waiting To Happen.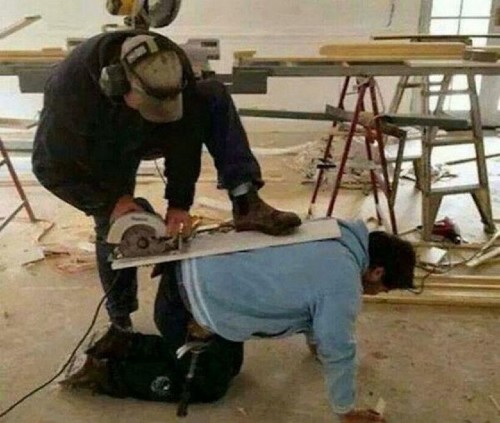 Notice: Posted with permission by the Ace Media Empire, AceCorp, LLC. & Mis. Hum. Enterprises. Past results do not guarantee future results.


posted by Misanthropic Humanitarian at
09:59 PM
|
Access Comments