« The Morning Rant: Minimalist Edition
|
Main
|
Oklahoma Governor Kevin Stitt Signs Bill Blocking Hospitals From Receiving Funds If They Perform Gender Transitions on Minors »
October 06, 2022
"Be Afraid, Be Actually Afraid:" Leftwing "Journalists" Freak Out Over Loss of Censorship Power Over Twitter Before Midterm Elections
Graff is a former editor of Politico. The shman he's co-tweeting is one of the most obnoxious and strident censors working for the propaganda media, on the "disinformation beat" for NBC. He's also one of those rich bitch children of privilege exposed by Neville the Cat's thread from yesterday.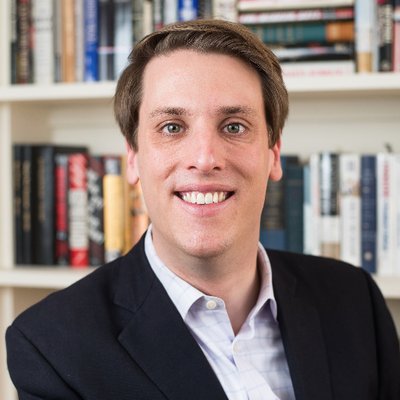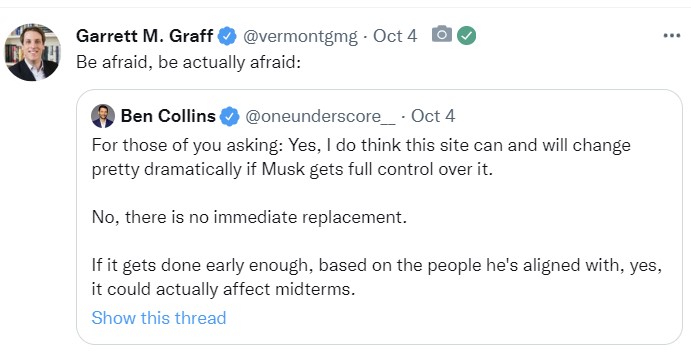 Be Akshually Afraid. Perfect.
"Be afraid, be actually afraid." Those words from former Politico Magazine editor Garrett M. Graff captures the hyperventilation in the media this week. No it is not Vladimir Putin's threat of unleashing a nuclear war or the word that our national debt has reached a staggering $31 trillion. No, it is the news that Elon Musk may go forward with the purchase of Twitter and . . . [trigger warning] . . . free speech protections might be restored on the platform. The pearl-clutching of various media and academic figures shows how engrained the censorship culture has become in the United States.

After Musk indicated that he was going forward, the Twitter stock quickly soared. The news that Musk might bring an end to Twitter's extensive censorship system had previously drawn people back to the platform. However, the media is in full panic mode that the control over speech could be loosened with Musk. Twitter employees also previously panicked at the thought that they might lose some of their control over the speech of others.

NBC News reporter Ben Collins quickly raised the most immediate concern that the sudden ability to speak freely on Twitter could impact the midterm elections: "For those of you asking: Yes, I do think this site can and will change pretty dramatically if Musk gets full control over it. No, there is no immediate replacement. If it gets done early enough, based on the people he's aligned with, yes, it could actually affect midterms."

Consider that for a second: the loss of control over political speech could mean a loss of control over the midterm elections. There is, of course, no concern by Collins that Twitter (and other social media companies) have long been "aligned" with Democrats and the Biden Administration.

Read Turley for more histrionics about the possibility that leftwing "journalists" will no longer get to dictate what other people are allowed to say, read, or believe. He quotes one media hysteric claiming that social media monopolies actually signal boost conservatives and target progressives for censorship.
He also notes:
The one thing that we agree on is that this could be a historic moment and free speech could be returning to a major platform of social media. The company seemingly wrote off free speech years ago. Twitter CEO Parag Agrawal was asked how Twitter would balance its efforts to combat misinformation with wanting to "protect free speech as a core value" and to respect the First Amendment. He responded dismissively that the company is "not to be bound by the First Amendment" and will regulate content as "reflective of things that we believe lead to a healthier public conversation." Agrawal said the company would "focus less on thinking about free speech" because "speech is easy on the internet. Most people can speak. Where our role is particularly emphasized is who can be heard.
Flashback: When Musk first proposed buying Twitter, MSNBC's Ari Melber warned that this meant that Twitter could, in the future mind you, ban a party's candidate or "secretly turn down the reach of [a party's] stuff" [reports, information] before an election "and we wouldn't even find out about it until after an election."
Can you imagine a social media monopoly having that kind of power?! I mean, can you just imagine it?!
Update: Of course.
BTW, Ace, Neville the Cat's unmasking tawtter thread has been censored

and his account has been banned...

@FearTheFloof
This account doesn't exist
Try searching for another.

Posted by: andycanuck (yikp0)
"Journalists" can publish derogatory facts about citizens, but citizens are not permitted to publish derogatory facts about "journalists."
This is no longer mere hypocrisy.
This is Hierarchy.
hi-er-ar-chy

noun

a system or organization in which people or groups are ranked one above the other according to status or authority.

Meanwhile, very popular, and conservative, and therefore dangerous YouTuber Nick Rekieta was subject to a mass-flagging campaign by leftwing censors -- ring-led by the powertripping nasty transsexual cult-leader "Keffals" -- and the censorious platform YouTube permanently banned his channel.
The cult filed lots of ethics complaints with the Minnesota Bar Association, trying to get him disbarred, and then subsequently mass-flagged his YouTube channel.
But hey let's just wait for the Free Market to Work Its Magic on a MONOPOLIST with competitors of anything like its size. I'm sure that the competition from businesses with less than 1% of YouTube's reach will really exert market discipline on it and compel it to change its ways.
Update:
And Twitter also banned Nick Rekieta this morning. Working in tandem with YouTube I guess.

Posted by: lowandslow
Because a trans pyrsyn demanded it.
Trans people and Taylor Lorenz determine who may and may not speak online.
It's totally legit when monopolists collude by having the same people working in their boards, and the same people moving back and forth between their censorship bureaus, in a kind of, what should we call it, interlocking directorate.

posted by Ace at
12:13 PM
|
Access Comments