« EMT 10/09/22
|
Main
|
The Degradation Of Western Culture Continues Apace: Making Life Itself Valueless Is A Step Toward Unthinkable Horrors »
October 09, 2022
Sunday Morning Book Thread - 10-09-2022 ["Perfessor" Squirrel]

++++++++++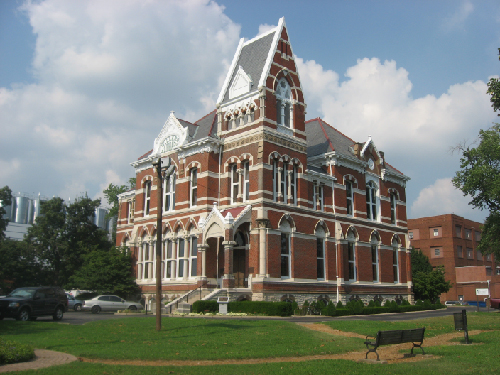 Welcome to the prestigious, internationally acclaimed, stately, and illustrious Sunday Morning Book Thread! The place where all readers are welcome, regardless of whatever
guilty pleasure we feel like reading (Ultraviolet clearance required, citizen! -- Friend Computer). Here is where we can discuss, argue, bicker, quibble, consider, debate, confabulate, converse, and jaw about our latest fancy in reading material, even if it's nothing more than "The Legend of Sleepy Hollow." As always, pants are required, especially if you are wearing these pants...(ht: Tonestaple...razor blades not included...)
So relax, find yourself a warm kitty (or warm puppy--I won't judge) to curl up in your lap, try some fresh gagh (while it's still wriggling), and crack open a new book. What are YOU reading this fine morning?
PIC NOTE
Last week I mentioned a list of haunted libraries. This week, we'll take a closer look at the Willard Library in Evansville, Indiana. Ghost hunters have set up a number of live webcams that viewers can use to see if there are any ghosts hunting the hallways and stacks at night. The library even offers Ghost Tours in October so that people can try and spot the Grey Lady...
REMEMBERING TO LAUGH
Last week I asked creeper for a good topic for the Sunday Morning Book Thread. Here is the response:
Humor. I'm desperate for anything that brings a smile these days. Biographies, both auto and other. Tech stuff, even...the lawdog post reminded me learning can be fun. Good mysteries with believable plots. Histories.

I'm never going to be a sci-fi/fantasy fan but I can read almost anything else if it's well-written.

Um...I think I just found the problem.

Posted by: creeper at October 02, 2022 10:20 AM (fOyQ3)

We all need to remember to laugh sometimes, so let's get SILLY! JTB sent me the following list of recommendations for humorous authors/stories:
Patrick McManus: his outdoor columns were hilarious. *
Edmund Ware Smith (a neighbor of EB White in Maine): He wrote two One-eyed Poacher books.
the Liturical Mystery series by Mark Schweizer. If you are embarrased at laughing aloud in front of people, don't read these in public. *
PG Wodehouse: the Jeeves stories are great but my favorites are his golf stories. *
Mark Twain [He gave an awesome speech on onanism once...--PS]
Douglas Adams: Hitchhiker's Guide: I have to be in the mood for this one.
Three Men in a Boat by Jerome K. Jerome *
Dave Barry
Calvin and Hobbes: not a book, per se, but some of the best humor ever put on paper.
the MASH books: silly and zany like Marx Brothers films. Complete guilty pleasure reading.
Bored of the Rings: still funny although younger readers and people not from the north east may not get some of the references.

* = laugh out loud

Other notable humor authors include:
O. Henry, famous for his "twist" endings, but also for the warmth and humor in his stories.
Erma Bombeck, who wrote a number of hilarious books, mainly about suburban family life.
James Thurber, who is best known for his cartoons, but he also wrote a number of humorous short stories
Jonathan Swift, who once wrote a satiric essay about the desirability of eating children as a way to solve societal problems.
Jane Austen, who filled her books with irony and jests at the expense of the gentry: "For what do we live, but to make sport for our neighbors, and laugh at them in our turn?" (Pride and Prejudice)
We are living in absurd times right now, so I do think it's important for us to take a look around us and find the humor in the bizarre, crazy world, where men are now women and vice versa, where people believe energy is provided via unicorn farts and pixie dust, and where a dementia patient can be installed as the most powerful man in America.
What are some YOUR go-to books/stories/comics for just plain silliness? Here are some of mine:
Asterix series of comics by Goscinny and Uderzo
Bloom County by Berke Breathed
The Far Side by Gary Larson
Calvin and Hobbes by Bill Watterson
Foxtrot by Bill Amend
++++++++++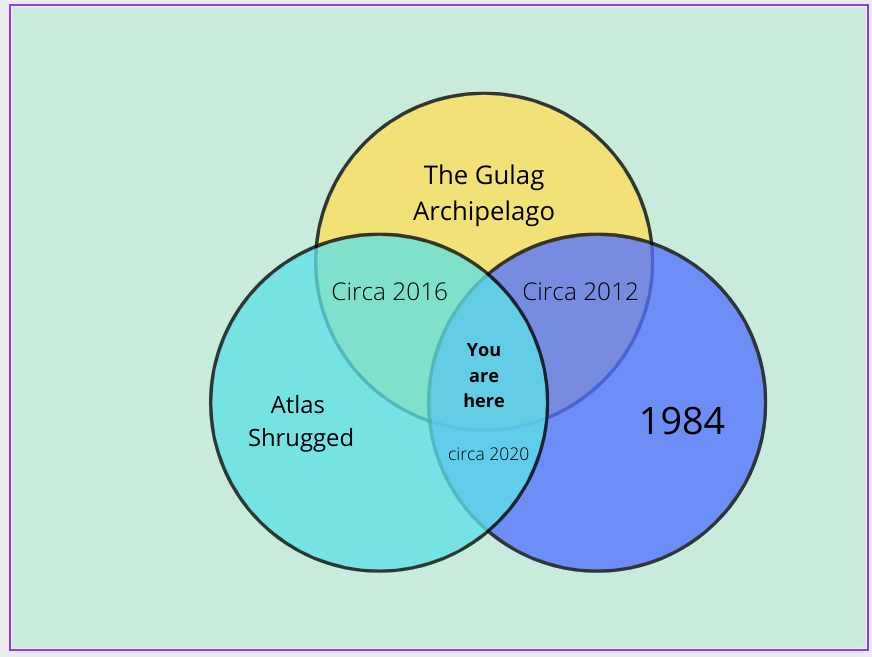 (ht: Blake - semi lurker in marginal standing)
I love Venn diagrams, so... I just do! Whenever you're dealing with conflict, pull out a Venn diagram, right? You know, the three circles

VP Kamala "The Headhunter" Harris. (ht: Misanthropic Humanitarian)

++++++++++
MORON RECOMMENDATIONS
I read The Man Behind The Curtain: Inside the Secret Network of George Soros by Matt Palumbo. This thin volume details Soros' involvement in foreign regime changes, currency collapses, education, Secretary of State and DA elections here in the United States, and his interference in the 2020 Presidential election. A man who never builds but only destroys.

Posted by: Zoltan at October 02, 2022 09:08 AM (xpLRw)

Comment: Is there anyone on the world stage more destructive than George Soros? How soon until he shuffles off his mortal coil to meet his ultimate judgment?
+++++
Reading (re-readig after many years) James Buchanan's 98 page Cost and Choice. "Cost" is the simplest concept in the world...which is why everyone in the world—including economists—gets it totally confused and wrong. Brilliant, important, and enlightening book. Also surprisingly enjoyable.

Posted by: Durak Kazyol at October 02, 2022 09:35 AM (4zxRq)

Comment: More people should read books like this, that can break down seemingly difficult concepts into simpler terms.
+++++
The Power of Habit was good—lots of scientific research. Big takeaway for me was learning that we have a finite amount of willpower each day—and as it gets diminished at work or through your day, you are less likely to go to the gym at the end of the day or complete something else. But willpower can be increased through training. I recommend this one.

Posted by: Secret Squirrel, author of the military SCI FI series Outward Frontier on AMAZON at October 02, 2022 11:11 AM (V0xPF)

Comment: Developing good habits takes a lot of willpower, but it can be done...I admit I'm pretty bad about working out or exercising. Just doesn't interest me much. But I'm working on other habits, such as this here Sunday Morning Book Thread. I'm also trying to get my students to develop two good habits for success in college: 1) Show up to class and 2) Do the work.
+++++
I've been reading Empire of the Summer Moon by S. C. Gwynne. It's about the Commanche and Quanah Parker. I've also been taking some side reading trips into works the author references, like Rachael Plummer's Narrative of Twenty One Months' Servitude as a Prisoner Among the Commanchee Indians, which despite being published in 1838, didn't pull many punches when it comes to what she went through.

Gwynne also didn't pull any punches about the cruelty of the Comanche. He definitely tries to cleave to a somewhat the politically correct narrative to a degree, but he also definitely portrays the facts of what happened. He didn't hold back on how the Comanche fought: torture, rape, more torture, more rape... He also doesn't hold back on how the Comanche almost wiped out the Apache. (He calls it genocide. It was.) It gets extremely difficult to read at times.

Learning more about what actually happened in the plains of the country in the 1800's helped me understand the Indian Wars much, much, much better. I'd always learned that the rapaciousness of white settlers was the cause of all the troubles, and that the Indian Wars were just about subjugating peaceful native Americans. Nope. Not hardly.

Lee Also

Comment: The brutality of the Native American tribes before Europeans arrived cannot be understated. They were just some of the most brutal and horrific people on the planet at the time. Sorry, Leftists, but it's true.
More Moron-recommended reading material can be found HERE! (442 Moron-recommended books so far!)
+-----+-----+-----+-----+
WHAT I'VE ACQUIRED THIS PAST WEEK:
So I took my car to a local mechanic for an oil change and somehow drove home with a bunch of books. I'm sure the comic/game shop down the street had nothing to do with that. Nor did the fact that the owner was trying to get rid of a bunch of old books at low, low prices. Here is my haul:
Royal Assassin by Robin Hobb - Book 2 of the Farseer Trilogy. I own an anniversary edition of Book 1, Assassin's Apprentice
Assassin's Quest by Robin Hobb - Book 3 of the Farseer Trilogy. Might as well complete the series while I have the chance
Inquisition by Anselm Audley - Book 2 of The Aquasilva Trilogy. I have Book 1, so I might as well finish this trilogy as well. (Didn't see Book 3, so I'll have to see if Amazon has it or something.)
The Madness Season by C.S. Friedman - Cover art by Michael Whelan, so it's already a good buy...
In Conquest Born by C.S. Friedman - I had a copy of this long, long ago, but I got rid of it before I had a chance to read it. Might as well give it a try this time
The Eternal Champion by Michael Moorcock - I already have the paperback versions of this series, but this is a hardcover omnibus edition...that seems to contain different books. The whole Eternal Champion universe is extremely convoluted....
Von Bek by Michael Moorcock - Also part of the Eternal Champion universe. Also in a nice hardcover omnibus edition.
Deathless Gods by P.C. Hodgell - Book 10 in the open-ended Chronicles of the Kencyrath, underappreciated fantasy series, but one that seems to have enough of a loyal following for Hodgell to keep writing a new entry in the series every few years. Just fantastic world-building.

WHAT I'VE BEEN READING THIS PAST WEEK:
Qualinesti Paul B. Thompson & Tonya C. Carter -- Book III of Dragonlance: Elven Nations Trilogy, strong anti-slavery vibes...
The Gathering Storm by Robert Jordan and Brandon Sanderson -- Book 12 of The Wheel of Time. Sanderson takes over from here after Jordan's untimely death. The last three books are a nonstop ride to the Last Battle...
NOTE: The central conflict in The Gathering Storm is that the main character has to learn to laugh again. Otherwise the world is doomed. It makes total sense in context, as the main character is losing his grip on his humanity and the only way he can restore it is to find within himself the ability to laugh. He earns it the hard way.
He regarded the world beneath him. The clouds above had finally broken, if only just above him. The gloom dispersed, allowing him to see the sun hanging just above.

Rand looked up at it. Then he smiled. Finally, he let out a deep-throated laugh, true and pure.

It had been far too long.

-- The Gathering Storm by Robert Jordan

That's about all I have for this week. Thank you for all of your kind words regarding my Sunday Morning Book Thread. This is a very special place. You are very special people (in all the best ways!). The kindness, generosity, and wisdom of the Moron Horde knows no bounds. Let's keep reading!
If you have any suggestions for improvement, reading recommendations, or writing projects that you'd like to see on the Sunday Morning Book Thread, you can send them to perfessor dot squirrel at-sign gmail dot com. Your feedback is always appreciated! You can also take a virtual tour of OUR library at libib.com/u/perfessorsquirrel. Since I added sections for AoSHQ, I now consider it OUR library, rather than my own personal fiefdom...
PREVIOUS SUNDAY MORNING BOOK THREAD - 10-02-22 (NOTE: Do NOT comment on old threads!)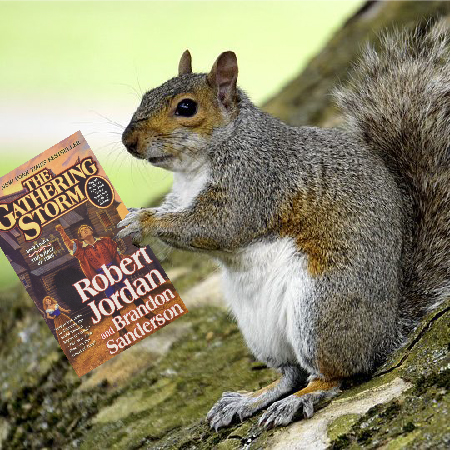 ("Huggy" Squirrel desperately needs a good laugh...this is NOT it!)

posted by Open Blogger at
09:00 AM
|
Access Comments