« Daily Tech News 2 October 2022
|
Main
|
The Nordstream Explosions: Sabotage, Or General Incompetence? »
October 02, 2022
Sunday Morning Book Thread - 10-02-2022 ["Perfessor" Squirrel]

++++++++++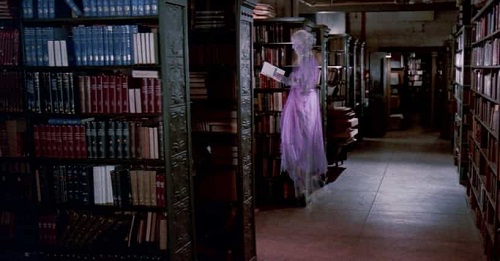 Welcome to the prestigious, internationally acclaimed, stately, and illustrious Sunday Morning Book Thread! The place where all readers are welcome, regardless of whatever guilty pleasure we feel like reading (chainsaw not included!). Here is where we can discuss, argue, bicker, quibble, consider, debate, confabulate, converse, and jaw about our latest fancy in reading material, even if it's nothing more than Casper the Friendly Ghost. As always, pants are required, especially if you are wearing these pants...
So relax, find yourself a warm kitty (or warm puppy--I won't judge) to curl up in your lap, have some blood pudding, and crack open a new book. What are YOU reading this fine morning?
PIC NOTE
Since it's now October, that means spookiness is in the air! I love October and Halloween. So why not celebrate with a "haunted" library pic? This is, of course, a still from the classic movie Ghostbusters. Naturally, you can find a lot of lists of haunted libraries out there. There is just something inherently creepy about stacks of moldy books in dank, ancient buildings. A library (not haunted) plays a prominent role in one of my favorite spooky books: Something Wicked This Way Comes by Ray Bradbury. This was later made into one of the creepiest movies I've ever seen (by DISNEY!).
DO "BEST OF" LISTS WORK?
A popular pasttime of the internet is "lists" of things. Most of these are just clickbait timewasters. Fun to read through, but ultimately meaningless except for generating ad revenue. Lists of literature have been around quite a long time, with the NY Times Bestseller list being among the more famous. Here are a couple of lists from that bastion of journalistic excellence, Esquire:
Now, I consider myself to be a bit of a connoisseur when it comes to fantasy and science fiction literature. But I must not run in the "right" circles, because I only recognized a fraction of these books. According to these "best of" lists, I've only read 34% of the "best" science fiction and only 18% of the "best" fantasy. I get the sense that Dune and Lord of the Rings are only as high on the lists as they are because the compilers of these lists grudgingly put them there, rather than out of any sense of actual desire to do so.
For comparison, here are *MY* Top 50 selections in both Fantasy and Science Fiction...
I found another list that is more my speed. It's notable that the compiler doesn't really put these in any order, but just recommends them as ten books based on Dungeons and Dragons. In this case, I own and have read each of these books multiple times. If you just want something fun to read, it's hard to go wrong with any of these (assuming you enjoy fantasy):
Some of these are genuinely great, with complex characters and themes that withstand the test of time. Margaret Weis and Tracy Hickman are among the best fantasy authors of all time, IMHO. Richard A Knaak's The Legend of Huma is a throwback to classic chivalric romance novels.
Here are a few more lists in other genres...
On last Thursday's ONT, WeirdDave linked to a list of The 100 Greatest TV Shows of All Time that had some glaring omissions, as numerous members of the Horde pointed out. It was clear that Rolling Stone, which compiled the list, was pushing their own agenda.
So, do lists help at all? Or are they just worthless entertainment?
Well, enough ranting about lists I don't like...What are some of YOUR pet peeves when you encounter lists of your favorite literature compiled by morons (and not the Horde kind...)?
++++++++++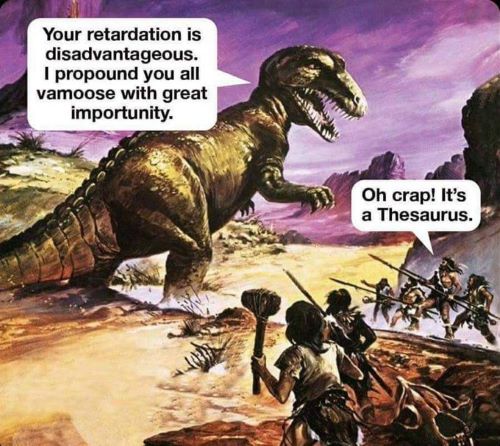 (ht: sharon(willow's apprentice))
++++++++++
BOOKS BY MORONS
Moron author Howard Woodard had his book Wearing the Cat promoted by OregonMuse several years ago. He is graciously providing a couple of copies for the Morons at the TXMOME in a few weeks, so I thought I could re-promote his book:
Wearing the Cat is a comic picaresque novel divided into two volumes: Wearing the Cat - The Complete Novel, Volume One and Wearing the Cat - The Complete Novel, Volume Two.

Set in 1988, with America near the height of her power, prestige, and influence, Wearing the Cat concerns the exuberant and blackly comic misadventures of Lt. Nick McGill, dentist in the United States Navy Dental Corps.

In Wearing the Cat, Lt Nick McGill feels that his life has gone wrong. He joined the Navy as a way to add excitement to his life only to discover a distinct lack of wine, women, and adventure in the day to day drill and fill of the Williamsville Naval Dental Clinic. Tooth decay? Oh, yeah. Plenty of that. Bad breath? Goes with the territory. The three little words? If only he didn't have to hear those three little words ever again.

Worst of all, in his boredom and loneliness, McGill finds himself questioning past decisions, and feeling nostalgic about past girlfriends.

Perhaps all he needs to do is to get laid.

When into his life steps his new, wondrously sexy Dental Assistant, DT2 Sayers. That is, Dental Technician Second Class Sayers.

But, there's a problem. Well, actually, two problems.

One, sex between officers and enlisted, dating even, is fraternization, a court-martial offense, which McGill's Commanding Officer, the Old Man, is a stickler for. That is, when not giving McGill the kind of lecture which makes him want to count the freckles on his arm.

And two, there are rumors that DT2 Sayers got kicked out of Japan. By the Japanese government. What is that all about?

McGill's idiotic yet brilliant solutions to his dilemmas lead to an exquisite series of surprises, twists, shocks, and laughs as just about everything that could possibly go wrong for McGill does. And changes his life forever.

Wry and ribald, deeply human and wildly hilarious, sexy and subversive, with excellent oral hygiene, Wearing the Cat is a fun, funny, and satisfying read.

++++++++++
MORON RECOMMENDATIONS
Been reading that A.H. Llloyd guy's Long Live Death. It's amusing (and not so much) to see how the commies have been consistently asshoe over the years. There are definitely some similarities to our current situation, but it has also got me thinking about the possible / likely *differences*.

Posted by: Helena Handbasket at September 25, 2022 09:12 AM (llON8)

Comment: I like to include recommendations of Moron-Authored books when I can. It's just a way to show support and encourage other aspiring Moron Authors to take a chance...
+++++
Among the stuff, I found a box full of the Kenneth Robeson Doc Savage paperbacks (I think Robeson was just a pen name for these, which were reprints of the original stories). Back in the 70s, I bought every one of these as soon as they were released using the money I earned from my paper route. I couldn't believe she kept them. Brought a tear to my eye.

They had great covers.

Anyway, I've been reading through them again this week. They fit in the guilty pleasure category. Having a ton of fun. (It's a little weird holding these books again that I last held as a boy.)

Posted by: Biergood at September 25, 2022 09:33 AM (FQWHA)

Comment: Doc Savage is a larger-than-life character that inspired numerous comic book heroes and other pulp-fiction characters. I may have to try one of these books someday because they do sound like fun...
+++++
Picked up and read (for a second time) in one day, The Climb by Anatoli Boukreev and G. Weston DeWalt, an alternate telling of the story of the multiple deaths that occurred on Mt. Everest on May 10 - 11, 1996. Boukreev was the sole non-native person (and a guide on one of the commercial teams) who spent most of the night of May 10 - 11 out searching for climbers lost on the South Col in the blizzard that had hindered their return to Camp IV. His is a compelling account and his courage was beyond doubt. Of course someone found fault with the man -- Jon Krakauer, author of Into Thin Air (and also on the mountain) -- and published misleading falsehoods regarding Boukreev's actions and motivation despite the latter having spoken and written to him in order to convey the true story. I felt nothing but contempt for Krakauer upon finishing this book.

Posted by: Krebs v Carnot: Epic Battle of the Cycling Stars at September 25, 2022 10:07 AM (pNxlR)

Comment: Climbing Mt. Everest is no easy task, even with all of the modern equipment and science at our disposal. It takes a lot of courage and fortitude. Wouldn't catch me doing it, that's for sure...
+++++
I mentioned yesterday or Friday that after rewatching the movie How Green Was My Valley I decided to re-read the book which I read probably 20 years ago or more. It is a lovely book about family and faith and miners in Wales. The library did not have any other of his books. I'd like to see other things which he wrote.

Posted by: FenelonSpoke at September 25, 2022 10:34 AM (vci4Q)

Comment: It looks like Richard Llewellyn has written a number of books. It could be a challenge to find some of his books, however. Other than How Green Was My Valley, it's unclear how many of them might still remain in print. This is why we have used bookstores. Good luck hunting down his books, Fen!
More Moron-recommended reading material can be found HERE! (430 Moron-recommended books so far!)
+-----+-----+-----+-----+
WHAT I'VE ACQUIRED THIS PAST WEEK:
Picked up the following from the Community Bookshelf outside the English Department. Good finds, but I've noticed that these books often come with annotations in the margins, which is kind of annoying. I don't like other people's notations in "my" books (yes, I realize they belonged to someone else who has cast them aside for me to now enjoy).
Brave New World by Aldous Huxley -- I already own a copy, but this one is in better shape and has fewer annotations
The Picture of Dorian Gray by Oscar Wilde -- Always nice to have a classic, plus it's relatively short. And for some reason I always thought it was called The PORTRAIT of Dorian Gray.
King Solomon's Mines by H. Rider Haggard -- Classic pulp fiction that influenced numerous other authors such as Edgar Rice Burroughs and H.P. Lovecraft (and probably Robert E. Howard as well).
WHAT I'VE BEEN READING THIS PAST WEEK:
Firstborn by Paul B. Thompson & Tonya C. Carter -- Book I of Dragonlance: Elven Nations Trilogy which is basically a history of how the Qualinesti elves separated from their Silvanesti kin
The Kinslayer Wars by Douglas Niles -- Book II of Dragonlance: Elven Nations Trilogy
Qualinesti by Paul B. Thompson & Tonya C. Carter -- Book III of Dragonlance: Elven Nations Trilogy
That's about all I have for this week. Thank you for all of your kind words regarding my Sunday Morning Book Thread. This is a very special place. You are very special people (in all the best ways!). The kindness, generosity, and wisdom of the Moron Horde knows no bounds. Let's keep reading!
If you have any suggestions for improvement, reading recommendations, or writing projects that you'd like to see on the Sunday Morning Book Thread, you can send them to perfessor dot squirrel at-sign gmail dot com. Your feedback is always appreciated! You can also take a virtual tour of OUR library at libib.com/u/perfessorsquirrel. Since I added sections for AoSHQ, I now consider it OUR library, rather than my own personal fiefdom...
PREVIOUS SUNDAY MORNING BOOK THREAD - 09-25-22 (hat tip: vmom stabby stabby stabamillion) (NOTE: Do NOT comment on old threads!)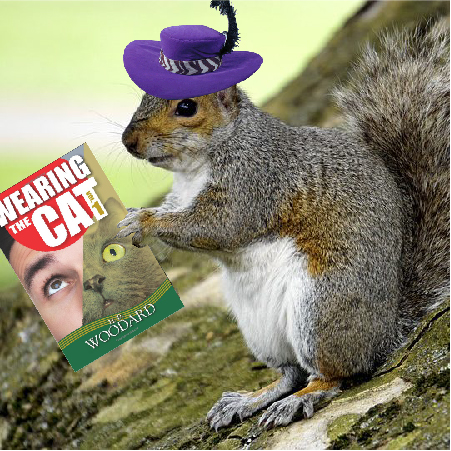 ("Huggy" Squirrel reading up on how to wear a cat!)

posted by Open Blogger at
09:00 AM
|
Access Comments