« Daily Tech News 26 September 2022
|
Main
|
Mid-Morning Art Thread »
September 26, 2022
The Morning Report — 9/26/22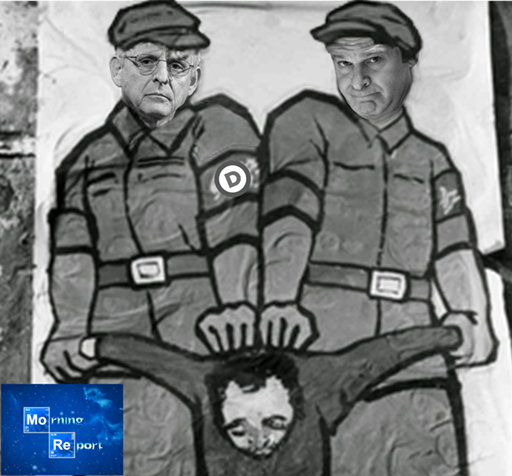 Good morning kids. Start of a new week and right on cue, we're confronted with two more stories about officially sanctioned state oppression of political candidates and nod-and-a-wink political street terrorism. After a sick bastard slaughtered a teenager by running him over, believing him to be a dangerous "Republican extremist," this happens:

An 84-year-old woman canvassing in Lake Odessa, Mich., for a pro-life group was shot in the shoulder after a heated argument, according to a press release by Michigan Right to Life.

The woman was passing out pamphlets and speaking out against Prop. 3, which is an attempt to enshrine abortion rights into the state's Constitution. She claims an unidentified man degenerate, who was not part of the dust-up, shot her as she was walking away from the raucous squabble.

The Michigan State Police are investigating the shooting. No arrests have been made yet.
I'm sure Michigan AG Dana Nessel will be all over this like a pink tuna taco. Sure. Meanwhile, Psaki-psircling back to the FBI, in the wake of former-agent Steven Friend blowing the whistle on the agency ordering its rank and file to literally invent cases of white supremacy as a priority over going after real criminals, it seems as if Facebook is running interference for the Bureau, per the estimable Miranda Devine:
More evidence of how vindictive, obsessive, and downright sinister Facebook is, now it appears to be monitoring private messages and suppressing material related to the whistleblower complaint of hero FBI special agent Steve Friend. 

After Friend's bombshell revelations last week in a whistleblower complaint to the Department of Justice inspector general, his cause received an avalanche of public and private support, including from former FBI agents and conservative groups. . .

. . . On Sunday, Friend's wife's Facebook account was suspended after she responded to an offer of support from a local chapter of Moms for Liberty (M4L), a conservative group that advocates for parental rights. . .

. . . At the Moms For Liberty end, Mrs. Friend's Facebook message disappeared. In its place was a notification saying, "Message unavailable." 

Why is Facebook monitoring private messages and attempting to suppress material related to Friend's protected whistleblower complaint? Were they asked to do so by the FBI?
Three guesses. In any case, it's perfect timing because now we have this outrage:
On reading about the Saturday arrest of pro-life activist Mark Houck, I thought the author at this alternative site had to be exaggerating. It struck me as beyond belief that two dozen or so armed FBI agents would swarm the house of a Catholic father of seven, rifles drawn, and arrest him in front of his weeping children for anything short of murder.

I have had to recalibrate my belief system. The "crime" fell quite a bit short of murder. On October 13, 2021, Houck brought his 12-year-old son with him for his weekly sidewalk counseling outside of a Planned Parenthood abortion clinic in Philadelphia. A volunteer escort at the abortion clinic reportedly called Houck's son a "fag" among other insults and threatened him. Houck pushed the man away from his son, and the man fell. Houck, the founder of an organization that promotes Christian virtue among men, was not charged with a crime.

However petty the incident, U.S. Attorney's Office, Eastern District of Pennsylvania, had Houck seized at gunpoint nearly a year later and bragged about the arrest. Said PR hack Jennifer Crandall in a press release, Houck "assaulted a man because he was a volunteer reproductive health care clinic escort."

Before proceeding, this sentence needs parsing. The most problematic word is "because." Houck has had hundreds of opportunities to assault escorts if their offense in his eyes was to be an escort. Although the press release claims two incidents on that same day with the man, Houck had no prior or subsequent altercations.

Then there is the Orwellian phrase "reproductive health care clinic escort." Ms. Crandall is somehow fusing the "reproductive rights" euphemism favored by abortion activists with the function of the escort, whose mission, of course, is to assure that no reproduction takes place on his watch.

"Assault is always a serious offense, and under the FACE Act, if the victim is targeted because of their association with a reproductive healthcare clinic, it is a federal crime," huffed U.S. Attorney Jacqueline Romero. Her piety was echoed by still another Jacqueline, Jacqueline Maguire, Special Agent in Charge of the FBI's Philadelphia Division.

. . .The Twitter responses to Houck's arrest suggest a widespread indifference on the Left to the rule of law and common decency. Here is a representative tweet from a woman named Mary, one of the few without any obscenities: "You're REALLY leaning into the 'Catholic' part of this story, when the truth is that a professional 'manly man' who spends his days harassing vulnerable women physically assaulted a real man TWICE. Mark Houck makes his living as the leader of a toxic masculinity cult; arrest him" . . .

. . . GOP gubernatorial candidate Doug Mastriano saw the raid for what it was. "This show of force was carried out by the Biden regime against ordinary Americans is an abuse of power that stands against the fundamental principles on which our country was founded," said Mastriano. "As Governor, I will not allow the police state of Biden to enforce his persecution against his political enemies on sacred Pennsylvania soil". . .

. . . Has the FBI gone too far? For the Left, if the enemy is the right, it cannot go far enough.
Bingo, Jack Cashill. What these incidents, as well as those that are perpetrated by vermin like Shannon Brandt, James Hodgkinson as well as Antifa and BLM seem to confirm is that the latter are essentially behaving like Nazi-era Sturmabteilung while the FBI/DOJ are acting as the Gestapo/Kripo. It's undeniable. I mean, how many more people need to be shot, beaten up or run over and how many more cities need to burn to prove it, while decent law-abiding citizens are nacht und nebeled in front of their terrified kids and dragged off to Stalag Garland?
In my discussion with CBD and Joe Mannix on the latest edition of the podcast
we talked about the Junta's declaration of a massive, white supremacist movement in this country whose goal is the seizure of absolute power and the destruction of "our precious democracy" (*vomits*). It is a fact that the presence of some mass white-supremacist movement in this country is a bromide. In a nation of nearly 330 million people, the FBI's own statistics have identified perhaps 25,000 individuals who are known to be members of the two biggest organized (to whatever degree that may be) groups, the KKK and Aryan Brotherhood.
The salient point that we all missed was why the sudden identification of this threat to "our precious democracy" (*vomits*). The reason is crystal clear and it is horrifying: the Junta will equate anyone and everyone who is not an avowed Democrat or Leftist to be a "white supremacist" and therefore, as Joe Sponge-Brain Shits-Pants himself declared in front of a defaced, desecrated Independence Hall at the beginning of this month "a clear and present danger" to the national security of the nation. That being the case, there would be only one "solution" (nudge-nudge wink-wink): to outlaw and completely remove us from political life if not society itself. Or even life itself.
The only clear and present danger we present to them is wiping them out politically at the polls come November. It goes beyond that as well. Trump's presidency and what he stood for exposed the lie of the two-party system as well as the abject failure of at least 60 years of Democrat Leftist policy. Not just to us but to a growing percentage of the Left's own coalition of voting blocs whom they have defecated on for decades. Truth be told, the past 21 months of life under the insane rule of Marxists with a venal, perverted, geriatric vegetable as its figurehead did more to prove that point than anything else. And they're not going to stand for that.
The eliminationist rhetoric is not merely that; they mean it. The truth is, we do pose an existential threat — to their power. There's no going back for them. They now have to act on the blood-libels they have smeared us with or else the blowback on them will be tremendous. At least politically.
CIVIL WAR 2.0: J-6 FBI FALSE FLAG "RIOT" & AFTERMATH, LEFTIST PERSECUTIONS, DEMOCRAT PUTSCH, AMERICAN DISSOLUTION
NOTE: The opinions expressed in the links may or may not reflect my own. I include them because of their relevance to the discussion of a particular issue.
ALSO: The Morning Report is cross-posted at CutJibNewsletter.com if you want to continue the conversation all day.
Follow us on Twitter: @CutJibNews
Follow us on Instagram: @Cutjibnewsletter


posted by J.J. Sefton at
07:36 AM
|
Access Comments