« Daily Tech News 23 September 2022
|
Main
|
Mid-Morning Art Thread »
September 23, 2022
The Morning Report — 9/23/22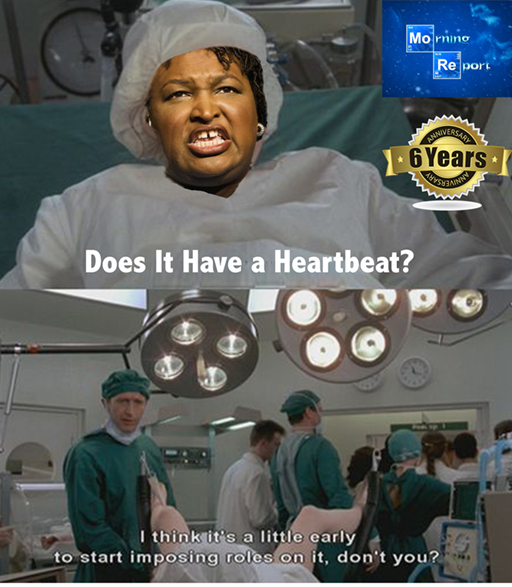 Good morning kids. The weekend is here and further to yesterday's editorial vis a vis the hounding and persecution of former FBI Agent and agency whistleblower Steve Friend, I give you this exchange from yesterday's comments:
I'm best buds with an FBI field agent. He's a Trump supporter and is sick to death of what is happening. At the same time he's scared to death of saying anything or getting above the skyline. Bad things have happened to agents who have spoken up...worse than what has happened to Agent Friend here. He's got a new baby and another on the way. He's not worried about pension or money...his wife is a doctor... he's worried about something much worse.

Posted by: Defenestratus at September 22, 2022 09:12 AM
(Note: Do NOT comment on old threads)
My response:
At some point - and we may be there right now - he's going to have to take a stand. If he and everyone he knows in the agency that feels like him all stood up together in unison, it might make the difference.

Lives, fortunes and sacred honor? Something? All of those things one fears losing are worth fighting for. Because if you don't, eventually you lose them all anyway. And your soul.
Believe me, I totally understand the position Defenstratus' friend is in. But at what point do you stop, look around and declare that enough is enough? At what point do you declare that your own personal safety and security, and the life you built up are worth risking, figuratively and perhaps literally to preserve/restore the society and order that allowed you to attain them in the first place? Our economy, our borders, our national security, law and order, and our society and culture are being intentionally destroyed, now at a faster and faster pace. Institutions that we thought we could rely on as impartial guardians of all of the above have been corrupted to such an extent that they are now to greater and greater extent the very instruments of our destruction.
Human nature dictates that the more we are stripped of our security and our identity, the more we will be forced to rely on the law of the jungle. Talk to anyone who survived a death camp, or listen to their testimonies and you will be shocked at the things that someone will do just to stay alive for one more day, or even one more minute. God help us but we are on that path right now. It's not a question of can we or will we reverse course. The question is when? When do we stick our neck out and openly protest?
That's what Steve Friend did and you can see what happened to him. I said to Defenestratus that "obviously, his friend is going to have to take a stand," but now that I think on it, that is not necessarily the case. Even if the majority of FBI agents, and indeed those working in every governmental bureaucracy, was a card-carrying Democrat-Leftist, there is still a sizable percentage that are not. They go along to get along. In normal times, they just do their jobs while looking the other way or just shrugging their shoulders at, say, mere sloth, incompetence or even graft. It's not your concern. The vaccine mandates suddenly changed that calculus. In a way, it was kind of a loyalty test, as has been demonstrated with those in the armed forces who refused on religious or other grounds.
And now, we have a man of integrity who sees that what the FBI is doing to ordinary Americans is nothing short of political persecution and the sharp end of the spear of tyranny. Where are all the other Steve Friends we are assured populate that agency? If they are not willing to stand up with him and refuse to go along with what are nothing short of Gestapo-like tactics, then at some point in the future, they will at best sit on their hands when things get a lot uglier than merely railroading innocent people into jail. At worst, they'll be the ones eagerly participating in the Garland version of Nacht und Nebel actions.
The pessimist in me sees Steve Friend as an outlier, a one-off. The optimist in me wants to see this as perhaps the moment when the dam starts to break. Maybe we're somewhere in the middle. But is the dam going to break or will the rotten center hold and we continue on our merry way to the moral or even literal equivalent of the ramp at Birkenau?
As Bob Dylan sang, "When you ain't got nothin', you got nothin' to lose." At that point, it's perhaps easy to do things that in your worst nightmare you never thought you'd do. But it's when you've got everything to lose that standing up, doing the right thing and calling out evil for what it is, really counts.
Have a good weekend.
ABOVE THE FOLD, BREAKING, NOTEWORTHY
"The Mullahs must be prepared."
We Will Neither Forgive Nor Forget the Murder of Mahsa Amini

Richard Fernandez: "The lights are going out all over Europe, and they won't be coming on again for a while, at least not on Green power. The hope in world capitals that the crisis which began with the [Chinese] Covid 2019 pandemic and deepened with Russia's 2022 invasion of Ukraine would soon blow over was rudely dashed . . . For the moment the visionaries will have their hands full just keeping the war from spreading; ensuring the lights stay on, keeping the supply chain connected and making it possible to put food on the table. The generation of politicians that promised us the end of history would do well to just get us to another tomorrow."
Shifting From Utopia to Survival Mode
CIVIL WAR 2.0: J-6 FBI FALSE FLAG "RIOT" & AFTERMATH, LEFTIST PERSECUTIONS, DEMOCRAT PUTSCH, AMERICAN DISSOLUTION
NOTE: The opinions expressed in the links may or may not reflect my own. I include them because of their relevance to the discussion of a particular issue.
ALSO: The Morning Report is cross-posted at CutJibNewsletter.com if you want to continue the conversation all day.
Follow us on Twitter: @CutJibNews
Follow us on Instagram: @Cutjibnewsletter

posted by J.J. Sefton at
07:00 AM
|
Access Comments