« The Saturday Morning Coffee Break & Prayer Revival
|
Main
|
Saturday Gardening, Puttering and Adventure Thread, September 24 »
September 24, 2022
Thread before the Gardening Thread, September 24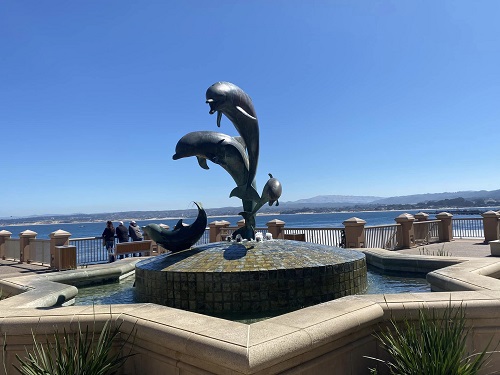 Good morning! It's the first Saturday of fall, and some friends from Switzerland visited Monterey, before it was too late to visit California. Nice scenery there.
Have you been there? Thinking about going?
*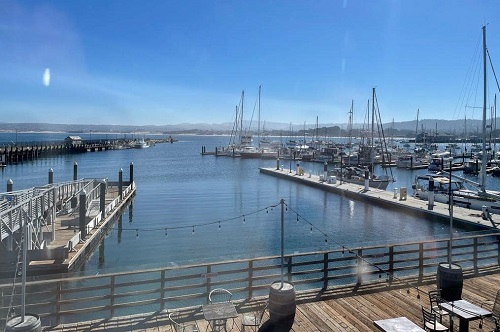 *
There is a fair amount of wildlife there for an urban area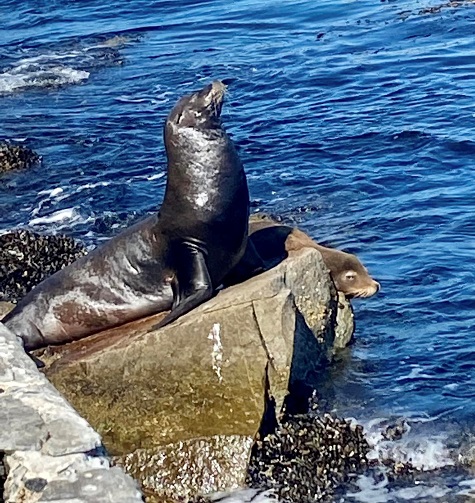 *
It's a good place to get fresh seafood.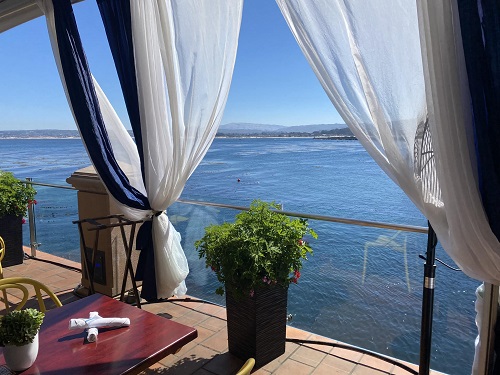 *
This is closer to our seafood menu here at home. Inland.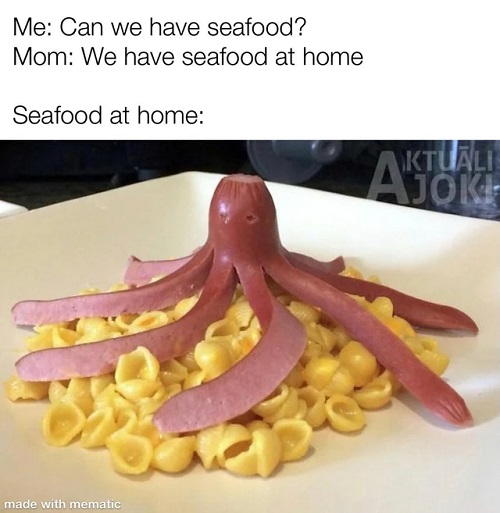 *
If you are thinking about visiting California so you can describe it around the campfire when things fall apart, you might consider visiting the restaurant that taught Taco Bell's creator how to make its iconic taco.
It's on the old Route 66, but serves mostly locals:
There's a "Mexican Combinations" section and an "American Flavor" section on Mitla Cafe's menu -- an anachronistic nod to a previous era, when Mexican food like tacos and enchiladas weren't considered as American as apple pie.

You can order an "orange whip" to drink -- a drink that was last in style decades deep into the previous century.

There's not even an obvious way to order the hard-shelled ground beef taco that Mitla is famous for having created. Among the 31 items listed under the "A La Carte" section is one simply labeled "Taco." It is there that you can specify "hard-shelled" and "ground beef."
* * * * *
Hope you have something nice planned for this weekend.
This is the Thread before the Gardening Thread.
Serving your mid-day open thread needs
If you're ready to switch to weekend stuff right now, you can stop reading here. Otherwise, there's some content to consider below.
* * * * *
Last Week's Thread
September 17, Barbie and G.I. Joe: your models of femininity and masculinity
Comments are closed so you won't ban yourself by trying to comment on a week-old thread. But don't try it anyway.
OH, WAIT! THERE ARE UPDATES!
There seems to be a lot of new information coming in on gender issues just lately. You may have noticed this week. It never ends. New insights in Ace's afternoon post yesterday, and wild stuff in yesterday's Morning Report. It's even in the sidebar! It just seems to keep coming!
* * * * *
Here are even more tentacles to the hydra.
We've caught the Left off guard with our assault on gender ideology. They don't understand what's happening or why and they aren't at all prepared to have this conversation. They're scrambling. They're defensive. They're desperate. That's why we'll win.
I know people are sick of this issue, but:
Does this look like a "Technology Review" to you?
One piece: "How the idea of a "transgender contagion" went viral -- and caused untold harm"
I think the "gender issue" of a Technology Review indicates that MIT is afflicted with some sort of gender contagion.
Untold harm . . . They couldn't quantify any harm, so it was "untold".
So technological. So scientific.
Almost no science or technology was involved in writing this piece. It portrays "the opposition" as incapable of nuanced thinking. They took a "flawed" study by Littman and ran with it, before waiting for activists to tear the study down. The MIT piece kind of skips over concerns over current methods of diagnosing and treating gender dysmorphia, for example. Even though that seems to have been a big concern of Littman's when she conducted that "flawed" study.
Encouraging transgenders to compete against girls in sports is "acceptance of transpeople", and if you're not on board, you have "bad intentions".
Where's the clear, definitive technology in this "Technology Review", MIT?
The ROGD paper was not funded by anti-trans zealots. But it arrived at exactly the time people with bad intentions were looking for science to buoy their opinions. The paper "laundered what had previously been the rantings of online conspiracy theorists and gave it the resemblance of serious scientific study," Branstetter says. She believes that if Littman's paper had not been published, a similar argument would have been made by someone else. Despite its limitations, it has become a crucial weapon in the fight against trans people, largely through online dissemination. "It is astonishing that such a blatantly bad-faith effort has been taken so seriously," . .
"people with bad intentions . . ."
"the fight against trans people"???? That seems like pretty inflammatory language for a disinterested technology review, MIT. Is the fight REALLY against "trans people"?
One reason for the success of Littman's paper is that it validates the idea that trans kids are new. But Jules Gill-Peterson, an associate professor of history at Johns Hopkins and author of Histories of the Transgender Child, says that is "empirically untrue." Trans children have only recently started to be discussed in mainstream media, so people assume they weren't around before, she says, but "there have been children transitioning for as long as there has been transition-related medical technology," and children were socially transitioning -- living as a different gender without any medical or legal interventions -- long before that.
There have long been tomboys who lived pretty much like boys and didn't like "girl stuff". Now, some queer activists call being a tomboy a sign of "white supremacy". Tomboys gotta admit that they are really "cis" OR transition. Get drugs, hormones and surgery. "People assume" that activists didn't apply that kind of pressure before. Why not mention that in the piece, MIT?
Historically, there have been women who "transitioned" to male roles after the deaths of their fathers in some small cultures, to support their families. They were accepted as men in the community. But that had nothing to do with their feelings as children. They hung out socially with men and took on the mannerisms of men in society and at home. It may not have been "social contagion" in the way we think of it now, but it was a social expectation. I wonder if that counts as "transgenderism" in the historical discussions of advocates?
*
This is NOT a "fight against trans people", MIT:
* * * * *
In contrast to the way "scientists" are often having their feet held to the fire now,
Thread on the lack of science behind the introduction of puberty blockers. Wow. Really. History turns on small hinges.
* * * * *
UK, a center of gay/transgender conflict and trans revisionism:
There was some discussion of Mermaids last week. Here's more:
Mermaids is a threat to gay rights
I've been involved in the campaign against homophobia for forty years, and I've never seen anything like this. For the first time, a tribunal is taking place in which one charity is attempting to strip another of its legal status. Mermaids, which advocates for "gender variant and transgender youth", has brought a case against LGB Alliance, the only UK-based organisation that focuses exclusively on same-sex attracted people.

Mermaids claims that LGB Alliance was not, in fact, established to support lesbians, gay men and bisexuals -- but rather to discredit and disband Mermaids itself. The LGB Alliance, allegedly, "does not have charitable purposes". If Mermaids wins this case, the consequences will be devastating for lesbians and gays. Any future charity set up to advocate specifically on our behalf will be wide open to legal challenge.
Apparently, the expert witnesses in the court case have not covered themselves with glory. You would think that they would at least have read or thought about the report concerning the pending closure of the Tavistock clinic before showing up to provide expert testimony.
For the most part, the majority of people are content to politely accommodate trans people who say they find their bodies distressing. But the rub comes when the rights of others, be they female rape victims or confused gay youth, are impacted by the faith-based position of this minority group. And when fixed under the hard stare of lady justice, the idea that each of us has some mystical sense of gender identity dissolves quite quickly.
* * * * *
NHS Scotland Apologizes for 'Eunuch Gender Identity' Document
While the National Health Service (NHS) in Scotland is under fire for uploading a document to its website which recognizes 'eunuch' as a gender identity, news outlets have overlooked the considerable amount of child sexual abuse fantasy materials produced by a source listed within the draft, as well as its connection to a number of prominent academics.
They never should have let ordinary people see this document. Heh.
Castrated 'Eunuchs' are Trans, Need Affirming care, says Professional Body
The world body that writes the professional guidelines on transgender health, WPATH, has included a new chapter in its latest edition on how to affirm the wishes of men who identify, or wish to identify, as eunuchs.

A eunuch is the name given to a castrated male, and there exists a subculture of men who wish to remove some or all of their genitals, whether for aesthetic and fetishistic reasons. Others wish to undergo the procedure in order to reduce their levels of sexual desire.
Some 'eunuchs' strive for a "smooth look", according to sources above.
Hmmmm. . . "Child sexual abuse fantasy materials." Last week, we saw that Mermaids considered G.I. Joe to the the ultimate image of masculinity. Yet the unclothed G.I. Joe has a "smooth look". There is no getting around that. Perhaps adults who enjoy playing dress-up with G.I. Joe dolls should not be dispensing gender identity advice to little kids.
I hate to think about fantasies concerning the musical castrati of the past.
I'm also kind of uncomfortable with the historical connections between castration and slavery.
* * * * *
Spain

Update:
In the comments, Braenyard clarifies that:
Pursuing the clip on zealot Sra. Montero it appears the clip of her advocating sex between minors has been edited or presented distorted.

Sra. Montero was reportedly referring to 16 and 17 year old "minor adults." However, she was advocating full abortion and she skirted the gender transition portion of the presentation.

It seems the only post modern sexual activity she wasn't advocating was pre-adolescent sex.
The age of consent in Spain is apparently sixteen.
The best thing she has to support her argument is that a reporter has used twitter to edit her speech and Twitter has had to apologize publicly.

She's still a nut. Exemplary of how crazy Spain is to put her in a position of responsibility but how are they different from the rest of western un-civilization?
Rod Dreher included a slightly longer video (with English subtitles) in a piece about the EU and gender ideology, etc. In it, this Minister of Equality connects the right to abortion with the rights of children to government sex education and to choose who they will have sex with. So she is vague at best about the age at which she believes it is appropriate for children to choose with whom they have sex.
But pre-pubescent children should not need abortions, so that supports Braenard's position that she was probably not referring to the rights of tiny children to choose their sex partners. Her references to sex education as part of the same set of children's rights as the right to choose sex partners could have caused some concerns. She should clarify her position.
About other post-modern gender positions, her wiki bio states that this trained (and wealthy) communist:
oversaw the government's efforts on a bill to allow anyone over the age of 14 to change gender legally without a medical diagnosis or hormone therapy.
Without even a medical diagnosis!
If you can change your gender at 14, can you choose your minor or adult sex partner at 14? Changing your gender is a big deal.
* * * * *
Meanwhile, in the USA:
Wesley Yang:
Refraining from cutting off the breasts of a 15 year old is violence

We must protect our children from those who would not dose them with off-label drugs once used to chemically castrate sex offenders before the practice was judged to be inhumane
I'm really surprised that Wesley Yang went on the road with Billboard Chris. Yang seems more like an ivory tower type to me. But maybe not. Or maybe something has radicalized him.

Video at the link. One observation is that men seem to be more willing to talk about transgender issues with Chris even if they disagree, while young ideologically-invested women generally seek to shut him down.
* * * * *
* * * * *
Barbie abandons G.I. Joe for her first love, Ken
*
Maybe that last dance was a little traumatic for Barbie. She broke out the Chardonnay.

posted by K.T. at
11:10 AM
|
Access Comments