« EMT 9/04/22
|
Main
|
Get Woke Go Broke – Big Rig Edition »
September 04, 2022
Sunday Morning Book Thread - 09-04-2022 ["Perfessor" Squirrel]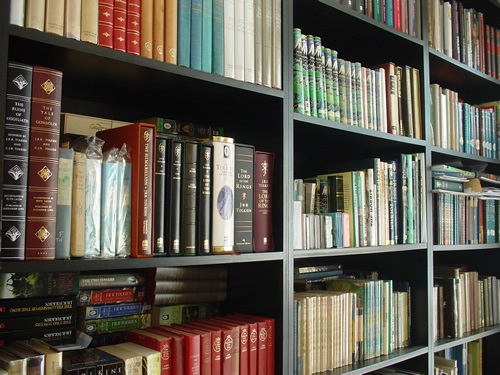 Welcome to the prestigious, internationally acclaimed, stately, and illustrious Sunday Morning Book Thread! The place where all readers are welcome, regardless of whatever guilty pleasure we feel like reading. Here is where we can discuss, argue, bicker, quibble, consider, debate, confabulate, converse, and jaw about our latest fancy in reading material, even if it's nothing more than the script for Amazon's Lord of the Rings: The Rings of Power. As always, pants are required, especially if you are wearing these pants...(One Ring not included...)
So relax, find yourself a warm kitty (or warm puppy--I won't judge) to curl up in your lap, enjoy a wafer of lembas (Elvish waybread) with your miruvor(Elvish cordial), and crack open a new book. What are YOU reading this fine morning?
PIC NOTE
Since Friday marked the release of Amazon's The Lord of the Rings: The Rings of Power, I thought I'd celebrate a with a Tolkien-themed thread. Friday also marked the anniversary of his death (August 2, 1973). Today's pic comes from a man who is a bit of a superfan when it comes to collecting volumes of Tolkien's works. He has around 1100 copies of various Tolkien books. Visit The Tolkien Library for more details.
If any of you have an idea for a Sunday Morning Book Thread theme, please let me know and I'll see what I can do...
THE CRAFT OF STORYTELLING - CAUSE AND EFFECT
OrangeEnt posted the following comment recently (I believe it was on J.J.'s Morning Report):
Had to laugh at that Barnes and Noble story. As a dabbler who probably isn't any good at writing, and as someone who doesn't fit the current publishing criteria, I love hearing the complaints from "underrepresented" and "marginalized" voices.

Maybe your writing doesn't sell because it's not very good, not because who you are or what you write about.

Fifty years ago all these books were published from "new voices" types. Why didn't they sell? Because they contained nothing good, right, or true. The new voices types wrote hate filled garbage that improved nothing and led to nothing good. None of it should ever have been published by mainstream houses.

Posted by: OrangeEnt at August 26, 2022 07:24 AM (7bRMQ)

I think most of us are quite well aware of the poor quality in today's literary and cinematic output. And I think a lot of the reasons why the quality just plain sucks is because authors are not following the cardinal rule of CAUSE and EFFECT in their stories. What does this mean? Well, in the really real world in which we inhabit, nothing happens without a cause. You can trace this all the way back to the Big Bang. Stories need to reflect this fundamental principle, no matter how fantastic the story may be. So let's look at how CAUSE and EFFECT influence the main characteristics of storytelling: setting, plot, and characters.
SETTING: Within the context of the story, the time and place during which it is set didn't spring from nothingness. There needs to be a reason for why the setting is the way it is. Authors don't need to create truly extensive backstories like J.R.R. Tolkien did for Lord of the Rings, but there should be at least some reasonable explanation for the current state of the world in which the story is set. Even mythology tends to follow this basic principle, with an explanation of how the gods created the world and populated it with people.
PLOT: The events within the story itself also need to follow a logical progression of CAUSE and EFFECT. Audiences are pretty forgiving of plot holes, so long as they are able to remain immersed within the story. But when plot holes are so glaring that the audience is unable to follow the CAUSES and EFFECTS that are supposed to lead from one scene to the next, they will be unhappy, even subconsciously, because the story no longer makes sense within its own rules.
CHARACTERS: Finally, the characters within the story must have a rationale for their actions. They must have a motivation and a purpose behind everything they do within the story. One of the most glaring errors writers can make is to give characters dialog just so that they can move the plot along, rather than dialog that is organic and natural and serves the purpose of the overall story. Characters all have their own reasons for their actions. Characters drive the action, but not without reason.
J.R.R. Tolkien was an absolute grandmaster of CAUSE and EFFECT in his magnum opus, The Lord of the Rings. At every point in the story, the reader is fully immersed in the setting, as the Fellowship journeys from The Shire to Mordor. Each location is described in meticulous detail. Tolkien even went so far as to chart the phases of the Moon on their journey so that when he describes the Moon on any given night, it will look "correct." Indeed, when the characters spend time in Lothlorien, they get a bit confused when they realize that time seems to pass differently there. The plot starts out simple--walk to Mt. Doom and toss in the One Ring--but layers of complexity are added over time, increasing the challenges that must be overcome by the heroes. All of the characters have a well-developed motivation for everything they do. Frodo is the Chosen One (by chance) and Merry, Pippin, and Sam are his best friends who won't let Frodo go into danger alone. Gandalf, of course, is one of the driving forces of the plot because he's been sent to Middle Earth to challenge Sauron. Aragorn seeks to reclaim his heritage and birthright. Boromir is desperate for something that will help his people withstand Sauron's forces. Legolas and Gimli start out simply to represent their respective races in the Fellowship, but their relationship also heals the rift that existed between Elves and Dwarves. (It's implied in the Appendices that Gimli is the only Dwarf in history to be allowed to travel to the Undying Lands with Legolas.)
CAUSE and EFFECT...Good writing embraces this principle.
++++++++++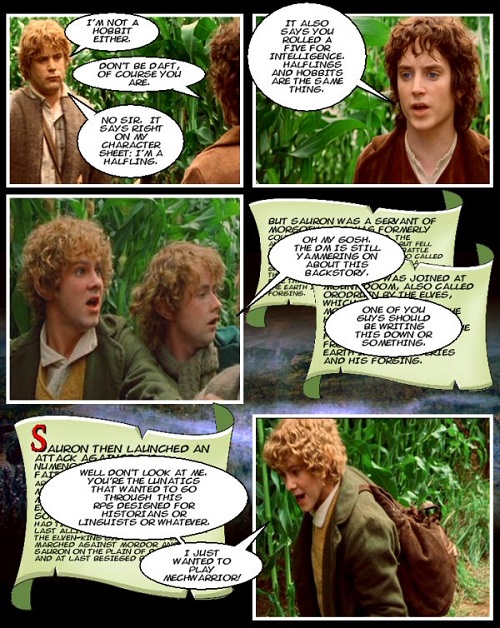 ++++++++++
WHY THE MORON HORDE IS AWESOME
Last week, I posted a picture of a map library. One of the maps was a relief map propped up in a prominent display. Unfortunately, the resolution of the image was not high enough quality for anyone to read the text on the map to know what it was depicting, leading to this comment:
OK, I give up. In the photo, what area does that raised relief map cover? There's no mountains in Florida ... just hills in the northern boarder area.

Posted by: SmokyStovetop at August 28, 2022 10:15 AM (GHdXS)

Naturally, the Moron Horde rose to the challenge to answer SmokyStovetop's question:
See the raised map tilted sideways and above the other maps on the table?

That is a series of 4 raised topographical maps of Tokyo to the end of Tokyo Wan. It shown Camp Zama and Kamakura. The time period shown was late 1950s.

How do I know? I have those 4 maps, even after many moves. They were fire to my young brain, back in the days. Still cool, for a period before the growth of the Tokyo metropolis.

Posted by: NaCly Dog (u82oZ) at August 28, 2022 10:20 AM (u82oZ)

Sure enough, when I went looking for Mt. Fuji in Google Maps, I found that the geography around Mt. Fuji matched the image depicted in the map. The Moron Horde is just so amazing...
ADDENDUM: I told my friend about this little exchange and she was kind enough to take a much better picture of the map on her next visit to the library. You can see this picture HERE.
NOTE: In keeping with the Tolkien theme of this thread today, jim (in Kalifornia) suggested that the map depicts the following location:
Middle Earth, and that's Mount Doom with the tall peak...

Posted by: jim (in Kalifornia) at August 28, 2022 10:20 AM (ynpvh)

++++++++++
MORON RECOMMENDATIONS
About to finish I Chose Freedom by Soviet defector Victor Kravchenko. Best expose of communism by someone who lived it that I've read.

Ought to be read in all schools; his observation that Americans seem more duped about the nature of Communism than Russians still rings true.

Posted by: Durak Kazyol at August 28, 2022 09:18 AM (4zxRq)

Comment: It's a shame more people are not informed about just how evil Communism really is. It takes away everything dignified and special about each individual human and reduces us to collective dust beneath the feet of "the elite" who arrogate to themselves a right to rule over us for perpetuity. I almost said it was a "divine" right, but they worship no gods other than themselves.
+++++
I'm taking a break from bingeing on urban fantasy books with absolutely no redeeming value whatsoever and am just finishing up Kyle Harper's The Fall of Rome. Back in my misspent youth, I took four years of Latin in high school. I really didn't learn all that much Latin, but my teacher covered a lot of Roman history, and I've had a side interest in Roman history since then.

I have never read Gibbons' Rise and Fall. Just not interested. But I have read a bunch of fiction and nonfiction covering the entirety of Roman history, so I am pretty familiar with the larger outline.

Harper places the fall of Rome in the context of disease and climate change in addition to politics, something I'd never done myself. He writes about the three big pandemics that wracked Imperial Rome at about two hundred years intervals, resulting in a severe depopulation that depleted both the armies and the treasury. (I discovered I really should have paid a lot more attention to my biology teacher.) 1/2

Posted by: Captain Josepha Sabin -- I wasn't particularly fond of the '70s the first time around at August 28, 2022 10:06 AM (9SjWf)

Comment: I disagree that urban fantasy books have no redeeming value. I find many of them to be very entertaining indeed. Oh, and some of them involve knight errants of sorts who go out and perform good deeds for the sake of being good (Harry Dresden, for instance). As for the fall of empires, well, I suspect we will see a few such during our lifetimes. I remember living in Germany when the Berlin Wall fell, signaling the end of the great and powerful USSR. At the time, people thought it would last forever, but it was only around less than a century. Some empires last longer than others, of course.
+++++
Probably the most interesting thing I read this week wasn't a book but a blog post by Bret Devereaux, on why the Romans didn't have an industrial revolution. It's on his blog, A Collection of Unmitigated Pedantry, which I highly recommend.

Posted by: Trimegistus at August 28, 2022 10:11 AM (QZxDR)

Comment: I threw this in here today because some of the best reading can be found in blog format. After all, why else would we come to AoSHQ day-after-day? Bill Whittle had some terrific essays on his old blog, Eject, Eject, Eject.
+++++
I would like to recommend a book by Elizabeth Letts, The Ride of Her Life, it is a true story about a woman from Maine who travels by horseback across the country to see the Pacific Ocean back in the early 1950's. Apart from the story of Annie and her dog and her horse, this is a story of America as well, the book is meticulously researched and very well written. It is a snapchat of what our nation used to be like, so a history book too in a way. It is a nice read.

Posted by: Debby Doberman Schultz at August 28, 2022 10:27 AM (a4EWo)

Comment: Does the book come with a map of her journey? If not, why not? Seriously, though, it sounds like she was driven to find one last great adventure in America-that-was...Imagine riding across America by horseback today. I'm sure it could still be done...
More Moron-recommended reading material can be found HERE! (388 Moron-recommended books so far!)
+-----+-----+-----+-----+
WHAT I'VE BEEN READING THIS PAST WEEK:
Lost in Transmission by Wil McCarthy -- Second book of The Queendom of Sol series. The revolutionary kids from the first book have been exiled to Barnard's Star for a thousand years...
To Crush the Moon by Wil McCarthy -- The third book of The Queendom of Sol series. Things went downhill quickly in the Queendom of Sol and now humanity is on the brink of extinction from their own creations (robots)...
The Complete Tolkien Companion by J.E.A. Tyler -- A handy reference when watching the abomination known as The Rings of Power
Knife of Dreams by Robert Jordan -- Book 11 in The Wheel of Time and the last book Jordan wrote before his death. Brandon Sanderson was able to complete the series with the help of Jordan's widow and editor as well as copious notes from Jordan himself.
That's about all I have for this week. Thank you for all of your kind words regarding my Sunday Morning Book Thread. This is a very special place. You are very special people (in all the best ways!). The kindness, generosity, and wisdom of the Moron Horde knows no bounds. Let's keep reading!
If you have any suggestions for improvement, reading recommendations, or writing projects that you'd like to see on the Sunday Morning Book Thread, you can send them to perfessor dot squirrel at-sign gmail dot com. Your feedback is always appreciated! You can also take a virtual tour of OUR library at libib.com/u/perfessorsquirrel. Since I added sections for AoSHQ, I now consider it OUR library, rather than my own personal fiefdom...
PREVIOUS SUNDAY MORNING BOOK THREAD - 08-28-22 (hat tip: vmom stabby stabby stabamillion) (NOTE: Do NOT comment on old threads!)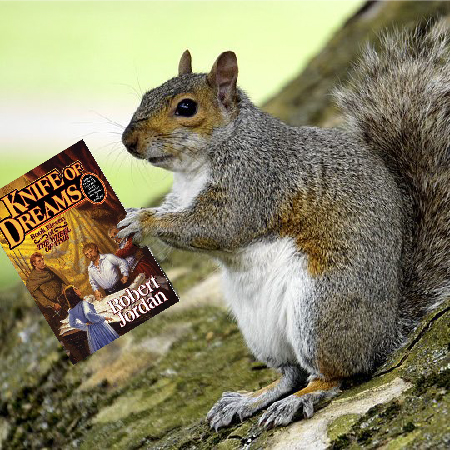 posted by Open Blogger at
09:00 AM
|
Access Comments