« Someone Is Putting Up Billboards in LA Warning People Not to Move to Texas
|
Main
|
New Biden Appointee to White House "Intelligence" Board Pushed Deep State Disinformation That Hunter Biden's Laptop Was a Russian Op »
August 30, 2022
The Future Is Dumb: More Than One Third of Gen Z'ers Want To Be "Social Media Influencers" When They End Their School
Via John Sexton: Sure.
More than one third want to be social media influencers, but surely they're not so stupid to actually plan on attempting a career as social media influencers, right?
Right. Don't be too alarmed. The percentage who actually plan careers as social media influencers is far, far lower than one third plan to become social media influencers as a career.
Only 27% plan to be social media influencers, in fact. Just a tiny fraction of Gen Z'ers think they'll be making their primary income from Insta and TikTok. Just a mere more-than-one-quarter.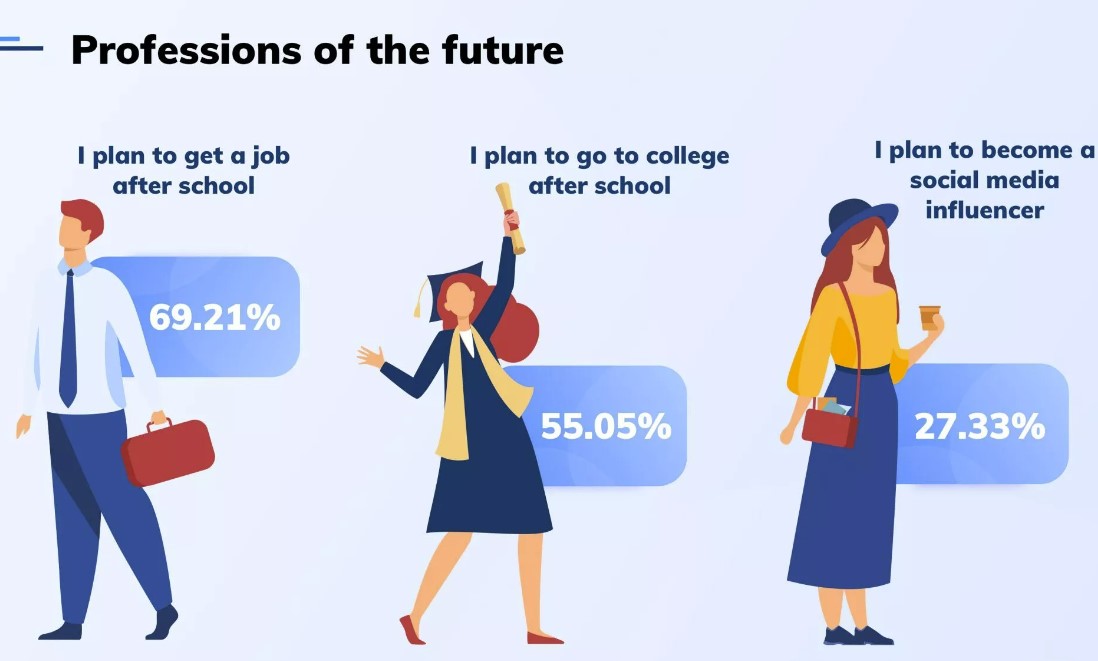 Perhaps even more shockingly, our study found that Gen Z males (20%) are more likely than females (13%) to believe that being a social media influencer is the only choice of career for them, with almost half of the males surveyed (49%) agree that being a social media influencer is a good career choice.

Overall over 1 in 4 Gen Z surveyed plan to become social media influencers, with 16% even claiming that they would pay to become one.
They would pay to become famous. Or even, " " " famous ." " "
In these trying times, this just isn't said enough: We're doomed.
...

According to the results of the study, nearly 1 in 4 Gen Z believe there should be social media influencer training in school, with 6% of Gen Z actively choosing not to go to college to become an influencer.
I'm not going to object to them seeing college as a poor deal, but I notice "work for a living" doesn't place on this list.
Results found that over 20% of Gen Z believe that the older generation doesn't understand social media influencing, with just 8% of respondents claiming that their parents like them using social media. Nearly 1 in 4 Gen Z claimed that their parents follow them on social media, with almost 50% agreeing that their parents would prefer for them to go to college than become an influencer.

The study also found that 27% of Gen Z believe that their parents would be unsupportive of them becoming social media influencers, preferring for them to go to college (50.30%).
So Gen Z is around 72 million people, and... 27% of them, or about nineteen million of them, are going to be earning their income primarily through recommending make-up, bathing suits, deadlift variations, new memecoins and Marvel movies?
Okay!
Now get out there and really Be Somebody, Idiots!

Meanwhile, completely unrelated: elevated screen time usage by young people leads to psychological defects.
Tweens who spend more time on screens have a higher likelihood of developing disruptive behavior disorders, with social media having an especially strong influence, a new UC San Francisco-led study published today in the Journal of Child Psychology and Psychiatry found.


Social media use was most likely to be linked to conduct disorder, while other forms of screen use--such as watching videos and television, playing video games, and texting--were more likely to be associated with oppositional defiant disorder (ODD).

Conduct disorder is characterized by violating others' basic rights or societal rules with actions such as bullying, vandalism and stealing, while ODD is marked by a pattern of angry or irritable mood, argumentative or defiant behavior, and vindictiveness.

...

In another recent study, Nagata and colleagues found that adolescents are so attached to their phones--the main vehicle for screen time--that they report losing track of time when using their phone (47.5%) and will interrupt whatever they are doing when contacted by phone (31%).

...


The average amount of screen time was four hours per day, with the most time spent watching/streaming TV shows/movies (1.3 hours on average), playing video games (1.1 hours), and watching/streaming videos (1 hour).

In fact, four hours a day was a threshold, with time above four hours associated with a 69% higher prevalence of conduct disorder and a 46% higher prevalence of ODD.
Reposting from last week: Several girls here, who are college students at UCLA, do not know what the capital of the United States is.
In fact, one guesses that it's a trick question, and answers that the United States doesn't have a capital.
Smart girl.
She should drop out of college and become an influencer.
She should definitely drop out of college. She's as stupid as a stick of butter.

posted by Ace at
04:07 PM
|
Access Comments