« Daily Tech News 19 August 2022
|
Main
|
Mid-Morning Art Thread »
August 19, 2022
The Morning Report — 8/19/22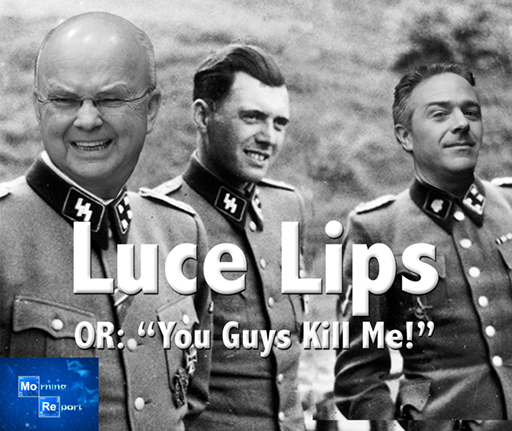 Good morning, kids. The weekend is here and even in the face of what's going on you've got to take a few moments to have a good laugh. First, in the wake of CNN's shitcanning of Mr. Goody-Good/Mr. Potato-Head hybrid, yammering yam Brian Stetler, Babylon Bee CEO Seth Dillon once again steps up with the absolute last word:
"Hey @brianstelter, would you be interested in working for the Bee?"

"We're looking for talent with experience putting out funny fake news. You come highly recommended. Shoot me a DM if you're interested!"
All things considered, that right there approaches "Take my wife. Please!" territory, if not for brevity then certainly in context. Then there's the most recent Tweets from President Trump, endorsing some of his most bitter and deranged enemies from the Democrat side of the imaginary aisle. First, frog-faced Carolyn Maloney, who has been forced to face off against lumbering leftist lipid mass Jerry Nadler, and scumbag shyster Dan Goldman who was the lead (or a lead) attorney in the shampeachment circus. But Trump tops himself by "getting behind" everyone's favorite mastoid Marxist Mensa candidate Alexandria "Titty Caca" Ocasio-Cortez.
"Alexandria Ocasio-Cortez, who some call AOC for short, is again running for Congress, NY-14, and I am thrilled to give her my Endorsement. Even though every one of her ideas, such as the Green New Deal, are terrible and would be a disaster for America, AOC is a great addition to Congress."

Referencing the popular "Blonde AOC" memes, the former president then advised the congresswoman to dye her hair a lighter shade.

"We need a few more AOCs in Congress, if we're being completely honest. Many people are saying that she should consider going blonde, and after seeing that picture, I have to agree. Take it from me, Alexandria, blondes have more fun!" he concluded.
Aside from the hilarity of the trolling, a couple of things come to mind. I mean, here's Donald Trump. A man who has been put through the ringer for the past seven years and no matter what happens down the pike will continue to be put through the ringer for the rest of his life (and don't think they aren't thinking of ways to end it) by what is now a massive, tyrannical junta that sees him as their number one nemesis. Yet, despite the latest outrage of a Gestapo raid on his residence, he still has time and presence of mind to engage in master-level trolling. He's either in complete denial of what he's up against or else he's got one set of "yuuuge" brass balls.
As for, Titty-Caca, there was an article within the last few weeks warning about laughing at fools like her, drawing the inevitable comparison to those who laughed at a failed Viennese housepainter nearly 100 years ago. While I certainly agree with that warning (despite my homophone appellation that is a paean to a famed South American lake describing her décolletage and what emanates from her mouth), none other than leftist deity himself Saul Alinsky made humor and ridicule one of his top "rules" for going after one's political enemies. These days, what passes for humor from so-called "comedians" like Colbert, Kimmel et al goes down harder than Kamala Harris during Fleet Week. Hence, the banning, censorship, de-platforming and blacklisting of anything that is not 100% pure leftist. Especially humor since the first requirement of being funny is that there is at least a grain of truth in it.
That's why whatever one's feelings about Trump as a potential candidate in '24, there's no denying that even in the face of what has rapidly devolved to nothing short of state-sponsored political terrorism against him, his family, his friends and supporters, and in reality all of us, that he still sends out Tweets like this and is obviously relishing it I think scares the junta right down to Sponge-Brain Shits-Pants' soiled Depends. These bastards — these evil bastards who stole our country and then scapegoat us for their sins — will stop at nothing now to seize and maintain absolute power. Trump's power to motivate and captivate has not diminished one iota. He's close to batting 1.000 in his endorsements in the run-up to the midterms. The absolute shellacking of Liz-ard Cheney looms large in that it is a rejection of GOP establishment stoogery and a ringing endorsement of the America first agenda.
Funny how all those who from the merely passive-aggressive to the full on frothing at the mouth Never-Trumpers who constantly harp about "character" and "mean Tweets" I think have got that absolutely wrong. I think this trolling of Maloney, Goldman and Titty-Caca is revelatory in what the enemy fears most about him. I think humor like this has the potential to destroy them insofar as perhaps even more than policy successes, the pantsing and exposure of these emperors with no clothes as the frauds and clowns they truly are will be their ultimate undoing. Am I reading too much into this? Maybe, maybe not.
What I do know is that while we laugh at Titty-Caca and Stetler and their ilk, individuals like Michael Hayden have now all but called for the liquidation of two thirds of the citizenry. Unlike Billy Ayers who fantasized about having to wipe out upwards of 25 million of us who refuse to be absorbed, Michael Hayden is not on the lam in a Greenwich Village basement making Molotov cocktails and pipe bombs. Michael Hayden held the top slot in the Corporation and he is still a member in good standing. He and everyone who thinks like him control our government virtually lock, stock and barrel, top to bottom, inside out.
Should we ridicule him, and them, or take them at their word? Both.
Have a good weekend.
NOTE: The opinions expressed in the links may or may not reflect my own. I include them because of their relevance to the discussion of a particular issue.
ALSO: The Morning Report is cross-posted at CutJibNewsletter.com if you want to continue the conversation all day.
Follow us on Twitter: @CutJibNews
Follow us on Instagram: @Cutjibnewsletter

posted by J.J. Sefton at
07:44 AM
|
Access Comments