« The Morning Rant: Minimalist Edition
|
Main
|
Report: Alec Baldwin Must Have Pulled the Trigger in the "Rust" Shooting »
August 16, 2022
The Fake News Crew Claims, Without Evidence, That the FBI Did Not Seize Trump's Passports
More lies from the Truth Tellers.
Reportedly, CBS is considering not renewing Norah O'Donnell's contract. She's reportedly a diva and a b-word and her ratings aren't good.
The DOJ spun her with a claim they weren't "in possession" of the passports -- note that that's not a denial of having stolen them in the first place, just a lawyerly claim about not currently being in possession of them -- and Norah rushed right out, without asking follow-up questions, to claim this meant the DOJ was contradicting Trump.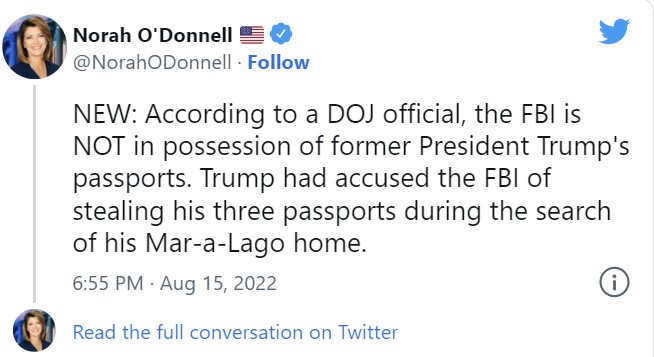 The DOJ later confessed the truth: The FBI had stolen the passports.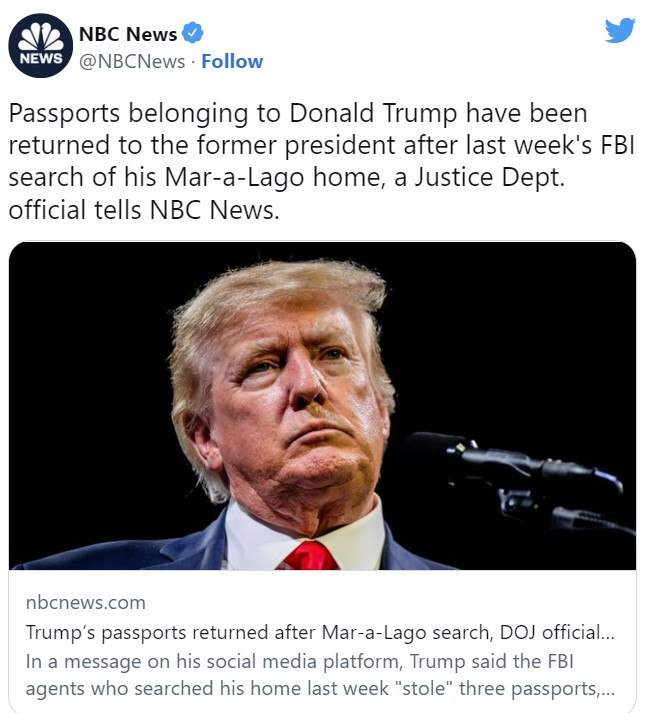 There was no search warrant signed by an Epstein lawyer for these passports so they were illegally stolen by Biden's Gestapo.
Norah had better be careful. There must already be chatter that she's too old to be a news anchor. Stupid Senior moments like this only add to the perception that Granny Norrie needs to be put in an Old Anchors Home.
Of course, the Smart Set of NeverTrump completely failed to notice that the DOJ, in claiming they were not "in possession" of the passports was pointedly not denying they had previously been in possession of them.
That's because they're so smart!!! And so honest and honorable! They're so truthful they can't even comprehend that others might twist the truth!
Leftwing propagandists and Gestapo supporters Adam Kinzinger, David Frum, and Peter Strzok -- the last, an actual Gestapo agent -- seized on the lie and propagated it:
The leftwing Gestapo press is now attempting to blame and shame Trump for publicizing the FBI's illegal seizure of his passports, as if he's in the wrong to do so.

As if he's required to keep secrets for them.

And why should he? This seems very shady. The FBI seems to have "forgotten" to note that they stole the three passports on their post-raid inventory report, like they were covering up, yet again, one of their crimes.
The inventory list is required to be a complete and exhaustive list of all property and documents taken from a citizen, of course, so a citizen knows what was taken from him, and there's a record of it, so he can get it back.
But the FBI left the passports off of it.
Just another careless oversight, I'm sure.
Ed Morrissey writes:
Why would the FBI have taken Trump's passports as part of a search purportedly aimed at retrieving classified material? Passports don't have anything to do with Trump's retention of allegedly classified material, nor would they have any material connection to the DoJ's investigation into January 6, which this search warrant appears to facilitate sotto voce.
Please stop trying to sound smart by dropping in these tasteless foreign expressions. You don't even use them correctly.
Law enforcement can't just take a person's passport without a judicial order restricting a person's travel. Trump hasn't even been charged with any crime, let alone be made subject to such a bail condition. He has every right to travel outside the US, and every right to retain his passports.

The FBI suggested that the removal of the passports was an accident:

"In executing search warrants, the FBI follows search and seizure procedures ordered by courts, then returns items that do not need to be retained for law enforcement purposes," the spokesperson said in a statement Monday evening that did not mention the passports.

This seems like an odd explanation. Trump almost certainly did not store his passports with the government documents that the search warrant targeted. Those are items usually stored in a secured personal space, like a safe or perhaps a locked desk drawer (or maybe a dresser drawer?). It's not the kind of item that would have been easily swept up by accident even in a broad search, in other words. It's possible, but appears unlikely unless this was one of the clumsiest search-and-retrieval operations conducted by the FBI.


That brings us to the second question: Why weren't the passports listed on the inventory? FBI agents certainly know what passports look like. The inventory is a legal record of everything the FBI took out of Trump's home in executing the search. There may be some understandable fuzziness on the identity of each and every single sheet of paper in those boxes, but passports are unique and instantly recognizable -- and look nothing like the documents in question. The inventory was specific enough on August 8 to include separate entries for "handwritten note," "Executive Grant of Clemency re: Roger Jason Stone Jr," and two entries logging "binder of photos."

But no one noticed three passports? Again, this either indicates that the FBI conducted this raid in an incredibly sloppy manner, or something else is afoot.
Of course, this makes sense if the entire exercise was a pretext in order to simply grab as many of Trump's personal documents and confidential correspondents with lawyers as possible in order to contrive a legal case against him.
But I'm sure we should continue giving the benefit of the doubt to the agency that has already been found to have lied repeatedly and found to be without candor and integrity by the Inspector General. And which was supposed to create an action plan for addressing its habitual departures from the truth, but didn't even bother sidelining the agents directly responsible for all the Russiagate lies. In fact, the FBI just assigned them to lying about the Hunter Biden laptop.
We are not living in a democracy nor a republic.

posted by Ace at
12:00 PM
|
Access Comments