« REALITY DEFEATS CHENEY
|
Main
|
Daily Tech News 17 August 2022 »
August 16, 2022
Tuesday Overnight Open Thread (8/16/22) In The Cities Edition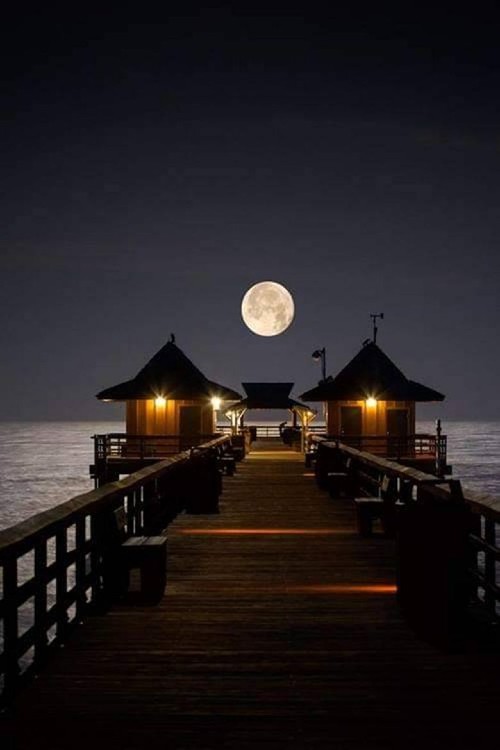 ***
The Quotes of The Day
Quote I

Are you shitting me? Donald Trump might have kept the world's nuclear secrets in his basement at Mar-a-Lago? The same place Rudy Giuliani sleeps to avoid the sun light. That is so irresponsible! Because, you realize the worst-case scenario with these documents is that Trump sold them to like Saudi Arabia. Late night TV host Trevor Noah
Go back to South Africa you POS.
*
Quote II

"One year later, I think the president feels that the decision that he made was the right decision for the American people." National security adviser Jake Sullivan
Delusional little twit
*
Quote III

"You have chosen your lifestyle, it's not a medical condition that you've been forced to endure through no fault of your own. Your choice does not fit with our style of cooking. We respect your choice, and expect that you respect ours. Owners of The Kitchen at London House on the Isle of Wight, England
Quote IV

"It's an incredibly inefficient use of land to grow crops, feed them to a ruminant or pig or chicken which then over its lifecycle converts them into a very small amount of protein for us to eat," British businessman Henry Dimbleby
***

See Quote II. Taliban seized more than $7B in U.S.-provided weapons when Afghan government fell

More than $7 billion worth of U.S.-supplied military hardware, ranging from howitzers to sniper rifles, fell into the hands of the Taliban in Afghanistan when the American-backed government in Kabul swiftly collapsed amid the U.S. pullout a year ago.

In a report released Tuesday, the Defense Department's Inspector General said the U.S. government provided almost $85 billion in security assistance to Afghan forces from 2005 to 2021. About $18.6 billion of it funded the procurement of weapons and equipment over the years.

The Taliban seized more than $923 million worth of military aircraft; $4.1 billion worth of ground vehicles; and more than $511 million worth of weapons when they took control of Afghanistan, according to the report.

That certainly appears treasonous to me. And if that isn't what about this?

And please keep Quote II in mind. Elite Afghan forces bring U.S. training to Tehran, according to whistleblower interviews

Elite Afghan soldiers trained by the United States fled to Iran with weapons and specialized combat training following the Biden administration's bungled withdrawal from the country that let the Taliban regain power, according to a report by Republicans on the House Foreign Affairs Committee based on interviews with whistleblowers and internal State Department documents.

"A 'significant' number of Afghan special forces and about 3,000 Afghan security forces, including high ranking officers, crossed the border into Iran," according to the report, which was released on Monday to coincide with the one-year anniversary of the deadly U.S. military withdrawal from Afghanistan. "Some brought military equipment and vehicles with them. We believe this happened because they were not evacuated by the U.S. or our allies, and therefore had no other option."
***

No freedom of religion for you, College of the Ozarks's (CofO).

The United States Court of Appeals for the Eighth Circuit ruled against the College of the Ozarks's (CofO) lawsuit against the Biden administration's directive that universities permit student housing based on gender identity.

The court ruled against the Christian college in Point Lookout, Missouri, on July 27. CofO filed the suit in 2021.

CofO challenged the Department of Housing and Urban Development (HUD) after a memo was issued in Feb. 2021 that prohibited discrimination of "gender identity or sexual orientation" under the Fair Housing Act.

Alliance Defending Freedom (ADF), which represented the college, alleged that the order violated religious liberty by forcing religious schools to open "their dormitories, including dorm rooms and shared shower spaces, to members of the opposite sex."

The appellate court, however, upheld a lower ruling to toss the case on the basis that the college lacked sufficient standing to sue.
***

It doesn't appear that the Episcopalians will have any problem with government edicts in the near future.

After leftists have infiltrated an institution, they subvert it to advance objectives that may be diametrically opposite its original purpose. For example, churches that have been co-opted by progressives become dedicated not to good but to evil:

The Episcopal Church passed a resolution in support of sex change attempts "at all ages," calling it a matter of "religious liberty."

War is peace. Freedom is slavery. Ignorance is strength. Blasphemous depravity and the desecration of innocence are religious liberty.
***
***

Movie director Wolfgang Petersen, RIP.
***
Some interesting news on the Kung Flu..................
With Los Angeles County health officials announcing last month masks will no longer be required indoors, a letter surfaced signed by doctors and researchers from USC and UCLA suggesting mask mandates were ineffective at preventing the spread of COVID-19 in the county.

The February letter from researchers and medical professionals at UCLA's Geffen School of Medicine and USC's Keck School of Medicine was sent to the LA County Board of Supervisors asking the board to end mask mandates.

"The time to end local mask mandates is now," the letter reads.

Data shown within the letter suggest there was a continued increase in COVID-19 cases in the last 7 months of 2021, even though mask mandates were in place during that time.

The Kung Flu prick is a murderous tool. And no, I'm not apologizing for my harsh rhetoric.

More than 40 percent of pregnant women who participated in Pfizer's mRNA COVID vaccine trial suffered miscarriages, according internal Pfizer documents, recently released under court order. Despite this, Pfizer, and the Biden administration insisted that the vaccines were safe for pregnant women. Out of 50 pregnant women, 22 of them lost their babies, according to an analysis of the documents.

In a January court ruling, U.S. District Judge Mark Pittman of the Northern District of Texas, ordered the Food and Drug Administration (FDA) to release around 12,000 documents immediately, and then 55,000 pages a month until all documents were released, totaling more than 300,000 pages.

The nonprofit group, Public Health and Medical Professionals for Transparency, sued the FDA last September, after the agency denied its Freedom of Information Act (FOIA) request to expedite the release of mRNA vaccine review documents. In a November 2021 joint status report, the FDA proposed releasing only 500 pages of the documents a month, which would have taken up to 75 years.
***

The NBA is reaching for the stars with their virtue signalling. What are they doing for the slave labor camps in China?

The NBA won't hold any games on November 8 — Election Day for the 2022 midterms — in an effort to focus on encouraging fans to vote.

"The scheduling decision came out of the NBA family's focus on promoting nonpartisan civic engagement and encouraging fans to make a plan to vote during midterm elections," the league said in a tweet.

The NBA says over the next few months, teams will provide information on their state's voting process and voter registration deadlines in order to help fans make a plan to vote.
***

Someone was very lucky that the farmer was paying attention. Suicide by combine is a messy affair.
THIS is the hilarious moment a furious man jumps in the path of a combine harvester claiming it ruined his family picnic.

In the extraordinary clip the trespasser can be seen standing in a wheat field as the monster farm machinery worked.
***

More proof that Pixie Dust and Unicorn farts do not provide protection from the Kung Flu.


Secretary of Defense Lloyd Austin tested positive for COVID-19 for the second time on Monday but is experiencing mild symptoms.

The vaccinated and boosted secretary said in a statement that his last contact with President Joe Biden, who tested positive for COVID-19 on July 21, occurred on July 29. Since then, he traveled to U.S. Africa Command headquarters in Stuttgart, Germany, and met with government leaders and U.S. troops in Latvia.
***

Hey President Trump, just release the damn footage.
Trump Demands Transparency, Pledges To Release CCTV Raid Footage

We're supposed to believe that the same FBI that 'accidentally' took 3 of Trump's passports (2 now expired) only took things they were lawfully entitled to?

He may be President, but the 4th Amendment protections of his papers and property still extend to him as a citizen. There was no reason for an unconvicted man to have his passport confiscated by an obviously hostile government that has already shown no interest in abiding by the protections afforded to privileged content, including attorney-client or executive privilege.
***
The ONT Musical Interlude & Greasy Spoon Emporium
On this day: 16 Aug 2018
American singer and songwriter Aretha Franklin died in Detroit at the age of 76. Known as 'The Queen of Soul' and one of the best-selling musical artists of all time, having sold more than 75 million records worldwide was diagnosed with cancer in 2010. During her career she scored over 15 Top 40 hits and won 18 Grammy Awards. Hits include the 1967 US No.1 & UK No.10 single 'Respect', the 1968 UK No.4 single 'I Say A Little Prayer' and the 1987 UK No.1 single with George Michael, 'I Knew You Were Waiting'. In 2010 Rolling Stone magazine ranked her number one on their list of the '100 Greatest Singers of All Time'. via thisdayinmusic.com
&&&
On this day: 16 Aug 1975
Peter Gabriel announced that he was leaving Genesis. The group auditioned more than 400 singers during the next 18 months before deciding that Phil Collins, who had been the drummer for Genesis since 1970, could front the band. via thisdayinmusic.com
***

I know there are several HOA officials here in the Horde. And it isn't fair to lump them all together. But this isn't a good look. Genius Award Winner.

A homeowners association president in Tamarac was arrested after a series of violent incidents during which a homeowner claims the president pointed a gun at him and racially abused him and members of his family.

In the most recent case, the victim said he got into an argument with Joseph Steckler, 77, outside his home. The victim said Steckler, who was driving a blue Honda fit, leaned out of his driver-side window and pointed a black firearm at him.

When questioned, Steckler denied that he brought the gun to the victim's home or pointed it at him.

The victim told deputies that he had multiple arguments with Steckler in the past, and that this was not the first time Steckler had pointed a gun at him.
***
Plenty of teenagers get a bad rap, deservedly so. But not all. Tonight's Feel Good Story of The Day.

A group of high school football players in Rome, Georgia, saved a woman from a car she was trapped in following a crash on Friday.

The wreck involved a silver car swerving to avoid being hit by another vehicle with a teenage driver, Rome Police Department Assistant Chief Debbie Burnett told USA Today.

The silver car then crashed into white SUV, and the 50-year-old driver of the silver car became trapped in the vehicle.
***

Tonight's ONT has been brought to you by Neighborhood Feuds.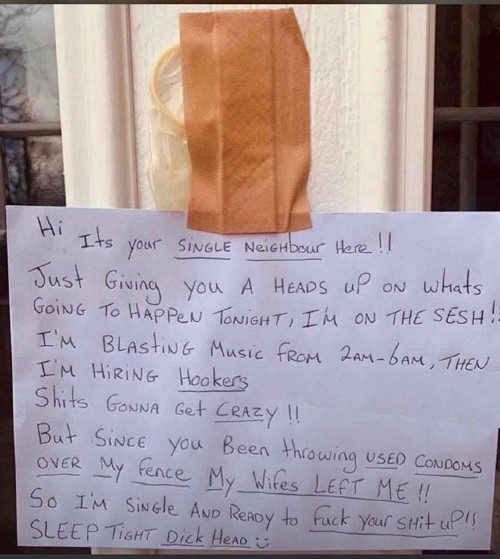 Notice: Posted with permission by the Ace Media Empire and AceCorp, LLC. Contrary to popular belief The ONT is organic and free range.


posted by Misanthropic Humanitarian at
10:00 PM
|
Access Comments