« Daily Tech News 15 August 2022
|
Main
|
Mid-Morning Art Thread »
August 15, 2022
The Morning Report — 8/15/22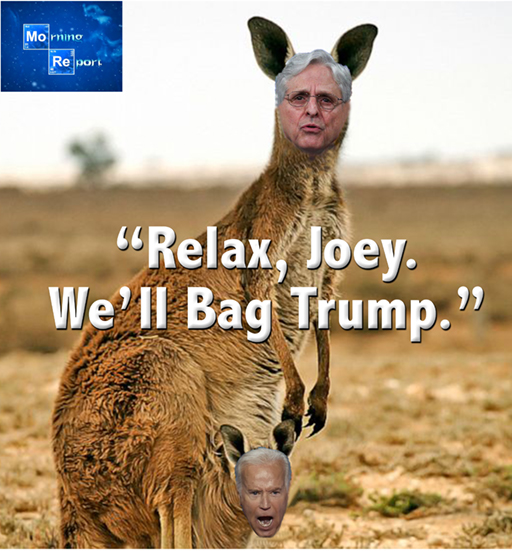 Good morning, kids. Monday, and while the Gestapo-like raid on Mar-a-Lago still dominates the news, a couple of stories that occurred over the weekend frame it rather fittingly. First, Salman Rushdie, the author of the book The Satanic Verses was stabbed multiple times at an event in upstate New York and remains in grave condition. Published in 1988, the book caused much of the Islamic world to lose whatever of its mind it hadn't lost in the previous 1,300 years with the Ayatollah Khomeini issuing a fatwa on him, the Muslim version of what's commonly known as "putting out a contract" on someone. To many, in the obtuse up-talk Valley Girl lingo of Obama mouthpiece Tommy Vietor "1988, that's like a million years ago, dude!" Not to these barbarians, dude. The goal of achieving paradise on earth via conquest and subjugation, as well as silencing by any means necessary (heh) enemies, heretics and unbelievers is eternal. No matter how long it takes and wherever you may go, you're forever in the crosshairs. Sound familiar?
While Rushdie himself is not exactly a likable guy, mostly because of his antipathy towards Britain, which protected him at great expense for decades, as well as his antipathy to this country, he has somewhat ironically become a symbol of free speech.
"The moment you declare a set of ideas to be immune from criticism, satire, derision or contempt, freedom of thought becomes impossible."
"If you're offended, it's your problem."
"Free speech is the whole thing, the whole ball game. Free speech is life itself."
Absolutely 1,000 % right on. And now, Salman Rushdie is on a ventilator after getting ventilated by a man who was born nine years after his "blasphemous" book was published.
Take away the fancy calligraphy, the pseudo-religious trappings, substitute the beliefs of Marx and Engels for Mohammed and you have today's leftists. Just like this fatwa fan-boy, someone like Alexandria "Titty Caca" Ocasio-Cortez was born and came of age decades after the real societal upheavals brought about by the Industrial Revolution and Great Depression that added the fuel to the fire of the American socialist movement. In fact, the America she was born into was the absolute negation of everything Marx and Engels proclaimed. She was a school kid but she no doubt saw the Soviet Union itself come to an end and the Berlin Wall dismantled. Yet there she is, representative of her generation and perhaps upwards of a third of the nation, spouting and believing utterly stupid, but nevertheless dangerous drivel.
Nowadays, to refute or even laugh at someone like her is to face retribution that can range from banning in media to losing one's job, or even worse. That brings me to the second story that frames the Mar-a-Lago incident, which is the House passing the Orwellian "Inflation Reduction Act" that principally helps destroy our economy with Green New Deal crap but notably expands the IRS to a size larger than the Marine Corps and gives the newly formed cadres the power to use deadly force. No, it's not about audits. It's about punishing the average American citizen who dares go against this junta. It will take a few years for this to really get going but even if the GOP is swept into power this November and in '24, Dao-Min Yen notwithstanding, will they have the stones as well as the veto-proof majority to repeal this law? The Obamacare repeal kabuki-bukkake theatrics does not exactly fill me with strength and confidence.
But we're getting ahead of ourselves and into the weeds. The broader picture remains insofar as these criminals in power have indeed, as friend and friend of the blog Michael Walsh states, crossed the Rubicon with this raid on President Trump.
It's [a] step of breathtaking audacity, but hardly surprising. Not for nothing is the Democrats' unofficial motto "by any means necessary." Since the days of Burr and Jefferson Davis and John Wilkes Booth, violence has always lurked just below the surface of their "higher" patriotism. Indeed, as the Sixties exemplified, it's part of their appeal. "The worst are full of passionate intensity," wrote William Butler Years in his widely quoted poem, The Second Coming, written in 1919. "Surely, the Second Coming is at hand. . ."

. . . The key to understand the Left, pretty much from Rousseau on, is that they believe in an "arc of history," which amazingly bends toward their preferred transient policy prescriptions in the here and now. It's a kind of misplaced messianism, with an imminent savior ready to descend to earth to establish a new kingdom of heaven, one in which they will witness the destruction of their enemies, and over which they will rule for ever and ever, amen. "The country is on fire," Trump reportedly wrote to Garland in a message sent after the raid. "What can I do to reduce the heat?"

The answer, of course, is: nothing. . .

. . .they know their fingernail-hold on power can all disappear this fall, and the specter of an enraged Trumpzilla returning to stomp them into matchsticks in 2024 absolutely terrifies them. As it should.

Like Caesar, they're playing for keeps now. Either they complete their overthrow of the Republic or, in Ben Franklin's memorable phrase, they'll all hang together. The die is cast: "by any means necessary"? You ain't seen nothing yet.
As you may know, Walsh is not a supporter of Trump running in '24. But with this column, I think he recognizes that the issue is no longer Trump. This unwarranted, illegal raid, whatever the intent by the junta in going after him, is yet another crossing of a bright red line into uncharted and dangerous territory. Uncharted insofar as our history, yet we have seen this time and again throughout history, especially in the 20th century. If you think things were already "interesting" per the Chinese proverb, I refer you to Walsh's last line.
ABOVE THE FOLD, BREAKING, NOTEWORTHY
NOTE: The opinions expressed in the links may or may not reflect my own. I include them because of their relevance to the discussion of a particular issue.
ALSO: The Morning Report is cross-posted at CutJibNewsletter.com if you want to continue the conversation all day.
Follow us on Twitter: @CutJibNews
Follow us on Instagram: @Cutjibnewsletter

posted by J.J. Sefton at
07:44 AM
|
Access Comments