« Not a Recession: New York State Manufacturing Index Falls Into a Major Contraction, The Worst Collapse Since 9/11
|
Main
|
As Ezra Miller Is Charged With Felony Burglary, Pressure Grows for Warner Discovery To Cancel His Movie »
August 15, 2022
Professor: Optional Masks are Mandatory in My Classroom, Racists
An "interdisciplinary Latina feminist performance studies scholar" declares that anyone not wearing a mask in her class -- where the school policy says that masks are optional -- is a racist.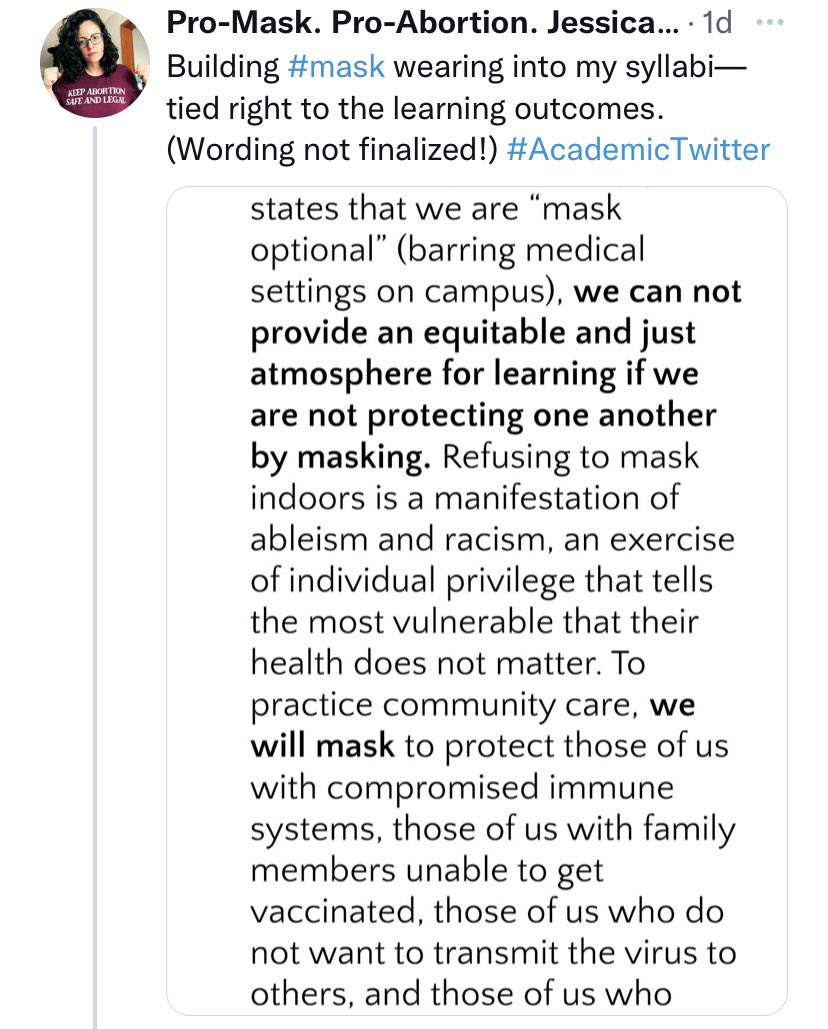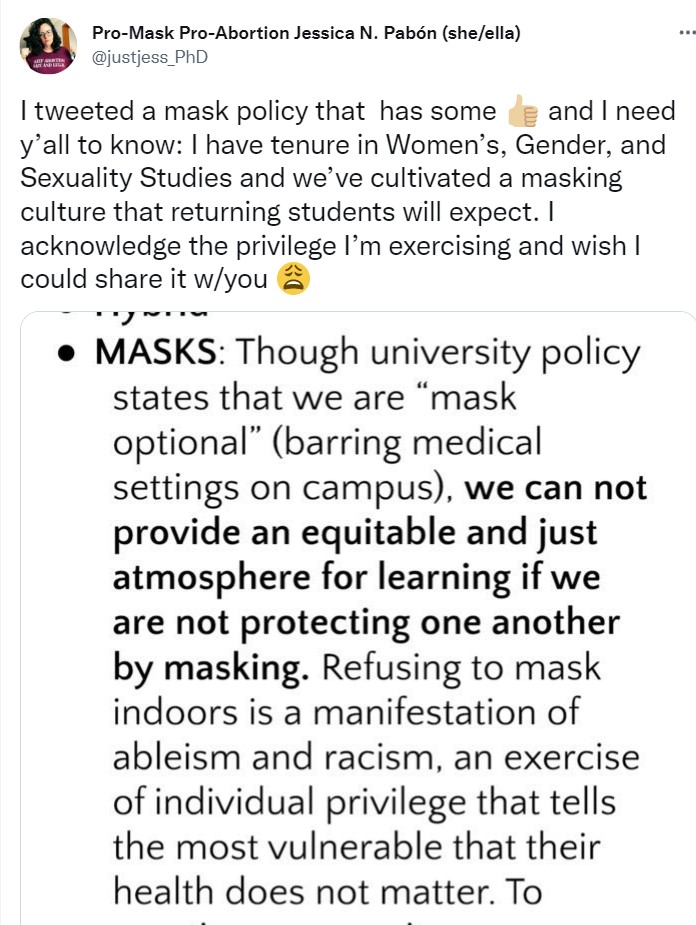 The CDC finally said we were allowed to do what we all sane people have been doing for a year anyway.
Dissolve the Centers for Disease Control and Prevention.

Last week, the CDC released updated COVID-19 guidance. The agency now believes we should be taking an individual approach to mitigating our COVID risk. In layman's terms, we are all Florida 2020 now.

The new guidance suggests ending "test to stay" so kids exposed to someone with COVID-19 can remain in school. Of course, this was only related to known exposure. People are exposed to COVID all the time, but only children who were aware of that exposure were punished. Kids lost so much throughout the pandemic because of terrible, irrational CDC guidance like this.

The fresh guidance also says people without symptoms no longer need to be routinely tested.

And the CDC permits us to come within six feet of each other again. Finally! Husbands, tell your wives it's on!

But most important, the agency has finally faced some truths about the vaccine that it should have long ago. "CDC's COVID-19 prevention recommendations no longer differentiate based on a person's vaccination status because breakthrough infections occur." And it's admitted that "persons who have had COVID-19 but are not vaccinated have some degree of protection against severe illness from their previous infection."

Cities across the country fired teachers, firefighters, health-care staffers, police officers, sanitation workers and so many others because they refused to get vaccinated. Many of these people had worked through the early days of the pandemic -- and contracted COVID many times over -- while we baked banana bread and patted ourselves on the back for ordering from Uber Eats. Now the CDC acknowledges this was the wrong thing to do. Whoopsie!


The new guidance is all fine and good, sane even, but it's August 2022 and fully absurd that the CDC is only now recognizing that people aren't staying six feet apart and that a previous COVID-19 infection offers a layer of protection similar to the vaccine.
Certified literal-hair-tearing freak and Seasoned Citizen Taylor Lorenz greeted this news in her usual non-mentally-ill way:
It's not the world's obligation to climb into the plastic bubble with the boy, Taylor.
And I have a feeling that you have self-diagnosed with every trendy #FashionForward disease you've read about online.
This was nice:

Fauci booed last week. They must all just hate truth, integrity, and Science, which he embodies.
Jerry Dunleavy joked, "They're not saying 'BOOOO,' they're saying 'BOOOO-STERSSS.'"

posted by Ace at
04:38 PM
|
Access Comments