« Revealed: The Criminal Chris Wray Gave the Senate the Finger Claiming He Had an Unmissable Plane He Had to Catch.
That Plane -- Paid for By the Taxpayers -- Was Taking Him To His Weekend Vacation Venue, Of Course.
|
Main
|
Incompetent Diversity-Hire Gay Mayor Pete Can't Do a Thing About Another Weekend of a Thousand-Plus Flight Cancellations, Nor the Ongoing Pilot Shortage »
August 08, 2022
Biden Creates 87,000 New Offices to Swarm and Harass the Citizenry and Eat Them Out of Substance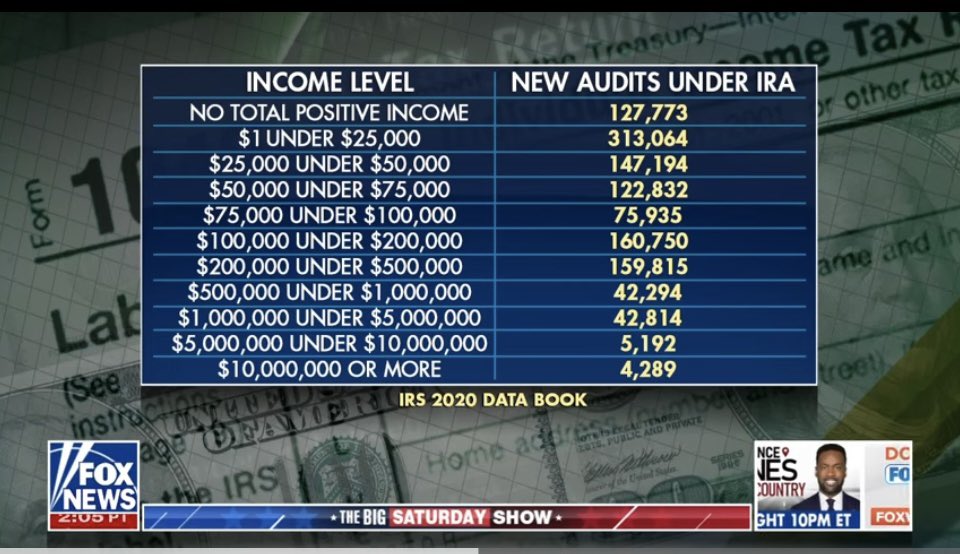 Even bootlicking Caesarist Regime defender AllahPundit has a problem with Biden hiring 87,000 new tax lawyers to audit the lifeblood out of the middle class. As one Trusted Insider said of Biden, "He has erected a multitude of New Offices, and sent hither swarms of Officers to harrass our people, and eat out their substance."
The left is taking a bizarre stance: If you haven't committed any crime, you... shouldn't worry about cops demanding, on penalty of fine and imprisonmen, that you answer their questions and show them your papers.
Does this thinking extend to all law enforcement or just the swarms of Officers sent out to eat out the substance of the people?
Adam Markowitz @adammarkowitzEA

All of my GOP friends who are worried about 87,000 IRS enforcement agents coming after the little guy... How about just don't cheat on tax returns? A fully truthful and accurate tax return is bulletproof in an audit. I never understood the fear of an IRS audit. Don't lie. Period.
Will the US government be providing government-paid public tax defenders to assist and council people during the millions of new coming audits, or will they be expected to bear the burden themselves?
As even the Washington Post admits, the IRS will not be targeting major corporations and rich people. Their tax returns are professionally prepared and have tax lawyers on retainer to defend them.
No, they'll be squeezing the people who can't afford to hire tax lawyers or spend hundreds of hours fighting with the IRS, the people who will just fold and send the IRS more money.
They intend to squeeze the Middle Class for every g**damn drop of blood they have:
The idea is that the government could bring in more money by examining corporate and high-income returns than it does by pursuing lower- or middle-income taxpayers who make mistakes on their returns or underpay their taxes by small amounts. The IRS in recent years has grown more dependent on those types of audits because they are relatively inexpensive: They're automated, and they preserve the agency's limited personnel resources. But they also mostly fall on taxpayers who can't afford to fight back by spending hours on the phone with the tax agency or hiring lawyers.

The result is that the IRS's prolific enforcement capabilities -- which bring in on average better than $10 in revenue for every $1 spent pursuing audits -- are often trained on the most economically vulnerable taxpayers.

More than half of the agency's audits in 2021 were directed at taxpayers with incomes less than $75,000, according to IRS data. More than 4 in 10 of its audits targeted recipients of the earned income tax credit, one of the country's main anti-poverty measures.
If they harass you enough, and threaten you hard enough, you'll be willing to help them make their quota and send the government more of your money, even though the government has no right to it.
This is "Inflation Reduction," remember.
Oh wait -- don't remember that. Forget that, in fact.
The bill was sold as the "Inflation Reduction Act" but if The Regime keeps calling it that, the voters might expect inflation to be reduced in the coming months, and accuse The Regime of lying when inflation does not abate.
So The Regime is now attempting to Memory-Hole the Act's supposed "Inflation Reduction" nature, by refusing it to call it that -- by calling it everything but that.
This doesn't happen just by coincidence -- this is the Biden Administration calling the media and telling them, "Now it's time to start rebranding the "Inflation Reduction Act" as about everything except reducing inflation.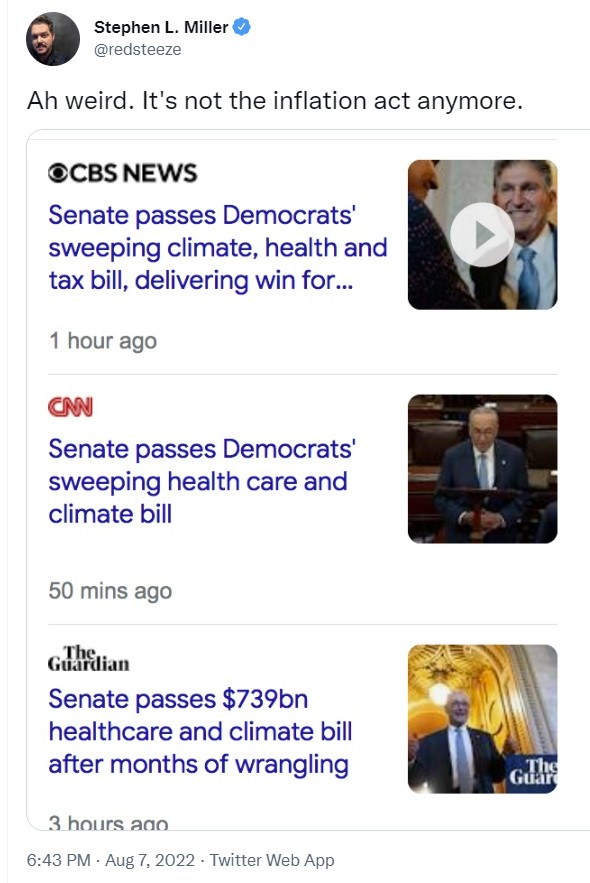 Update: I want to see Nancy Pelosi and Paul Pelosi audited.
Eric Matheny
@EricMMatheny



To prove to the American people that audits are nothing to be afraid of, every Member of Congress should submit to one. First up, those who have served 30 years or more.
Update: The GOP tried to restrict the 87,000 new swarming substance-eaters to only auditing major corporations and the rich, as the Democrats claimed they were hired to do.
The Democrats defeated this amendment on a party line vote:
@kerpen

To be clear, this amendment would have given teeth to the false promise from Dems that the EXPANSION would not target below 400K.

Existing IRS agents would still exist, so the lie/excuse from Twitter liberals that this was understate-your-income, get-out-of-audit-free fails.

posted by Ace at
01:12 PM
|
Access Comments