« First-World Problems...
|
Main
|
Gun Thread: Mid-August Edition! »
August 14, 2022
Food Thread: Tomatoes And Inflation...Not Inflated Tomatoes!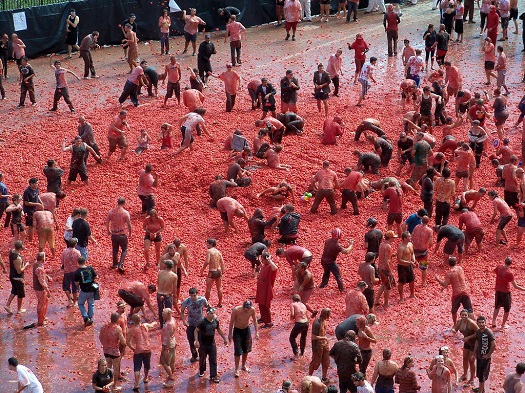 Well, that's one way to deal with extra tomatoes, but there are others that are less messy!
Late last summer as the local tomato harvest was winding down, we lucked into a huge amount of pretty ripe and good tomatoes. There wasn't enough mozzarella and basil and balsamic vinegar in the world to eat that many tomatoes, so I decided to slap them on the grill for a few minutes and see what happened.
And what happened was a very good thing. The tomatoes lost some of their juice (but not much), picked up a delicate smoky flavor...more like roasted really, and I was able to peel them about half way.
So now what? Hell, I plopped them into a blender and was left with sort of a thin tomato sauce that tasted great, was a fantastic addition to pretty much everything, and best of all? It froze perfectly. So in the deepest darkest days of winter I had a taste of high summer. I dug up the last of it out of the freezer a few weeks ago, and used it to tune up some plain old sautéed squash, zucchini and onions. It turned into sort of a vegetable stew, and it was delicious.
Yes, even I, a committed carnivore will eat vegetables when they taste good! Of course it was complemented by a very large grilled pork chop, so that may have helped...
******
FJB...An Occasional Series
I live in a pretty expensive part of the country, so the raw numbers mean less than the change. I look at baseline prices for my regular purchases...things like eggs and pork rib chops and certain vegetables and bacon...you know: staples. That gives me a better sense of the rate of change than the prices of stuff I don't always buy. Lutefisk and Balut might be hugely expensive, but I don't buy them enough to have any sense of how inflation is affecting them.
So a 50% increase for eggplant, squash and zucchini is a very big deal. But that is nothing compared to eggs, which have doubled since the beginning of the year. Interestingly, meat increased significantly at the beginning of Biden's reign of terror, but the prices have moderated slightly, which sounds nice, but I am suspicious that it is a function of increased slaughtering because of insane feed and processing costs. That may bode ill for us in the long term.
We beat this topic to death during the week here on AoSHQ, but inflation is being wildly undercounted, and I think anyone with a lick of sense can see that. It is an indication of the unseriousness of our government that they cannot simply report inflation as it has always been, and more ominously their constant manipulation of the numbers smacks of disinformation and manipulation in service to their own political agenda. The idea that inflation is less than 10% is simply laughable. Yet they want us to accept that arrant nonsense and just go on with our lives? Many of us are in financial positions that allow us to manage that inflation without much adjustment to our lives, but there are many Americans who will struggle with ever-rising food costs (not to mention everything else). It is a basic violation of the pact between The People and those in whom we have vested authority to govern, especially since inflation is entirely a creation of government policy.

******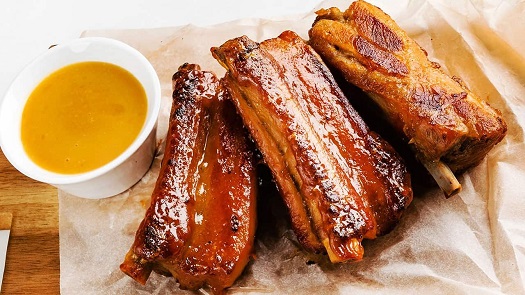 I usually make pork ribs Sous Vide, then finish them with more dry rub on the grill.
But next weekend I think I am going to try something different. Instead of plain dry rub (I rub a bit of honey on the ribs so the rub sticks nicely) I think I will rub them with yellow mustard. You know...the bright yellow stuff that looks nothing like food but is strangely appealing, at least to my inner seven-year-old? Anyway, I think the rub will stick nicely to that and it might add an interesting tang to the ribs. Besides, when was the last time you had lousy ribs? it is difficult to screw up.

******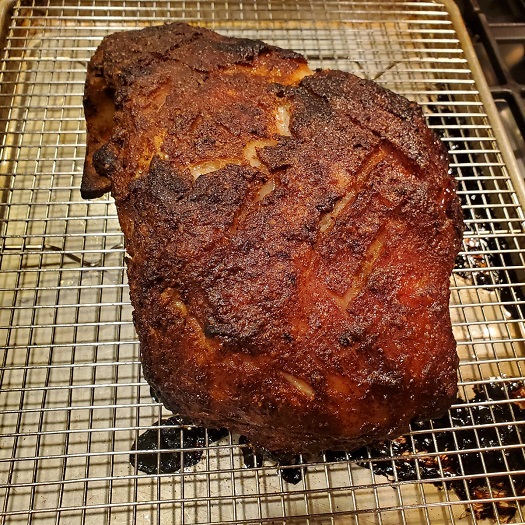 Go ahead. Make fun of my Sous Vide obsession. That's a pork butt after a 24 hour cook at 165 degrees, then a 90 minute roast with some more dry rub to get it nice and crusty. The pork was incredibly juicy and tender, and pulled perfectly. I have about six pounds of the stuff that I will be gorging on for the next week.

******
Muldoon brought up an excellent point about the overall strategy of eating, with some specific tactics for a particular food.
It's right there in the name.

Chex Mix

Keep the Wheat and Corn Chex. Add Rice Chex. Lose one of the pretzels and the mini bread stick.

It's all about the snacking rhythm. The Chex have the delicate crunch. Mild (rice), medium (corn) and extra crunchy (wheat). The crisp hard rye adds a nice interlude between Chex bites. Pretzel is...well...a pretzel, it stands on its own merit. The stupid bread stick just breaks the rhythm, like, "Ewww, what was that? Oh well, wash out the ewww with another Corn Chex!"
I usually chart out a plan of action for my meals. Small tastes of everything to provide a baseline, and then a careful rotation...not more than 10% of each food at a time. I use a timer on my phone as well, because "time-on-site" is as important as volume of food. It probably makes sense to bring a portable scale so I know exactly how much of each I am eating, then I can add weight to the calculation.
How about you? Does chaos reign on your plates, or do you enter the dining room with a plan?

******
Commenter "dhmosquito" brings cooking truth!
I don't know if you like Russian Dressing or not.

I generally had thought of it as essentially 1000 Island Dressing, until we mail ordered a Zingerman's Deli "Reuben sandwich kit" some time back when it was on sale. They had included with the kit their in-house Russian Dressing and it was OUTSTANDING, not sweet like 1000 Island, but a distinctly different flavor that complemented the corned beef and Emmentaler Swiss perfectly. I have since checked and they do not sell their dressing online, but I found a recipe online that looked interesting, and somewhat genuine sounding.

I followed the recipe and made some Russian Dressing today and it's pretty. damn. tasty. Great as sandwich dressing or just have a few tablespoons "neat" (like I just did with what would not fit into a Ball canning jar). Enclosed is the recipe I followed, except I added a little more horseradish. I used the creamy Inglehoffer brand horseradish and dried, not fresh, parsley. I was a little generous with lemon juice and Worcestershire, too.

(BTW the best tartar sauce is Red Lobster's and I have made duplicates of that many times!)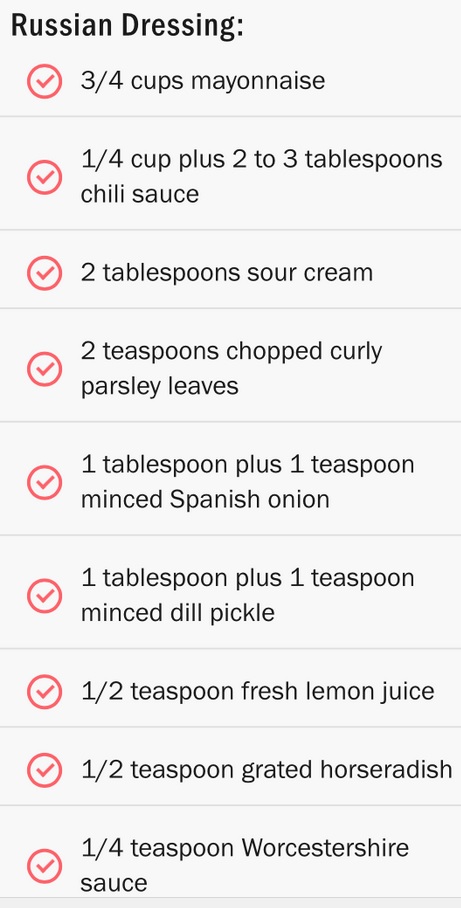 Homemade dressing is just better! Even plain old oil and vinegar is fresher tasting than the stuff out of the bottle, and doesn't have unnecessary additions like emulsifiers and other crap that add nothing to the flavor. Caesar dressing is a great example of that. The stuff in a bottle is pretty awful, but the fresh version (there are tons of good recipes) is absolutely fantastic!

******
Remember the
halibut wrapped in prosciutto
I made and memorialized in a crappy video?
Here is "Mishdog's" version!

I am following up on a food thread you did late in the summer of 2020 where you pan fried then baked some cod (I think that was the fish) fillets in prosciutto. You were gracious enough to answer my question about how to cook it without an oven and even supplied a professional chefs reply! We finally made it back to Spain this summer, so I tried out your recipe. It was delicious! I made it twice actually. I dragged out the ole Tefal electric grill and went to work with some hake fillets and jamon. One time I did what was suggested and put butter on the fish to keep it from drying out while finishing on the electric grill. It turned out nicely, but apparently too much grease splashed around per Mrs. Mishdog. The second time time I tented them with aluminum foil to finish. They turned out a little tougher but still tasty. Two things I'd like to add: 1. The salt from the jamon dissolved most of the bones that were in still in the fillets (big plus!). But the fish ended up a little salty for our tastes. We put a little Canary Island mojo verde salsa on top and that reduced the saltiness and added some freshness to it.

This is perfect amateur cooking. Play around...make it your own, and tailor it to your taste. It doesn't matter what the recipe says; all that matters is how happy you are with the end result. And that's why having a nice base of cooking technique is so important. It gives you a sense of what is going to work and what is going to be a horrid and embarrassing mess, best scraped down the drain when nobody is looking.
Oh...Mishdog was in Spain. That "jamon" may very well be world class cured ham, the likes of which is rare and expensive in these parts, but is well worth tasting if one can manage a trip to Spain. I think the Spanish ham is better than the Italian equivalent (Prosciutto), although there are a few American producers (La Quercia in Iowa comes to mind) that are doing wonderful things with pigs!

******
I can usually figure out how kitchen mishaps occur, but this one is interesting.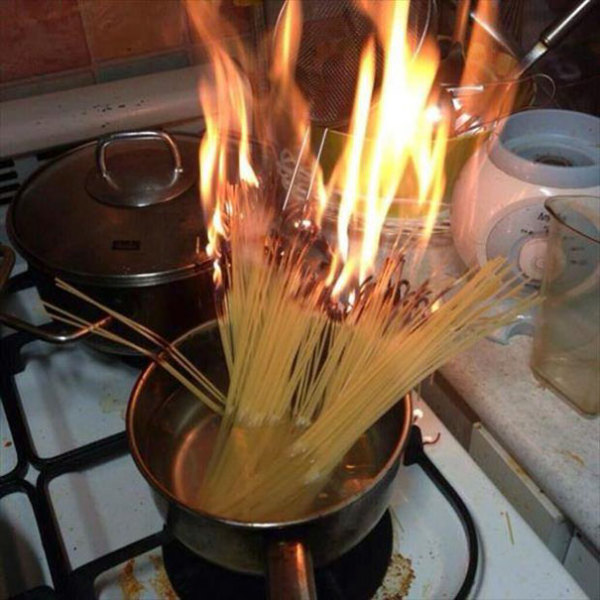 ******
Just send me oysters. Lots of oysters, and I will provide special dispensation for those without taste who insist upon maple syrup with their French Toast. And pork rib roasts from the front end of the pig where all the good and fatty meat lives, carrots that don't taste like stalky chalk, spare bottles of Van Winkle Special Reserve 12 Year Old Bourbon, an herb garden that actually produces herbs (but no basil!), well-marbled NY strip steaks and elk backstrap to:
cbd dot aoshq at gmail dot com.
And don't think that the rest of you are off the hook with maple syrup and French Toast: I'm still watching you! And I am watching you perverts who shake Manhattans and keeping a list for the Burning Times.

posted by CBD at
04:00 PM
|
Access Comments