« Noted Theologian Whoopi Goldberg: If God Didn't Want Me to Have an Abortion He Shouldn't Have Invented Forceps and Intravaginal Vacuums
|
Main
|
New York Times: It's Not Fair to Send the Illegal Aliens Demanded by East Coast Elites to the East Coast »
August 04, 2022
Kyrsten Sinema May Not Be On Board with the Schumer-Manchin Build Back Brandon Compromise -- And Bernie Sanders May Not Be, Either
And actually, maybe Jon Tester isn't on board, either.
I don't want to get anyone's hopes up. My expectation is that their objections will be compromised out and the Democrats will agree on a bill that will increase our debt, increase spending, and increase inflation.
But it might be a little contentious getting there.
When Schumer and Manchin were negotiating, these two Sexists just completely ignored the fact that Sinema was a Strong Independent Woman, a Senator in fact, with her own objections and agenda. Apparently they just assumed the little lady would do whatever these two ugly old cishet (?) males told her to do.
Not necessarily. Sinema is apparently showing more spine than Manchin on holding the line on inflation, and also does not agree with Manchin that raising taxes on capital is a great way to grow the economy.
Meanwhile, Bernie Sanders is making demands that go in the opposite direction: He wants more inflationary spending.
The Arizona Democrat is the pivotal vote on Democrats' reconciliation package, which came out of closely held talks between Schumer and Sen. Joe Manchin (D-W.Va.). And so far, Sinema hasn't said whether she's going to back the proposal or not.

Sources close to Sinema said she was "blindsided" by the Manchin-Schumer deal. Manchin and Sinema met on the floor for about 10 minutes on Tuesday, a conversation watched intently by reporters sitting in the gallery above. Schumer hasn't wanted to discuss his interaction with Sinema this week, telling reporters that "We're in touch with Sen. Sinema... I'm very hopeful. We're all going to stay united and pass this bill."

Sinema is currently seeking several changes to the bill, according to senators and media reports. Sinema wants to scale back a provision on "carried interest" that's designed to raise as much as $14 billion from private equity and hedge fund managers. Sinema is also seeking some changes to the corporate minimum tax structure and wants $5 billion in additional drought resiliency funding (as does every western senator).

This all begs an important question: Why wasn't Sinema involved in cutting the deal? Schumer and Manchin have made clear that these negotiations were kept very private. Sinema and Manchin -- referred to as "Sinemanchin" for a big part of this Congress -- have been the two hardest to get to yes on bills crafted by the Democratic leadership and White House.

So why would Schumer ever cut a deal that she wasn't a part of? The fact is that Sinema has gripes that are predictable, and the substance of her gripes are likewise predictable. Sinema hasn't offered any complaints about being left out of the discussions, yet not including her clearly could cause problems on the other side.

Sanders, meanwhile, likes some of the bill, but says he'll offer amendments to "improve" it.
He doesn't like the parts that Manchin fought to put in it -- the parts about the West Virginia Valley pipeline, I imagine:
On Wednesday, Sanders basically gave a "Good news, bad news" speech when discussing the current legislation's impact on working-class Americans. The bill helps with prescription drug costs, but not enough. It helps with health care, but not enough. And on climate change, Sanders read a letter from the Center for Biological Diversity that called the bill "a climate suicide pact." Yeah.

Here's what Sanders told Bres last night following his speech:

Bres: "You're going to vote for this bill, right?"

Sanders: "Well, right now we're taking a hard look. And what I will tell you is we're going to offer amendments to improve it ... and we will see what happens."

Bres: "OK. Have you told your leadership about what your position is?"

Sanders: "We're going to offer amendments to improve the bill. And I think it desperately needs to be updated. ... This is a bill that ignores many of the most pressing needs facing working families, provides huge subsidies to the fossil fuel industry. This is a bill that must be improved."

When Jon Tester was asked if Kyrsten Sinema would vote for the bill, he offered up his own doubts about it:
Sen. Jon Tester (D-Mont.): "Did they bring in Dick Blumenthal? Did they bring in Patty Murray? Part of this deal is we're all gonna analyze it. I still haven't made up my mind what I'm gonna do. I haven't had a chance to fully analyze the Inflation Reduction Act. But I will, and we'll go from there."
Maybe he just wants attention. Maybe he just wants to sound "like a moderate," for his deluded Montana voters.
Manchin is a liar, and he's claiming this bill will reduce the deficit and reduce inflation.
Both of those claims are lies. They're the usual type of Washington lies -- his bill is a fake ten year plan, in which all the spending happens in the first few years, and all the spending cuts happen in the last few years of the ten year schedule.
No one expects any Congress to allow those cuts to actually happen.
And, in any event, there will certainly be no reduction in inflation now, when we need it.
Who cares about completely hypothetical 0.5% inflation reduction ten years from now, which is never going to be allowed to happen anyway?
The WSJ:
Majority Leader Chuck Schumer wants a Senate vote on his partisan tax deal with Joe Manchin as early as this week, and no wonder he wants to rush it through. The more Americans learn what's in this tax-and-spend behemoth, the more they'll dislike it.

Start with the authors' central claim that the bill will reduce the deficit and thus inflation. The Penn Wharton Budget Model, which Sen. Manchin has been known to watch, examined the details of Schumer-Manchin and found that it doesn't contain any net deficit reduction until 2027.

"The impact on inflation is statistically indistinguishable from zero" through 2031, say the Penn Wharton modelers. We don't agree with those who think deficit reduction leads in a straight line to lower inflation, but that's what the Democrats claim for their bill. If the first deficit reduction doesn't come for five years, what's the help on inflation today?
In fact, the model predicts the higher spending of the plan will cause inflation to increase for the next two years, during the very period when we're already facing 40-year-highs in inflation.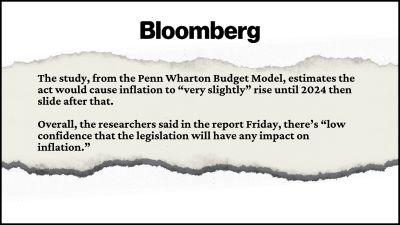 Is this another reason that Biden had to have all of his media/institutional allies redefine two quarters of negative growth as "not a recession"?
So that Manchin could say he never violated his promise to not raise taxes during a recession?
Schumie too:

posted by Ace at
03:21 PM
|
Access Comments