« Quick Hits
|
Main
|
Bull Elephants Cafe »
June 30, 2022
Atlanta Fed Tracker Finds Contraction in the Economy In the Second Quarter, Meaning the Economy Is Already In an Technical Recession
Remember, we already had a first quarter of 1.6% contraction -- adjusted downwards, apparently, from the 1.5% contraction I've been citing -- which means that the second quarter's retraction satisfies the technical definition of a recession as two back-to-back quarters of negative growth.
The Federal Reserve's key real-time model for tracking U.S. economic activity has turned negative, signaling that the nation could already have entered a recession.


The GDPNow gauge, a widely watched measurement from the Atlanta Federal Reserve Bank, indicated Thursday that real gross domestic product shrank by 1.0% in the second quarter from April through June.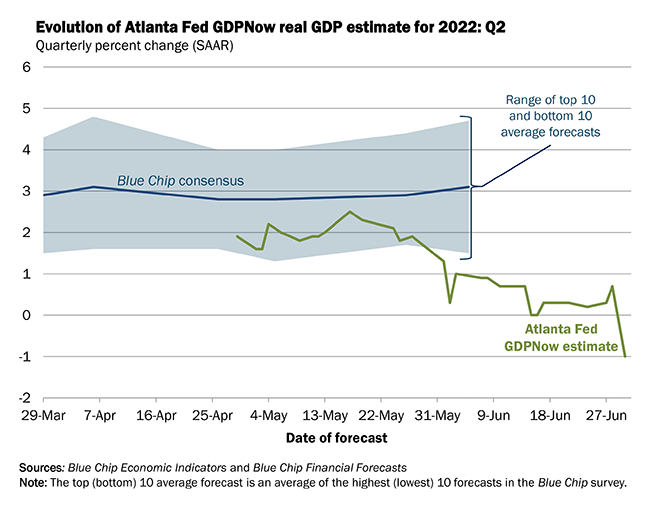 While the official advance estimate of Q2 performance will not be released for another month, this preliminary reading shows the second quarter in a row of negative growth in the economy after GDP contracted 1.6% in Q1.
Now here's why it's being called a "technical recession" -- because a council of economic wise men get to pronounce whether it's a recession-recession or not.
If further readings confirm that the economy did, indeed, shrink in Q2, the technical criteria for a recession -- which is defined by two consecutive quarters of negative growth w-- ill be met. However, the National Bureau of Economic Research (NBER) is the authority that makes the official determination.
I have a feeling they will avoid making that determination... until a week after the November midterms.
What about you?
CNN is already spinning that if a recession is declared, you shouldn't believe it's real, because this council is... (place your bets, get your bets in) ... racist.
Matt Margolis:
A recession is defined as two consecutive quarters with negative growth. However, as CNN's Nicole Goodkind notes, "the economy isn't broadly and officially considered to be in a recession until a relatively unknown group of eight economists says so."


Goodkind then attempts to make this all sound sinister--like it's a bunch of James Bond villains hiding in a secret lair plotting world domination by pointing out that these economists "serve together as the Business Cycle Dating Committee, are hand-selected by and work under the umbrella of the National Bureau of Economic Research (NBER), a private nonprofit organization."

So, what exactly is CNN's problem? Well, it seems all but inevitable that the Biden Recession will soon be official, so to preempt this, CNN has declared this cabal of economists racist.

"There is a clear lack of racial diversity amongst the eight members, and NBER has never had a member who has been a racial minority, according to Gary Hoover, co-chair of the American Economic Association Committee on the Status of Minority Groups in the Economics Profession," CNN explains. "All NBER members are experts in macroeconomics and business cycle research. Each is over 60 years old, and they are all associated with prestigious universities. The group includes two women, one of whom is married to another member."
If you are old enough to remember the Trump years, you will recall that every bad thing that happened -- and actually, there weren't too many bad things that happened, requiring the media to sperg out over Trump allegedly overfeeding koi and things of this trifling nature -- was all Trump's fault, or God's Vengeance Upon America for having elected the Bad Orange Man over the Princess Who Was Promised, Hillary.
That's not the way the left and NeverTrump (but I repeat myself) rolls in 2022. Now the president is responsible for literally nothing that befalls America -- in fact, America is kinda being a dick by making bad things happen for Biden.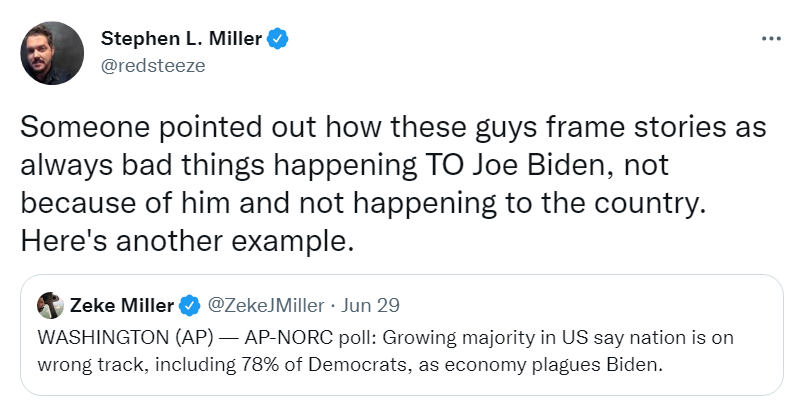 American citizens don't agree with their soi-disant "elites." They seem to think Joe Biden is to blame for Joe Biden's economy.
@IAPolls2022


Biden's approval rating hits it's LOWEST with 31% in new Civiqs poll

Biden Job Approval
Approve 31%
Disapprove 57%

Independents
Approve 20%
Disapprove 67%

26% - Georgia
27% - Arizona
30% - Nevada
31% - Delaware
32% - Pennsylvania
33% - Michigan

That's from Civiqs.
InteractivePolls @IAPolls2022

Ron DeSantis's net favorability among Hispanics is 12 POINTS HIGHER than Biden's: Ipsos poll

(+- vs December 2021)

Ron DeSantis
Favorable 49% (+10)
Unfavorable 36% (-9)

Joe Biden
Favorable 44% (-9)
Unfavorable 43% (+8)

1,018 Hispanic Adults
That's from this Ipsos poll, headlined: Latinxes Americans worried about gun violence and crime, optimistic about America.
I added the "xes" to Latin- to "center transgenders." Ipsos failed to use the correct "Latinx," instead writing "Latino."
During Pride Month, Ipsos?
DURING PRIDE MONTH?!?!
This AP/NORC poll says that Americans seem to think that America is heading in the wrong direction, for some reason, and not just because of a Racist National Economics Bureau.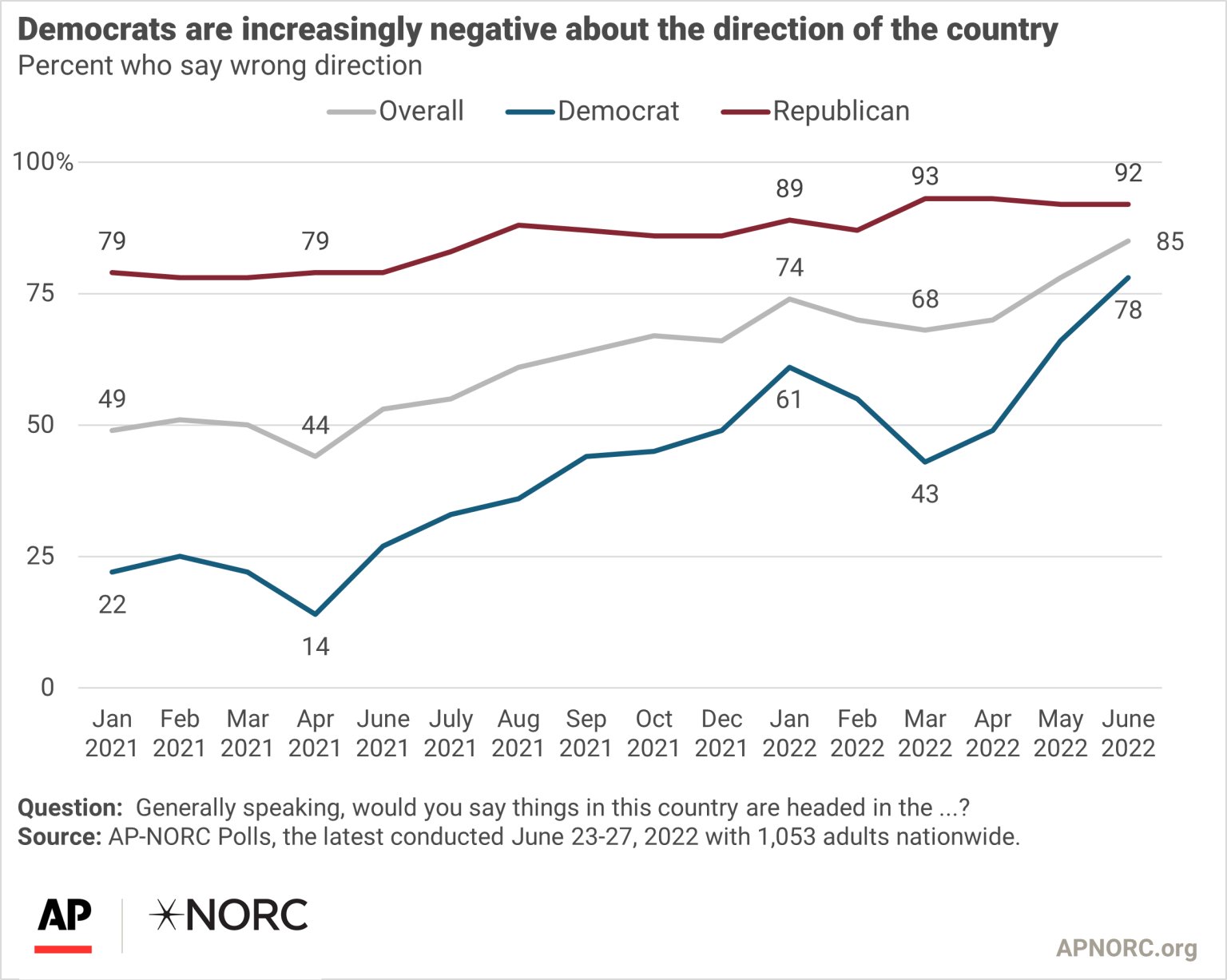 78% of Democrats say America is on the wrong track. Compare that to just 43% of Democrats being willing to admit that in mid/late March.
BTW, I saw a twitter thread in which that was posted, and all of the leftwing Twitter lunatics were claiming "Yeah, but that's just because Democrats are upset that the J6 committee hasn't arrested Trump yet!" or "Of course, the Supreme Court is now an insurrectionist threat to the nation!"
In other words: Just a huge hot glowing pile of highly-radioactive Copium-227.
Well, I'm sure there's a bit of that in there.
But I think it's mainly about people not being able to afford the basics any longer, and their homes rapidly losing their value.
That AP/NORC poll, by the way, has a D+8 sample... and still finds Biden's approval at only 39%.
No one in the world believes that Democrats outnumber Republicans by 8% at this point.
InteractivePolls @IAPolls2022

Biden Job Approval: AP NORC
Approve 39%
Disapprove 60%

Independents
Approve 25%
Disapprove 73%

The Economy
Approve 28%
Disapprove 69%

Independents: The Economy
Approve 14%
Disapprove 84%

D44/R36/I20 / 1,053 A / 06/23-27
"I heard him say that we are in something to the effect of a recession."
-- J6 Economic Analyst and Future Insta Influencer Madison Cornbread

Actually that joke is by Lady in Black.

posted by Ace at
06:43 PM
|
Access Comments