« Mid-Morning Art Thread
|
Main
|
Roe v. Wade, Casey Overruled 5-4 »
June 24, 2022
The Morning Rant: Riley Moore in '24 – This Pro-Energy West Virginian Is Already Fighting Woke Capital - He Deserves A National Platform
Whoever wins the 2024 GOP nomination for President needs to take a serious look at elevating Riley Moore of West Virginia to a prominent position. I'd recommend Vice President. If not VP, put him on the campaign trail as the Energy Secretary designate.
The Republican base will love him, and our inflation-weary country should be receptive to a politician who supports traditional American energy and who relishes a battle with the green, anti-energy power structure running the largest banks.
So why is the Treasurer of the nation's 39th largest state a better candidate than all the Republican Governors, Senators, and Attorney Generals who have more prominent positions in more prominent states?
It's because Riley is passionate about traditional energy, and he is passionate about fighting against woke capital's agenda. He is taking on the biggest and most powerful players – BlackRock and the cartel of money center banks. Just this last week, Moore stepped up his battle.
Wall Street firms face W.Va. boycott over alleged fossil fuel bias [Politico – 6/14/2022]
Six of the nation's biggest financial firms have been told that they will be denied access to state contracts in West Virginia as Republican leaders there continue their pushback on what they see as bias against the fossil fuel industry.

BlackRock Inc., Wells Fargo & Co., JP Morgan Chase & Co., Morgan Stanley, The Goldman Sachs Group Inc. and U.S. Bancorp are due to be placed on West Virginia's Restricted Financial Institution List in 45 days, according to letters sent to the companies on Friday by state Treasurer Riley Moore, a Republican.
This is just the latest salvo from Mr. Moore against the big banks. Earlier this year, Moore pulled state operating funds out of a BlackRock investment fund.
"As the state's chief financial officer and chairman of the Board of Treasury Investments, I have a duty to ensure that taxpayer dollars are managed in a responsible, financially sound fashion which reflects the best interests of our state and country, and I believe doing business with BlackRock runs contrary to that duty," Treasurer Moore said.
Besides being a fighter, Moore is a leader.
West Virginia all by itself can only exert nominal influence on BlackRock and the big banks. But if you get a coalition of states - including Texas, Arizona, and Missouri – to threaten to cut off the mega-banks because of their anti-energy political activism, then there is a critical mass of influence.
Riley Moore assembled that coalition of states for that specific purpose, and he is leading that coalition. That is the type of leadership our country needs to fight back against the enviro-left and its agents in the C-suites of corporate America.
15 States Vow To Protect Oil, Gas Industry From 'Woke' Banks [Daily Caller – 11/22/2021]
A coalition of 15 states announced a commitment to scrutinize future business with banks that divest from the fossil fuel industry.

The coalition of top state financial officers, formed by West Virginia State Treasurer Riley Moore, collectively represents more than $600 billion in public assets under management, according to the announcement.
Ron DeSantis has become a GOP superstar because he is such a rare creature – a conservative Republican executive who does not play defense, instead he wants to actively engage the fight and "win territory" at the expense of the left's power structure. Riley Moore is clearly cut from the same cloth.
I'd love to see a DeSantis/Riley ticket in '24, but no matter who the nominee is, this country needs a fighter like Riley Moore in a prominent position, using every bit of power and authority available to fight for carbon energy and to fight against the woke, corporate left.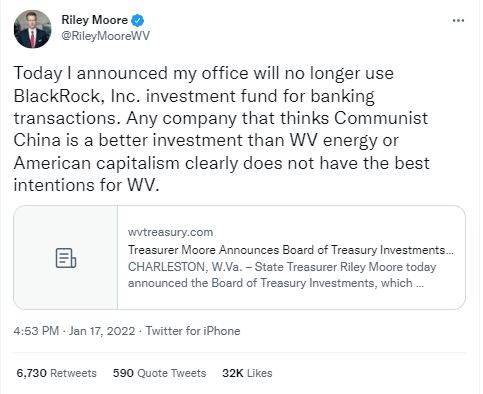 (buck.throckmorton at protonmail dot com)


posted by Buck Throckmorton at
11:00 AM
|
Access Comments