« Mid-Morning Art Thread
|
Main
|
Huge: Supreme Court Rules That States Cannot Discriminate Against Religious Schools In Tuition-Assistance Plans, Clearing Way for Education Passports »
June 21, 2022
How the Voters Really Feel about Abortion
Dave in Fla [Guest Monkey]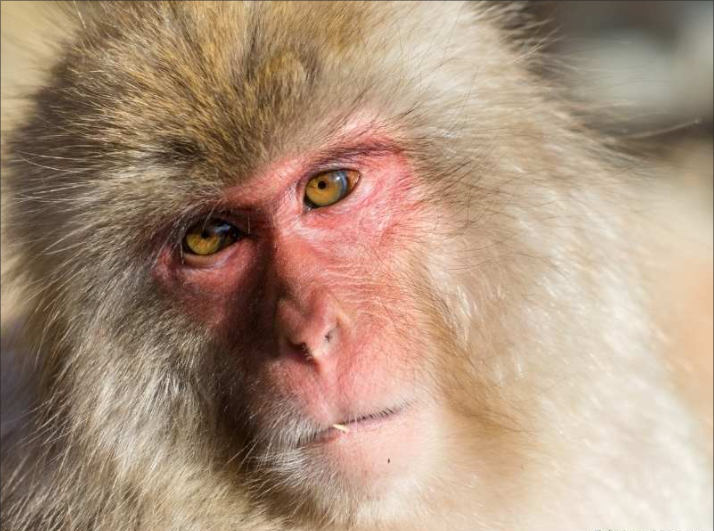 With CBD on vacation, I was asked to fill in for him this week. It happens that I have some new polling information to share with you, so it was a timely request. My favorite pollster, Rich Baris, conducted a new national poll during May. I'm going to share some insights from it on Thursday, but with the Dobbs vs. Jackson Women's Health Organization decision being released this week, I thought it would be useful to understand what the voters actually think on the abortion issue.
First a word about the poll itself. It is a likely voter poll of over 2500. In polling terms, that is double the size needed for valid results in a national poll. Also, I have mentioned in the past, Baris uses an over sampling technique tied to consumer data to ensure he gets a representative sample from all key demographics. He has been extremely accurate in the past (most accurate in the VA Governor's race for example), so I have high confidence that he is accurately measuring voter sentiment. [I am not including a link to the crosstabs of the poll, since those are provided to his Locals community only]

Consider the following results: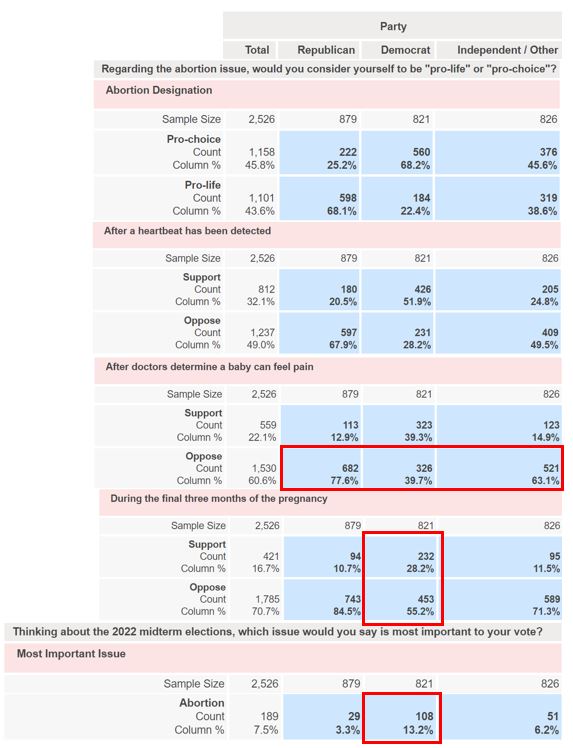 When you consider the top line question, "are you pro-choice or pro-life?", the country will self-identify as barely pro-choice. This is where the Democrats stop the discussion, since they want to make the political claim that the voters are pro-choice, so don't change the current status quo. While a solid super-majority of Republicans are pro-life (much to the chagrin of the GOPe), the over all numbers are driven by an equal super-majority of Democrats and a plurality of Independents who call themselves pro-choice.
Where things get very interesting is when you start looking at the approval/disapproval of specific practices.
Abortion after a heartbeat has been detected has almost majority opposition with the voters, with twice as many independents opposing as approving it.
Abortion after a baby can feel pain is strongly opposed by 60.6% of the voters. Even Democrats oppose the practice by a slight plurality.
Where abortion really loses support is in the 3rd trimester. 70.7% of the voters oppose this practice. Even a solid majority of DEMOCRATS (55.2%) oppose abortion up to the point of birth.
The final data point I want to highlight is how important Roe v Wade is as an election issue. Will it motivate the Democrat base to vote?
No, it will not.
While Democrats are twice as likely to consider abortion to be their primary issue for voting in November, still only 13.2% of Democrats identify it as their most important issue. That small percentage represents slight over 4% of the entire voting population. They might be vocal with their protests and terrorism, and the administration might want to pretend they are a mighty voting bloc, but they are a tiny sliver of the electorate.
If Roe v Wade is repealed this week, it will have no impact on the November elections. And as the public finally realizes what the repeal actually means, they will support the laws that are in place throughout many of the states.
The November elections are going to hinge on the economy, as you will see on Thursday.


posted by Open Blogger at
11:00 AM
|
Access Comments