« Police Response to Uvalde Shooter Was Even Worse Than Thought: Cops Had All the Guns and Bullet Proof Shields They Needed, Could Have Killed Shooter in "Three Minutes;"
Didn't Even Try Opening the Door, WHICH WAS UNLOCKED THE WHOLE TIME
|
Main
|
The Chinese-Influenced Head of WHO Now Privately Believes That Covid Was Released from the Wuhan Lab, But Publicly Remains "Neutral" On Covid Origin Theories »
June 21, 2022
Vice: Enjoying Nature Is White Supremacist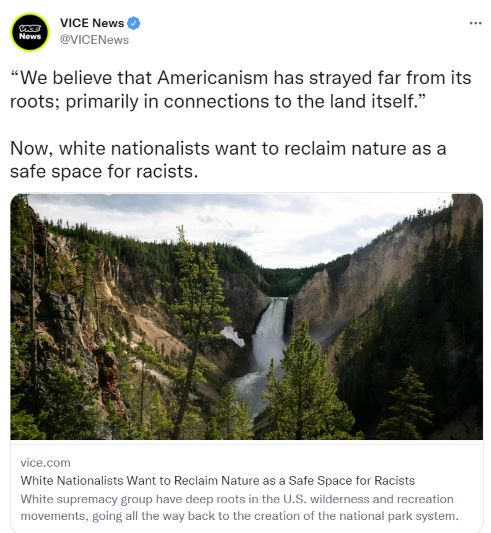 Wow, I can't believe Vice is in financial trouble again and looking to cut more of their brilliant staff.
From Twitchy, which is the best place to read Vice, if you must.
At first glance, it may seem out of character: Wholesome activities like hiking, foraging for berries, and camping seemingly stand in sharp contrast to lifestyles of the basement-dwelling, far-right livestreamers.

On one recent weekend, a number of young far-right extremists went camping in upstate New York. This "retreat" was the latest in a national event series that aims to foster real-world relationships within the very online, youth-oriented Christian nationalist movement--and with the land they vow to defend against anything they deem un-American and un-Christian, be it immigration, critical race theory, or transgender rights.
Oh no, people you disagree with are going to go out into the woods and say things you disagree with.
How can you go on knowing this aggression is taking place?!
And during Pride Month,, too!
…

While this may be a relatively new phenomenon within the modern far-right, white supremacy has deep roots in the U.S. wilderness and recreation movement, which long excluded people of color from its national parks and green spaces.
Did it? Or was it just a thing that white people did that black people weren't that into?
And that history has made America's national parks attractive destinations for white-rights activists trying to stake their claim to the land.
How they eternally phrase this non-problem is that White People aren't doing a good enough job "making spaces welcoming" to non-whites.
So White People have to do the Emotional Labor of writing out three thousand Invitations for a bunch of non-white strangers saying "I'm doing something you're probably not interested in, want to join? Y N PS please don't cancel me for presuming that you require my White Savior Intervention to be invited at all."
If they don't, it's Racism.
Hiking obviously has a racism problem. But what you didn't know is that hiking has even worse heteronormativity problem:
Literally everything is a problem and every single thing you do is oppressing some mentally-ill weakling somewhere.
It's pretty easy to be a Vice "writer:"

posted by Ace at
05:28 PM
|
Access Comments