« The Morning Rant: "Typed On A Phone Because Of Internet Problems" Edition
|
Main
|
Joe Biden Shut Domestic Oil Production Down. Now, With His Presidency Dying Faster Than His Dying Brain, He Begs US Companies to Start Drilling Again-- and Finds Out That Will Take Years. »
June 13, 2022
The Dispatch's David French and The Bulwark's Tim Miller Agree On Which Politicians Are Advancing "The Blessings of Liberty (TM)," and Which Aren't
DeSantis may involve child protective services in cases where parents bring children to sexualized drag shows.
'We have child protective statutes on the books,' DeSantis, 43, told onlookers in Fort Myers Beach Wednesday, addressing public outcry over the footage 'It used to be kids would be off-limits - used to be everybody agreed with that.'

'Now it just seems like there's a concerted effort to be exposing kids more and more to things that are not age appropriate,' he said

David French has repeatedly argued in favor of exposing children to transvestite men engaging in sexual behavior and reading stories about drag, homosexuality, and transgenderism to children -- and he's mad that DeSantis would stop this newest Blessing of Liberty (TM), too.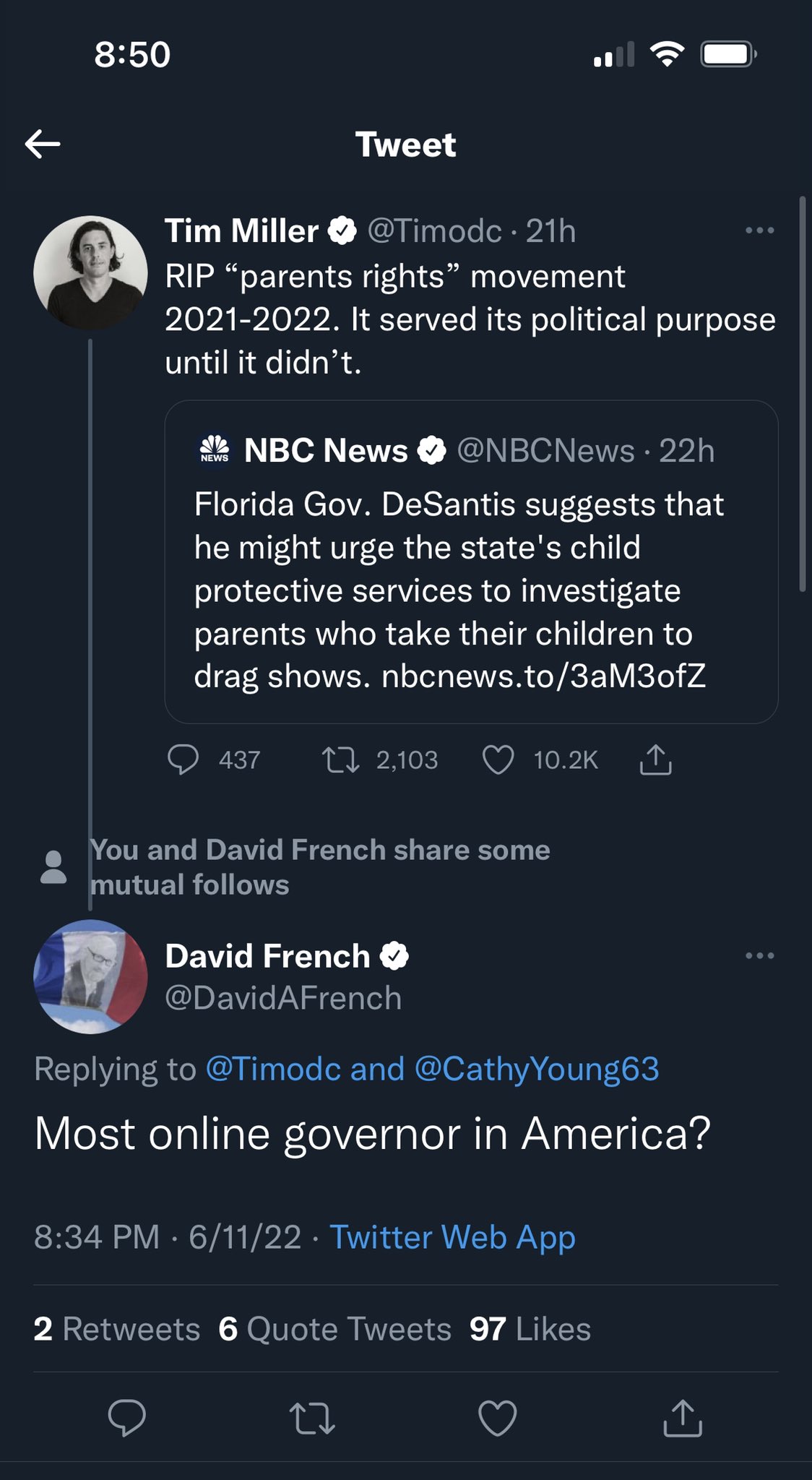 But both agree on who is the governor who's "most online in a good way" -- meaning, who follows Twitter controversies and sides with the "right side."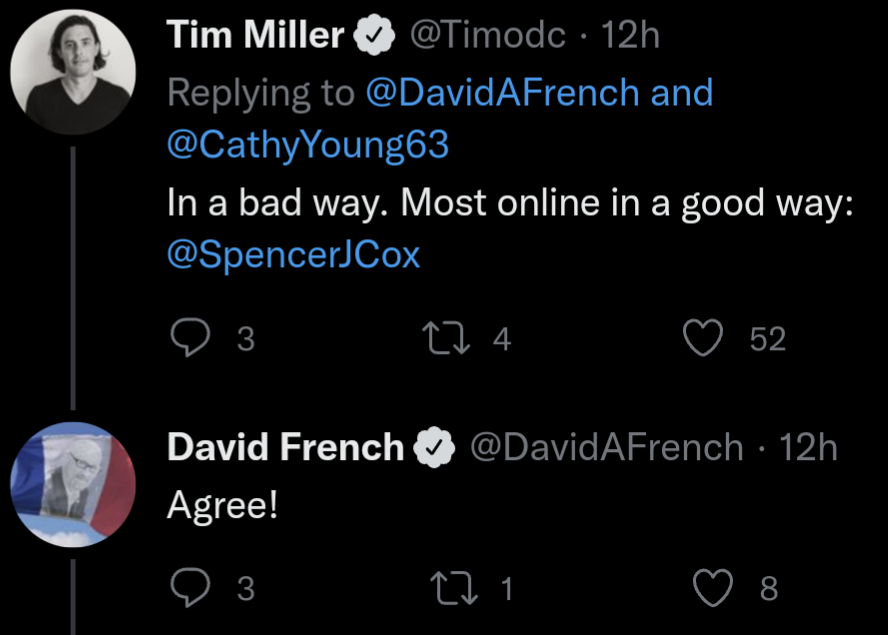 Spencer J. Cox just got a lot of praise from both the New York Times and the Gay Times (really) for vetoing a bill that would have kept biological males out of girls' sports.
So obviously David "Blessing of Liberty" French is a huge fan.
Here's one of French's and Miller's allies -- Ron Fillipowski is another proud True Republican who's become a hardcore Democrat partisan. Fillipowski was a supporter of fraudster Rebekkah Jones -- who was recently found to have made up all of her accusations against DeSantis.
And now he's posting stuff like this -- saying that there's no problem with kids at drag clubs because, let's face it, when a kid is an altar boy, he's in drag too, amirite?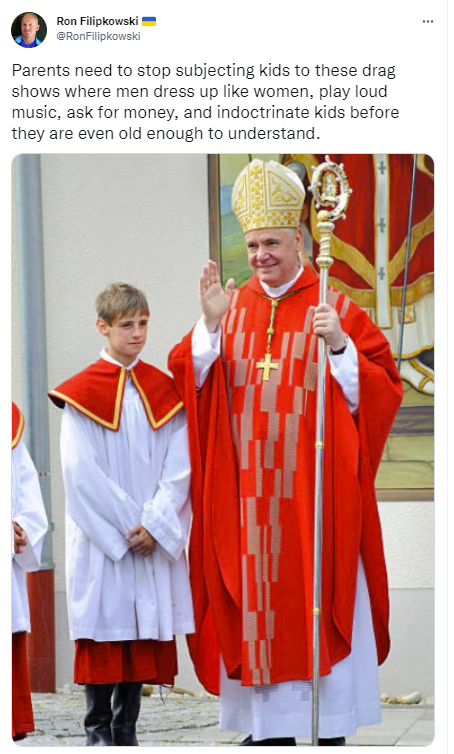 It's such a stupid, braindead joke -- but it shows you where these "True Conservatives" are. And where they always have been.
David Reaboi, Late Republic Nonsense @davereaboi

The Groomer Caucus' hatred for @GovRonDeSantis
is so beautiful. All of these people are sick deviants.
Below, some more completely non-sexual drag and gay shit which is completely appropriate for viewing by children because it's just Gay Culture which you bigots will have to learn to accept.
Say, is there anyway we can go back to the pre-Obergefell propaganda about gays being bourgeois and gay marriage not affecting normies' lives or children at all?
Obergerfell was sold as having no conceivable affect on the lives and families and children of straight Normies. This was the central sales pitch. "Why would you deny this to us, when it will have absolutely no negative affect on you?"
Now that it's the (judge-imposed) "law," it turns out that that guarantee that this will have "no negative affect on your lives or children" is revealed to be a lie.
And there's no shame about that lie -- the propagandists for this seem angry at the Normies that they were even forced to hide the delicious outrageousness of "Gay Culture" in the first place.
Now that they got the victory they craved, they can tell the truth, and start agitating for the next victories -- we're coming for your children, and your children are just going to have to get comfortable with Drag Queens shaking their dicks in their faces, H8rs.
Will they officially retract the pre-Obergefell lies that your lives will not be affected at all, and replace that with "your lives are going to be seriously impacted," or nah?
I'm going to insist on the "benefit of the bargain," the pre-Obergefell promise that, quote unquote, "this will not affect your lives at all."
No takebacks -- unless you want to give up your side of the bargain, too (gay marriage itself).
Below, Dave Reaboi talks about the "psycho-sexual" dimensions of David French's weakness and cvckery.
By the way, the leader of one of David French's precious "Blessing of Liberty (TM)" franchises turns out to be a child pornographer.
Brett Blomme -- a former head of the Cream City LGBTQ+ Foundation which runs a Drag Queen Story Hour program -- was arrested on charges of possession of child pornography.

Blomme, 38, was taken into custody "following an investigation into multiple uploads of child pornography through a Kik messaging application account in October and November 2020," according to a statement.

...

The foundation also runs a Drag Queen Story Hour program, an event that "captures the imagination and play of the gender fluidity of childhood and gives kids glamorous, positive, and unabashedly queer role models."
Man who enjoys dressing up in woman's lingerie and stockings and high heels and, thusly attired, exhibiting himself in front of children turns out to be a sexual deviant sexually attracted to children.
Plot twist, huh? Who could have seen that one coming?!
Why are kids part of your kink? And why should we "just accept that"?

posted by Ace at
12:14 PM
|
Access Comments