ę Leftist Jagoff Ethan Klein Urges His Millions of Listeners to "Bomb" the NRA Convention;
YouTube Responds By Giving Him a Rinky-Dink One Week Suspension
|
Main
|
Sussman Was Acquitted Because of a Partisan DC Jury.
And Because the FBI Colluded With Sussman From the Beginning. Ľ
May 31, 2022
Quick Hits
America's Paper of Record Prophecy: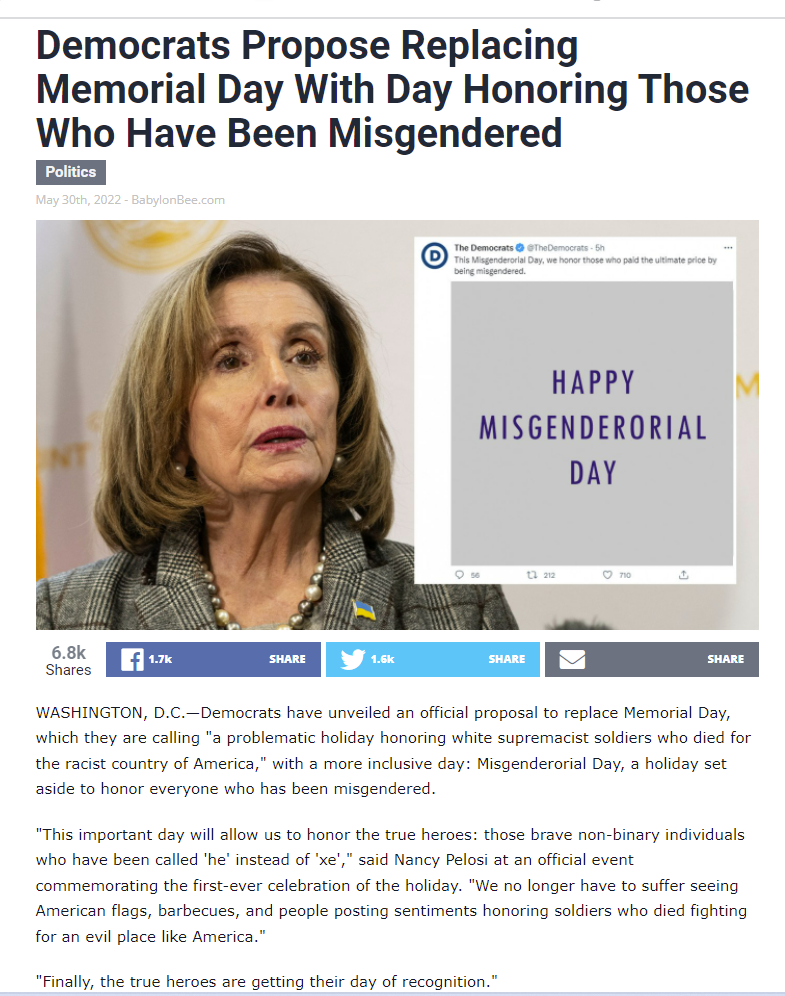 The WHO has announced, to no one's surprise, that despite the panic it's ginning up about monkey pox, gay pride parades should not, repeat, should not be cancelled.
Once again, viruses cannot be transmitted during public gatherings for things leftists enjoy doing.
Andy Seale, a strategies adviser in the W.H.O. Department of Global HIV, Hepatitis and Sexually Transmitted Infections Programs, told a W.H.O. social media briefing in Geneva, Switzerland, "it's important that people who want to go out and celebrate gay pride, LGBTQ+ pride, to continue to go and plan to do so."
There are some things too important to sacrifice for the sake of public health.
A lot of things we can sacrifice for public health, such as the economy, children's education, mental health, and also the public health -- but definitely not gay pride parades.
Virginia AG Jason Miyares has filed a brief supporting a teacher's right to refuse to use the preferred pronouns of a transgender student, citing religious freedom.
His brief states:
No State has more jealously guarded and preserved the questions of religious belief and religious worship as questions between each individual man and his Maker than Virginia. The Commonwealth's interest in securing the religious liberty of its citizens against interference or penalty from any government remains as strong today as it was when those [constitutional] provisions were adopted more than 200 years ago.
Breitbart reports:
Both Miyares' office and West Point High School French teacher Peter Vlaming argue that Virginia's religious protections are more robust than the "watered-down version of the federal right" protected in the U.S. Constitution.

"Virginia's broad protections of its citizens' religious liberty--more extensive than the protections provided by the federal Constitution--are a product of Virginia's pluralistic origins and tradition of equal opportunity for its citizens regardless of their beliefs," Miyares's brief continues.
British woman groomed underaged girl by showing her a lesbian movie to "normalize it." She has been sentenced to two years in jail.
A Virginia judge has found probable cause to find that two books often given to children in taxpayer funded school libraries, The Court of Mist and Fury and Gender Queer (aka "Toni Morrison's Beloved," as AllahPundit refers to it) are "obscene for minors."
The [Supreme] Court has also held that the law may bar distribution to minors of sexually themed material, if it fits within what is basically the Miller test with "of minors" or "for minors" added to each prong (e.g., "the work taken as a whole, lacks serious literary, artistic, political, or scientific value for minors"). Ginsberg v. New York (1968), a pre-Miller case, upheld a law that implemented the then-current obscenity test with "to minors" added at the end of each prong; most lower courts and commentators have assumed that Ginsberg plus Miller justify laws that implement the Miller-based test with "to minors" added to each prong as well.
And it find that these books likely qualify as obscene "for minors."
The adults who are determined to sexualize children continue insisting that there is no difference between what is acceptable for an adult to enjoy and what is acceptable for a child to enjoy. That's what makes them Groomers.
Paramount Plus sponsored a drag event where children danced with drag queens on stage for money.
The event, RuPaul's DragCon 2022, took place in Los Angeles and welcomed over 60 featured drag queens from across the country. Featured "talent" included drag queens such as "A'Whora," whose Instagram is ripe with videos of men wearing fake bouncy breasts, "Madame LaQueer," and "Trinity the Tuck." "Tuck" refers to the practice of men tucking their genitals in to present as a woman.

...

As alarming as the video from DragCon is, even more concerning is the number of large brands and organizations which sponsored the event. DragCon's website lists a number of sponsors, including streaming service Paramount+, makeup brand Anastasia Beverly Hills, JoAnn's craft and fabric store, Out Here Sexual Health, and the Los Angeles Public Library.

Videos at the link, if you can take it.
Trans athletes have been able to beat the shit out of girls without any pushback because the girls they've been walloping on have been cowed into silence. They haven't publicly complained -- not using their names, not on video -- because they fear being bullied by the trans extremists, who dox and threaten people.
But now a female skateboarder is publicly complaining about a Dude in a Dress beating her in an alleged "women's" skateboarding contest.
"This isn't transphobia. This is advocating for fairness in women's sports."

...

As OutKick's Alejandro Avila detailed last week, Gallagher, who is transgender, competed in a Red Bull-sponsored skating event against biological females, taking first place and $5,000. Initially hesitant to speak up, Silverman, who finished second, found the courage to speak out, saying in part: "...The trans competitor who won took $1000 dollars in qualifiers, $3000 in finals, and $1000 in best trick. This totaled to $5000 of the prize money meant for the female athletes.

She later added: "I deserve to place first, be acknowledged for my win, and get paid. I reached out to Red Bull and was ignored. I am sick of being bullied into silence."
"Sophomore year, when I was competing with the men and losing to them, I was miserable. But now that I'm competing against women and winning, I'm happy." Thatís not an exact quote, but it's basically what Lia Thomas is saying. Wonder if there are any correlations between losing and being miserable and between winning and being happy.
Climate change activist attempts to vandalize the Mona Lisa by smearing cake on it.
The man, a 36-year-old whose name has not been released, was dressed as an elderly woman in a wheelchair before he stood up and attempted to break the case of glass protecting the painting on Sunday, according to witnesses cited in news reports. However, he was unsuccessful and threw a piece of cake on the glass. The painting itself was not harmed.

"There are people who are destroying the Earth," the man said in French, as seen in a video on social media. "All artists, think about the Earth. That's why I did this. Think of the planet."

The man also threw roses in the room.
George Gascon announced he would be taking over the prosecution, and then announced he would only be charged with a Class E misdemeanor.
Based Grandma has no patience for an Asian girl with bizarrely-colored Dangerhair: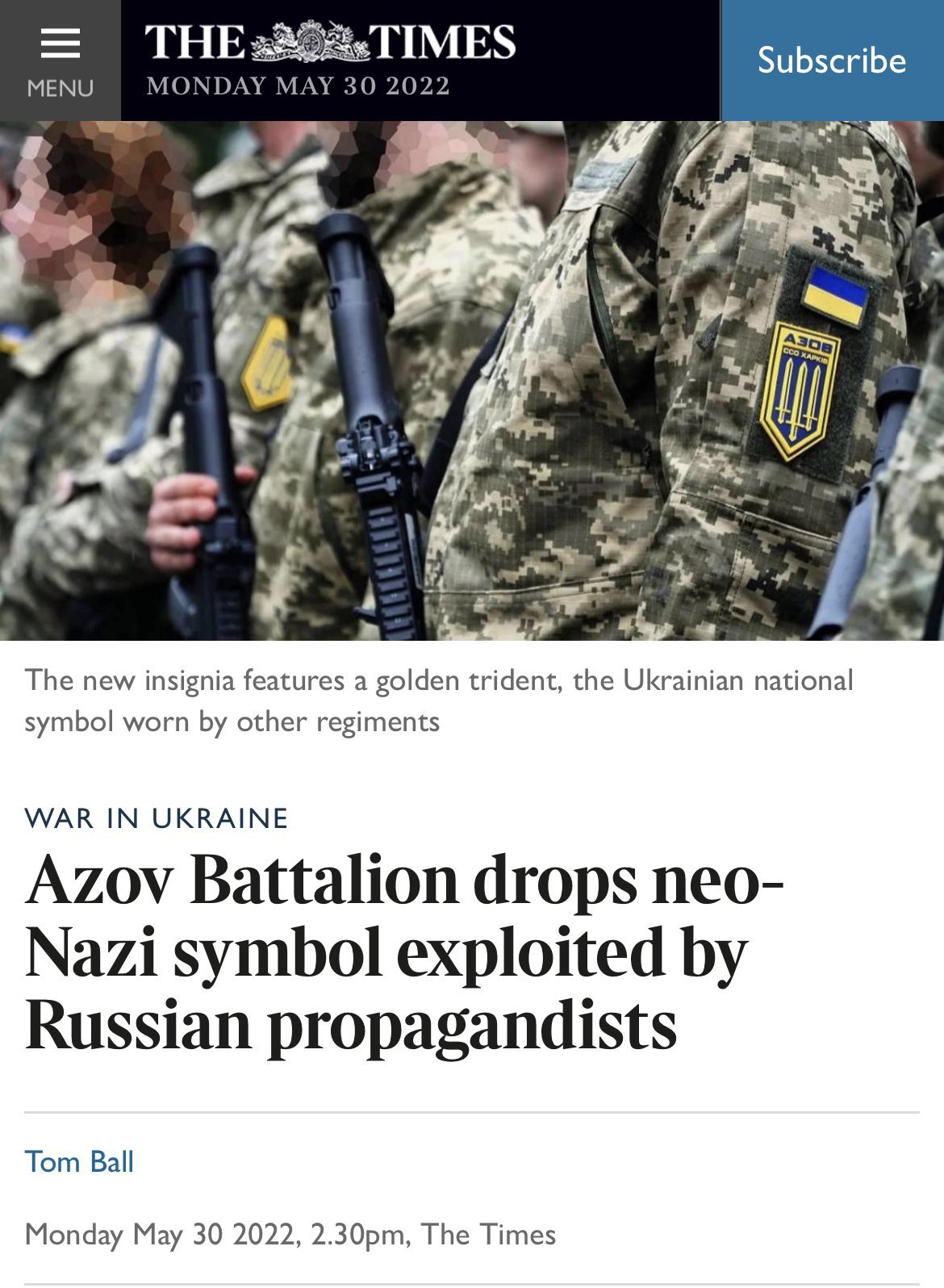 posted by Ace at
05:15 PM
|
Access Comments