« Daily Tech News 31 May 2022
|
Main
|
Mid-Morning Art Thread »
May 31, 2022
The Morning Report - 5/31/22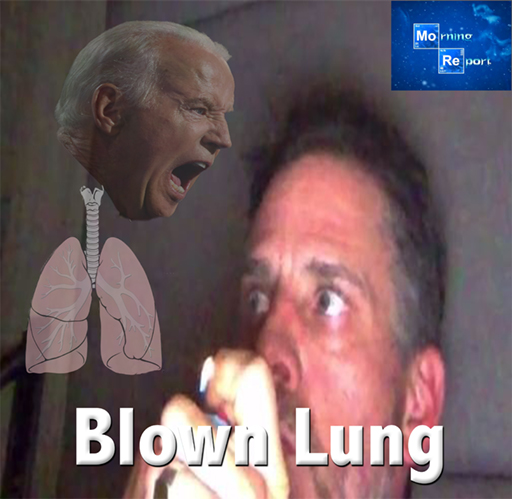 Good morning, kids. Tuesday and over the weekend, president Sponge Brain Shits Pants, whose 81 million votes, mostly cast by about 800 actual people, spent the Memorial Day weekend standing on the bodies of 21 more victims of Communism railing against the people he was supposed to unite, and the Constitution he swore to defend. The words, if you could call them that, that were emitted through the cloud of half digested farina and halitosis, did nothing but raise alarm bells both to signal further mental decline and as a warning for what's to come in terms of the further degradation of our inalienable, God-given rights to defend ourselves from criminals. Including and most especially those of the elected variety.
One of the claims he made, speaking to reporters alongside Marine One, was that a 9mm bullet "blows the lung out of the body. . . "

. . . Saying that he had consulted experts, Biden claimed that a "9 mm bullet blows the lung out of the body" and added, "There's simply no rational basis for it in terms of self protection, hunting. . . "

. . . Biden continued with a second claim, saying that the Second Amendment was not meant to be "absolute" and repeating — as he has a number of times in the past — the assertion that when the Bill of Rights was written, citizens could not legally own cannons.

"The Constitution, the Second Amendment was never absolute. You couldn't buy a cannon when the Second Amendment was passed," Biden continued. "I think things have gotten so bad that everybody is getting more rational about it."
What a 9mm bullet can or cannot do is irrelevant and ditto his being completely wrong about the Second Amendment. Yet again, and ditto ditto every Democrat every time there is a mass shooting or incident involving a politically profitable victim or victims. Funny, but I do not seem to recall any sort of strident anti-gun rhetoric in the media in the aftermath of Bernie Sanders-supporting and Dick Durbin-linked James Hodgkinson mowing down several unarmed GOP politicians who somehow miraculously escaped death if not severe injury like Steve Scalsise at a softball field a couple of years ago. Same goes for Stephen Paddock in Las Vegas back in 2017 who did manage to kill 60 people.
Yet, when black youths create a free fire zone in Democrat-controlled fiefdoms, on almost a daily basis and double on weekends, there's absolute radio silence. Unless of course white police officers or white supremacy or structural racism can somehow be drawn into the scrum. 21 innocent children and teachers slain in Uvalde is an infamia that demands we do something. This below? Nothing to see here, move along.
More than 30 people lost their lives from gun violence around the country over a blood-spattered Memorial Day weekend — just days after the tragic school shooting in Uvalde, Texas.

Dozens of victims — including 13 in Philadelphia alone — lost their lives with violence spiraling across the nation. . . Chicago saw at least six people were killed over the weekend and another 34 injured. . . Maryland suffered at least four shooting deaths, including a 17-year-old boy and two men involved in a separate triple shooting in Baltimore. . .

. . . A gunman opened fire at a festival in Oklahoma Saturday night, killing one and injuring seven others. The suspect, Skyler Buckner, 26, later turned himself in.

In New York, two people were fatally shot in separate Brooklyn incidents over the weekend, according to cops.

There were also gunshot fatalities in cities including Tampa, Memphis, Fresno and Atlanta.
You know, I'm starting to utterly loathe the expression "gun violence" because the gun is the least important part of the equation. It's the violence, stupid. But that's not what this is all about and never has been. And as if on cue, like radioactive zombie alien herpes, Justin "Castreau-cesu" Trudeau points the way.
"New gun control legislation the federal government tabled today includes a national freeze on the purchase, sale, importation and transfer of handguns in Canada — the government's most ambitious attempt yet to restrict access to firearms in this country," the CBC reported. "While the proposal falls short of a full ban on handguns, it would effectively limit the number of them in Canada. . . "

. . . Trudeau claimed that the gun violence was on the rise so that meant it was his "duty to keep taking action." Trudeau previously used efforts to implement new gun control measures to distract from his blackface scandal in which photos emerged that showed him on multiple occasions wearing racist blackface.

Trudeau's remarks come after Democrat [so-called quote-unquote "president"] Joe Biden appeared to take aim at handguns Monday on Memorial Day, claiming that a 9mm bullet, which is the most popular handgun caliber, "blows the lung out of the body."
Not five months ago, Castreauc-escu and some broad who's his chief reichsminister (I forget her accursed name) seized the bank accounts and assets of the truckers who convoyed to Ottawa to protest the Chinese COVID lockdowns and mandates. I think it is safe to assume that all of them were unarmed, or if some were armed, the protest was actually peaceful, and not "mostly peaceful" as in the 2020 summer of love in the wake of George Floyd's demise down here. But what would happen if they were armed and their intentions were not just "mostly peaceful" but "incredibly peaceful?" Look what's going on in Sri Lanka in the wake of forcing organic farming and other green madness on the citizenry. Starvation and worse. Think that that can't happen here? I hate to be the bearer of bad news (although that can be rightly assumed to be my job description) but it's already happening here.
Castreau-cescu's Canada is a harbinger. As for us, the only thing that really is preventing this illegitimate junta from doing anything it wants is the fact that a very large percentage of the 330 million of us are armed with perhaps double or triple that number in weapons and God knows the number of rounds of ammunition. While what happened at the Loudon County school board and the reaction to Nina Skankowicz and the paused Ministry of Truth might have been figurative shots across the bow, what will it take to cause all of us en masse to "break glass, pull handle" as it were? The 2020 election was indeed a shock and we let it slide. They did it before and they damn well know they can do it again.
The last thing I wish for in this life is to see the day when the shooting starts. But that said, I'd feel a whole lot better if I knew that there was an actual red line and not an Obama red line.
The End of America: 100 Days That Shook the World available here.


ABOVE THE FOLD, BREAKING, NOTEWORTHY
SECOND AMENDMENT, UVALDE MASS MURDER
NOTE: The opinions expressed in the links may or may not reflect my own. I include them because of their relevance to the discussion of a particular issue.
ALSO: The Morning Report is cross-posted at CutJibNewsletter.com if you want to continue the conversation all day.
Follow us on Twitter: @CutJibNews
Follow us on Instagram: @Cutjibnewsletter

posted by J.J. Sefton at
07:41 AM
|
Access Comments