« Gardening, Puttering and Adventure Thread, June 4
|
Main
|
The Weekend Hobby Thread »
June 04, 2022
Ace of Spades Pet Thread, June 4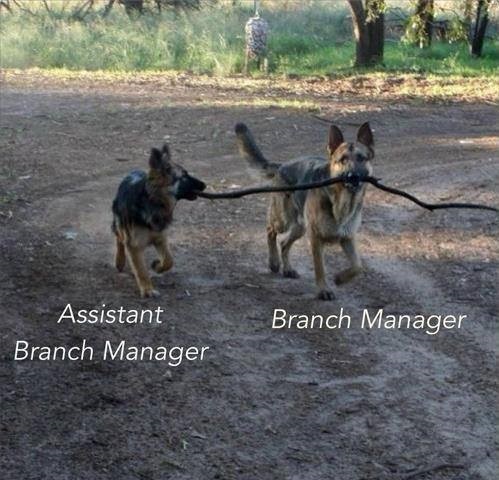 Good afternoon and welcome to this weekly respite from most of the outside "civilized" world -- the Ace of Spades Pet Thread.
Thanks for stopping by. Ask someone for a treat, kick back and enjoy the world of animals.
Reminder: For current events and politics, the Thread before the Gardening Thread (a couple of threads below) is almost always an Open Thread.
* * *
Can't we all just get along?

Pet Vocalizations
Courtesy of PMRich (mostly a lurker now, but I at least lurk every day)
Doggie serenade, still better than Yoko
* * *
Meet The PetMorons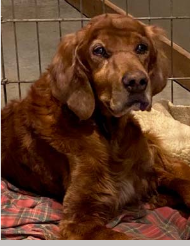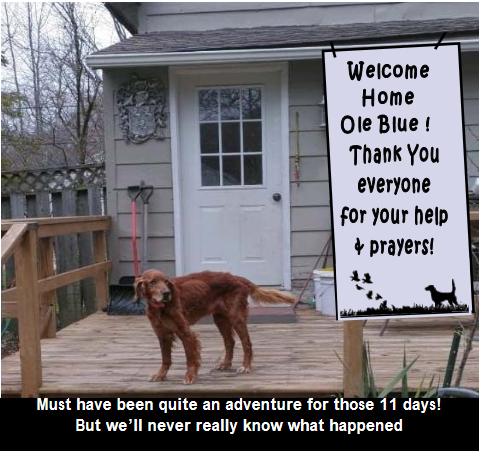 From Birdog:
Went to western Illinois beginning of last month for the Red Setter National Championship, worst week ever. Weather turned to total crap, horses slipping falling on the ice and snow when they weren't stuck up to their bellies in mud(like Literally having to stand up on the ground to get UP out of the saddle) 6 degrees at night, low teens with strong winds in the day.

THEN...timing belt broke on the 4runner, 4 cam impingement motor, sooo..toast. In the middle of a 13,000acre wildlife/wilderness area. 19 miles from the nearest gas station, 30 from the nearest tow truck. nearly 50 from the nearest Garage.
THEN...

Old, nearly blind, nearly deaf, 15yo Blue disappeared, into an area too rough, steep, broken up to even get a horse into. Hiked between 12-20 miles a day through the boonies, and under the full moon with coyotes howling/yipping, following me through the dark woods....it being "Illinois" couldn't even carry a gun....after a week finally gave up...got a uhaul and a car trailer, gathered up my 92yo Dad, the other dog, and drove the 449 miles home.

10 days Later though, FOUND! Near skeletal, scared, burr encrusted, footsore, no collar...NRSFTA wrote the tale up in our monthly Magazine. "The Flushing whip". Several people volunteered to run legs of the trip to bring him home...Neighbor across the road, from Africa, drove me to the state line to meet them

He is fattening back up some, but won't go up and down the stairs anymore...he'll go out cruise around the 1/2acre fenced yard, sleep under a bush, but when he comes back in won't go any further than the carpet mat in the mud room. Won't climb the stairs to the bed he used to sleep on, won't even go into the TV room to sit with the old man on the couch. It's sure good to have him back though.
Wow. What a story. So great to have people help get him back to you.
Back story:
He is a gooood dog, had been one of my Dixiee's pups, sold to a major breeder/field trial competitor/Assoc President(He had asked to breed his Nat. Champion to Dixxee, wanted all of the females and 2nd pick of the males, he was trying to get that "Straight Tail", breeders have been trying to get it genetically consistent in these dogs for nearly 80 years. Dixiee had it and threw pups that carried it). He had been retired and put up for sale when the guy heard that Dixiee had died(at 18yo)...he offered to give Blue back to me, gratis, rather than sell him to someone else. I made a house dog that hunts out of him, spoiled him rotten. (Competition dogs are seldom house dogs, took a while to house break him 'old dog/new trick', he still won't eat people food unless I hold the plate, not even steak or gravy)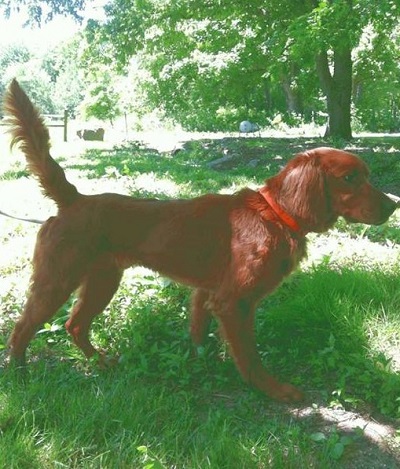 * * *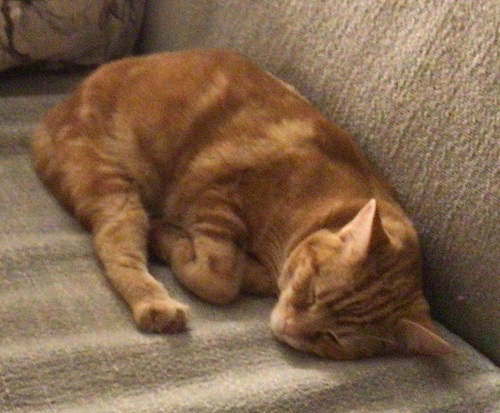 A frustrated dog lover married to the ultimate CatMan, I've not sent pet pics before. Here is our "rescue" Reina. She turned 1 on May 19th; she's been with us since mid-March when she was 10 months old. She's living up to her name, which means queen in Spanish. Her everyday, calling name is Rae. She's slimmed down now that she's out of caged 'foster cat' life. Rae is playful, a joy for our family of 5. I probably won't have the doggeh of my dreams but cats are fantastically great also. The house has been oddly lacking since our last cat died in December of last year (RIP, Sparks Dawntreader!)

Not anymore.LadyS
She looks sweet when she is asleep!
* * *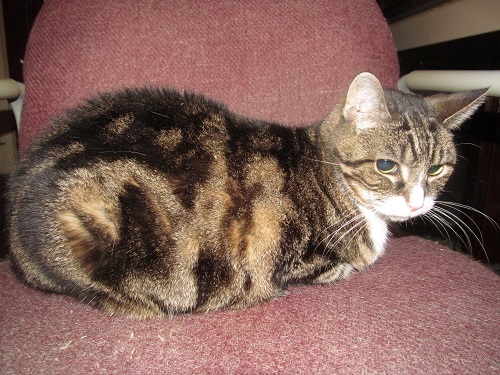 Here's Mitten, deciding what she wants to eat next. She's as cuddly as she looks. Mitten's sister, Marble, was even prettier, but sadly passed away at age 3 from heart failure.

Bless the animals and all the people who love them!

Thanks!
gp
* * *

Love those PetMorons! Thank you for sharing your pets with us. We have a few more left for next week.
If you would like to send pet and/or animal stories, links, etc. for the Ace of Spades Pet Thread, the address is:

petmorons at protonmail dot com


Remember to include the nic or name by which you wish to be known at AoSHQ, or let us know if you want to remain a lurker.
Until next Saturday, have a great week!
* * *
If you start feeling nostalgic, here a link to last week's Pet Thread, May 28. It includes some great pet photos and stories, and some information on foxes and livestock as companion animals. The comments are closed now so you won't accidentally ban yourself by trying to comment on a week-old thread, but don't try it anyway.

posted by K.T. at
03:20 PM
|
Access Comments