« Daily Tech News 20 May 2022
|
Main
|
Mid-Morning Art Thread »
May 20, 2022
The Morning Report - 5/20/22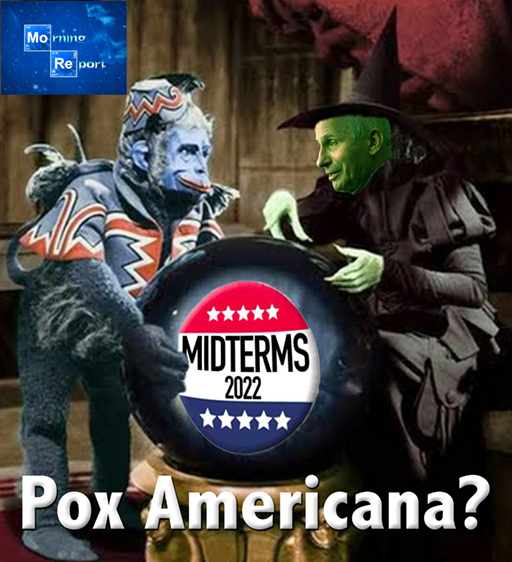 Good morning, kids. The weekend is here and with the trial of former Hillary mouthpiece Michael Sussmann getting underway, there are a number of links below the fold for those keen on self-abuse. I say that knowing full well that absolutely nothing of any substance is going to come of this trial, even if Sussmann is convicted. If anyone thinks that Hillary Clinton will in any way, shape or form face any real legal consequences for attempting to sabotage the 2016 Trump campaign, your brain function is marginally greater than that of current Oval Office occupant Sponge Brain Shits Pants. Hell, Sussmann will probably get a Kevin Clinesmith wrist-slap at worst, and then find himself with an Andrew McCabe book deal and political analyst gig at MSLSD or XiNN. The jury pool alone means John Durham has no shot in hell, even with what some analysts are calling right out of the box a slam dunk case. Already, you can see the fix is in as the judge has denied a motion by Durham to dismiss a juror because of unambiguous and direct ties to the Hillary campaign. It's a farce.
If this were the only thing making news, I'd say even a rigged trial might be an eye-opener for the low-information crowd. But our world is crashing down on our heads and this is about the last thing most folks are paying attention to. Gasoline going through the roof? Shortages of baby formula? Stagflation? Terrible and horrible but this is supposed to be America, and America is not a third world nation. Well, with a rigged justice system that favors those in power and rigged elections, we may still be a first world country, but we for sure have a third world government. Case in point, I give you the words of fish-eyed, multi-chinned, racialist Commie thug Eric Holder:
"We cannot allow what happened on January 6 to go unpunished because it would invite something like that to happen again in the future. Future people who would consider doing something like this have to be deterred."

Holder added, "I think a non-prosecution would divide the nation as well. And if we don't have that deterrent impact coming out of the consideration of what happened on January the 6, we put this republic at risk in the future."
He's talking about Trump but is that not just the greatest example of projection or what? You're absolutely right, Eric. You, Obama, Hillary, Pelosi, Schumer, anyone and everyone in the federal law enforcement, intel and military agencies that colluded with you to rig the 2020 election and then stage the violence of January 6th while using it as a pretext to persecute political enemies should all be tried for treason, hanged, and your filthy corpses left swinging in the center of the National Mall as so much rotting carrion for the buzzards to pick at. And to serve as a warning. Maybe then, and only then, will those who cheer you on get the message. Meh, probably not. But it's a start.
In any case, speaking of third world countries, as Ace from time to time asks, "is this something?"


On Thursday, Newsweek reported that the U.S. government bought $119 million of Jynneos vaccines from biotechnology company Bavarian Nordic, which makes the vaccine, on Wednesday.

Bavarian Nordic announced in a press release on Wednesday that "the U.S. Biomedical Advanced Research and Development Authority (BARDA), part of the Office of the Assistant Secretary for Preparedness and Response at the U.S. Department of Health and Human Services, has exercised the first options under the contract to supply a freeze-dried version of JYNNEOS® smallpox vaccine, thus allowing for the first doses of this version to be manufactured and invoiced in 2023 and 2024."

On Wednesday, the Massachusetts Department of Health stated that "Monkeypox is a rare but potentially serious viral illness that typically begins with flu-like illness and swelling of the lymph nodes and progresses to a rash on the face and body."

"Most infections last 2-to-4 weeks. In parts of central and west Africa where monkeypox occurs, people can be exposed through bites or scratches from rodents and small mammals, preparing wild game, or having contact with an infected animal or possibly animal products," the government agency added. . .

. . . While this is the first case of monkeypox in the U.S. in 2022, in the United Kingdom, nine men were diagnosed last month alone. The virus appears to be, in part, sexually transmitted.
In the words of Eddie Murphy from a Saturday Night skit he did about 40 years ago, and no doubt could never be done again, "We bring you the AIDS, mon!" Quick, let's get Anthony Fauci on this so he can collude with Big Pharma to develop some kind of snake oil that he can test on fetal tissue, or better yet, poor Negro orphans, like he did with AZT, and then get the government to proclaim it as a miracle cure -- for $10,000 a dose.
Better yet, declare it to be a pandemic that will require masks, lockdowns and injections for everyone starting now until some time after the midterms. Probably "two weeks" nudge-nudge-wink-wink. Because, after all, we're all in this together.
UPDATE: I had forgotten all about this, and thanks to commenter Cat Ass Trophy for the reminder. This is from last January.
A test monkey is on the lam after a truck carrying 100 apes to a laboratory crashed.

The truck driver, en route to Florida, crashed into a dump truck on Friday outside Danville, Pennsylvania.

Four crab-eating macaques seized the opportunity to escape -- and as of Saturday, one was still at large. . .

. . . Cynomolgus monkeys, as the species is also known, can cost more than $10,000, and were used as test subjects for the development of the [Chinese] COVID-19 vaccine, according to a report.

The intelligent, social primates are also known to utilize stone tools in the wild.
Crab-eating macaques; soft-shell or the ones in Joy Behar's crotch? In any case, nothing to see here, move along. Right?
Let's face it, whether this thing really is the next crisis that cannot be allowed to go to waste (manufactured or one of opportunity), or if as I suspect this is a result of open borders, it serves to underscore the fact that as I stated, we're a first world country with a third world government. The elimination of Title 42 is a catastrophe not because millions of third world peasants have been unvetted for Chinese COVID vaccinations but because they're third world peasants that are being brought here intentionally to pack Democrat voter registration rolls. Other racialist ideologues and groups, like La Raza, have long called for a "reconquista" of the United States which they see as an imperialist occupier of stolen lands (sounds familiar). In other words, REPLACEMENT of the indigenous American people and culture with one that is much less fussy about things like the Constitution, the Bill of Rights, free fair and secure elections, the English language and so on. In other words, the perfect Democrat. And it's not just Latinos invading us from the south; coming across are growing masses from every corner of the globe bringing us not just poverty and disease and no desire to assimilate - or more likely Democrat-driven disincentivizing - but violent criminals and jihadists.
The Democrat-Left does not care. If they cared, then they wouldn't be Democrat-Leftists. Some think that the destruction we are going through is mere incompetence. But if Joey Soft-Serve and the Kalorama Klown Komintern were intentionally tearing the country apart, what would they do differently? From preeminent lurker Victor Davis Hanson:
So is Biden malicious, incompetent, or a wannabe left-wing ideologue? 

When pressed about inflation and fuel price hikes, Biden either blames someone or something else, gets mad at the questioner, or claims Donald Trump did it. 

His [junta] apparently believes things are going well and according to plan. 

When polls disagree, his team either believes the American people are brainwashed or that they themselves have not supplied sufficient propaganda. So they never pivot or compromise, but rededicate themselves to continued failure. 

Why? Apparently, what most in the country see as disasters, Biden envisions as success. . .

. . . The public believes the Biden Administration has failed America, with disastrous results due either to its incompetence, belligerence, or left-wing zealotry. 

But Biden and his delusional team seem delighted with what they have wrought.

In sum, what Americans see as an abject catastrophe, they cheer on as a stunning and planned success.
Have a good weekend. New podcast episode posting early this afternoon. Be there. Aloha.
Special long distance "def" dedication, and a "pox" on all the Left's houses:
The End of America: 100 Days That Shook the World available here.


ABOVE THE FOLD, BREAKING, NOTEWORTHY
Grover Norquist: "He wants to give your favorite government agency more money — and the power to spy on you."
Supersizing the IRS: Another Big, Bad Biden Idea

"Musk might be thankful to have Tesla untethered from the ESG label. It seems a certainty that bad times lie ahead for 'ESG' investments, with harmful knock-on effects elsewhere in the market. This will all be due in part to ESG swimming, quacking and doing other things like a scam. Whatever prompted Elon Musk to express his opinion, he will be proved right."
Especially Sleazy Government: Musk Cries Scam on "ESG"
DEMOCRAT WAR ON OIL, THE ECONOMY, STUPID
NOTE: The opinions expressed in the links may or may not reflect my own. I include them because of their relevance to the discussion of a particular issue.
ALSO: The Morning Report is cross-posted at CutJibNewsletter.com if you want to continue the conversation all day.
Follow us on Twitter: @CutJibNews
Follow us on Instagram: @Cutjibnewsletter

posted by J.J. Sefton at
07:45 AM
|
Access Comments