« Mid-Morning Art Thread
|
Main
|
Sri Lanka's Ruling Family Is in Hiding Due to... Hikes in Fuel Prices and Food Costs »
May 16, 2022
The Morning Rant – Buck Shots [5/16/2022]
Did Fox News Capture Video Of Girl Being Trafficked Across Border?
In Friday's "Quick Hits," Ace posted this tweet from Fox News' Bill Melugin about a mass of illegal aliens casually crossing the border into Eagle Pass, TX. I froze the embedded video at the 14 second mark and took this screen grab.
It looks like Melugin and Fox may have caught video of a girl being trafficked.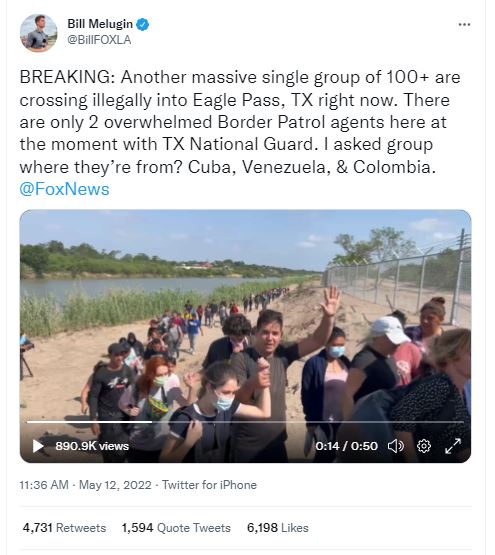 She appears to be a very young woman, and the man she's with is leading her with his hand wrapped around her wrist. Her face is conveniently masked, too. As the group walks by Fox's cameras, most of the border crossers lift a hand to wave at the camera. He waves with his left hand, and with his right hand he raises her limp left arm – by the wrist – as if trying to make her wave too.
Here is Bill Melugin's tweet with the full embedded video.
I don't know for a fact that she is being trafficked. Maybe she's just tired, and her husband/father/friend is pulling her across the finish line. What I do know is that crime syndicates can bring young females in their possession across the border, where our open border policy allows bad men to maintain possession of these vulnerable women. You know how that story plays out.
I fear that this girl is about to be exposed to a horrific life in the United States, with the acquiescence of the Biden administration.
*****
NBA Condones United Arab Emirates' Criminalization of Homosexuality
Remember when the NBA decided to punish North Carolina for passing a law that prohibited biological men from using women's restrooms in government buildings?
NBA Pulls All-Star Game Out of Charlotte Over Transgender Bathroom Law [NBC – 7/21/2016]
I'm really confused about the NBA's values, because it is now going to play games in the United Arab Emirates this next October. Homosexuality is a capital offense in UAE, punishable by death.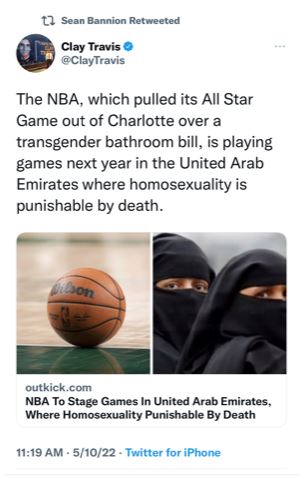 The NBA felt it had to pull its All-Star Game from Charlotte, or else it would be endorsing a law that discriminated against LGBT persons.
It's only fair then to conclude that by scheduling games in a country that executes homosexuals, the NBA is now anti-LGBT, and condones the execution of homosexuals. Their rules.
*****
Police Blotters and NFL Kneelers
Whenever I read about NFL players being arrested or otherwise misbehaving, I like to check if they are ingrates who kneel in protest during the National Anthem. There is a somewhat predictable correlation. Let's check some recent headlines.
Denver Broncos WR Jerry Jeudy arrested, faces charge of criminal tampering, with domestic violence enhancer [ESPN – 5/12/2022]
Unsurprisingly, Jerry Jeudy is one of the players who engages in anti-patriotic protests on the field before football games.
"Linebacker Bradley Chubb, wideout Jerry Jeudy, running back Melvin Gordon and safeties Justin Simmons and Kareem Jackson were among the Broncos who knelt…" [Denver7 – 9/14/2021]
How about his teammate Von Miller, who keeps making headlines for off-the-field issues?
Von Miller Is Being Sued For Allegedly Distributing Revenge Porn [Denver Post – 4/21/2022]
Von Miller Criminal Investigation Turned Over to Douglas County DA [Denver Post – 02/23/2021]
Mr. Miller sounds like a guy with the character I associate with National Anthem protesters. Is he? Why of course.
Von Miller Among 32 Bronco Players Who Take A Knee For National Anthem
NFL players have a right to express their hatred for this country, and I have the right to assume that every athlete who protests the National Anthem has the character of those who end up on police blotters.
Back in 2017, the Washington Free Beacon published a list of NFL kneelers with criminal records. Suffice it to say, it's a lengthy list.
*****
Starveflation
Hat tip to "ShainS" for my new favorite economic term: "Starveflation."


We had "stagflation" (high unemployment combined with high inflation) under President Carter.
With American babies starving for formula, and the worsening problem of getting food on the table in the face of shortages and crippling inflation, "starveflation" is shaping up to be the Biden administration's legacy.
(buck.throckmorton at protonmail dot com)


posted by Buck Throckmorton at
11:00 AM
|
Access Comments