« Mid-Morning Art Thread
|
Main
|
Jenny Pflapjacks Claims Biden Has Been On Top of the Baby Formula Crisis But Biden Hasn't Ever Mentioned It And She Won't Even Say When He Was First Briefed On It »
May 13, 2022
The Morning Rant: GOPe "Budget Hawk" Who Never Cut Spending Condemns Trump For Not Cutting Medicare; Plus Other Stuff, Including "Fish Gravy"
Paul Ryan & AEI Are Not Our Allies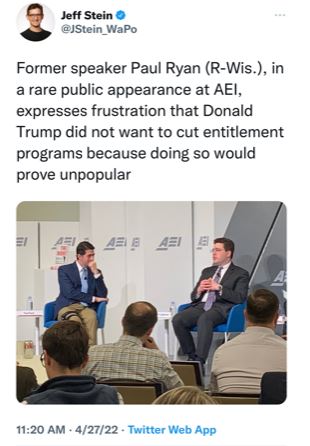 This disgusts me, and reminds me of what complete and total frauds the GOPe "budget hawks" were when we trusted them with power. It's also a reminder that my contempt for the American Enterprise Institute is well warranted, since Paul Ryan is a "visiting fellow" at this grift pretending to be a conservative think tank.
Paul Ryan griped that Trump didn't pursue cuts to Medicare and other safety-net programs [Business Insider 4/27/2022]
"He and I fought about Medicare and entitlement reform all the time," the former GOP House speaker said Wednesday at a book event at the American Enterprise Institute, a conservative think tank. "It became clear to me there was no way he wanted to embrace that."
Paul Ryan served in Congress for 20 years. During that time, there was a four-year span (2003 – 2007) that Republicans held the House, the Senate, and the White House, which were all led by Paul Ryan's type of Republicans: House Speaker Dennis Hastert, Senate Majority Leader Bill Frist, and President George W. Bush.
They were able to push through tax cuts, of course, but when it came to spending cuts, somehow all those GOPe budget hawks just couldn't find any scissors to slash the funding for toxic recipients such as NPR or the National Endowment for the Arts.
Yet Ryan has the audacity to condemn Trump for not cutting Medicare?!
Paul Ryan also served as Speaker of the House for four years during the Obama presidency. Under the Constitution, he and his fellow House Republicans had the power of the purse and could choose not to fund Obama's spending priorities. He chose not to use that power.
Again, Ryan has the audacity to condemn Trump for not cutting Medicare?!
And by the way, where is Ryan's condemnation of Barack Obama? Just kidding. They're part of the same uniparty team. Ryan's role was to star as the controlled opposition who would graciously lose to Obama, then fight tooth and nail with conservative reformers like Trump.
The biggest thing to remember about big-government frauds like Ryan is that they used the "budget hawk" gimmick as a weapon to stop conservative goals from being obtained.
Border Fence? Nope. Budget hawks said we couldn't afford it.
Cut wasteful spending such as public radio or foreign aid to countries that hate us? Nope. Budget hawks said those were meaningless drops in the bucket unless entitlements were also cut.
Legislate conservative social issues? Nope. Budget hawks said we couldn't do anything socially conservative until we addressed the budget crisis.

They never actually wanted to address "the budget crisis" or reduce the size of government. Ryan and his fellow budget hawk phonies were there to protect big government and all its taxpayer-funded parasites from real conservatives, while also ensuring that none of the promises they made to social conservatives to get elected were ever enacted by GOP majorities.
Real conservatives still desperately want to see government spending slashed. But if that's not going to happen, we'll take a Trump who will at least advance the rest of our agenda, unlike the Paul Ryans of this world who spent 20 years in Congress in a false flag endeavor to impede conservative goals, all under the pretense of being a "budget hawk."
Paul Ryan condemning Donald Trump's legislative agenda is among the most flattering things I've ever heard about Donald Trump.
*****
Speaking of Faux-Conservative Think Tanks
Speaking of AEI, I was pondering the significant election victories that conservatives had in last week's Texas school board elections, and how a few individuals like Christopher Rufo and Ryan James Girdusky, acting almost alone, have done more in a short time to advance the conservative cause than Heritage, AEI, and every legacy conservative publication have accomplished in decades.
Ace commented this week on NBC's meltdown about conservatives flooding the polls in Texas to defeat leftists in school board races. Mr. Girdusky's 1776 Project is recruiting candidates, training them, and helping their campaigns, with great success.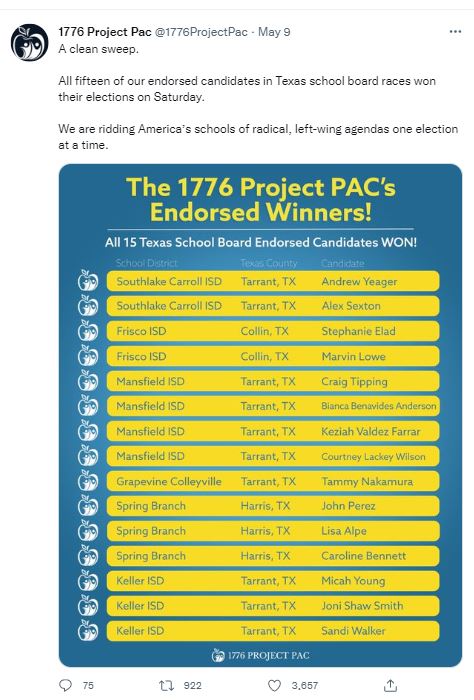 In the battle against Critical Race Theory, Christopher Rufo is the most prominent person in America, aggressively identifying, exposing, and fighting back against CRT. Without Mr. Rufo, Virginia would probably still be under Democrat control.
His diligence in exposing the cover up of transgender sex crimes in Loudoun County schools, and the effort of those in charge to criminalize parental pushback, caused Virginia voters to flood the polls and flush Democrats completely out of power in Virginia.
He also played a major role in turning public opinion against Disney in its battle against Governor DeSantis in Florida. Rufo is bringing about actual on-the-ground conservative victories.
This is an incredibly flattering hate-headline from The New Yorker about Mr. Rufo.
How a Conservative Activist Invented the Conflict Over Critical Race Theory
"Invented." Heh.
You'd never see such a story from the liberal media about Heritage or AEI, because those conservative think tanks aren't actually trying to get the conservative base to fight the left at the ballot box. At best, AEI and Heritage are just trying to get their left-wing friends to tone down their rhetorical excesses, while explaining to conservative donors why we must constantly surrender to the left in the name of "principles."
*****
Fish Gravy
Let's finish up today with something a little lighter. As I've documented before, Mrs. Throckmorton has a charming habit of creating malaprops, mixed metaphors, or other accidentally funny word usages.
She had brunch with girlfriends yesterday, and told me afterward that the Eggs Benedict were served with "sockeye gravy" rather than hollandaise sauce. Sockeye is a salmon. (I'm guessing it was actually red-eye gravy, which is cream gravy made with the drippings of fried breakfast meats.)
I told her that I prefer mackerel gravy or flounder gravy to sockeye gravy, especially on eggs, but that's probably just my Gulf Coast bias.
If y'all have any favorite fish gravy recipes, be sure to send them to Mr. CBD for his Sunday food thread.
Have a great weekend!
(buck.throckmorton at protonmail dot com)


posted by Buck Throckmorton at
11:00 AM
|
Access Comments