« Christians Gently Escort "Ruth Sent Us" Church-Disruptor Mutants to the Exits
|
Main
|
Transgender R@pist James "Hannah" Tubbs -- On Verge of Being Released by LA's Soros DA George Gascon -- Is Suddenly Transferred to Kern County Jail on a Murder Warrant »
May 10, 2022
Quick Hits
They did the meme! They did the meme!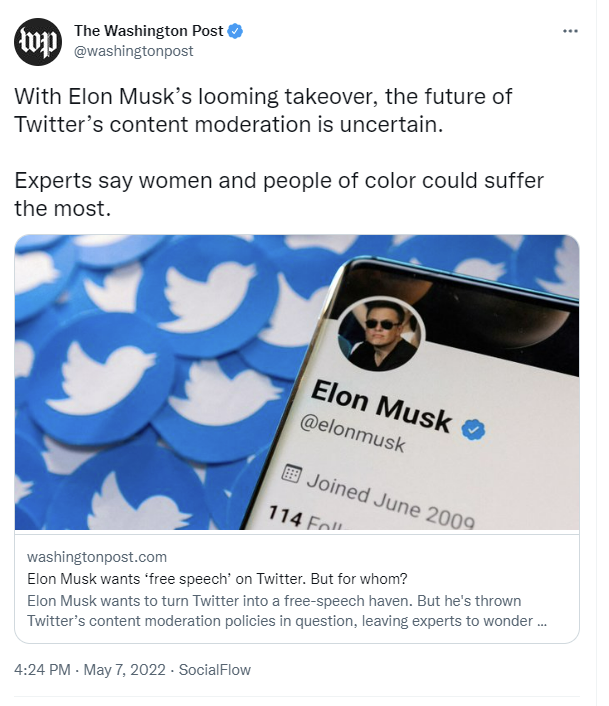 If women and minorities are now mostly worrying about Elon Musk's content moderation policies on Twitter, we can officially stop worrying about women and minorities.
Musk says he'll be reinstating Trump's twitter account. He calls Trump's banning "morally wrong" and "flat-out stupid."
I don't know if that's news; obviously he'll do that.
More interesting is his statement that he'll be firing one thousand twitter employees. He also says that Twitter has a clear left-wing bias in its moderation policy, and that that bias might be due to its San Francisco headquarters. Zero Hedge supposes that might mean a move of the HQ to Texas. If he moves the HQ to a place in Texas which is not Austin but somewhere which is more real Texas, maybe those 1000 leftwing Twitter employees would "self-deport" for him.

Transgender specialty outlet Target now selling transgender delusions to confused young girls.
Target stores, which are no stranger to political controversy, are wading in the waters yet again, collaborating with what has been described as "queer-owned" brands to assist in normalizing radical transgender ideology by selling chest binders -- apparel to flatten women's chests.

Target recently collaborated with the brand TomboyX, which identifies itself as a brand that is "passionate about fostering acceptance and equality."

"We are a queer-founded brand dedicated to empowering our LGBTQ+ community year-round, and advocating for equal representation and celebration of all people," the brand states, offering products for "all bodies and needs, of all sizes and across the gender spectrum." "Gender Euphoria" is one of its signature collections, and includes "tucking" bikini bottoms as well as "compression" tops, or chest binders.

A brief search on Target's website shows some of the pieces the department store offers as part of the collaboration, including "pride" packing underwear, "pride" bras, and a $25.00 "compression top," or chest binder.

When you're shopping at Target, you're shopping with Hitler.

BlueTick deletes Twitter account after calling for more violence against pro-life activists.
This cartoonist objects to his Twitter Pal Bill Kristol counseling peace in the abortion debate:
jon rosenberg @jonrosenberg

No. Fuck this. Go to people's homes. Go to their places of worship. Make them as uncomfortable as they are trying to make you. This is not the time for civility, this is the time for mass resistance and demonstration
Breanna Joy Gray is Bernie Sanders' former press secretary.
Clarence Thomas said the Supreme Court couldn't be bullied, as he and his fellow justices withstood a coordinated intimidation campaign encouraged from the highest quarters of the institutional left.
"Bully them harder," she said.
She is still on twitter. No one asked her to delete this encouragement of violence.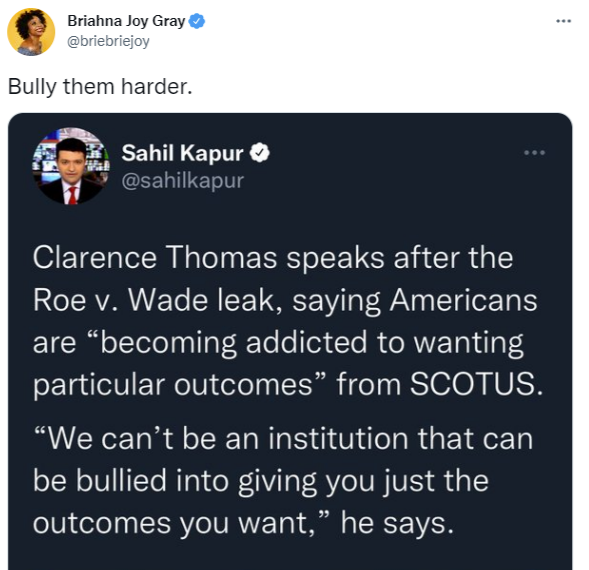 Valerie Jarrett's daughter says that a conversation about civility -- even with justices being intimidated -- "misses the mark." I encourage people to remember that, if they become upset at this person or her whore mother.
"Demon" protesting at justice's home?
Flashback, 2018: National Review makes The Conservative Case for Embracing Transgenderism. Well, that's my title. Their title is, "A Transgenderism Compromise is Necessary to Preserve Social Order."
At present, it feels we're still in the immature, demagogic phase. In some quarters, it remains fashionable to act theatrically repulsed by transgender people, emphasize their weirdness, and make populist appeals to the preposterousness of women asking to be called "him" or surgeons amputating penises and so forth. Yet this seems more cathartic than anything, in the same way that showy judgment of gays did a generation earlier. As with homosexuality in the 1980s and '90s, the loud revulsion of critics conceals a fading interest in actually attempting to "solve" transgenderism, as even those most offended by it seem to quietly regard purported cures as quackish and authoritarian.


Though transgenderism is a far rarer phenomenon than homosexuality, I think most adults could admit it does seem like a rather persistent aspect of humanity. Most can probably recall a transgender person making at least some minor appearance in their life. If we concede that transgenderism is not going away, and is not something anyone intends to exert effort toward ending, then Americans, especially conservative ones, should reflect on our culture's honest and fair attitude toward homosexuality and acknowledge that the most sensible path out of the present acrimony will probably require similar compromise. Some degree of cultural ceasefire and consensus seems the only path for both sides to maintain a degree of pride while avoiding a more radical, disruptive societal transformation.

Part one of the compromise will be borne by cultural conservatives and traditionalists. It asks for broad tolerance for the reality that transgender men and women exist, and are entitled to basic human dignity, just like everyone else. This does not mean having to morally endorse behavior many may believe runs contrary to God's plan for a just and healthy society, but it does imply that acts like ostentatiously calling people by pronouns they don't want, or belittling their personal struggle, are boorish and petty. It means acknowledging that arbitrary discrimination against transgender people is a cruel bigotry like any other.
After a very brief mention of the compromise necessary on the part of progressives -- just that they can't use state power to force what National Review will demand conservatives yield voluntarily -- the author returns to chiding conservatives:
Transgenderism seems to be the issue on which many on the right prefer to let loose their inner reactionary, which then further rationalizes petty tyranny on the left.

...

Today's purveyors of identity politics cause acrimony because they seem determined to invent and prosecute new accusations of intolerance against those otherwise trying hard to behave properly. Embracing open prejudice can seem a cynically comforting response among those feeling doomed to be judged regardless. Because transgenderism affects few people, and therefore provokes relatively low social stigma, it seems to be the issue on which many on the right prefer to let loose their inner reactionary, which then further rationalizes petty tyranny on the left.

American history teaches that it is neither the radical nor the regressive who are ultimately vindicated in their response to cultural disruption, but rather those cautious conservatives who assign themselves the difficult task of thoughtfully working through the new and unexpected in the cause of preserving a social order as peaceful and free as the one that came prior.

Who will now rise to that task?
Ever get the feeling you've been cheated?
Antonio Brown is a clown, but not about this: "He don't wanna play, man. He was trash," he says of Colin Kaepernick. When first asked about Kaepernick's chances of a comeback, he says "F**k outta here."
There is no grooming at schools, chapter 231.
A Florida teacher claims she was fired for discussing her pansexual status with middle school students whom she then asked to draw pictures representing their own sexual orientations.

Cape Coral art instructor Casey Scott said her students were curious about her sexual orientation and she explained to them that she was pansexual during a lesson in March, NBC2 reported.

"A discussion happened in class and because of that, now I'm fired," Scott told the outlet.
"A discussion happened," says the person leading the class of children.
Gee, how did that discussion happen, I wonder?
Pansexual refers to someone who is attracted to all categories of people regardless of their sex, gender identity or sexual orientation.

Scott, who is married to a man, said the kids at Trafalgar Middle School then created flags representing their own sexuality and gender identities ranging from transgender and non-binary to gay.
Gee, who told the students to create those flags, I wonder? Did that just "happen" as well?
The first-year teacher posted their creations to her classroom door before administrators told her to take them down.

"They said it would be in the best interest if I got rid of them now," she told NBC.

Scott said she crumpled up the pictures and put them in the trash.

Lee School District officials said some students understood her explanation of her sexuality while others were left confused, the local NBC affiliate reported.

The subject matter angered some parents and students who wrote to administrators to voice their displeasure, officials said.

Scott, who was working on a probationary basis and not part of the teachers union, was eventually told not to return to campus and that her contract was being terminated.

District officials attributed her dismissal to her not following the curriculum, the outlet reported.

Does NeverTrump still claim Merrick Garland is a principled centrist moderate? Does Andrew McCarthy still vouch for his honor?
CRT is totally fake.
Also, schools took covid relief funds and spent it on Critical Race Theory classes.
Covid relief funds were SUPPOSED to be used to get schools open and students back to in-person education. While that has happened across many districts, in New York, California, and Illinois, the funds have been used to bring in critical race theory materials.

"I write with serious concern that the New York State Education Department (NYSED) is using federal taxpayer dollars provided through the Elementary and Secondary School Emergency Relief (ESSER) Fund to promote Critical Race Theory under the guise of Social and Emotional Learning (SEL) and Culturally Responsive and Sustaining Education (CRSE)," writes Stefanik, a member of the House Education and Labor Committee, in the letter provided to The Post.

Stefanik said New York's school coronavirus-relief spending plan talks about addressing "anti-racism and anti-bias," "privilege" and "implicit bias" -- instead of solely focusing on learning loss and academic achievement.

"This formulation of anti-racism is not about upholding the equal protection of the laws guaranteed by the Fourteenth Amendment, but instead advocates for the discriminatory treatment of Americans on the basis of race," the congresswoman seethed.
Oh, the Wizard Rock lunatic and Minister of Truth says that critical race theory is made up, you guys.
She also claims that Republicans funded the Steele Dossier.
Nina Jankowicz @wiczipedia Replying to @LindseyGrahamSC

Your party funded the dossier first... and if there was FBI and DOJ bias during 2016, it was certainly against Clinton. FBI was investigating Trump since summer but didn't make it public. American public deserved to know.
In case you're confused by this musty old Hillary Talking Point: Bill Kristol and other leftwing NeverTrumpers paid Fusion GPS for an oppo file on Trump (and Ted Cruz) in the spring of 2015, but that had nothing to do with the Steele Dossier, which came later, and was a wholly original creation of Hillary Clinton and, I still bet, Sidney Blumenthal.
Your occasional reminder that these people controlled the party until five years ago:
Yay:

posted by Ace at
05:40 PM
|
Access Comments