« Saturday Morning Coffee Break & Prayer Revival
|
Main
|
Saturday Gardening, Puttering and Adventure Thread, May 7 »
May 07, 2022
Avoiding their obsession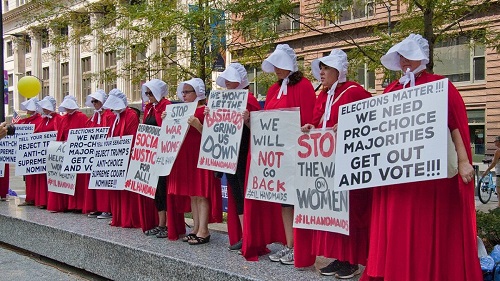 The Left has an obsession with the Handmaid's Tale. This image is not from the recent Supreme Court leak. It is from the Kavanaugh hearing, which still inflames them.
When Justice Samuel Alito's draft majority opinion for the Supreme Court in Dobbs v. Jackson Women's Health Organization was leaked to the news media, it came as a shock. How could such a thing happen? Are the norms that keep our government together unraveling? For those who have followed the Supreme Court over the last several years, there is unfortunately more continuity to outrageous behavior than is often recognized.

Immediately after the leak, we learned that the sort of left-wing dark money groups that brought the Supreme Court confirmation process to new lows with their antics with Justice Kavanaugh's hearings are at it again. An outfit calling itself "Ruth Sent Us" has posted a map with the home addresses of what it calls "the six extremist justices" and organized protests next week at their personal homes. The radical left is now doxxing Supreme Court justices.
The weird thing is that Ruth thought that Roe V. Wade was not a great decision.
It is unlikely that many minds are going to be changed on this subject this weekend. It occurs to me that the most stringent of pro-life people are advocating making illegal exactly the things that the Obama administration tried to FORCE the Little Sisters of the Poor (nuns caring for the elderly indigent) to pay for, and Catholic hospitals and medical personnel to perform against their consciences.
But we can point out some inconsistencies. J.J. Sefton picked up this piece by Daniel Greenfield, perfect for Mother's Day weekend, saving the birthing people from having to birth:
The Left erased women. The "W" word, a concept so fundamental that every human culture and even animals understand it (proving that a donkey is smarter than a Democrat), vanished within a matter of years to be replaced by "birthing people".

Now the Democrats vow to save the "birthing people" from having to "birth".

Leftists used to accuse conservatives of reducing women to "baby-making machines" until they decided to go ahead and redefine women as "birthing machines" (which is completely different). That triumph of social justice, akin to spending a decade stamping out the use of "colored people", only to resurrect it as "people of color", was just another case of leftist projection.

Democrats spent generations reducing women to abortion or birthing people who don't birth. Redefining womanhood as a state of mind that anyone, no matter how hairy, can identify with and become, eliminated all the other planks of the feminist agenda leaving only abortion.
The radical movement used every Constitutional right and every social freedom to seize control of the means of communication and indoctrination to force that core message through the system. To the extent that much of the country believes that it is not free, it has succeeded.

Abortion is one of its wedge issues. It's a powerful wedge issue because it can be used to convince women that they're powerless. The pro-choice movement, like every leftist slogan, is an inversion. Its actual message is that women don't have a choice. That the "choice" is in the hands of two factions, only of which intends to allow women to choose as long as it's in power.

What the Left wants from women is to replace actual choice with the illusion of a binary choice. Its message is the familiar one of Big Brother, that power comes from surrendering individualism, and that security can only be found in the ranks of angry mobs. That is what we were seeing outside the Supreme Court. And it is what we see throughout identity politics.
Oh goody--the identity politics crowd has come up with a substitute term for "Latinx," which is hugely unpopular among hispanics according to repeated surveys. Campus Reform reports:

New York University's LGBTQ+ Center announced via Instagram that the university would be holding a slew of "Cultural and Identity-Based Graduation Celebrations" to "acknowledge and celebrate the accomplishments of graduating students of color and LGBTQ+ students."

Among the celebrations listed was an event titled "Latine Grad." "Latine" is a gender-neutral or non-binary alternative to "Latino," similar to "Latinx."

Latine was "created by gender non-binary and feminist communities in Spanish-speaking countries" to "remove gender from Spanish, by replacing it with the gender-neutral Spanish letter "e," which can already be found in words like estudiante."
Adjust your style guides, everyone!
Happy Mother's Day!
* * * * *
Meanwhile, other things are happening
Don't get too distracted.
Bari Weiss hosting a cop who describes how police came to be hated overnight in Seattle:
This February, Bruce Harrell, newly installed as mayor of Seattle, made it official: His city is in decline. "The truth is the status quo is unacceptable," Harrell said in his first state of the city address. "It seems like every day I hear stories of longtime small businesses closing their doors for good or leaving our city."

But it's not just small businesses.

Much of Seattle's core looks like a pockmarked ghost town. Storefronts on both sides of Third Avenue, a major thoroughfare, are boarded up. Blocks from the Four Seasons hotel and the Fairmont Hotel, tents crowd the sidewalks, and drug users sit under awnings holding pieces of foil over lighter flames. Traffic enforcement is minimal to nonexistent. In mid-March, Amazon announced that it was abandoning a 312,000-square-foot office space in downtown, citing concerns over crime.
That such woes should afflict one of the richest cities in the country--Seattle has a median household income of over $100,000--cannot be blamed on economic decline. The year 2020 saw a 68% spike in homicides, the highest number in 26 years, and the year 2021 saw a 40% surge in 911 calls for shots fired and a 100% surge in drive-by shootings. Petty crime plagues every neighborhood of the city, and downtown businesses have paid hundreds of thousands of dollars to fund their own security.
What happened to Seattle? The answer, of course, depends on your politics.

In the news section of the Seattle Times, for instance, a reader is unlikely to see any consideration of a link between policing and public safety. . .
* * * * *
Should this have been in the news?
Just freeze their bank accounts
Last spring, Russian Foreign Minister Sergei Lavrov warned Canada and other Western Arctic stakeholders -- the US, Norway, Denmark, Finland, and Iceland -- that all the resources beneath the ice melting in the Arctic Sea belong to the Russian government. "It has been absolutely clear for everyone for a long time that this is our territory, this is our land," Lavrov stated at a Moscow press conference. It would be stupid at this point to delude ourselves into believing he is blowing smoke regarding the Arctic as we assumed, for too long, was the case with Ukraine. We should assume he means what he says.
* * * * *
Weekend Pursuits
There was a post up at Powerline on VDH's favorites. Kind of interesting.
The daily Hoover Institution email alerted me to the Victor Davis Hanson show podcast on VDH's favorites -- favorite movies, favorite novels, favorite TV shows, favorite ancient Greek writer. Who could ask for anything more? The only problem with it is that it isn't longer. . . I don't think it's much of a plot spoiler to disclose that The Best Years of Our Lives is one of VDH's favorite films. Mark Harris tells the incredible story behind the film in Five Came Back (2014). I summarized it briefly on Power Line when I read the book and want to take the occasion to repeat it below. . .
Here's an idea what it's about:
* * * * *
Funnies
Dave Chappelle performs. Michael Ramirez is on Substack now.
Go ahead and click over.
Meanwhile, two bloggers have SOLVED RACISM. I'm kind of ashamed that Ace and the COBS couldn't do this.
* * * * *
Music
Controversy:
"Nobody even attempts to write a melody."

These were some of the infamous words of Merle Haggard when he gave his opinion on modern mainstream country back in 2015. Interesting words because while you can find plenty of people harping on the lack of lyrical content and substance in the mainstream, or bitching about the encroachment of other genres and electronic beats into their beloved country music, not many people have commented on what may be the most rampant problem running through modern American music: the consistent lack of memorable and engaging melodies.

But even though we don't mention it, this makes sense in the mainstream. Much of the stuff coming from Music Row is unimaginative and forgettable, and the lack of melody is only one small problem. So yeah, maybe we don't criticize it often enough, but it's not a stretch to see the undeniable lack of care for this crucial element in mainstream country.
Or are stupid lyrics the problem?
Here's somebody who seems to agree with Merle Haggard about a wider range of music What do you think?
How did Merle Haggard do in the melody department?
Hope you have something nice planned for this weekend. Happy Mother's Day to all you moms out there.
This is the Thread before the Gardening Thread.
Serving your mid-day open thread needs
* * * * *
Last week's Thread, April 30: Ministry of Truth, Elon Musk, Schiff
Comments are closed so you won't ban yourself by trying to comment on a week-old thread. But don't try it anyway.
Bonus comment, April 23: We don't need no white Science Fair judges.


posted by K.T. at
11:16 AM
|
Access Comments