« Dow Down Over 1,200 Points as Investors Brace for Long Hard Slog Of Interest Rate Hikes to Tame Brandon's Inflationary Disaster
|
Main
|
The Gals of The View Are Pretty Sure That They Can Change The Course of History By Refusing to Have Sex With Men »
May 05, 2022
LOL: White House Correspondents' Dinner Is Now Officially a Super-Spreader Event
And Kamala Harris wasn't even there!
I mean, because she had covid.
(That's not what I meant at all.)
Jonathan Karl, an effete dishrag, got an award for craven service to the interests of The Regime, specifically in propping up the "Insurrection" narrative.
Because he got that award, he gave out a lot of unmanly hugs.

I can tell what a grave attack it was by how you're giggling and grinning like a little girl who just got a pony.

He later tested positive for The 'Vid.
Insider Paper @TheInsiderPaper

JUST IN

Reporters and staffers from CNN, ABC News, NBC News, CBS News, Politico, and other participating news organizations have tested positive for the Covid-19 after White House Correspondents Dinner weekend, CNN reported
Even worse, he was close to the old frail man who already has his Mortal Coil unbuttoned down to the navel.
Doctors say, however, that Joe Biden would be in very little danger of contracting covid.
That is, unless Biden entered into what epidemiologists call "The Sniff Zone" of an infected person.
Uh-oh.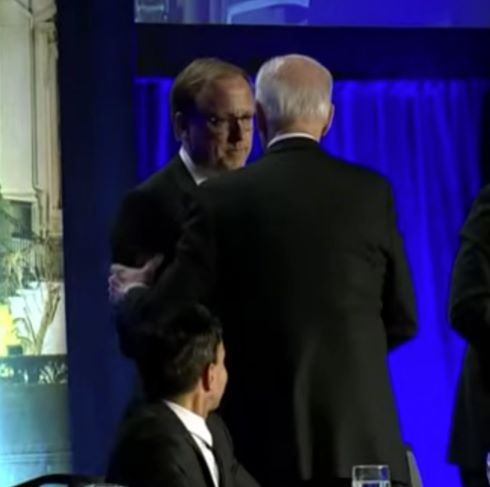 Insider Paper
@TheInsiderPaper

MORE: According to CNN, ABC's Jon Karl, who shook hands with President Biden and who sat next to Kim Kardashian, has fallen ill.
Biden has not tested positive for The 'Vid yet but, as Jeff Goldblum sagely told us so many years ago, "Life will find a way."
You're not allowed to laugh at people catching covid and maybe dying, now shout all the people who spent a year writing articles headlined Now All the MAGA People Will Have a Chance to Reconsider Their Anti-Vax Stances In Hell.
So eat my greasy pork cobbler, scumbags.
Say, didn't Secretary of Babysitting Pete Bootyjudge tell us that there was obviously a difference between a ballroom and an airplane?
Andy Lancaster @andylancaster


"Most of us know the difference between a hotel ballroom and an airplane" -
@PeteButtigieg

Yeah that's what I thought. Thanks dude.

Nick Arama said that a scientist offered to hook them up with the disinfecting UV light that they had once all mocked Trump for proposing, but they said "Nah dude, we got this, we're a sophisticated, vaccinated crowd," or words to that effect.
Via the "Democracy Dies in Darkness" Bezos Corporate Newsletter:
Don Milton, a University of Maryland environmental scientist who has advised the White House and others on airborne transmission, said his offer to have a company install the devices at no charge was rebuffed by both the correspondents' association and the Washington Hilton, which is hosting the event. "I enlisted a team of scientists and germicidal UV lighting companies to provide, as a demonstration project at no cost, a temporary installation to help protect the White House correspondents' dinner," Milton said. "Unfortunately, it has not worked out." [....]

But Milton, the University of Maryland expert, said he had urged organizers to do more by installing lights that would actively clean the air. "When you gather that many people together, you've really got to have highly effective air sanitation systems. Just ventilation and filtration aren't enough," Milton said.

After dozens of coronavirus infections were linked to the Gridiron Club dinner three weeks ago, Milton said, he had reached out to the correspondents' association and arranged a conversation with a vendor, Far UV, that would have temporarily set up more than 100 devices at the Washington Hilton. Those ranged from small gadgets that resemble smoke detectors to portable lamps that can be set up around a room.
Oh well, hope no one dies or anything.
BTW, the hysteric who said the event was "like a horror movie" of infectious vectors did, in fact, get covid, or at least she's claiming that.
I mean, if you're that afraid of covid, you could have just not gone, right?

posted by Ace at
05:00 PM
|
Access Comments