« Biden: We All Have the Right to Abort "A Child," You Know
|
Main
|
Quick Hits: Dobbs Leak Edition »
May 03, 2022
Malcolm Nance, Tough-Talking MSNBC Hysteric and Crank Who Plays a Super-Spy on TV, Said He Was "Done Talking" and Going Over to Ukraine to Teach Putin Some Matters.
Let's Check In With Him.
Malcolm Nance is a type that the left desperately craves and rewards -- the "Butch Liberal" type, and a guy who loves getting his picture taken with bodyarmor on and his booger-hook on the bang-switch while telling you that you need to be afraid of The Insurrectionary Forces.
Given all of the promotional pictures of Nance in combat attire, you might be surprised to learn that he is a Navy man specializing in.... cryptography. And translating Arabic.
Supposedly he served as an interrogator of captured suspected terrorists which would expose him to some danger but... not to actual front-line fighting.
These jobs are important. But they do not usually require the use of the body armor or flashbangs he is always festooning himself with.
His principle Military Service of late has been appearing on Joy Reid and warning people that the Republican Party was an organized conspiracy of traitors intent on launching a coup against the nation.
As I said: the left needs its Butch Liberals.
He recently provided some comedy by trying to show off his sick counting skillz:

By the way, that was during a period when he was supposedly "a soldier serving in Ukraine" but still being identified as a "journalist."

So anyway, this florid little narcissistic lunatic decided to take an even higher dosage of Crazy Pills and announce that he was done with mere "talk" (although his prior military service was all in the "talk" realm, not the fighting realm), and that he was now taking the fight to Putin himself.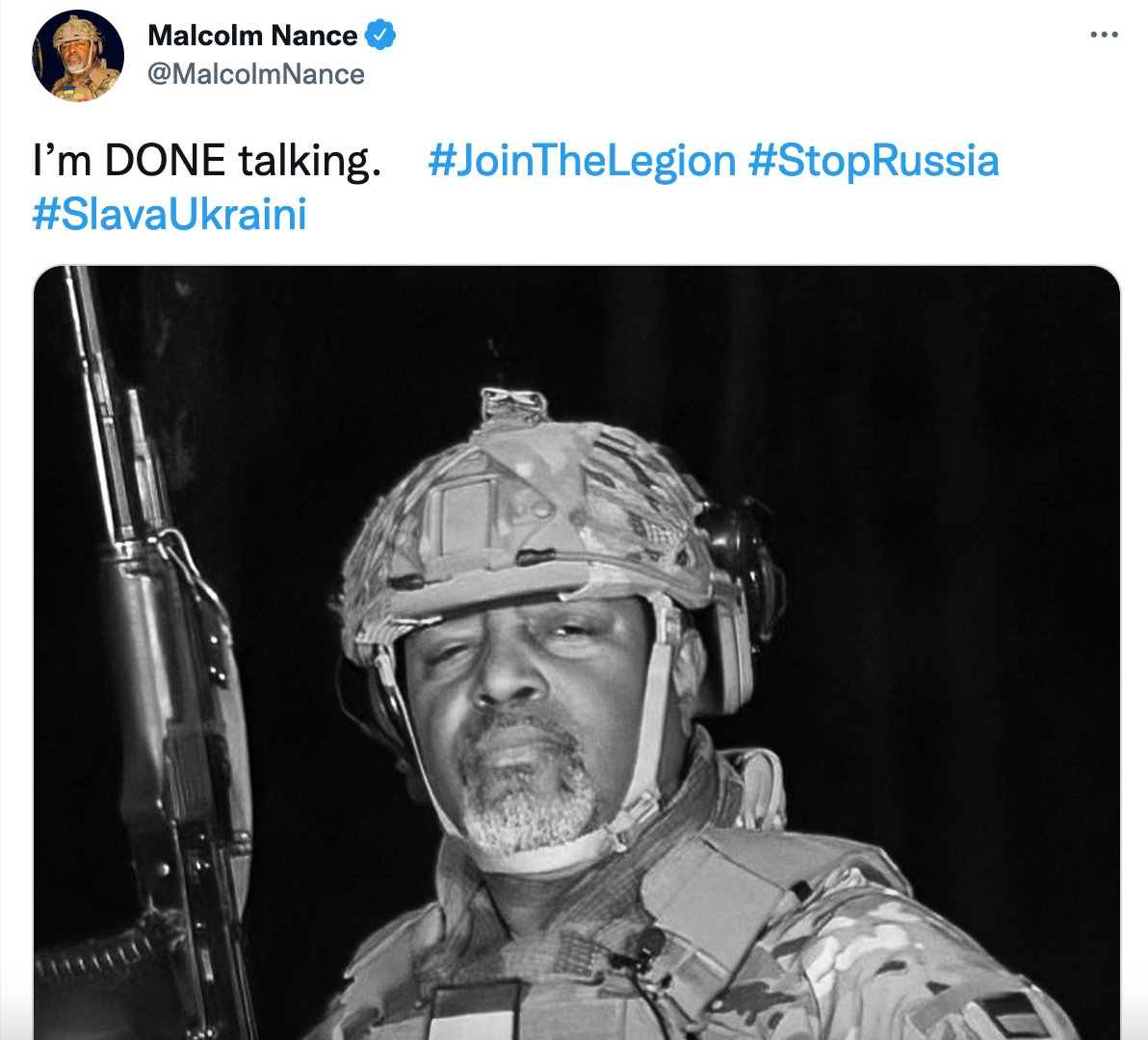 So how's that going? How's the Arabic interpreter doing as far as number of kills?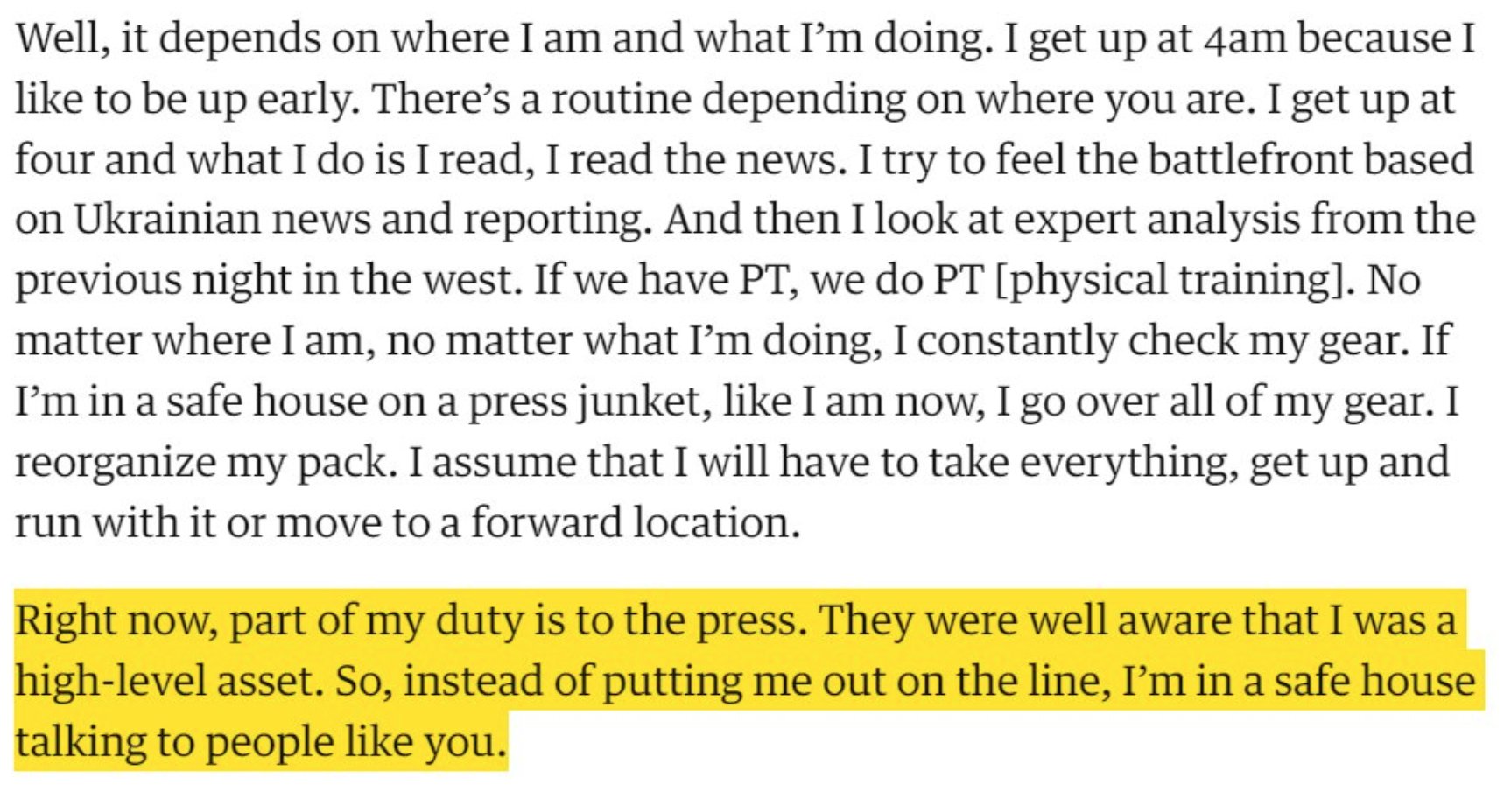 Oh. He's in a... "safe house."
Weird place to put a... soldier.
Those are from this tweet by Bonchie.
So here's what he's doing now: The exact same thing he was doing before he was "done talking" -- Appearing on TV and talking to other media talking heads.
And still talking with Joy Reid. Of course.
Bonchie writes:
[I]nstead of just owning the fact that he's a nobody sitting in the rear, grifting off false perceptions, his new game is to act as if the Ukrainians are acutely aware that he's a "high-value asset." In what way, exactly? What specific expertise does Nance hold that makes him of high value to the Ukrainian military? Is he helping them with strategy? Is he providing intelligence? I see no evidence any of that is happening. Rather, it looks like he's sitting in a city with no on-the-ground fighting, doing media hits.
In fairness he speaks none of the languages of the region and also has not served in any combat capacity in any of his prior 60 years of life on earth so I'm not sure what he could do. He has no quickly-portable skills like medic.
He's supposed to be an interrogator but again, he does not speak the relevant languages, so....
Here's the thing. It would be fine if Nance had gone over there with body armor and a helmet, and just acted as a journalist. There's still danger in that, and anyone willing to do it deserves respect. I would have happily said "good for you, Nance," if that's the path he took. He didn't do that, though, choosing to take things to absurd levels, pretending he's something he's not. That should elicit mockery, not praise.
Maybe he and David French can swap non-war stories.
Meanwhile... I don't know how to tell you guys this, but I, too, am headed to Ukraine.
I will leave the blog in the capable hands of my cobloggers while I personally take the fight in the skies to Mr. Putin.
Wish me luck. May the Force be with me.
I'm done with talking.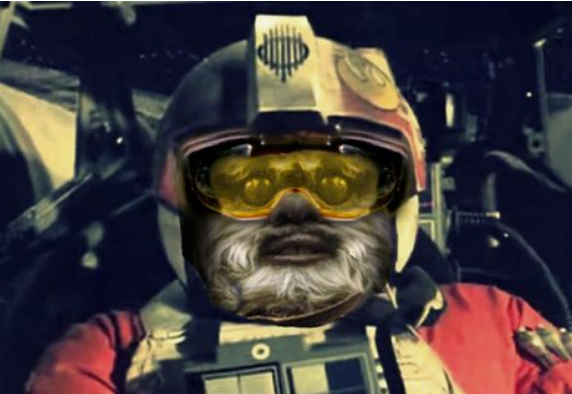 "The Ghost of Endor"

Pic by Brandtk of Deviantart.