« Far Side Cafe
|
Main
|
Daily Tech News 29 April 2022 »
April 28, 2022
Thursday's ONT Is On The Clock
Hello everybody! ONT time. Since the ONT is such a serious thread, maybe we should start by talking about slippery slopes: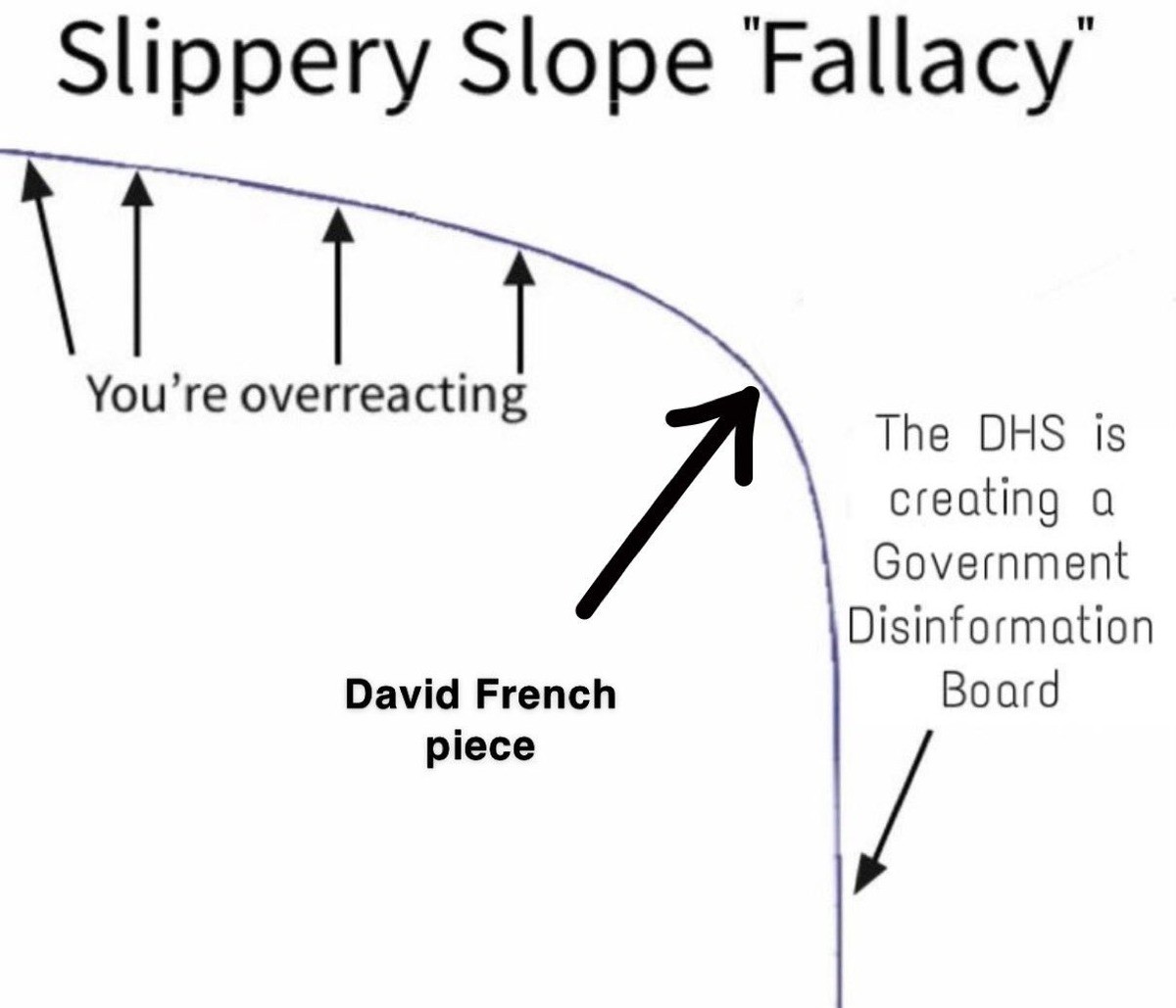 As you can see, it's all David French's fault.

I Have No Idea Who This Is
And I don't know why he's in Afghanistan, but if he's legit, and you can get $300 nods? You could make a LOT of money importing those, and I don't think there are any prohibitions on importing them.

Deadeye Dick

Analysis: Alec Baldwin's Gun Could Have Fired Without Him Pulling the Trigger, But Did It?
Santa Fe County Sheriff Adan Mendoza identified the gun used in the shooting as a modern Pietta replica of a single-action army revolver. Those guns can be bought either with a transfer bar that makes it impossible for the firing pin to strike the primer unless the trigger is pulled or without one. Often, enthusiasts and collectors prefer the models without modern safety devices because it's more authentic and perfectly safe when handled properly.

A single-action revolver usually requires the hammer to be manually cocked, and the trigger be pulled for a shot to be fired. That's why it's referred to as a single-action: because the trigger performs just one action. It drops the hammer. In a double-action revolver, on the other hand, the trigger can both cock and release the hammer.

However, a single-action revolver with the old-style firing mechanism can fire without either the hammer being cocked or the trigger being pulled. When the hammer is down on that kind of revolver, the firing pin protrudes and, if a live round is loaded in the chamber underneath, a sharp enough jolt can cause the pin to strike the round's primer with enough force to set it off.

This is why the "cowboy load" was developed. When carrying an old-style single-action revolver, it's best practice to leave the chamber underneath the hammer unloaded. That way, a jolt can't unintentionally set off a round.


We all know that, but it doesn't really apply. Baldwin was waving the gun around, not jolting it. The article finally does get around to what I've always thought happened. I bet he was squeezing the trigger from the second he drew then gun. He then fiddled with the hammer, and the firing pin struck the primer and a woman died. He never "pulled" the trigger because he was squeezing it the whole time.

NFL Draft
Is going on right now. Does anyone care? If you do, talk about it in the comments. Did you like the selection your team made? Hate it? Let us know.

Old Man River
America's Achilles' Heel: the Mississippi River's Old River Control Structure

Pretty interesting look at the engineering feat that keeps the Mississippi River where we want it to go, as opposed to where it wants to go. The river is overdue for a shift, into the course of the Atchafalaya River, which is twice as steep and half as long as the bed the river is in now. The only reason it hasn't switched yet is the Old River Control Structure. The crowning jewel in hat of the the US Army Corps of Engineers, the ORCS is an engineering marvel, but there are problems on the horizon. I'll let you read the article for more, but it's fascinating (all 3 parts). H/t Comrade Arthur

Mentally Ill
How the trans ideology dehumanises women

It's a book review of a book by a dude who is trans, and it's impossible to read the excerpts without realizing that he is mentally ill, literally foaming at the mouth crazy.
This book is about his gender transition. It is one of the most misogynistic books I have ever read. The way it talks about women and their bodies is repellent. Lavery tells his doctor he wants 'titty skittles' – that is, progesterone supplements to 'enlarge one's breasts'. Hot tip for Mr Lavery: women don't refer to their breasts as titties. He talks about the 'leaky boobs' of those 'sour' feminists and Mumsnet users who are critical of the ideology of transgenderism. Yeh, why can't you old hags have pert titties like Mr Lavery apparently does? He writes of his 'phantom pussy', which is probably just the 'inguinal canals into which my testicles retreat when frigid' but to him it nonetheless feels like a 'subcutaneous cluster of nerve endings and open space, roughly oval', like a vagina. Oh sure, exactly like a vagina. When did it become acceptable to write about women's bodies in such a deluded, degraded fashion?
There's more at the link, but I warn you, it's a wild ride.

Gardening Content
Not to intrude onto KT's pea patch, but there are some decent ideas in there. Some crap, as with most clickbait articles, but some gold among the dross too.
In other garden news, I finished setting up my garden beds for drip irrigation. I have 20 beds arraigned in 10 "blocks"; 5 columns: A,B,C,D and E, and each column has a (F)ront block and a (R)ear block of 2 beds. I even made a giant control panel out of old hoses that allows me to shunt the water wherever it needs to go: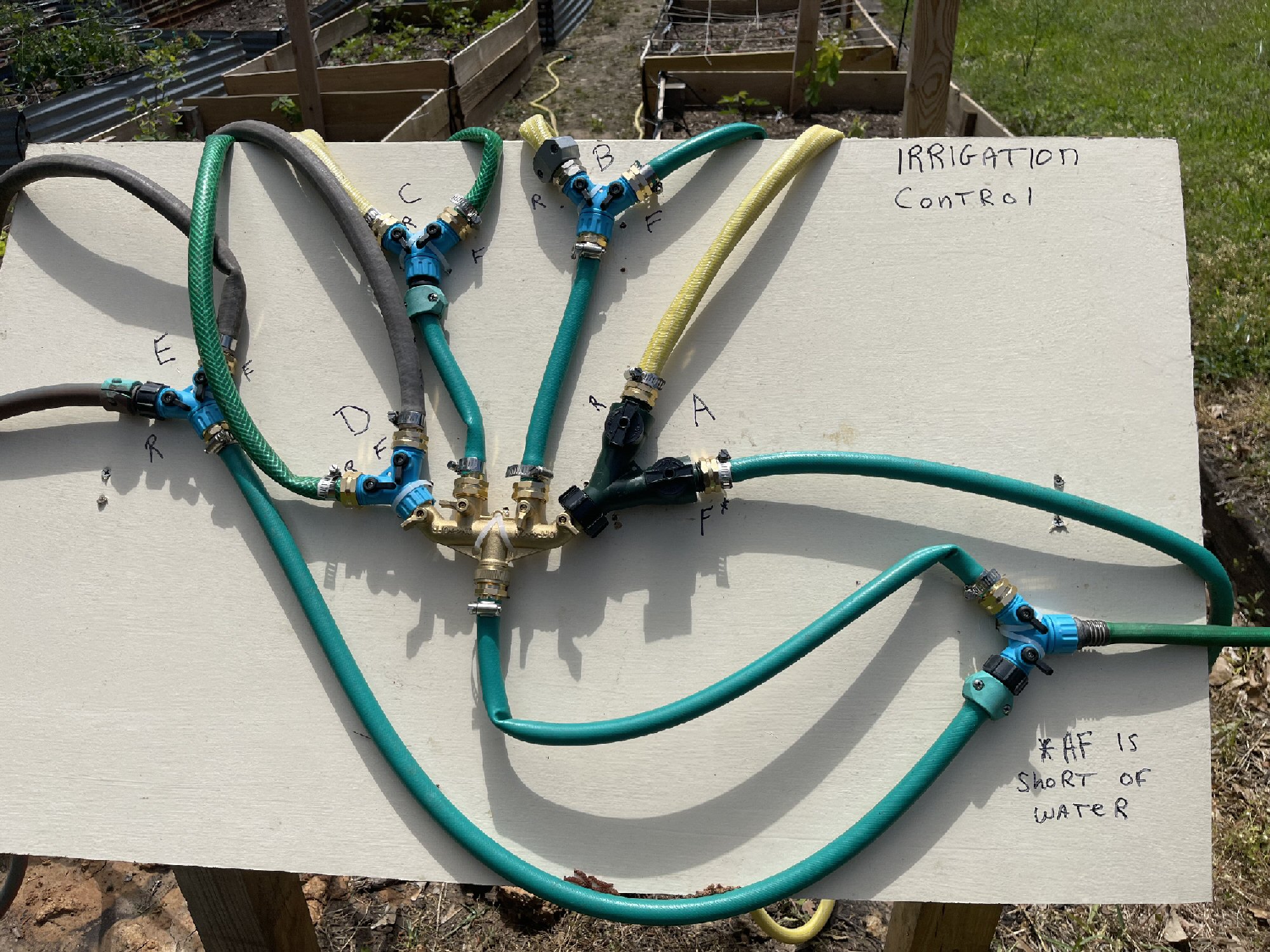 Sure, it looks like a decapus from Nemo's nightmare, but it works brilliantly. Once I bury all the hoses under wood chips you won't even have to worry about stepping on or tripping over them.
Heart Stopping
Great save mom, great save. I aged a decade watching this, I can't imagine what you went through.

Some Real Art Here

Tattoos have never been my thing, although I've never had a problem chuckling at bad ones. What do you do with those bad tattoos, however? You cover them up, of course. The downside is that it requires a much bigger commitment to ink. The upside is that you may get a true work of art on your body, like some of these: Reworked Tattoos

Wretched Hive Of Scum And Villainy
The Only People More Corrupt Than Joe Biden Are The Journalists Covering Him
Derek Hunter is a giant. He's also a damn good political commentator, and here is right on the money.

Tonight's ONT has been brought to you by good questions: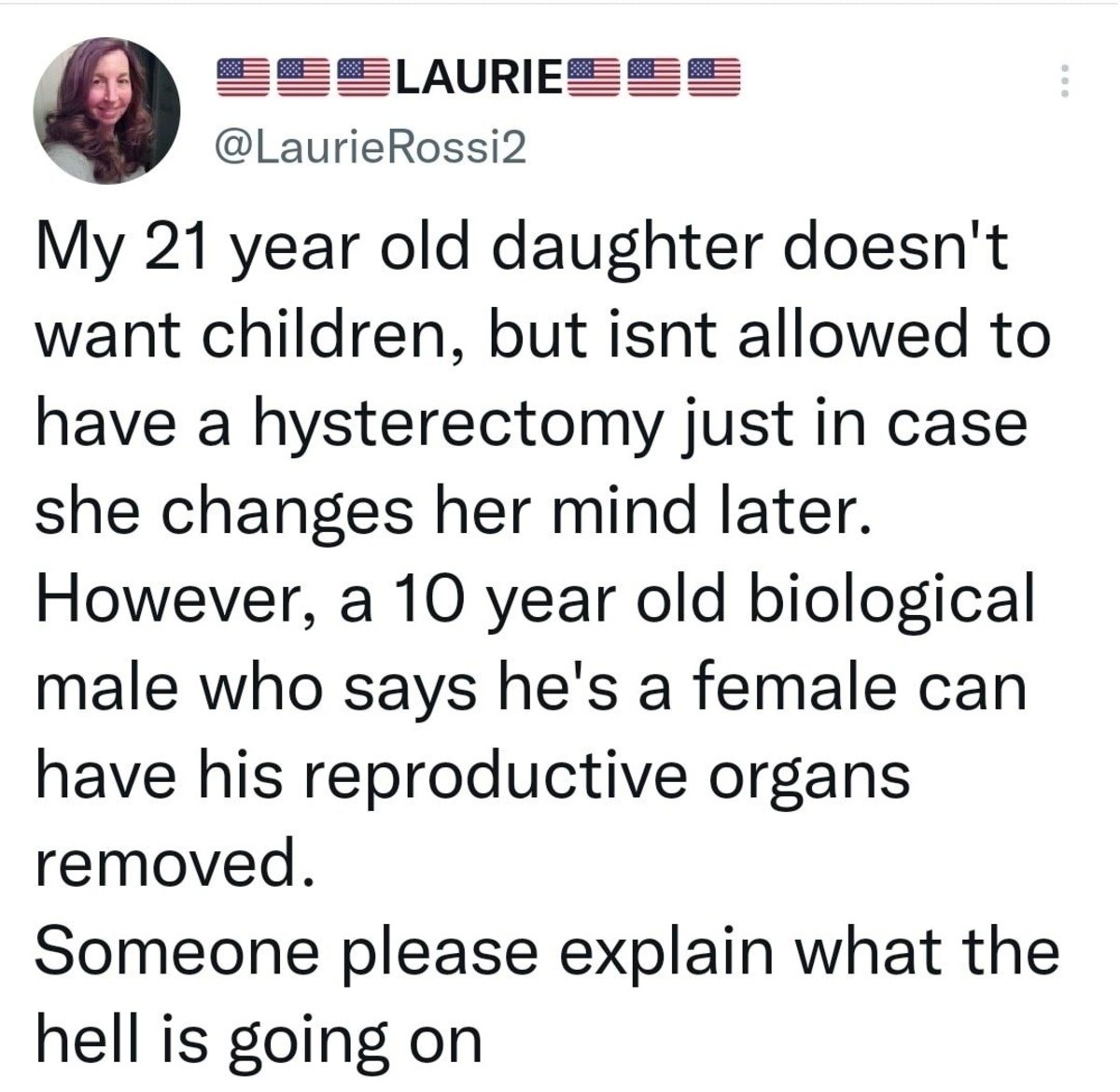 posted by WeirdDave at
10:00 PM
|
Access Comments