« Kevin McCarthy Asked Liz Cheney, Can't The Social Media Monopolies Take Away the Accounts of Congressmen That Question the Election Results, Too?
|
Main
|
Megan Fox: Yes, Me and My Rapper Boyfriend Machine Gun Kelly Drink Each Other's Blood for "Ritualistic Purposes" But It's Only a Few Drops Not "Goblets of Blood" "Like on Game of Thrones" So It's All Perfectly Normal »
April 27, 2022
The Washington Post, Which Just Doxed an Orthodox Jewish Woman and Linked Her Address in a City Where Orthodox Jews Are Routinely Targeted for Hate Crimes, Says That Criticizing Twitter's Prominent $17 Million Per Year Censorship Queen Is Harassment
We're allowed to dox you and post your physical home address so that our antifa lunatics can track you down and kill you, but you're not allowed to publicly criticize our Tech Censorship Collaborators.
As noted yesterday, Twitter's top lawyer, and censorship queen -- who I ably described as pushing for ever more censorship "with the indignant fury of a Holy Inquisitor" -- was responsible for suppressing the New York Post after it tried to publicize the Hunter Biden laptop story.
Elon Musk called this "incredibly inappropriate."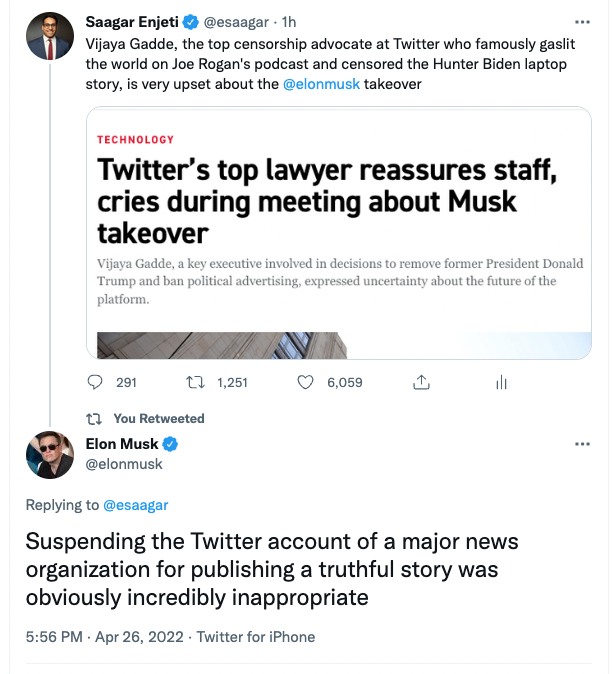 We got a preview of how aggressive the Washington Post would be in protecting Gadde and Twitter when they claimed, with a straight face, that Twitter never "suspended" the New York Post -- no, the Washington Post insisted, Twitter never suspended the New York Post.
They merely disabled the Post's ability to tweet.
Mark Hemingway @Heminator

The Washington Post is defending a Twitter employee for their role in blocking a newspaper for publishing a true story. I mean, COME ON:

"The company did not suspend the entire news organization but did prevent it from tweeting for a period of time."

Later, Mike Cernovich pointed out that disgraced FBI lawyer James Baker -- a key repulsive figure in helping Hillary Clinton weaponize the FBI against Trump in the Russiagate plot -- was of course hired by Twitter (the media cartel exists to hire the disgraced criminal bagmen and operatives of the Democrat Party and make sure they are paid off for their service!) and still serves as their counsel.
"sounds pretty bad..." Musk replied. Which is not fully committal.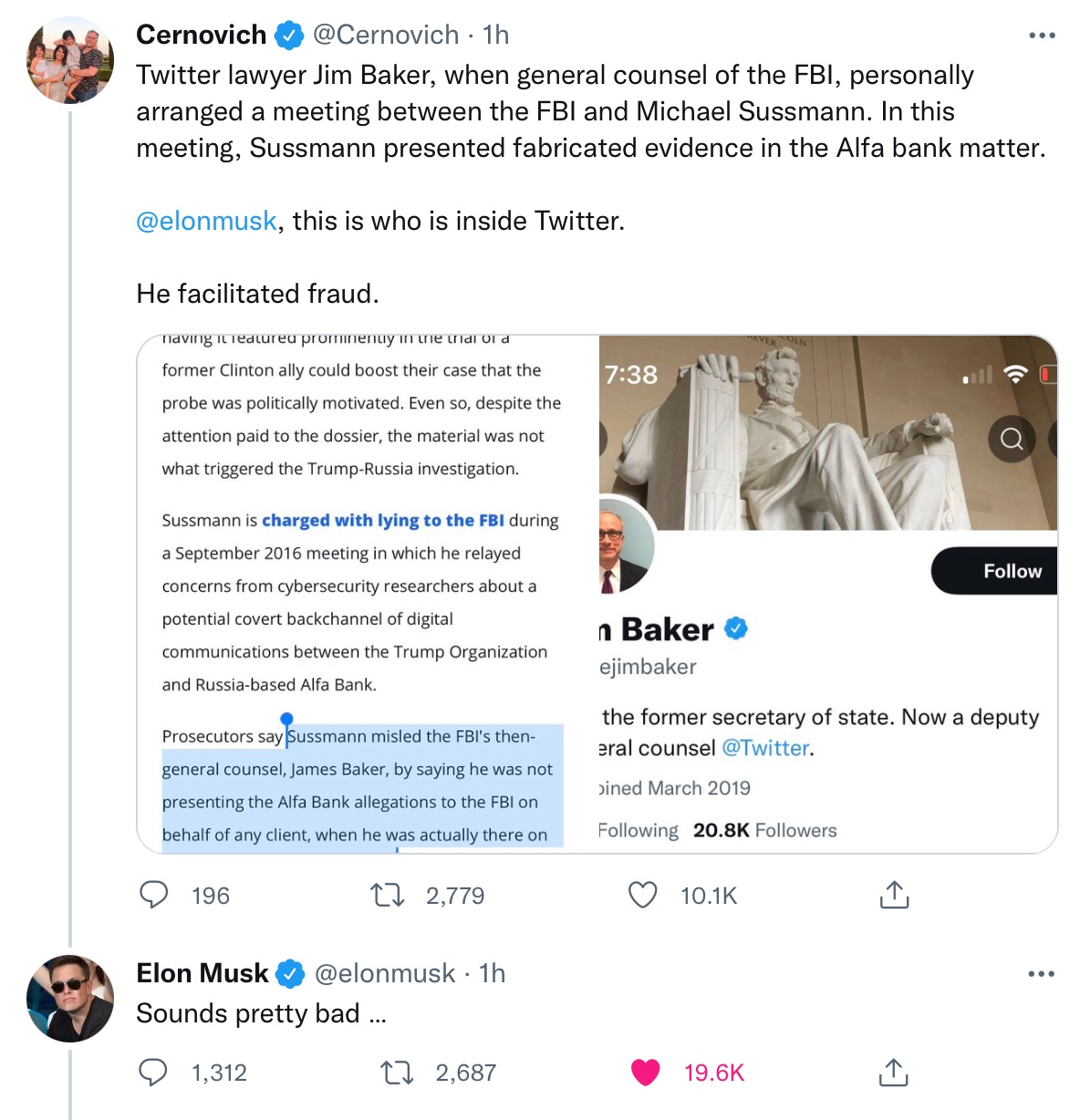 The Washington Post, which is fresh off of doxing an anonymous nobody real estate agent in Brooklyn, claims that it's too dangerous to criticize either Gadde or the notorious Baker, because... it encourages people on Twitter to write mean messages to them.
All three tweets below from the Washington Post or its "journalists:"
The Washington Post @washingtonpost

Elon Musk on Tuesday used his powerful Twitter account to bolster right-wing users who sharply criticized two company executives, exposing them to the online masses who joined in the attacks.
Will Oremus @WillOremus

Elon Musk has now publicly agreed with and amplified criticisms from the right of two individual Twitter employees today-- one accusing its top policy exec of "censorship" and the other accusing a company lawyer of facilitating fraud.
"Censorship." In quotes.
As to "fraud" -- well, he took fraudulent materials from Sussman (and from Hillary Clinton) and passed them on to the FBI and DOJ. Whether or not he was a witting or unwitting cog in this fraudulent scheme is unknown. I have my own theories.
But this BlueTick betrays his ignorance and the thickness of his bubble by showing that he doesn't even know what's going on in the Durham prosecution of Michael Sussman.
Some "journalist."
Elizabeth Dwoskin @lizzadwoskin


NEW: Two days into Musk buying Twitter, he's using his megaphone to help target Twitter employees, prompting a barrage of attacks (including racist ones) from his fans.

Twitter workers have repeatedly asked management for protection from this scenario.
Do you mean mean messages like people threatening to murder Orthodox Jewish women with rifles, specifying her by the name you provided them with?
And knowing her home address, which you also provided them with, Washington Post?
Are those the sorts of mean messages which might result?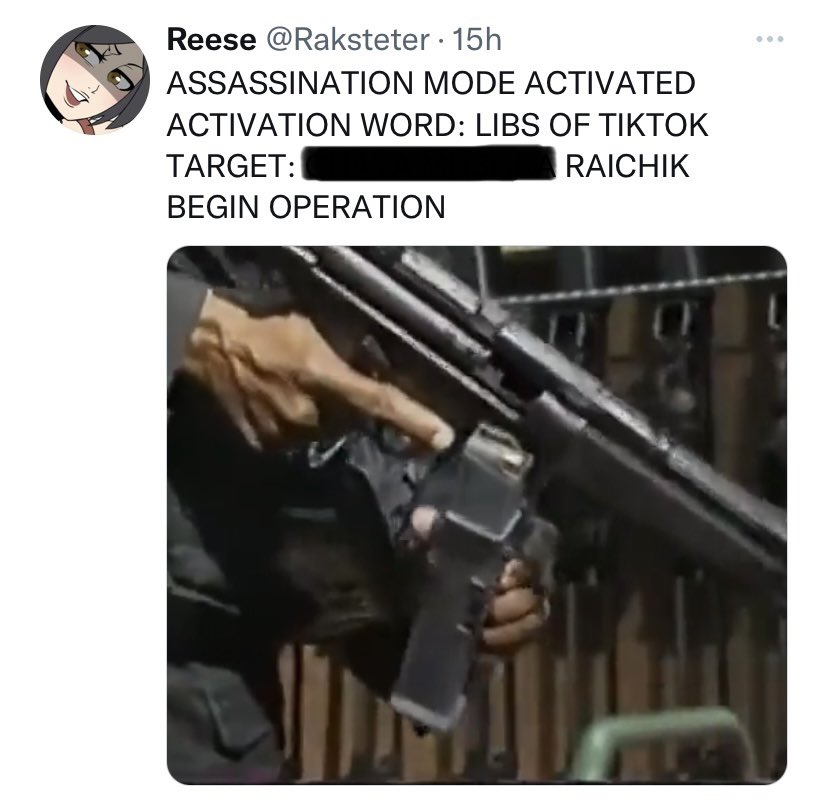 By the way, Twitter's Queen of Censorship decided that that clear death threat was not worth a banning or suspension.
Seems that she doesn't mind some tweets that "cause harm" or "drive women's voices" away from the public square!
The media does nothing but launch hit pieces against citizens all day long, riling up the angry, mentally-ill mob to go after people. It's their entire business model. It is their primary driver of the oh-so-precious click economy, the cliconomy that pays their six figure salaries.
And yet they dare to complain when anyone criticizes them!

Sagaar Enjeti, who wrote the tweet about Vijaya Gadde which Musk responded to, takes particular exception to the Post's claim that he was responsible for any "harassment" of these two Protected Members of the Media/Deep State Combine.
"Twitter, Musk, Enjeti and the two targeted Twitter executives did not immediately respond to requests for comment," the Washington Post's "journalist" wrote.
Enjeti responds:
1/ WAPO says I did not immediately respond to a request for comment. Complete BS, they emailed *my producer* at 2am EST...7 hours after @elonmusk replied to my tweet with the following RIDICULOUS questions...

2/ The Twitter executive I mentioned *literally* went on the Joe Rogan Experience and is therefore the definition of a public figure. My criticism of her for a policy she publicly has defended is in no way responsible for what some rando account may say to her




3/ Furthermore, I had no idea @elonmusk
would reply. Accusing me of bringing him into it is *INSANE*

What was I hoping to accomplish? What does anyone hope to accomplish when sending a f'ing tweet?

4/ This is a great example of how the media smears you. I make a substantive point, randos say something. Now myself and @elonmusk and somehow racist/responsible for them!

All to cover up the fact that they substantively agree with censorship
By the way, Washington Post, is it your contention that it's too dangerous for an influential billionaire who owns a media company to rile up the rowdies regarding a political rival?
In that case, I'm sure you'll be doing an expose about your owner, Jeff Bezos: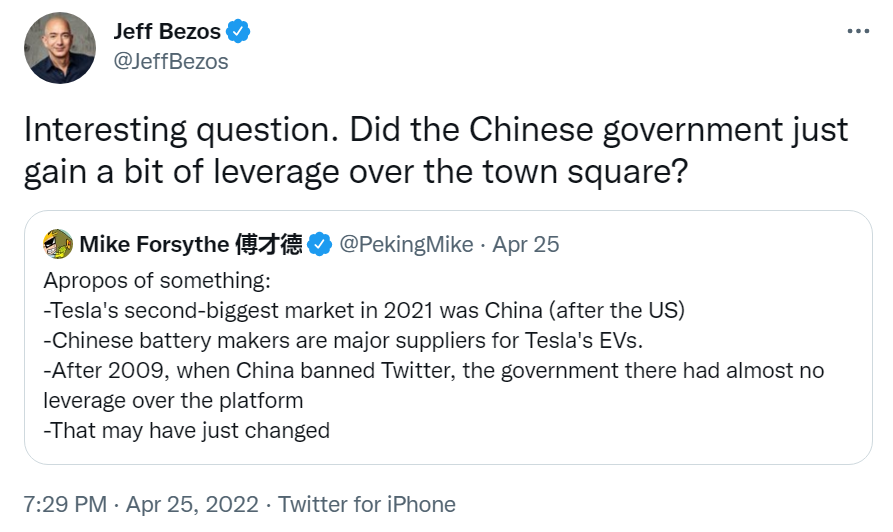 Do please publish your complex rules about who is allowed to criticize whom, Washington Post.
But then -- they're really not complex at all, are they?
Update: lol but also good point. If they really mean this bullshit -- why isn't Saagar a POC and therefore protected?
Why aren't we talking about Lizza Dwoskin's disgusting white privilege in targeting this vulnerable minority?
Krystal Ball @krystalball


Does @lizzadwoskin even care about the targeted harassment that @esaagar, member of a vulnerable minority group, now faces thanks to her attacks?
He's also a journalist -- why isn't he protected by the rule that we must never allow journalists to be subject to any public criticism for it may chill them from performing their critical mission of digging up old tweets and doxxing randos?

posted by Ace at
01:16 PM
|
Access Comments