« First-World Problems...
|
Main
|
Gun Thread: It's Still April Edition! »
April 24, 2022
Food Thread: For All Sad Words Of Tongue And Pan, The Saddest Are These, "It Might Have Been."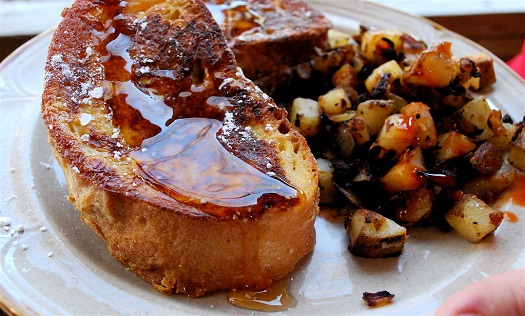 Ah...food that doesn't exist (or shouldn't!). The first one that came to me was "Lembas," from Lord Of The Rings, but there are others. Snozzberries, Roast Beast, Subtraction Stew, Shmoo, Roast Porg, and of course the most famous...Ambrosia!
I am confident that I have missed a bunch, although I will bet that an outsized number of them come from Sci-Fi and fantasy, which certainly aren't in my wheelhouse.
So have at it...what is your favorite imaginary food?
******
The muse has deserted me this week, so I am left with what struck me as important about what I cooked the last several days. Not that my food is important to anyone other than the diners at Chez Dildo, but I made a few dishes that were elevated by fresh herbs, and I cannot emphasize enough how important they can be to certain dishes.
Sous Vide double-cut pork rib chops (from the front of the loin where those luscious shoulder muscles and fat intrude upon the plain and lean loin) with fresh garlic, Rosemary and Thyme. Wow. The combination of fresh herbs and some particularly nice chops conspired to expand my waistline!
That is not to say that dried herbs do not have a function. I made Matzoh Brei this past week because it is a Passover tradition, and because I am not a savage I eat it as a savory dish, with a bit of powdered onion and garlic as a boost to the simple flavor of egg and matzoh. And because I cannot leave well enough alone, I tried it with fresh garlic and fresh onion. Once. The onion was okay, but the garlic was discordant and faintly unpleasant.
But in the main I do not understand why some chefs call for dried herbs rather than their fresh equivalents.
Anyone care to enlighten me and the rest of the class?
Bueller?

******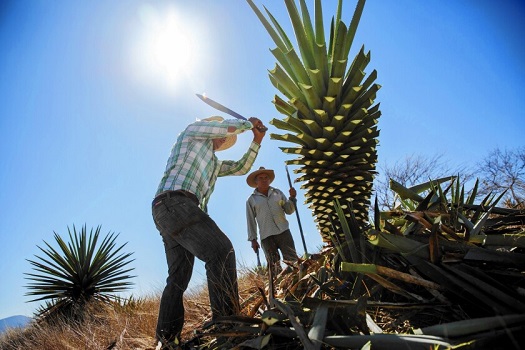 Mescal cocktails? I have never thought much about them, although I have had a few pleasant and interesting ones in bars?
Here are three!
I used to bring back mescal from Mexico, where I would buy it in a corner store in used 2-liter water bottles. Then when I got home I would filter it, usually finding ants or something gritty.
Yeah...I was young and stupid. That mescal was probably distilled in old car radiators and was full of lead, which might explain some things...

******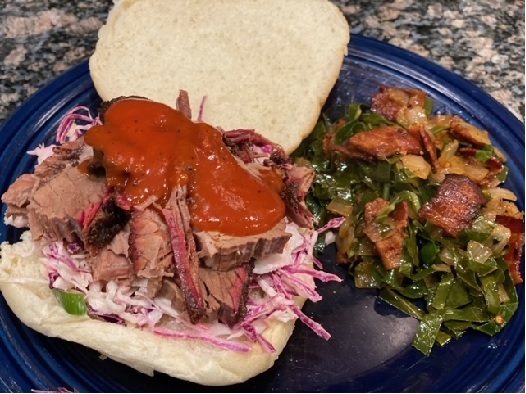 That is a rather delicious brisket sandwich with...you guessed it...collard greens and bacon made by MoMe attendee and reader "Mr. Bingley." He smoked it, which is always fraught with dangerous unknowns. But it sure looks good!
******
Cauliflower Gratin a la Bluebell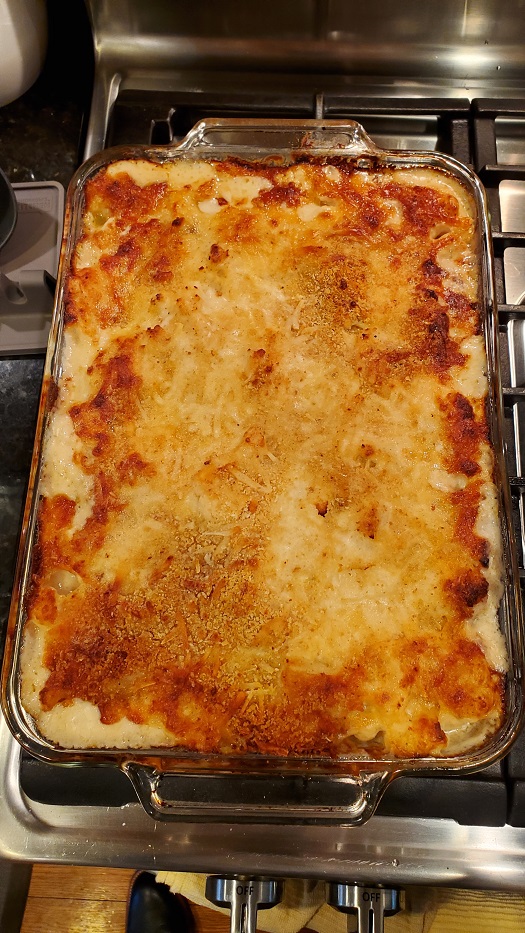 That gratin might have had too much cheese. Yes, I know, just writing those words violates about 15 rules in the AoSHQ style guide, and will probably get me a stern talking-to from several commenters, but I used so much cheese that I lost the wonderful firm texture of the cauliflower. I'm not complaining; the damned thing tasted great.

******
Baking biscuits is not a complicated, multi-step process. But cutting the shortening or butter into them does take a bit of time and can be messy, especially if done by hand, which I prefer to do. So I guess this is an alternative, and while I am going to give it a try, I have never used self-rising flour, and in fact I have no idea why it even exists!
The Easiest Biscuits You'll Ever Make
I do love the tang of the buttermilk, so I'm going to go out on a limb and guess that these are pretty good.

******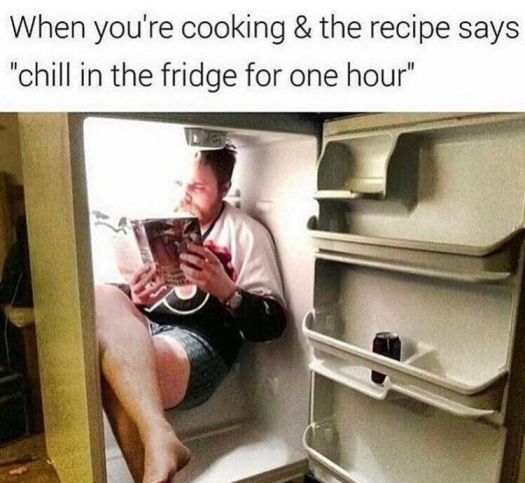 ******
Romaine lettuce that is green, instead of the white crap they sell that has never seen a photon, pork rib roasts from the front end of the pig where all the good and fatty meat lives, carrots that don't taste like stalky chalk, spare bottles of Van Winkle Special Reserve 12 Year Old Bourbon, an herb garden that actually produces herbs (but no basil!), well-marbled NY strip steaks and elk backstrap to:
cbd dot aoshq at gmail dot com.
And don't think that you are off the hook with maple syrup and French Toast: I'm watching you...all of you! And I am watching you perverts who shake Manhattans and keeping a list for the Burning Times.

posted by CBD at
04:00 PM
|
Access Comments