« Disney Shares Are Cratering While They War With DeSantis ; It Has Lost 31.5% Over the Year
|
Main
|
Does This Look Big to You Cafe »
April 22, 2022
Should Men Tan Their Testicles to Get Some BALLZZZ GAINZZZ?
Before getting to that: Make sure you wear your masks, everybody. They're super-healthy.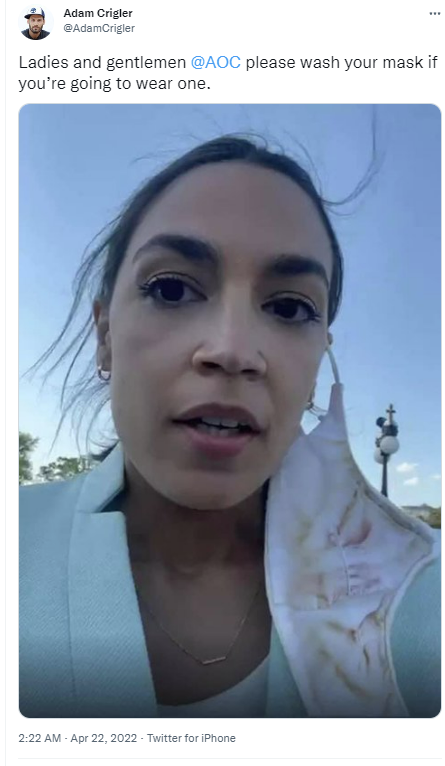 Tucker Carlson thinks you need BALLZZZ GAINZZZ.
All of the cucks and feebs, like AllahPundit, are goofing on this, but to be honest, it sounds pretty goofy. I think it's absolutely undeniable that we need much more sun and fresh air, but I don't think we specifically need sun on our BALLZZZ. Maybe couldn't hurt, but no reason to think it would specifically help.
As far as I can tell, there's no risk to suntanning your beans, apart from overtanning them and getting ball-burn.
So why are all the cucks and feebs having their daily Hen Peck about it?
Ah, because it's a chance to attack conservatives and, uh, men, which apparently now is a Toxic category for AllahPrincess:
As for why Tucker cares about any of this, Lifehacker is doubtless correct in thinking it's a quirky little front in the ongoing revolt against the expert class...
Bro, do you even lift? Do you realize how fucking queer you sound right now? Do you know that there are literal generations of fucking Bro-Scientists going back to Charles Atlas that have nothing to do with "a revolt against the expert class"?
An expert class that you, quite inexplicably, are certain you belong to, given all the propounding on covid and medical science you do on the daily.
There are not one but hundreds and hundreds communities* of people trading health tips on steroids. And SARMs. And TRT. And weight loss drugs. Weight loss drugs that do in fact work but might kill you.
And life extension drugs and supplements. And mitochondria-boosting supplements. And dopamine boosting supplements. And immune system boosting supplements.
And some of these come from actual fucking experts, like Andrew Huberman. Or Ronda Patrick. And some of them come from semi-experts, like people in related fields. And a lot come from so-called N=1 self-experimenters. Some of whom are performing science -- I mean, they track all their personal data and make it available for others to see. They may not actually be trained scientists, but keeping careful track of a subject's data and then making it available for study is science. Not enough to make a scientific conclusion on, of itself, but gather enough of these N=1 trials, and yu've got something.
And some are just plain goofy-ass Bro's makin' it up as they go. Takin' guesses, sunnin' their balls.
And none of them are part of a Trumpian "revolt against the Expert Class which AllahPundit fantasizes he belongs to because he blogs about covid and 'reads The Science (TM) in Twitter Headlines."
You FUCKING BROKEN SHUT-IN LUNATIC OBSESSIVE ASSHOLE.
...

The phenomenon Lifehacker describes was present in the populist crazes for hydroxychloroquine and ivermectin as secret cures for COVID that the vaccine-peddling science cabal was supposedly trying to suppress, a narrative that unsurprisingly also got lots of play on Carlson's show. "Get people from feeling isolated and guilty about their fringe beliefs, and instead celebrate those people as correct, as embattled truth-tellers fighting the establishment" is how Philip Bump describes the general M.O. whether the subject is COVID or ball-tanning or even UFOs.
Oh what a shock, he's quoting one of the most absolutely rabid leftists at the Washington Post. Great, another AllahPundit Twitter "pal."
Phillip Bump is seriously the most deranged, shut-down-the-speech-of-the-right-it's-too-dangerous-shitlib at the Washington Post. I have to imagine he and AllahPundit have quite the Direct Message bromance.
And really, it was a matter of time before Tucker made the alleged decline in masculinity a key part of his cultural complaint. I doubt there's a nationalist movement in any country in the world that doesn't think its society is too "soft" and by extension its men too effeminate.
Yeah well soft basement-dwelling shut-in quim-puddles like yourself never have to worry about exercise or the like, so feel free to claim that any worry about testosterone or muscle is just about "nationalism" or your other political obsessions, pansy drunk.
He's always screaming about how much he hates the people fighting the culture war but there is literally no silly topic that he cannot controversialize and convolute to turn into yet another culture war post.
But he hates the culture war, guys. Really he does.

I think it's pretty interesting that all the cucks, sell-outs, grifters, and feebs rush to trash this pretty harmless and silly bit of of "brotherapy" while studiously avoiding any mention of the truly dangerous Conspiracy Theory Science from their fellow travelers on the left, like the claim that all the science indicating that obesity is bad for your health is just all a concoction of Big Nutrition.
Hey Allah, maybe you can talk about the real dangers of "glorifying obesity" -- as this woman did -- and claiming that all the health risks of obesity were just made up by a huge medical conspiracy.
You know, the claims this obese woman made before she died for unknown reasons at age 42.
Oh wait, no, that's an anti-science conspiracy theory associated with your leftwing allies and you can't link that to Trump.
I guess we just shouldn't talk about that, huh?
Prominent American fat studies activist-scholar dies suddenly
Pausé was most recently featured as the organizer of the 2020 Fat Studies New Zealand Conference infiltrated by conservative YouTube host Steven Crowder.

A prominent fat studies scholar and campaigner for obesity suddenly died in her sleep last week.

Caitlin "Cat" Pause', a 42-year-old activist academic from Texas and a lecturer at Massey University in New Zealand, frequently made appearances on television and was well-known for her scholarship on fat studies.

She was most recently featured as the organizer of the 2020 Fat Studies New Zealand Conference infiltrated by conservative YouTube host Steven Crowder, who wore a fat suit and prosthetics to present himself as a heavy-set woman and speaker.


Pausé was also vocal in her views as an intersectional feminist and leftist activist. Her Twitter account features a banner of Adolph Hitler getting punched and her bio reads in part, "Glorifying obesity since '09. Tearing down white supremacy [with] my fat fingers."

I actually do own a sun lamp; various experts told, such as Ronda Patrick (as seen on the Science Denier Joe Rogan's podcast) convinced me of the very high importance of Vitamin D, especially of producing it in the skin, rather than just taking it in supplement form.
And you know what? I'm going start trying to produce Vitamin D in my BALLZZZ.
So those will be my GAINZZZ for the week. It'll be me, on my back, laid out spread-eagled in front of my sun-lamp, toasting my BALLZZZ and laughing at this piece of shit sadsack who thinks that Bro-Science was just invented five minutes ago Because Ivermectin.

So: What are yo' GAINZZZ? Book GAINZZZ? Project GAINZZZ?

* I don't know why I originally said "fifteen." I wanted it to sound like a big number, but a reasonable one. It's more like... hundreds and hundreds of communities, obviously. Even just within the life extension community, there are dozens of communities pursuing dozens of different therapies.
Exit Question: If you're a "man" and you don't have a basic familiarity with Bro Science... doesn't that mean you've never been involved with any sports at all, even in a less competitive, just-for-fun way?
Because I'm pretty sure that anyone involved in any sports hears this or that Bro Science claim by day three. It's kind of mandatory to discuss Bro Science at the gym.

posted by Ace at
06:58 PM
|
Access Comments