« Tucker Carlson: The Political Take-Out Hit Against Libs of TikTok Was a Foreign Intelligence Operation Paid For By the Government of Germany
|
Main
|
Trump Walks Out of Piers Morgan Interview »
April 20, 2022
Former Twitter CEO Jack Dorsey Claims CNN Deliberately Provoked Violence in Fergusen, MO After Michael Brown Shooting So They Would Have News to Cover
Everyone hates CNN, notes PJM's Victoria Taft.
First, Jack Dorsey responded to Tater's accusation that Tucker Carlson was selling fear.
"and you're selling hope?" he rebutted.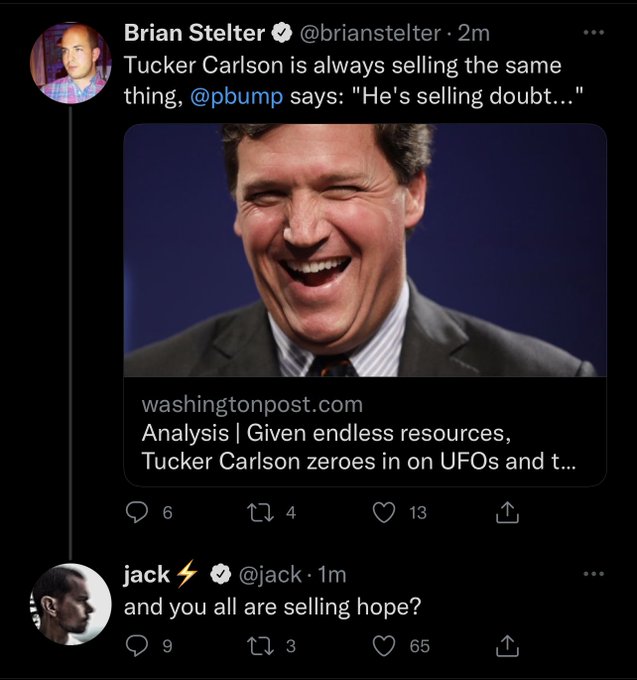 Obviously the Permanent Crisis Media isn't selling hope. They're selling Permanent Crisis. Tune in tomorrow to find out what the latest Permanent Crisis is.
This spurred some comment:
Elizabeth Spiers @espiers

They're selling truth, which is hope-agnostic. It's supposed to inform you, not make you feel some kind of way.
That's so dumb, but hold on.
Sarai (Sarah Idan) Miss Iraq @RealSarahIdan

even @CNN sometimes sell false news. I know this from covering Iraq events in 2019. People need to understand every media is prone to either mistakes or deliberate corruption. Do your own investigation before believing what they're selling you.
"Even CNN sells fake news." How adorable.
But Jack now weighs in on CNN and fake news, accusing them of deliberately stirring up "conflict" in Ferguson so they could sell ad spots:
jack @jack


I know this from being on the streets of Ferguson during the protests and watching them try to create conflict and film it causing the protestors to chant "fuck CNN"
He also talked about the Twitter board always scheming to remove its founding members:
iHadrami_

If look into the history of Twitter board, it's intriguing as I was a witness on its early beginnings, mired in plots and coups, and particularly amongst Twitter's founding members. I wish if it could be made into a Hollywood thriller one day.

[responding to that tweet]
jack
@jack

it's consistently been the dysfunction of the company
Dorsey has been making noise that he's regretful about his role in making the free and open internet into corporate prison that it is today. Maybe he's trying to hint that the board of directors was always pushing him in that direction. Someone speculated that he seems like someone who's hinting at something that he's not allowed to talk about due to an NDA.
Eh, I don't know.
Interesting he's talking badly about Twitter's board now, of all times. Maybe he's trying to suggest -- falsely or not -- that he was interested in keeping the site more oriented towards free speech, but the corporate shareholders were interested in imposing the same speech codes on Twitter than are present in their corporate workplaces.
Corporations increasingly want to impose corporate rules, including the stiflingly SJW and racist/homosupremacist rules of corporate HR departments, on people in all spheres of their lives, outside of work as well as on the job.
Thank God we have good Conservative, Inc. organizations like National Review to support our Corporate Overlords in their every whim and fancy.
We are not people, we are not humans, we are not citizens. We are not children of God.
We are merely Corporate Functionaries. We exist to serve the Corporate God-State. We tend it, we nurture it. We ask favor of it and when it denies us, we say, "That is good and wise."
We make babies so it may have new Corporate Functionaries in the Later Years.
To oppose our Corporate Dukes is to commit Treason.
Citizens owe a stance of libertarianism towards corporations; corporations, justifiably, must show a position of authoritarianism towards citizens, to properly guide them and lead them out of ignorance and malice.
Everything for the Corporation, nothing outside the Corporation, nothing against the Corporation.
This is Conservatism, Inc. The freedom and flourishing of corporations matters; the freedom and flourishing of the citizen does not.


posted by Ace at
03:44 PM
|
Access Comments