« Glenn Youngkin Submits Bill Accelerating Re-Election Date for All Nine Members of Loudoun County School Board, Forcing Them to Face Voters This Year, If Passed
|
Main
|
Julie Kelly: Vindictive Justice Department Will Re-Try the Two Remaining Whitmer "Fednapping" Defendants »
April 14, 2022
Is the Great Hispanic Rightward Migration Real Or What?
Last night I noted a jaw-dropping finding from the new Quinnipiac poll: Supposedly -- if you accept that the small sub-sample of Hispanics can yield accurate results -- Biden is now less popular with Hispanics than with whites.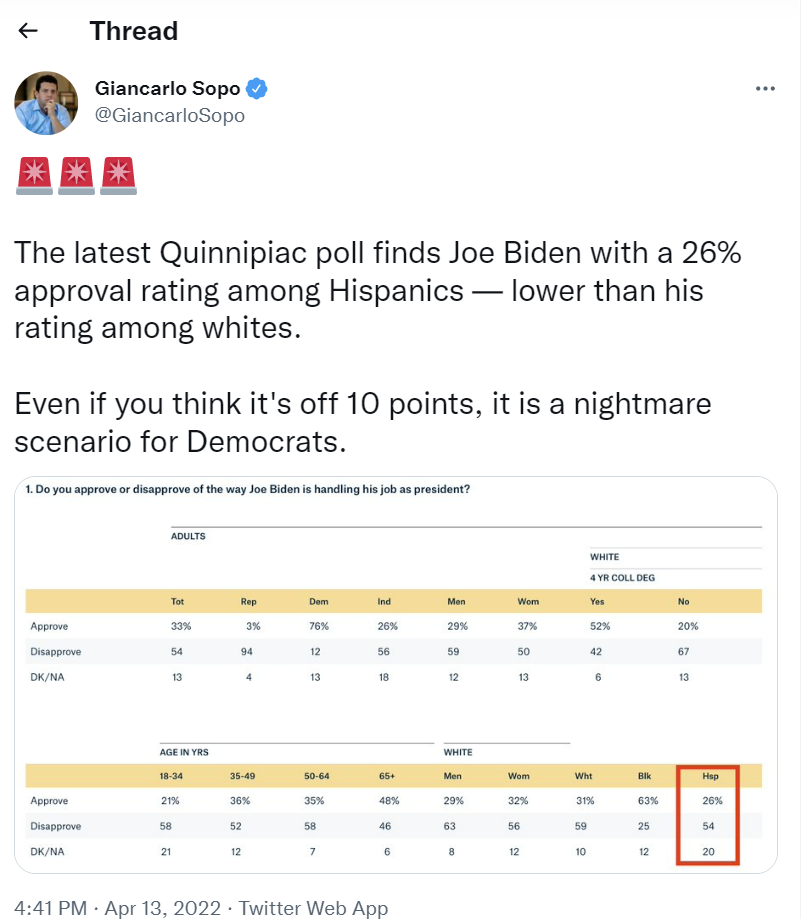 Puede ser verdad? No se, but we keep seeing indications of a big migration of Hispanics away from the Democrat Party. Every time I see these signs, I say, "Ah, just an anecdote, probably bad data, small sample size," but I keep seeing it.
Maybe it's... real?
So, on that point: This article is a little too good to be true, and features a lot of major assertions but no citations or polling data to back them up.
I discount it some for the lack of proof for its assertions.
But, again: we keep seeing little signals of this.
The first evidence of this political shift was met with incredulity by both Left and Right. But those of us on the ground had known for some time that Hispanic-Americans were turning to the Republican Party in unprecedented numbers. In my working-class Miami neighbourhood, I consistently encountered enthusiastic Trumpists. Sure, Trump was always going to attract traditionally Right-leaning Cuban-Americans, but the fervour -- and the youth -- of his fanatics back in 2015 and 2016 hinted at the beginnings of a new political realignment. Trump's unorthodox style and abrasive anti-elitist rhetoric had connected with working-class Hispanics. Friends and family who were previously apolitical or tepid independents with centrist leanings had surprisingly hopped on the Trump train.


Trump may be on the fringes again, but in 2020 he gained even more support among working-class Hispanics than he had in 2016. This was a result not purely of his own qualities: since his election, the Democratic Party had alienated another Hispanic demographic. The BLM riots of 2020 were incisive: after the fire and smoke had cleared, polling showed that Hispanics, traditionally law and order types, were against the protests and strongly rejected the Black Lives Matter organisation. At the same time, Democrats were demanding that regular Americans kneel at the altar of the new social justice religion. Many Hispanic-Americans who had previously considered themselves centrist Democrats were repelled.

They might previously have been turned off by Trump's inflammatory language; now, they were even more turned off by the actual flames destroying American cities under the guise of wokeness. They might not have been Trump supporters in 2016, but they certainly had a rabid Trumpist tio or abuelo who was now pointing at the fires and looters and saying: "See, Trump was right. Democrats want to destroy America." Hispanics didn't wake up en masse, but the Right-wing shift became a phenomenon that wasn't strictly driven by Hispanic Trump supporters.

...

The summer of 2020 may have solidified the Trump-triggered Hispanic rightward shift, but the Democratic response to the pandemic ensured its short-term viability. According to blue-state governors, it was okay to get fresh air only if you were marching for a liberal cause or torching a small business. After the riots subsided, schools remained closed, as did the small businesses left standing after the summer of BLM. All the while, Democrats elevated disconnected bureaucrats like Anthony Fauci to deity-status and robbed the little man of all agency. Working-class Hispanics, of course, were still carrying out their essential jobs throughout the entirety of the pandemic, connected to the physical reality that the laptop class had had the luxury of abandoning.

Still, now that lockdowns and mask mandates are subsiding, will the Republican's Hispanic gains last? Outside of Trump -- and Florida Governor Ron DeSantis -- no politician on the Right knows how to communicate effectively with Hispanics, which is why the long-term rightward shift is anything but a guarantee.
I had to include Ron DeSantis in there.
He claims -- and this is where I'd really like to see some data -- that the greatest biggest shift from Democrat to Republican is in Hispanic women.
If true -- Look, I'm only on the sixth level of the White Leadership Hierarchy, but if Hispanic women are trending Republican, I'm 100% sure I can make the deal to trade Hispanic milfs and Telemundo weather girls for sexually-shriveled hyperpolitical uptight Puritan Leftwing College-Uneducated White Karens to-day. That's not even a conversation that needs to happen. That's a handshake deal without even bothering with the handshake.
College-Uneducated, that's a keeper. You're thinking of using that. Your instincts are right; you should use that.
That's why I'm on the sixth level of the White Leadership Hierarchy and looking to move up to the fifth level.


posted by Ace at
03:08 PM
|
Access Comments