« The Morning Rant: Minimalist Edition
|
Main
|
Glenn Youngkin Submits Bill Accelerating Re-Election Date for All Nine Members of Loudoun County School Board, Forcing Them to Face Voters This Year, If Passed »
April 14, 2022
Elon Musk Offers to Buy Twitter Outright, Offering a Premium Price of $52 Per Share, For a Total Purchase Price of... $43 Billion
Twitter's board of directors now is deciding whether or not to accept the offer on behalf of shareholders. This would be a big win for shareholders -- but of course, the board wants to keep their jobs, and their positions as the nation's censors.
They have legal fiduciary duties to act in the best interests of shareholders, however -- not themselves. But they are surely attempting to contrive a definition of "shareholder interest" that aligns with their own interests.
And their political interests. Which is not a legally recognized part of shareholder interest, which is defined as economic interest.
As a friend suggests, they are probably talking with lawyers right now asking if they are allowed to refuse an offer that's good for shareholders "because it protects transgender kids and that has intangible value" or that kind of bullshit.
Tesla CEO Elon Musk is offering to buy Twitter, saying the social media platform he has criticized for not living up to free speech principles needs to be transformed as a private company.

Twitter Inc. said in a regulatory filing on Thursday that Musk, currently the company's biggest individual shareholder, has proposed buying the remaining shares of Twitter that he doesn't already own at $54.20 per share, an offer worth more than $43 billion.

Musk called that price his best and final offer, although he provided no details on financing. The offer is non-binding and subject to financing and other conditions.

"I invested in Twitter as I believe in its potential to be the platform for free speech around the globe, and I believe free speech is a societal imperative for a functioning democracy," Musk said in the filing. "However, since making my investment I now realize the company will neither thrive nor serve this societal imperative in its current form. Twitter needs to be transformed as a private company."

Twitter shares rose to $47.83, up 4.3% but well below Musk's offer price, a sign that some investors may doubt the deal will go through. The stock is still down from its 52-week high of about $73.
The left is obviously freaking out.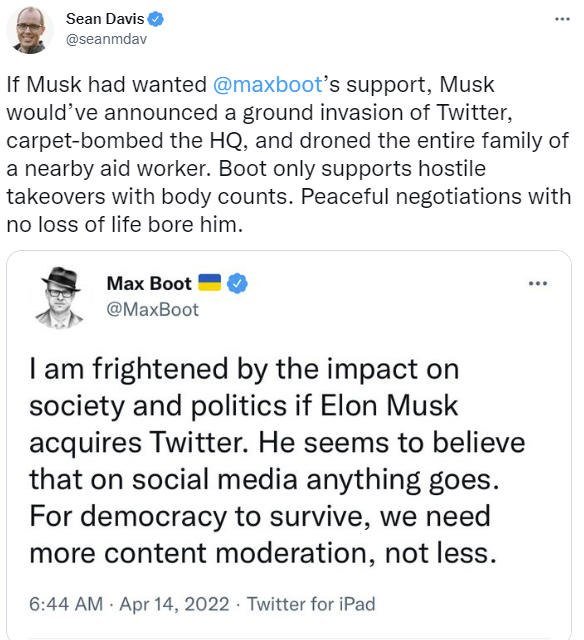 Disclose.tv @disclosetv


JUST IN - Saudi Prince Al Waleed bin Talal Al Saud, one of Twitter's largest shareholders, rejects Elon Musk's bid.

On the New Twitter, Max Boot must tweet as a girl. I have spoken. Posted by: Elon Musk
Agreed. See, I don't want free speech on Twitter. I want Equal and Opposite. I want payback. I want David French banned. I want to Eon Musk to tell David French, "But it's Muh Private Corporation, literally."

posted by Ace at
12:58 PM
|
Access Comments