« Gunman Dons Mask, Tosses Smoke Grenade, and Begins Shooting Commuters in Crowded Brooklyn Subway Car
Suspect Is On the Loose
NY Post Stealth-Deletes Description of Perp as "Black"
|
Main
|
Inflation Soared 8.5% In March, Another Highest-in-40-Years Record »
April 12, 2022
CNN Plus Was "Projected" to Garner 2 Million Subscribers In Its First Year;
Actual Current Users Per Day: Ten Thousand.
CNN Plus more like CNN Minus am i right
That's 10,000 total users per day.
For comparison, David French's wife has 40,000 users per day and she's totally uncute.
As a friend points out, most of their "subscriptions" at this point are probably free promotional ones.
13 CNN+, the CNN of news networks. Posted by: Dr Spank
And they just started up like a week ago.
Investment and projections for CNN+ are expected to be cut dramatically in response to a low adoption rate, two sources tell Axios.

By the numbers: The news giant was initially planning to invest around $1 billion in the service over the next four years.

Hundreds of millions of dollars are expected to be cut from that original investment total.

To date, around $300 million has been spent on the subscription service, which includes a sizable marketing investment.

The new company's leadership team still has yet to decide the ultimate fate of CNN+. CNN's new boss, Chris Licht, will start May 1.

Details: CNN executives, with help from consulting firm McKinsey, originally expected to bring in around 2 million subscribers in the U.S. in the service's first year and 15-18 million after four years.

They originally planned for the service to break even after four years.
Axios reports that CNN will start offering clips or something on the free channel Roku (for cord-cutters; it's the box I have).
They say that that will drive subscribers to CNN Minus.
Um, why? Why would that happen? Why would someone seeing some clips of CNN on Roku decide to pay money for CNN Minus? People see CNN on regular cable and are not tempted at all to subscribe to CNN Minus.
Fewer than 10,000 people are using CNN+ on a daily basis two weeks into its existence, according to people familiar with the matter.

The people spoke with CNBC on the condition of anonymity in order to discuss nonpublic data.
I've got more bad news for CNN Minus: The people leaking this are probably the new management of Discovery/Warner.
They are probably leaking this to justify the brutal layoffs (or complete shut-down) to come.
They'd be leaking it because that sort of thing is always very unpopular -- journalists always publicly complain about other journalists losing their jobs, while privately giggling about it -- and so they want to establish that CNN Minus is just an absolute disaster and they had no choice.
Warner Bros. Discovery CEO David Zaslav hasn't commented publicly on CNN+'s long-term future. He told CNBC in February he'd need to see how the application performed before deciding on any next moves.

"I haven't gotten a business review on what CNN+ is going to be and how it's going to be offered," Zaslav said at the time.
I think Zaslav or someone close to him might be one of the sources putting out this story.
Brian Stelter should be worried.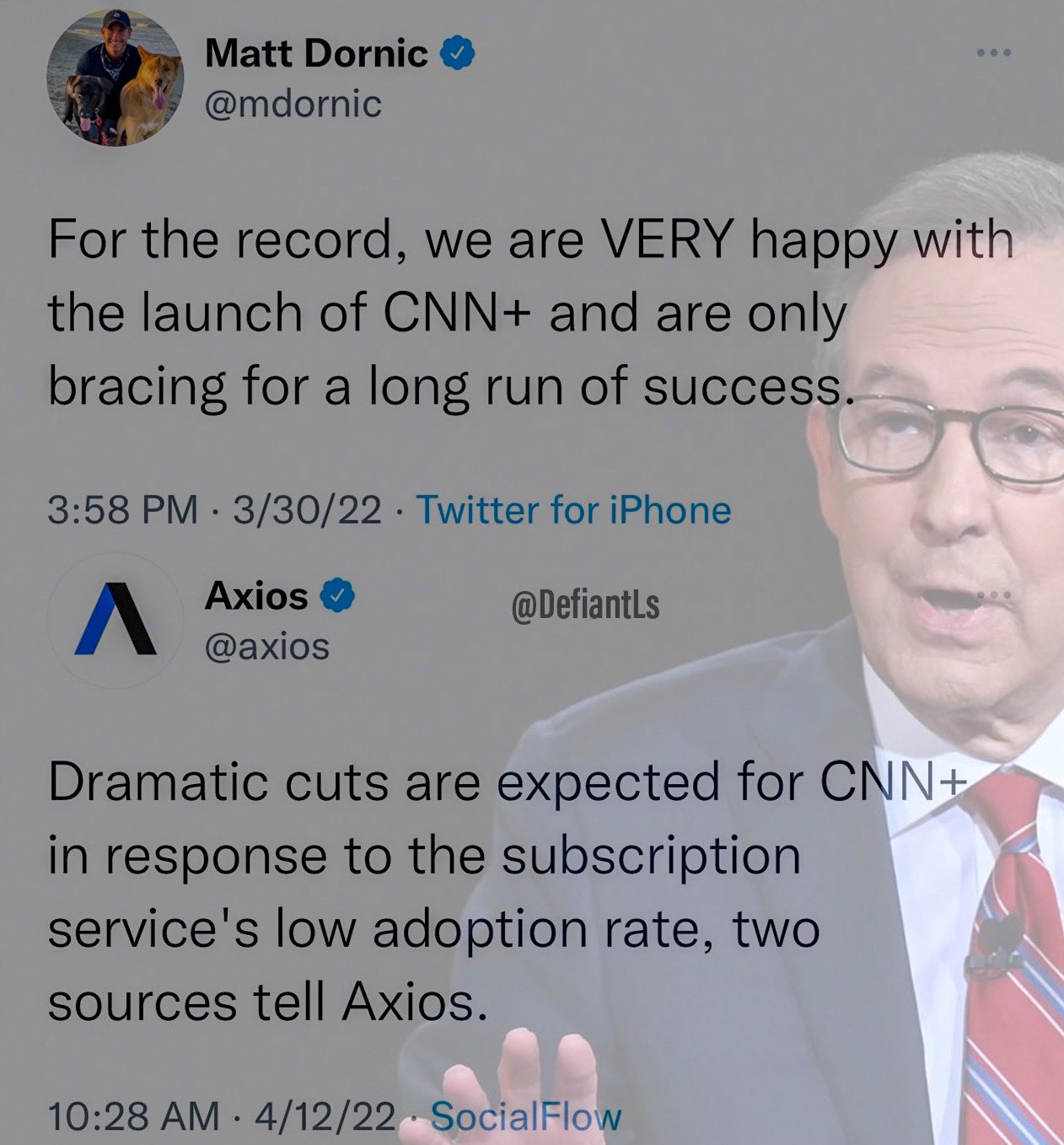 Chris Wallace should be worried, too. People might think that he'll just be moved to CNN when CNN Minus is #cancelled. But, according to Chris Wallace, he didn't want to do a "news" show any longer, and was going to do some kind of general interest chat/interview show on CNN Minus that would not be linked to the daily news cycle. He said he was tired of that sort of thing. (I wonder if he has a specific forbiddance in his Fox contract that requires a "cooling off" period before he's allowed to do the same job for a competitor.)
At any rate, when CNN Minus shuts down, Chris Wallace may go to CNN, but CNN doesn't do general interest chat and interview shows. They do political propaganda all day long.
"Fewer than 10,000 people are using CNN+ on a daily basis two weeks into its existence, according to people familiar with the matter."


Maybe they just have a messaging problem.

Posted by: Roy
Great comments today.