« The Federal Government Is the Insurrectionist
|
Main
|
Quick Hits, All Trans All the Time Edition »
April 06, 2022
Tucker Carlson: "It's a Good Day in America," Now That Elon Musk Has Bought Almost 10% of Twitter
Brian Stelter: There Is a "Fear" About Elon Musk Buying Into Twitter
A side point, first: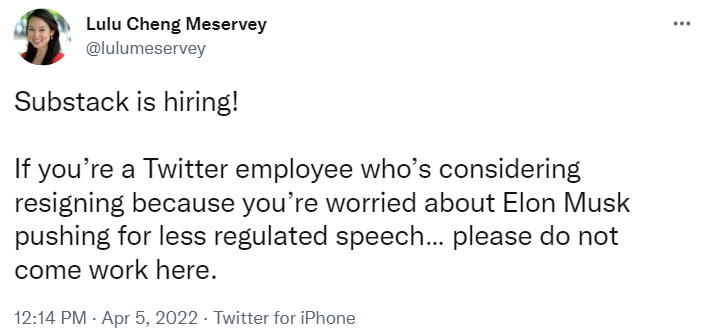 She's a warrior for free speech.
Substack, the subscription newsletter service popular among independent journalists and writers, is doubling down on its principle of free expression as critics call for the platform to censor vaccine skeptics.

"At Substack, we don't make moderation decisions based on public pressure or PR considerations," Substack Vice President of Communication Lulu Cheng Meservey began a lengthy Twitter thread on Wednesday. "An important principle for us is defending free expression, even for stuff we personally dislike or disagree with. We understand principles come at a cost."

Meservey tweeted a list of reasons why she's "proud" to "defend free expression, even when it's hard," beginning with wanting a "thriving ecosystem full of fresh and diverse ideas," which she stressed "can't happen without the freedom to experiment, or even to be wrong."

"People already mistrust institutions, media, and each other. Knowing that dissenting views are being suppressed makes that mistrust worse. Withstanding scrutiny makes truths stronger, not weaker," Meservey wrote. "We made a promise to writers that this is a place they can pursue what they find meaningful, without coddling or controlling. We promised we wouldn't come between them and their audiences. And we intend to keep our side of the agreement for every writer that keeps theirs."
Meanwhile, the GOP has David French and Mitch McConnell.
Which, apropos of nothing, is a screenplay I'm writing. It's about a mentally retarded man who gets shot at a bodega buying Twinkies and develops a metabolic condition that causes him to gain 200 pounds.
On Monday's "Reliable Sources Daily," Stelter addressed the billionaire's "surprise" move in a panel discussion with CNN Business writer Clare Duffy asking "whether he'll continue to buy shares, become a bigger investor, and take action here."

"Elon has criticized Twitter for not allowing free enough speech. And so I think the big question will be whether he'll try to, you know, get Twitter to change its content moderation policies. He also suggested that maybe Twitter should make its algorithm open source so that people know how it works. So I think those are some of the changes we could potentially see, but, you know, Elon always also talks a big game," Duffy said. "He knew what he was doing when he was sending out those tweets. And so, you know, it does suggest that he's gonna try to shake things up at Twitter."

After CNN Business writer Sara O'Brien suggested "everyone wants to follow what the billionaires are doing" in response to Twitter's soaring stock value, Stelter offered a perhaps gloomy outlook.

"There's interest in billionaires, there's celebration of the Musk. There's also fear, I think, sometimes or wariness of- okay, so here's the richest man on the planet who just bought a big chunk of one of our most important communications tools," Stelter said. "He's also one of the biggest owners of satellites in the world. So he's incredibly powerful, incredibly, I don't know, am I allowed to use the word strange when talking about Elon Musk?"
Suddenly Stelter's worried about hyperoligarchs having power to decide what we can and cannot say. Stelter is worried about the first part of that -- he doesn't like the fact that Musk may expand the range of what we can say.
He and CNN have been the most aggressive lobbyists for contracting the range of what people are allowed to say, of course. He and Oliver Darcy are CNN's Chief Deplatforming Officers.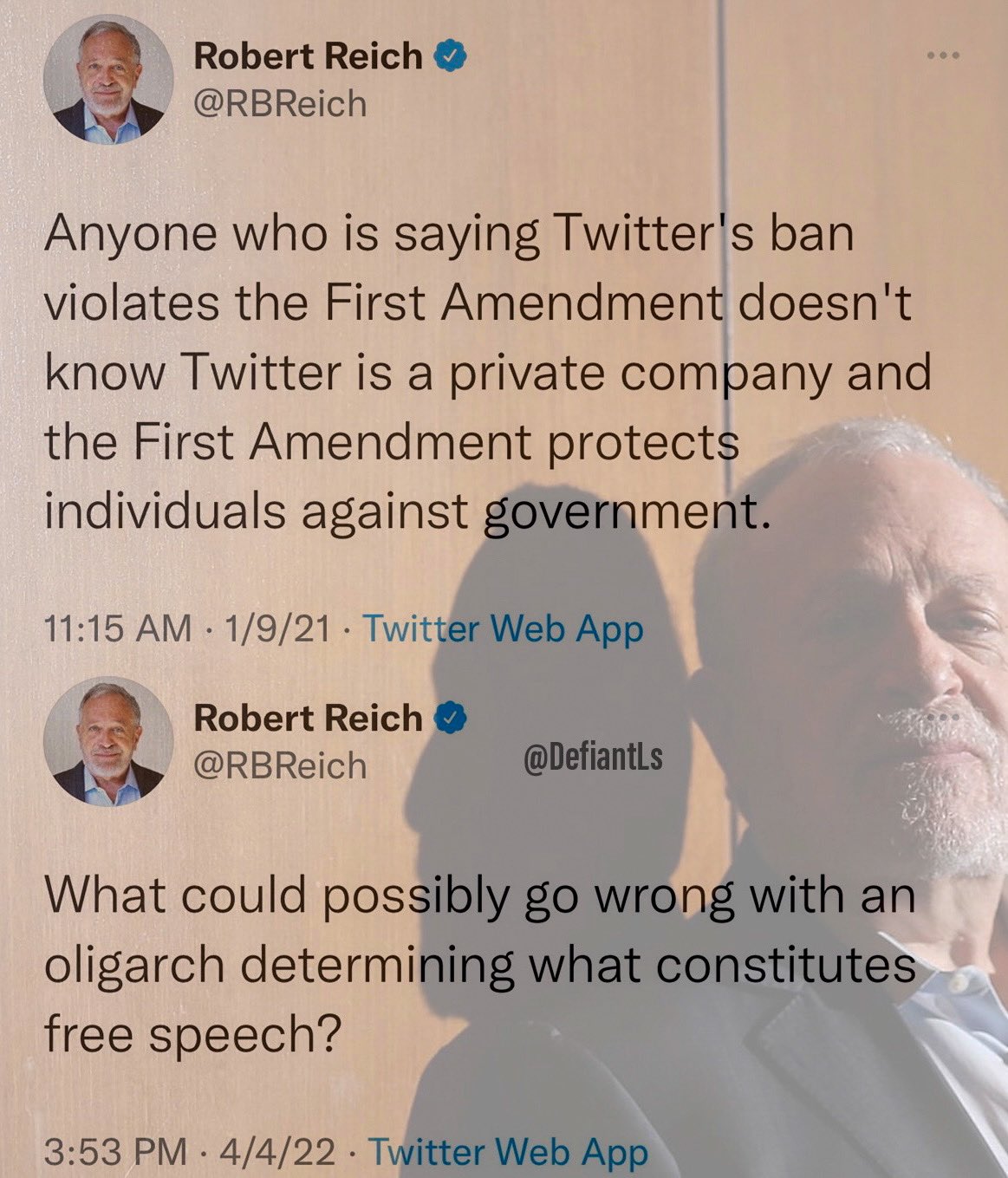 Darren Beattie wrote about Musk's hostile entry into Twitter.
In 2020 Revolver explored the Tucker Carlson Paradox: Tucker Carlson Tonight is the most popular program in cable news, yet no other networks try to imitate its content. The reason, we argued, is that ratings (and by extension profitability) are not even the real point of major news outlets:

For a media empire operating at the highest levels, the influence it wields on the public's mind is far more valuable to the ruling power structure than any self-contained profit that could be generated by optimizing their news product to suit the taste of the audience.

This does not mean that profit is irrelevant to a media company. In Tucker's case, his stratospheric ratings are a great tool of leverage, and without profit, a company must continually court new investors. But the point remains that for a serious media enterprise, profit is always secondary to influence.


The Tucker Carlson Paradox applies in its most extreme form to a platform like Twitter. Twitter's market capitalization of barely $30 billion is extremely modest by Big Tech standards. Even Snapchat is twice as valuable. And yet, as the global public square, Twitter is also the epicenter of narrative formation, a key promotional vehicle for journalists and celebrities, and an increasingly critical stage for public diplomacy and hybrid warfare between state powers. Twitter gets to decide which "freedom fighters" deserve to have their slogans go viral and which "authoritarians" and "domestic terrorists" need to be suppressed and censored. Twitter's relatively marginal market cap belies the existential threat it would pose to every dominant institution in the United States (including the national security apparatus) if it implemented a policy of real unfettered free speech.

If Elon Musk bought Twitter and did nothing more than return it to the speech norms it had ten years ago, that act alone would constitute a "national security threat." The threat posed to America's joke institutions and the clowns who run them would be, in fact, existential. [!!!]

This is not to dissuade Musk from purchasing Twitter -- just the opposite, in fact. Revolver points this out to demonstrate how bold a move it would be -- one of the very few which, if successful, would be a genuine game changer rather than a fake and performative gesture.

But if Musk opts for the path of boldness and glory, he should be prepared for historic backlash from the regime. The entire system would mobilize against Twitter reflecting the same cancellation strategies the Regime systematically employs to control politicians, websites, major businesses, and even countries. Twitter would get the "George Floyd" treatment on steroids. The Regime would employ the "George Floyd" tool recently used to "cancel" Russia, but directed with laser-like focus on a single company and its lone brilliant, iconoclast leader.
Read the whole thing.
I do not think he is exaggerating to say that the threat Musk poses to The Regime is "existential." One cannot help but notice that The Regime is obsessed with silencing critics of The Regime -- what would The Regime do if everyone was allowed to speak against it, and be heard speaking against it?
Also agreeing: Tucker Carlson.
It's a good day in America, maybe a rare, good day. We're going to celebrate no matter what. Here's the context for why it's good--censorship. Censorship is essentially the hallmark of neoliberalism. Have you noticed that? Our leaders seem to spend a lot more time trying to control what we say and think than trying to improve our country and that means that anyone who orders the wrong words, even accidentally, gets fired or banned or ostracized or even charged with a crime. We've seen that, too. We don't need to give you more examples of it. They are literally everywhere.

If you live here, you're deeply familiar with it, but censorship now defines America's public conversation. We spend an awful lot of time complaining about that on the show. We probably don't spend enough time asking, what is this all about? Why are the authorities suddenly so intent on controlling our words? Why are they so afraid of free speech? This is a new thing and the answer is pretty simple. It's an act of self-preservation.

If voters were allowed to think for themselves, the entire system would teeter and possibly collapse...


Consider each of [the neoliberals' current catechism of lunacy] on its merit. Are the words actually true? Do they correspond to reality? Observed reality? No, they don't. None of them do. In fact, they're ridiculous. They're laughable and that would be very obvious to all of us if we were allowed to think about it, but we're not allowed to think about it. Effectively, all rational scrutiny of the regime's claims have been banned with the help of so-called news organizations. Our social media platforms, which once promised to give every American a voice, now function like the North Korean State News Agency. They're organs of propaganda. This crept up on us and it caught a lot of people by surprise, particularly conservatives.

Conservatives were taught from a very young age to support big business because big business was a bulwark against government overreach and that made sense and it was true for quite a while, but very few imagine what it would look like if big business harnessed monopoly power and then joined that power with government power to strip us of our constitutional rights.

Again, this happened incrementally, but now it's here. So these aren't really free market companies. They resemble repressive governments....

Elon Musk, who's the head of Tesla and SpaceX, famously a billionaire, just announced he has bought an almost 10% stake in Twitter. That makes him the largest shareholder of Twitter. So why does this matter? Well, because Twitter matters, whether you want it to or not. Twitter is hardly the largest social media platform, but Twitter sets the tone for all news coverage, for all information.

Twitter is where a professional class goes to learn which opinions are acceptable and which are forbidden and the effect is obvious to everybody. If our public conversation suddenly seems stilted and one-sided, it is because in part Twitter itself is so stilted and so one-sided. Anyone who dares express a heterodox opinion, even if it's true, gets banned. We found that out last week the hard way.


So, whatever you think or think you think of Elon Musk, he certainly understands that. "Given that Twitter serves as the de facto public town square," he wrote recently, "failing to adhere to free speech principles fundamentally undermines democracy." That is true. Twitter shares surged nearly 30% on the news of Elon Musk's purchase, so for him, it turned out to be a pretty good buy, but it's hard to imagine that Musk bought Twitter shares for the investment. He's already the world's richest man. He does not need the money.

Could this be the first move in a hostile takeover of Twitter that transforms Twitter into a platform for free speech? Seems that way. Elon Musk is not an Orthodox conservative, but he sees the people in power with devastating clarity. A few months ago, he described wokeness, that is to say, the ideology at the heart of Twitter's business operations, as "one of the greatest threats to modern civilization."

ELON MUSK: It is a prevalent mind virus and arguably one of the biggest threats to modern civilization. So, do we want a humorless, a society that is simply rife with condemnation and hate basically? At its heart, wokeness is divisive, exclusionary and hateful. It basically gives mean people a reason, it gives them a shield to be mean and cruel, armored in false virtue.

When was the last time you heard a crisper and more precise definition than that? "Wokeness gives mean people a shield to be mean and cruel, armored in false virtue." Not a lot of CEOs talk this way, in fact, none. They're not allowed. The fact that a CEO who does talk this way may take over one of the most important communications platforms in the United States is cause for celebration, real celebration.

Censors are powerful, but it turns out they may not be all powerful. So, what happens next? Let's be very clear, this is not a business transaction. It's much bigger than that. Elon Musk is a massive threat to the way things are. So, by definition, it will not be long before they are calling him a racist. You can mark your calendar, Tonight, there are Democratic operatives studying everything Elon Musk has ever said in public. They're preparing one of the nastiest campaigns of character assassination in memory. They have no choice but to do this.

Restoring free speech to Twitter is the greatest possible threat to the people in charge. They have to control the information. If they don't, they fall. So, you're going to be hearing a lot about Elon Musk in coming days, and all of it will be negative. At some point, they're going to unearth this clip from the Babylon Bee's podcast back in December. They'll tell you this is some kind of fascist talk or dangerous ethno-nationalism. We'll let you judge for yourself.
One Panic after another, one Crisis after another.
They will not let the Panics end or the Crises stop because the second they give us a chance to catch our breath and think about the scope of their failures, betrayals, and treasons, we'll strip the very bark off them.
Oh-- a commenter linked this, as a "Is This Something?" post.