« "early grades may be the best time to introduce topics related to sexual orientation, gender identity & expression... before heteronormative & cisnormative values & assumptions become more deeply ingrained"
|
Main
|
Sugar Glider Paratroopers Cafe »
April 04, 2022
Quick Hits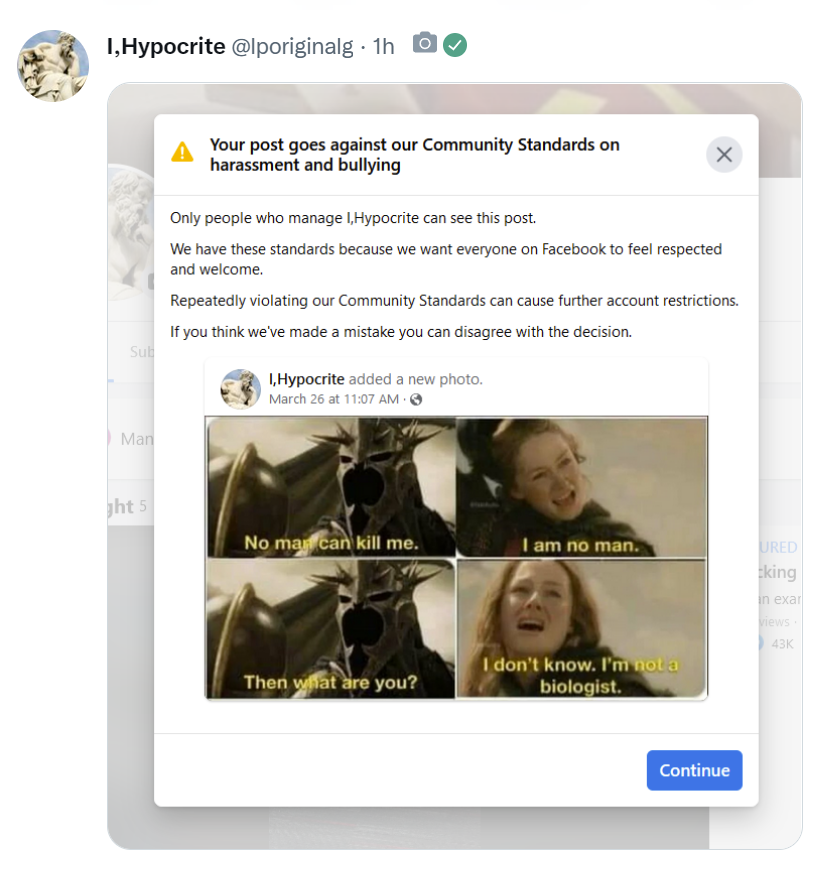 The Senate Judiciary Committee split 11-11 on whether or not to send Ketanji Brown Jackson's name to the full Senate for a confirmation vote. Right now the Senate is debating whether it should bring the name up for confirmation.
Meanwhile, this very emotional... pyrsyn had another highly theatrical meltdown.
@Breaking911

Sen. Cory Booker quoting Maya Angelou: "You may trod me down in the very dirt but still like dust, I rise. Rise, Sister Jackson, rise, Judge Jackson, all the way to the highest court in the land. When we have that final vote I will rejoice. Ancestors will rejoice!"

Posted by: Anonosaurus Wrecks, I am not a biologist
And how will Murkowski and the "Severely Conservative" Romney vote?
Breaking911 @Breaking911

JUST IN: Alaska Sen. Lisa Murkowski says she'll vote to confirm Jackson, becoming 2nd Republican to back Supreme Court nominee. - AP

UPDATE: Senator Mitt Romney says he'll also vote to confirm Judge Jackson to the SCOTUS
Of course. Of course.
Hero of the NeverTrumpers and neocons.

Decrepit Hag Hillary Clinton showed off her brilliant political insight and novelty-of-thought by saying that Democrats are doing a great job; they're just down in the polls because they're not able to effectively brag about what a great job they're doing.
Gee, I've never heard that from failing Democrats before.
Kamala Harris tosses another salad.
She also says that we can't ask voters for ID, because it is "almost impossible" for "rural voters" to get a photocopy of their ID. This argument, besides being stupid, also presupposes that people should not have to show up physically to vote, but should be able to do so from home.
Or have a Democrat operative/criminal vote on their behalf.
Oh, and apparently Kumala's deputy chief of staff didn't position her for success, because now he's the tenth (or eleventh, or twelfth? hard to keep up) staffer to quit.
Oh, and she also gave a speech unmasked while having all of the child-props behind her in masks.
This guy says the neocon grifter organization Commentary, which pays John Podhoretz and grotesque salary, is going bankrupt.
But more slowly than we might like.
Commentary's Cash Crash
The journal of neoconservatism is on a path to insolvency

Dan Stone
Mar 29

Commentary magazine has lost half of its money since becoming independent in 2007

By 2020 it was down to $5.7 million from $11.3 million

Commentary brought in more money than it spent in only 1 of 14 years

The magazine depends on selling off assets to cover deficits--their rapid erosion imperils its continued existence

At recent rates, the magazine will lose the rest of its money in the next eight years

Editor John Podhoretz, who made $396,205 in 2020, is one of the highest-paid non-profit magazine editors in America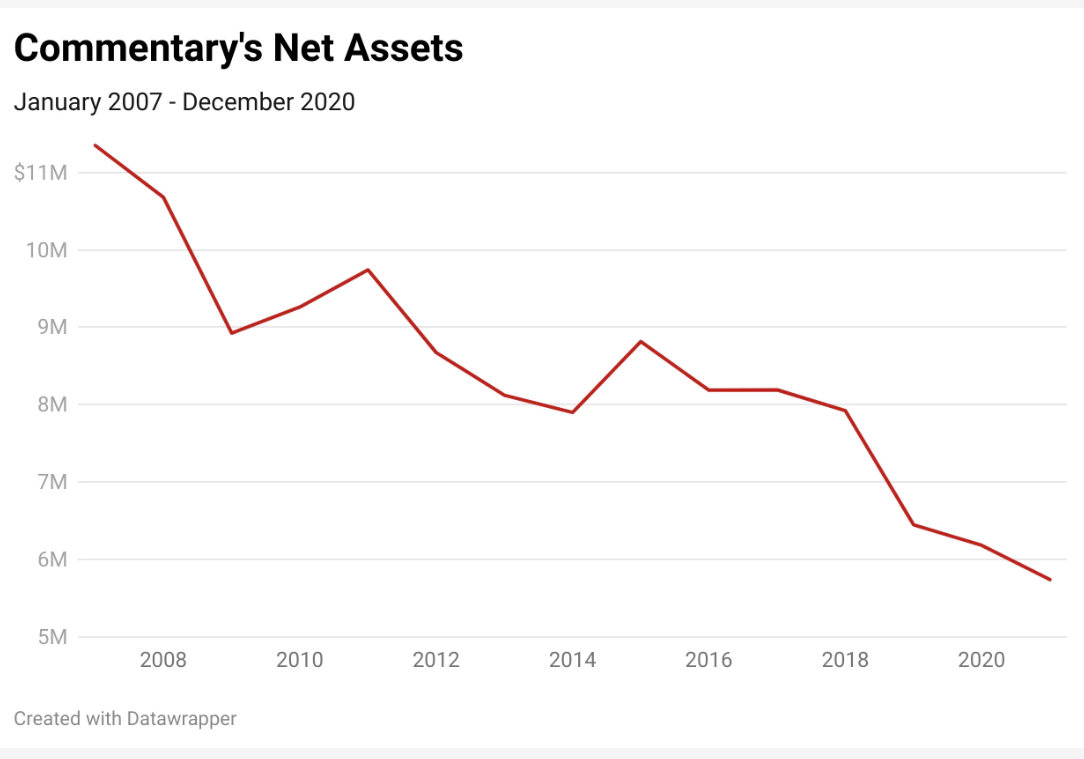 The "non-profit's" disclosures claim that Podhoretz works about 40 hours a week just for Commentary -- which doesn't include his writing columns and reviews for other publications.
Plus, he used to be on Twitter a lot.
I think he might have quit that, but I used to laugh at the idea of him working "40 hours per week" just at Commentary when he was practically living on Twitter.
We pay them so much, and get nothing in return: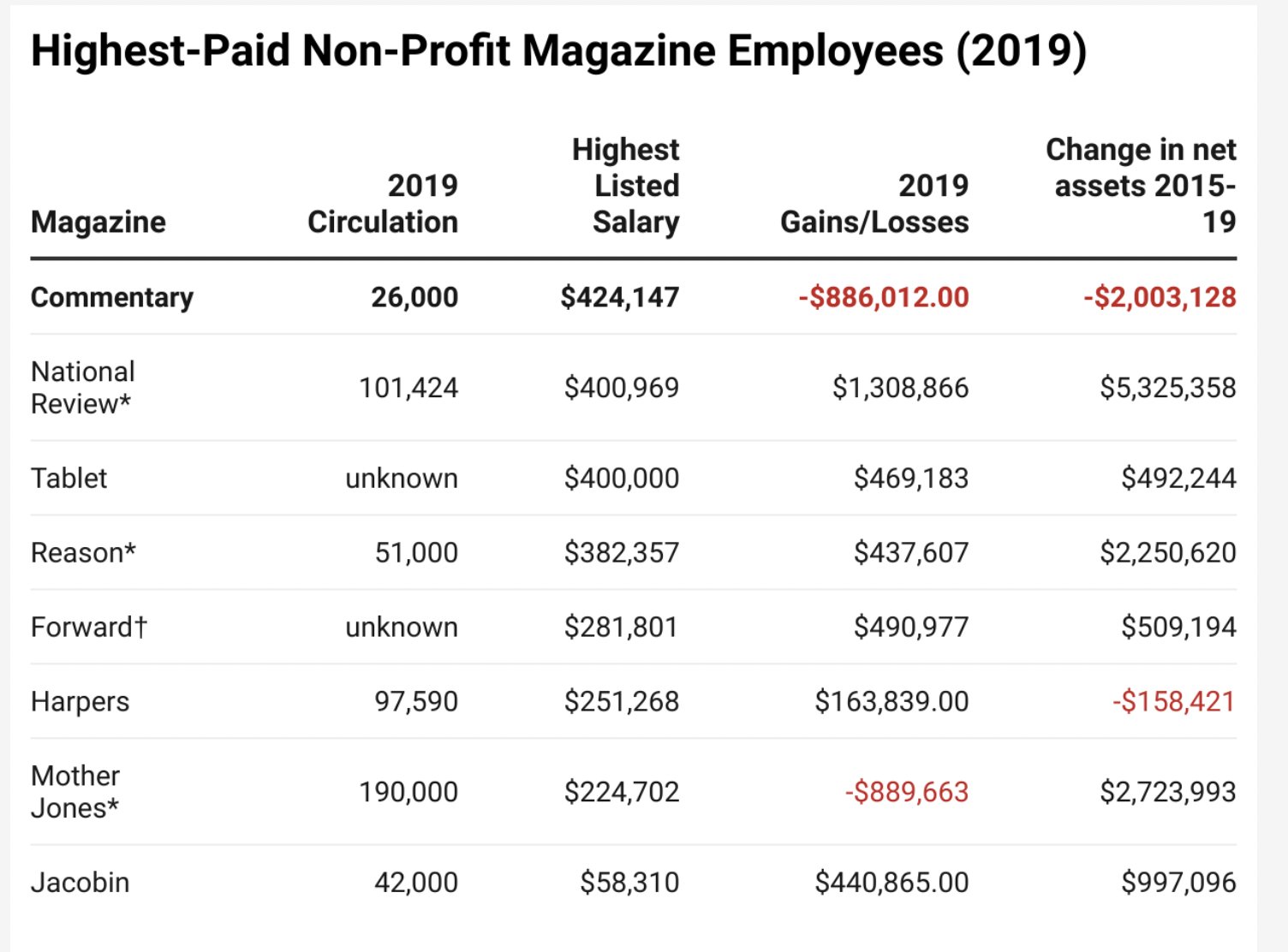 Here's a Commentary writer:
Abe Greenwald @AbeGreenwald

The countercultural right tries to finesse their conspiracy theories: The 2020 election wasn't really stolen, but it was essentially stolen. The pandemic wasn't really fake, but it was essentially fake. Zelensky isn't really making it all up, but he's essentially making it all up
Bankruptcy for the neocons can't happen fast enough.
Though they'll never really go bankrupt -- they are part of the "best-funded fringe political movement in history," as Krystal Ball rightly puts it. She's a blithering idiot, but that line is pithily accurate.
Those who argue passionately for the Absolute Freedom For Mega-Corporations and Slavery For Everyone Else Movement will never, ever go bankrupt.
Strangely enough, mega-corporations are very, very heavy donors to this particular movement.
Meanwhile, the neocons are talking up this guy to "run for president."
By "Run For President," they mean "serve as a fundraising opportunity we can grift from, and run as a spoiler candidate to stop the right from winning the election."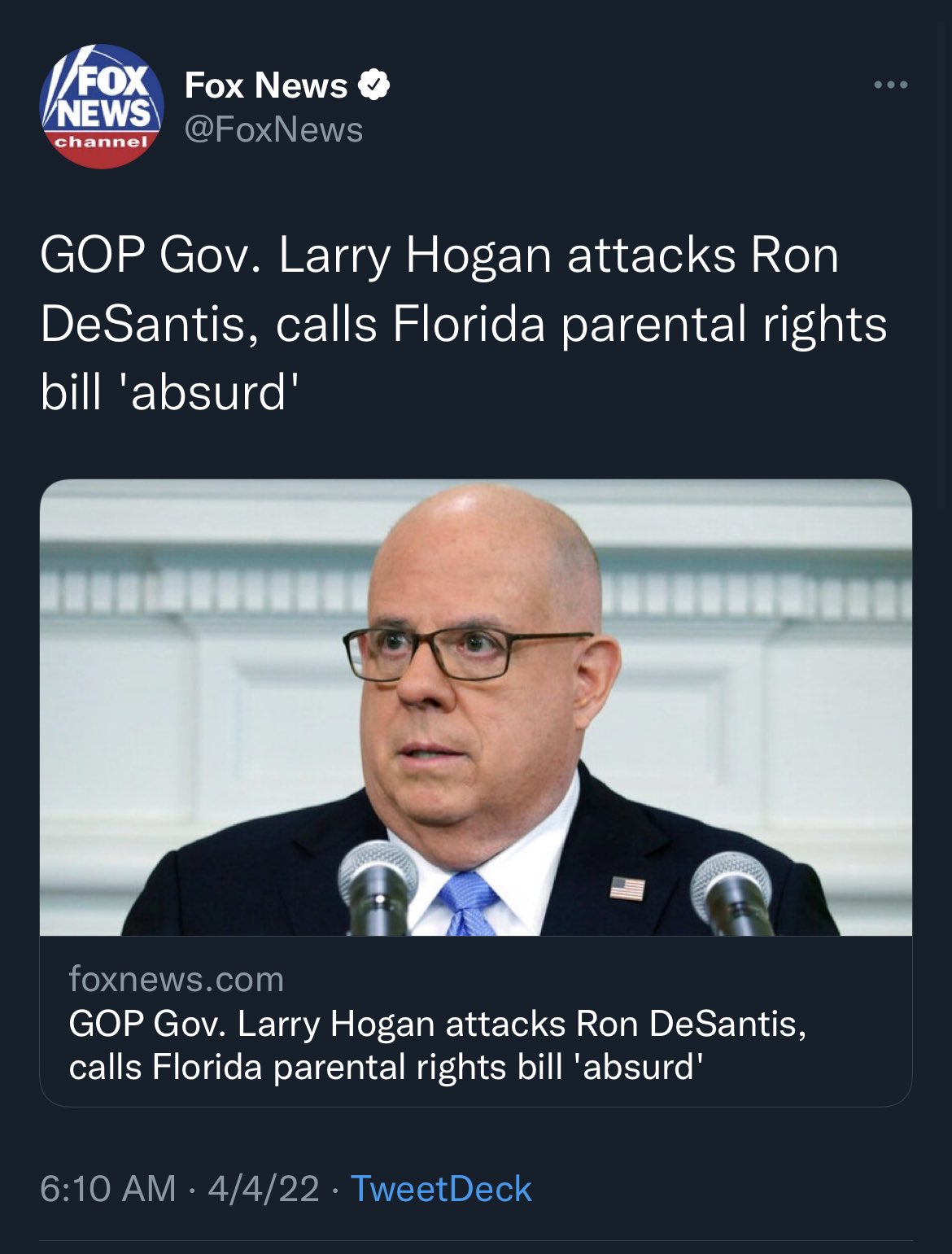 David Reaboi, Late Republic Nonsense @davereaboi


I mean, look at that face and tell me you're surprised.
I'm going to link the below, but just to say: I am 99% sure this is a fake report, spread to righties to embarrass us.
Libs of TikTok has to watch it, because they are gunning for her now. She is a huge, huge player, and they are going to spoof her with nonsense to impair her credibility.
And they're going to try to take her down because she's making life hard on the Groomers:

posted by Ace at
07:01 PM
|
Access Comments