« "Conservative" Radio Station WMAL, Under Control of the "Conservative" Media Group Cumulus, Fires Actual Conservative Amber Athey Because Some Transextremists Ginned Up a Cancel Campaign Against Her
|
Main
|
"early grades may be the best time to introduce topics related to sexual orientation, gender identity & expression... before heteronormative & cisnormative values & assumptions become more deeply ingrained" »
April 04, 2022
OnlyFans Model Undergoes Brain Surgery; Posts Nude Selfies To Her Account While Recovering In Intensive Care Unit
(And Open Thread Of Course)
Don't blame me. I'm just reporting the news as it comes across my News Desk.
This is dedication. This is the embodiment of work ethic.
Ruby May, 25, had been suffering from frequent spells of dizziness, followed by a sharp pressure headache that would last for around 10 seconds each time.

After visiting the doctors, she was diagnosed with Chiari malformation, a rare condition where a section of the skull is deformed and puts pressure on the spinal cord.

Ruby, who has garnered a strong following on social media with 421,000 followers on Instagram, was admitted for surgery earlier this month and spent five days recovering.

However she still managed to update her dedicated fans while in her hospital gown.

"I can never bring myself to stop working and I took nudes in the bed in my hospital gown the day after surgery," Ruby, who says she has made serious money on OnlyFans, said.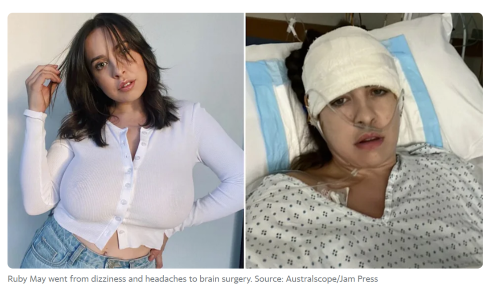 More pics at the NY Post.
"I was being checked on every hour to make sure I didn't have any brain damage," she added. "I had to have a catheter in for 24 hours and couldn't lift my head properly for a while."
And yet she soldiered on with the selfies.
#CommissionEarned

A google search of "Ruby May Onlyfans" will likely answer any other questions the discerning pervert may have.
Also, she has a YouTube account, which is not really safe for work. Bra and bikini type stuff.
She talks about her then-upcoming brain surgery here, so maybe you can justify it to your boss as Important Medical Information.

And speaking of:
Remember the guy who said, "For every 100 likes, I'll make 'Beto' O'Rourke's buck teeth bigger?
Well, had to share: This guy said "For every 25 likes, I'll make Ben Shapiro's sister's boobs bigger."
Here's a more wholesome palate cleaner:

posted by Ace at
04:45 PM
|
Access Comments