« Florida Legislators Considering Repealing Special Law That Gives Disney Effective Self-Government On the Lands It Owns
|
Main
|
Kids 'n Kids Cafe »
April 01, 2022
Quick Hits
From earlier this week: a photographer snapped a picture of the simple bullet-point cheat sheet given to the senile brain-damaged man mockingly called "president." Biden read straight off from this to liesplain away his previous gaffe calling for regime change in Russia at a moment where we'd super like it if Russia negotiated a peace with Ukraine.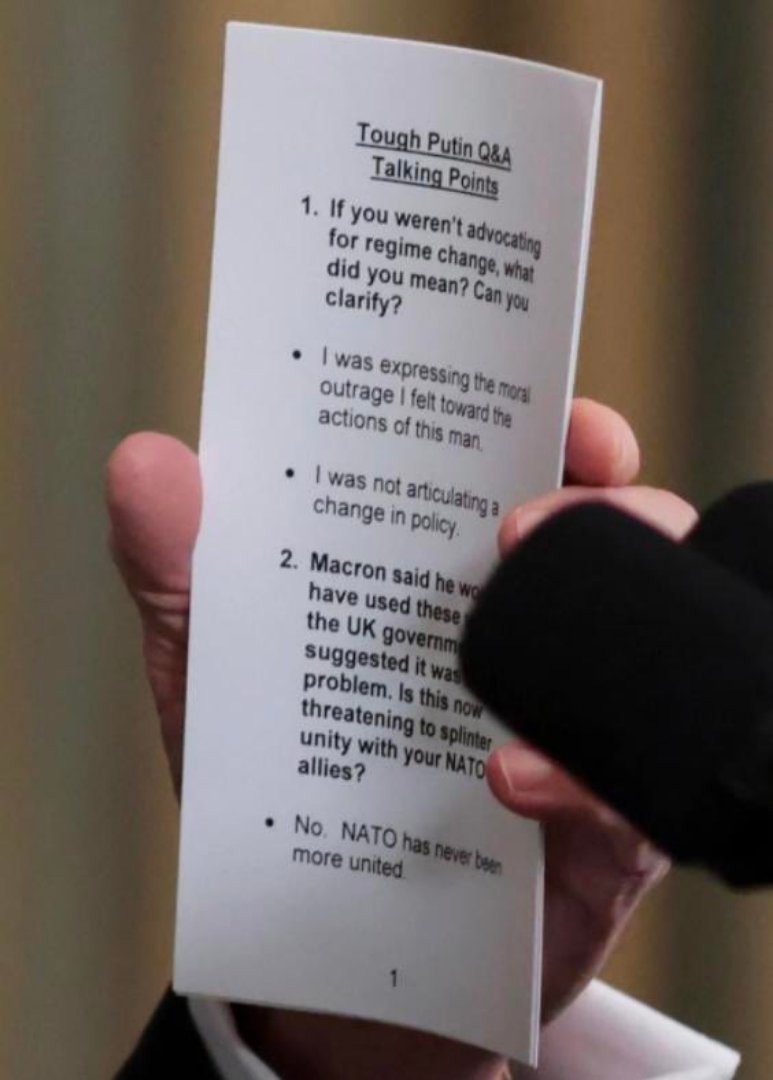 Despite the photo showing that Biden's aides script his responses to his latest ad-lib gaffe, the White House communications director insists that no one tells Joe Biden what to say except for Joe Biden's damaged and dying brain.
Rob Reiner @robreiner

It's long past time that we acknowledge the sure handed, effective, grace under fire, success of Joe Biden's Presidency.


I'm surprised by this, but they know that KBJ will be confirmed because Abortion Extremist Susan Collins of course already said she'd vote "yes."
Lindsey Graham @LindseyGrahamSC

I oppose and will vote against the nomination of Judge Jackson to the Supreme Court.
Mark Hemingway
@Heminator

The media, en masse, waited a year and a half to verify Hunter's laptop so they could report on it, but ran with the false Trump phone call gap story immediately without needing to verify it.

This kind of thing keeps happening. Hopelessly politicized and corrupt.


Jesse Watters establishes clearly that the media -- the Washington Post in particular -- is only admitting the authenticity of the laptop to regain credibility to get ahead of the story and start claiming that while the laptop is real, there is "no evidence" that Joe Biden participated in the schemes to take Chinese Communist money.
Except, you know, for all the evidence he did just that.
Thus the "Modified Limited Hang-Out," as Nixon called his limited admissions regarding his role in Watergate. We'll admit just enough to seem like we're being honest brokers, while denying all the money-grubbing from the Chinese Communist Party that will get us impeached and removed from office.

Poll: GOP holds six point lead over Gender-Blender-for-Children Party.
Republicans are favored to win back control of Congress in this year's midterm elections, according to a new Harvard CAPS-Harris poll released exclusively to The Hill on Monday.

In the generic ballot test -- which asks voters whether they would rather elect a Republican or Democrat to Congress -- the GOP leads the Democratic party by a 53 percent to 47 percent margin.

Among independents, Republicans gained an even more significant advantage. Fifty-nine percent of those respondents said they would choose the GOP candidate, while just 41 percent said they are more inclined to vote Democratic in November.
This video from LibsofTikTok showing what gender "transition" really is is horrifying; content warning.
This is the Gender Blender surgery that the Democrat and their teachers union radical allies have in mind for all girls.

If Disney really wants 50% racial and LGBT representation for its movies, here are some suggestions for Transitioning all of its lucrative Disney Princess IPs.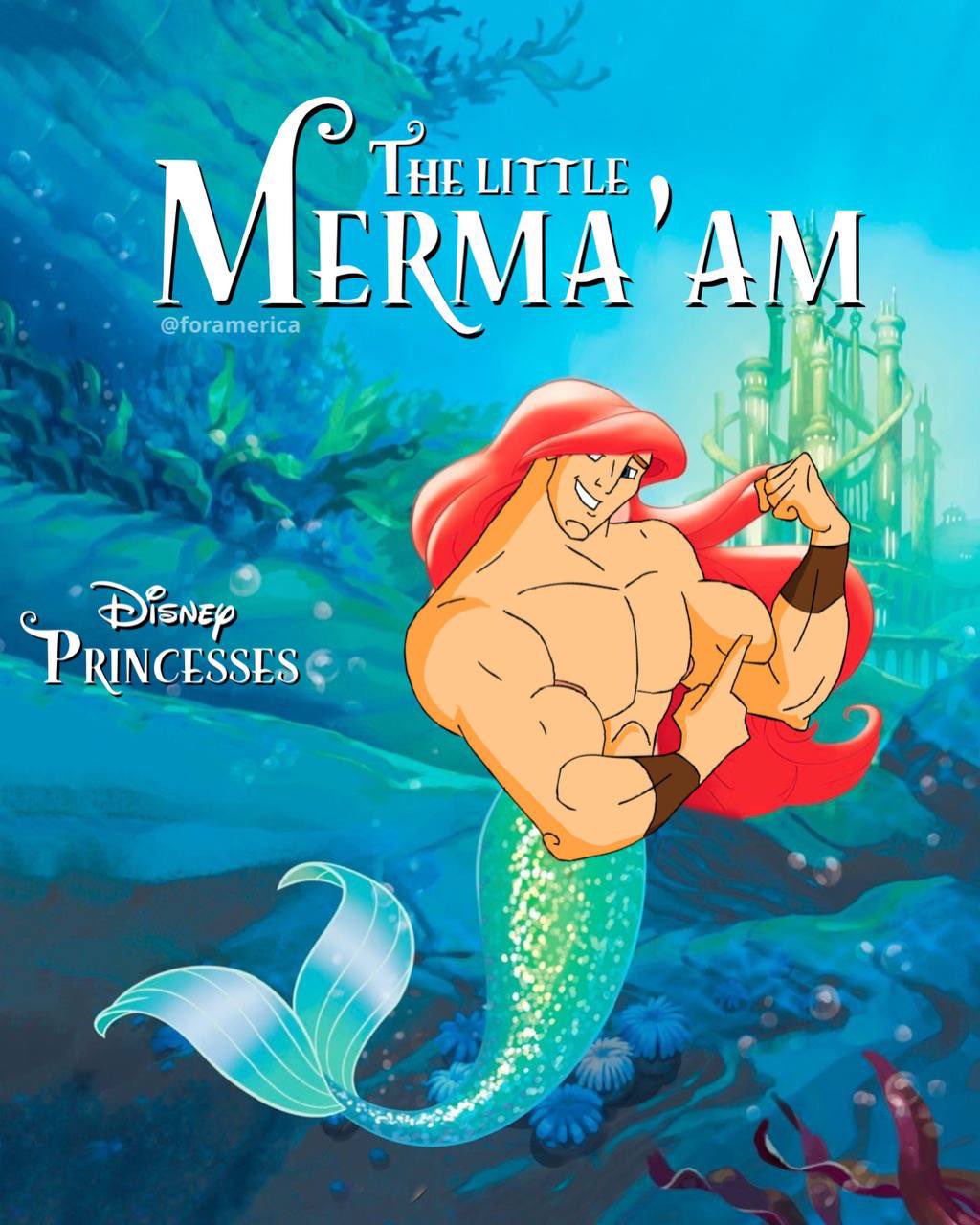 If you're real supporters of LGBT and Trans Youth, Disney, you will think nothing of taking billions of dollars worth of IPs and putting them through the Gender Blender.
The Ginger Witch will resign as Biden's endlessly lying press secretary, and work as some kind of "news" anchor for MSNBC.
In other words, she'll have the same job she has now.
White House press secretary Jen Psaki is in exclusive talks with MSNBC to join the network after she leaves the White House around May, according to a source close to the matter.

Why it matters: It's been speculated for weeks that Psaki would leave the White House for a TV gig. White House communications staffers often negotiate TV jobs once they leave an administration.

Details: Psaki has been in close consultation with the White House counsel's office about her departure, according to two sources familiar with the plans. She's been treading carefully on the ethics and legal aspects of her plans.

No contracts have been signed. Government ethics rules have stipulations about how public employees can pursue private sector job opportunities while in office.
Some are asking -- even at NBC itself -- how Jen Psaki can continue as the president's press secretary even as she's negotiating salary to join NBC -- one of the "news" organizations she deals with daily.
Noah Bierman @Noahbierman


A meta moment at the White House briefing when an NBC/MSNBC reporter @kwelkernbc presses @Psaki44 on whether she can ethically work as the briefer while reportedly negotiating with NBC.
Let me point out that none of this matters because the media is absurdly corrupt and works hand-in-hand with the Democrats.
Instapundit used to cite this observation about "appearance of impropriety" ethical standards, and how corrupt institutions love talking about 'appearance of impropriety" violations: because it lets them pretend they're so ethical they have no actual impropriety violations to patrol, so are now down to patrolling the mere appearance of impropriety violations.
But of course they're hopelessly corrupt, and have many, many genuine impropriety violations they could call out -- but they cover those up.
So no, it does not matter that Jen Psaki is working for the government at the same time she's negotiating final contract points with a media company because she was always working for the Democrat Party no matter which job she's technically serving in, and even pretending this is a real ethics question obscures the real ethical violations that almost all reporters commit every single day.
She's not changing occupations; she's working for the same leviathan corporation. She's just changing Departments.
Hilarious: Richard_Harambe promised that for ever 100 likes of his tweet, he'd photoshop Robert Francis "Beto" O'Rourke to have larger and larger buck teeth. He followed through on this promise. Keep scrolling down.
Kamala Harris tossed another word salad.

I hear that she was known for Tossing Salads back in her Willie Brown days.
Biden: If you spend $60,000 on an electric car, you can save $80 per month on gas.
Greg Gutfeld calculated it would take 100 years to recoup the money spent for the electric car via gasoline cost savings.

You can save hundreds of dollars per month by evicting this usurper from the White House, too. Just FYI.
" " " @POTUS " " "

" " " United States government official " " "

I know gas prices are painful. My plan will help ease that pain today and safeguard against it tomorrow.

I'll continue to use every tool at my disposal to protect you from Putin's price hike. And I'm calling on Congress to put aside partisanship. Let's meet this moment together.
I mean, except for actually allowing additional drilling and pipeline construction.
Oh dear Lord, Jada Pinkett Smith is awful and I can understand why Will Smith walks around slapping random comedians.

posted by Ace at
06:25 PM
|
Access Comments