« Is This Something?
|
Main
|
Rear Naked Poke Cafe »
March 30, 2022
More: Washington Post Verifies Some But Not All of Hunter Biden's Laptop Using Third-Party Cryptographic Signature Analysis... Which the Daily Caller Did 17 Months Ago and Thereby Verified All of the Laptop's Contents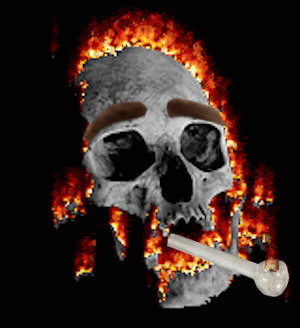 Thanks to ... for that great "Hunter Biden Flaming Crack Pipe" gif. I hope you'll forgive me for using it again.
John Sexton at Hot Air reports on that, and in the except here, notes that the Post has finally verified that a Ukranian energy tycoon met with Joe Biden -- and Hunter Biden; but note "The Big Guy" was here for this meeting.
Twenty fucking months after the New York Post confirmed it.
Deep into the story we learn that one of the emails the analysts were able to verify is one that was highlighted in one of the original NY Post stories about the laptop. This particular email involved Vadym Pozharskyi, an adviser to Ukrainian gas company Burisma who thanked Hunter Biden for giving him an opportunity to "meet your father."

One of the verified emails from Pozharskyi, which was the focus of one of the initial stories from the New York Post, was written on April 17, 2015. It thanked Hunter Biden "for inviting me to DC and giving me an opportunity to meet your father and spent [sic] some time together."

When the email first emerged in the New York Post about three weeks before the 2020 election, the Biden campaign and Hunter Biden's lawyer both denied that Pozharskyi had ever met with Joe Biden. Asked recently about the email, the White House pointed to the previous denials, which The Post has examined in detail.
Here's where it gets infuriating: The Washington Post's scion of Nazis and "fact checker" Glenn Kessler pretended to "vet" this, long after the election, on June 7, 2021.
His conclusion? It was probably fake because Pozharksyi's name "wasn't on the guest list" for the get-together.
That link goes to a Glenn Kessler review of the dinner where Pozharskyi may or may not have met Joe Biden as the email claimed. But Kessler's piece had its own problems. It stated that Pozharskyi wasn't on an early guest list:

A tentative guest list for the event, as recounted in the New York Post from one of Hunter Biden's emails three weeks before the dinner, did not include Pozharskyi. So it's still unclear how the vice president could have met him, unless he was a last-minute addition. (Alex Karloutsos also is not included on that early list.) The Biden campaign, after a comprehensive review, had said a meeting never took place between Joe Biden and Pozharskyi.

But the author of the NY Post story Kessler was reviewing pointed out that the guest list included "Vadym" which, as noted above, is Pozharskyi's first name.
The great Miranda Divine informed Kessler of this immediately -- but apparently Kessler chose to ignore it,
"Fact checker," indeed.
And now the Washington Post says they can finally verify the meeting.
But no retraction for its previous lies.
See Sexton's article for details about the Washington Post's main method of verifying the long-verified laptop -- they say they used a 3rd party crytpographic expert to analyze the cryptographic fingerprint of emails contained on the laptop. Turns out, they're real.
Why didn't the Daily Caller think of that?
Oh yeah, they did -- and verified the entire laptop's cache of emails. Seventeen fucking months ago.
Not only was this confirmed long ago, it was confirmed in exactly the same way, using a cryptographic signature. It's odd that the Post story today never mentions that the Daily Caller beat them to this scoop by 17 months.
Will anyone at the Washington Post pay a price for this?
No, of course not -- because they all did their jobs as they were intended to do.
It was their intention to give plausibility to the "RUSSIAN DISINFORMATION" lie and so keep the story out of the "news" papers and off network TV "news" and then to leverage their censorship into pressure for the social media monopolies to also censor the story.
And it all worked.
Why would anyone be disciplined for having successfully executed their part of the conspiracy?
Here's further proof they were all in on it:
Biden communications chief Kate Bedingsford was one of the liars dispatched to claim the laptop was "Russian Disinformation."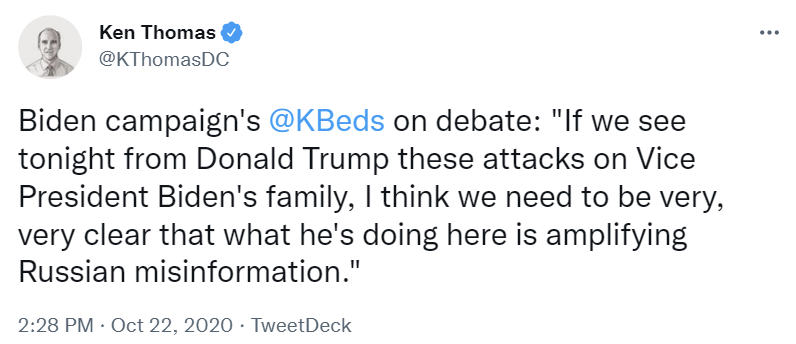 Well, serendipitously enough, Bedingsford (or "Kbeds," as she annoying calls herself) gave a very rare press conference today.
Guess what topic her Press Allies chose not to ask her about?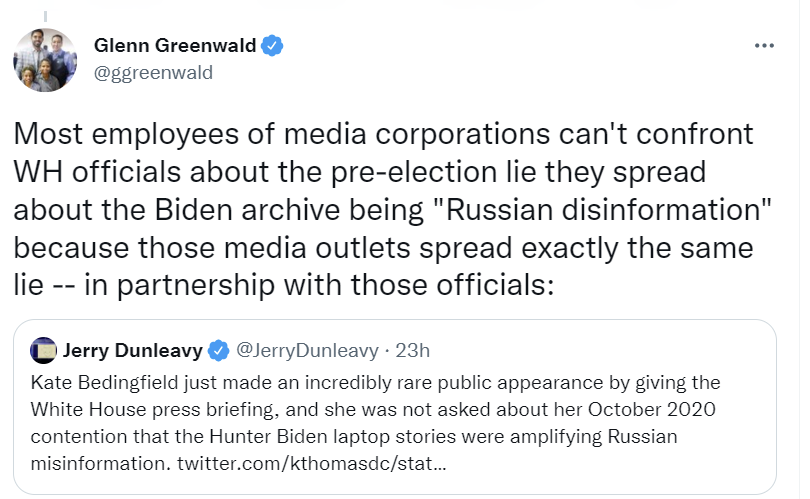 In fairness, the propaganda organizations can't get too tough about the Biden campaign's propaganda, because the Biden campaign can always say to them: What are you beating our ass about this for? You were knowing participants in the disinformation operation yourselves, all of you.
Moron Robbie sent this story: Not only did Hunter Biden's abandoned laptop contain details of his foreign dealings (and his father's dealings with foreign oligarchs), but it also contained Department of Defense encryption keys -- which we have to assume were all compromised, possibly by all the Russian Hookers he smoked crack with, and the Russians have been reading supposedly-encrypted DOD communications for years now.
CDMedia has confirmed the Hunter Biden infamous 'laptop from Hell' contains many U.S. Department of Defense 'root encryption certificates', or encryption keys to DoD databases. The keys have unusual long-term expiration dates, with many lasting twenty years or more.

This information was discovered during a deep forensic investigation done over the last couple weeks, by Jack Maxey and his team in Switzerland.
A couple of weeks ago, when the New York Times also noted -- in passing! -- that federal officials had confirmed the authenticity of the laptop, reliable leftwing propagandist Megan McArdle noted the media was one of the biggest peddlers of disinformation in the world.
This is kind of her specialty; she supports the disinformation during the critical moments when it is most imperative that the propaganda be treated as true, and then, when it's no longer useful to promote the propaganda, or even possible to promote the propaganda, she writes a chiding article about the media's deceptions.
She did the same with Obamacare, claiming that she and many other experts knew that the central claims made for Obamacare were lies from the start, but kept quiet about it until the lie was revealed to the world and could no longer be supported.
Gee thanks for the update, Megan.

So here she is to let you know, seventeen month later, that the media covered up the Biden laptop not because it was fake, but because they just wanted it to be fake.

This [alleged disinformation from non-corporate media actors] frets the mainstream media. It is our job to provide information, so naturally we worry when so many customers aren't buying. Over the past 10 years, many column inches have been devoted to the problems of epistemic closure, and Fox News, and disinformation: How do people trust those charlatans over us?

In fact, we in the mainstream have been so busy denouncing "fake news" that we failed to notice we're developing a wee disinformation problem of our own -- much of which has stemmed, ironically, from our efforts to fight disinformation on the right.

Case in point is a story that ran in the New York Post in October 2020. The newspaper claimed to have been given access to a trove of Hunter Biden's emails, from a laptop somewhat mysteriously abandoned at a Delaware repair shop. Among other things, those emails suggested Hunter Biden had possibly been trying to peddle his father's influence during Joe Biden's vice presidency.

An election was looming, and of course conservative media leaped on the "incriminating" trove. Here on Earth Prime, the information gatekeepers scrambled to keep this story from polluting the mainstream's pristine infoscape, condemning the story as Russian disinformation, pure distraction, so dubious that even the New York Post's own reporters were skeptical.

Twitter blocked the story, citing its policy barring "hacked materials," then suspended the New York Post's account for sharing it. Facebook allowed sharing but downranked the story in the news feed algorithms.

That's a whole lot of effort to suppress a story that seems to be ... true? The New York Times reported March 16 that the emails are part of the evidence in a federal investigation now before a grand jury.

One week into the "Oops, it was real" news cycle, I have now heard all the excuses as to why this actually is an instance of journalism and tech moderation working like they should. It was unverified, I've heard. Too close to an election. And even if the emails were real, they may have been obtained illegally -- can't have that!

All of which might sound very reasonable if only my profession had displayed the same caution with stories that made conservatives look bad.

In September 2020 the New York Times revealed all sorts of details from two decades of Donald Trump's personal and business tax returns. It seems possible, even likely, that whoever leaked the information had a legal or fiduciary duty to keep it confidential. Yet the story ran, and as far as I know, Twitter didn't block it from being shared.

The fact that the now-discredited Steele dossier was unverified did not stop BuzzFeed from publishing it, or the rest of the mainstream media from engaging in an orgy of speculation about Trump's connections to Russia. When unverifiable accusations of sexual assault against Brett M. Kavanaugh surfaced, mainstream outlets relaxed our journalistic standards -- but were considerably more skeptical when the accused was Joe Biden. Many easily believed misleading videos about Catholic kids at the March for Life, but when Project Veritas releases a new sting video, the instinct is to point out how deceptive edited video can be.

As social psychologist Jonathan Haidt puts it, the difference in mainstream reporting is the difference between can and must. When it comes to stories that flatter Democrats, we often ask "Can I believe it?" If it's not obviously false, we do. But if the story flatters the right, we are more likely to ask "Must I believe it?" If we can find any reason to disbelieve, we take it -- and keep the story off our pages.

...

An actual solution will require the recognition that we in the mainstream media are part of the problem: We are not trusted because we are not entirely trustworthy. That is not the only thing that will have to be fixed to heal our epistemic divide. But it would make a very good start.
And speaking of Miranda Divine -- who has gotten this story right at every turn, while the supposed opponents of disinformation in the media have deliberately lied at every turn -- she says the Hunter Biden dam is about to burst.
Exit Question: How will AllahPundit turn this into an anti-Trump/pro-leftwing media story?
A) Trump was such a liar that the media was right to treat the laptop as presumptively false
B) "I wonder what we'd find if we looked into Don Jr.'s finances"
C) "It's a fine time for 'populists' to be screaming about honesty when they're being so mean to Liz Cheney and Adam Kinzinger"
D) THE RUSSIAN COLLUSION STORY WAS NEVER DISPROVEN TO MY SATISFACTION; I STILL THINK THE LAPTOP WAS MADE BY PUTIN! THERE, I SAID IT! YOLO! YOLO! YOLO!
You know he and all his Bulwark and Dispatch Twitter Palz are really on D, but they're cagey about saying so.

posted by Ace at
06:20 PM
|
Access Comments